It's little to no surprise that Paleo food is in abundance in Fresno. There are many nationwide companies that deliver foods throughout the country to those following a grain-free diet, and a lot of them are based in California. No matter where you are in this state, you have a lot of access to healthy and affordable foods. If you both live in Fresno and follow a diet such as Whole 30, SCD, GAPS, or some other diet that requires a grain-free lifestyle, there is plenty of choice for you. All of these companies source their foods as locally as possible. In this article, we will explore the various services in the Fresno area and those that deliver to the area and are designed for people eating Paleo and similar grain free diets.
We cover the following....
Local Paleo Food Delivery Fresno Options
The following section covers companies based locally in the Fresno area that offer Paleo food delivery. In terms of local businesses within Fresno offering Paleo prepared meals, choices are somewhat limited. We have identified the below companies that may be viable options if you are hoping to support a local business that is expanding their menu to include Paleo options. You might contact these companies and see if their services can work for you. If you are looking for more strict Paleo options with a dedication to ingredient choices like grass fed and wild proteins, organic and local in-season produce, you might want to look to the next section of companies with a national footprint that offer delivery of Paleo certified meals plans to residents of Fresno.
Body Fuel
Body Fuel Meal Prep is a local Fresno area company offering meal prep for a athletes that want to eat healthier and have meals prepared for them. They offer a Paleo plan along with their standard athlete plan. Meals are ordered in advance and must be picked up from their location in Clovis.
For more information on Body Fuel meal prep and for prices see:
Body Fuel meal prep Reviews:
Body Fuel meal prep Yelp: https://www.yelp.com/biz/bodyfuel-foods-scottsdale Body Fuel meal prep Facebook: https://www.facebook.com/pg/bfuelnutrition/reviews/?ref=page_internal This post contains affiliate links. Thank you for supporting us! Click here to learn what this means.
National Companies Offering Paleo Meal Delivery to Fresno
The following companies deliver to all addresses in Fresno and beyond via their express shipping services. Meals are delivered straight to your door in special insulated cooler boxes with ice packs. In some cases meals are shipped fresh, ready to be reheated in the microwave or oven and in other cases they are sending frozen meals, often in microwave friendly containers. Some of the following companies are located nearby in California while others ship from their locations across the country. By partnering with these larger services that have specialized in Paleo, you benefit from their focus specifically on seasonal ingredients from local farms and proteins and produce dedicated to Paleo principles like grass fed, wild and organic ingredients. For those times when cooking and grocery finding seem impossible, remember that these companies are here to bring food to you throughout the Fresno area.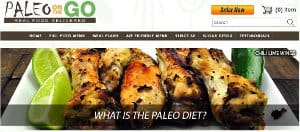 Paleo on the Go
Paleo on the Go aims to make your healthier lifestyle more convenient. They aim to do that through multiple Paleo certifications and delicious recipes. This company services the greater Fresno region, and will bring you any of their amazing product lines no matter where you are in the area. See paleoonthego.com for prices and meal options. Note: Paleo on the Go is offering a 10% discount for our readers, use code "MYPALEOS" at checkout for 10% off your entire order – one time use.
For our detailed write up on Paleo on the Go including reviews, see our in-depth coverage on them.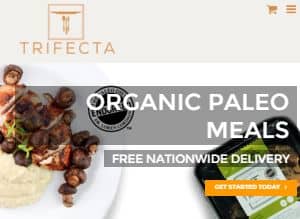 Trifecta
If you are in need of a high quality, organic meal delivery service that reaches everywhere in Fresno, then Trifecta is the service for you. Based in Northern California, Trifecta sends their meals in corn-based packaging and their animal products meet a minimum humane rating of 5. And if that wasn't enough, they are also partnered with the Father of the Paleo movement. See trifectanutrition.com for current prices for their Paleo and organic meal delivery Fresno offerings.
For our detailed write up on Trifecta including reviews, see our in-depth coverage on them.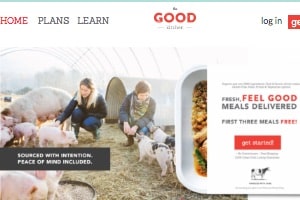 The Good Kitchen
The Good Kitchen offers a custom meal plan where you choose the individual dishes you are interested in. This means you can customize the choices from their grass fed beef, chicken, pork or even Pegan/Paleo vegetarian dishes. And, they will bring their amazing meal plans to anyone living in the Fresno area. See thegoodkitchen.com for The Good Kitchens complete menu and list of healthy meals delivered Fresno / nationwide plans. The Good Kitchen is offering a 15% discount for our readers. Use promo code "mypaleos" at checkout for 15% off your first order.
For our detailed write up on The Good Kitchen including reviews, see our in-depth coverage on them.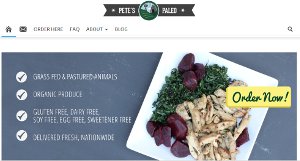 Petes Paleo
Also based in California, one of the things that makes Pete's Paleo stand out from the crowd is their dedication to sugar and sweetener free meals. The only sugars found in their meals are those that belong to the fruits and vegetables. They also adhere the highest standards for their animal products. See petespaleo.com for a complete list of prices, meal plans and healthy food delivery Fresno options.
For our detailed write up on Petes Paleo including reviews, see our in-depth coverage on them.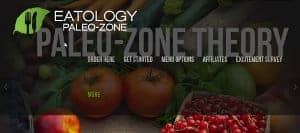 Eatology
As one of the cheapest options in our list, Eatology doesn't show it. They are focused on helping their customers maintain a healthy weight by making sure their meals follow the proper ratio of carbohydrates, fats, and proteins. To top it all off, they bring their meals to all addresses in the Fresno region. See http://www.eatology.co for Eatology's Paleo-zone plans and pricing, including nationwide plans for healthy meal delivery Fresno options. Eatology is offering a 20% off promo for our readers (works for first & all later orders), use code "ZACHPALEO" at checkout
For our detailed write up on Eatology including reviews, see our in-depth coverage on them.
For our detailed write up, including reviews, see our in-depth coverage on Eatology.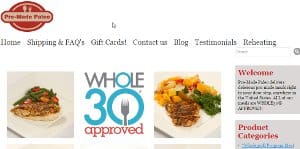 Pre-Made Paleo
Pre-Made Paleo is one of the most convenient businesses on our list. They service all of the Fresno area with their pre-made, frozen meals. Pre-Made Paleo is the officially sanctioned meal delivery service for the Whole 30 diet while also being fully Paleo compliant. See premadepaleo.com for prices and Paleo meal delivery Fresno inclusive nationwide plans Pre-made Paleo has offered a 10% discount (one time use) on all orders for our readers. Use code "MYPALEOS2018" at checkout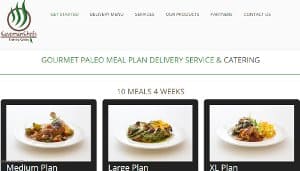 Caveman Chefs
Caveman Chefs is the last of our list, but certainly not the least. Based out of Denver, Caveman Chefs offers international flare within their Paleo compliant meals. They deliver to all of our readers in Fresno, and will inspire you to create your own excellent dishes. Visit http://www.cavemanchefs.com for more information on their Paleo delivery Fresno options Caveman Chefs has offered 10% off all orders by mentioning the promo #ZachmyPALeos in the order comments or mentioned by phone during checkout.
For our detailed write up on Caveman Chefs including reviews, see our in-depth coverage on them.
Every Year there are More Options for Paleo Meal Delivery Fresno Paleo Delivery Options
Farm-fresh produce is available throughout California, but when life gets too busy, it's always great to have something to fall back on. All of the companies on this list will deliver anywhere in Fresno, and will bring you locally sourced, organic produce and humane meats. No matter the reason why you chose to eat a grain-free or Paleo style diet, there is a company out there to meet your needs. The companies on this list are not only Paleo compliant, but also meet the needs of the Wahls Paleo, Whole 30, and AIP diets as well. They can make pegan, or vegetarian customizations, and can accommodate both singles and families. The convenience of this food delivery companies will be just another reason to stick to your diet.
Other Paleo Delivery Fresno Area Companies
If you have any other suggestions of other places offering Fresno Paleo Friendly Meal Delivery or Fresno Paleo restaurants that might offer takeout or delivery options, please let us know in the comments below.