It doesn't matter if you're in your first week or you tenth year of the Paleo diet: If you're like us, you've experience both the joys of preparing and consuming all-natural Paleo compliant meals and the frustration of not being able to find enough time to cook. Preparing grain, dairy and sugar-free food from all-natural, wholesome ingredients takes time. And there are going to be moments when your schedule doesn't allow you enough time to cook. If you've been struggling to find a solution to those nights of the week when your schedule runs unexpectedly awry, struggle no more!
Living in Hartford, there are a bunch of great options – many of them (more than you might think!) cater to Paleo customers. Below, we've compiled an assortment of local and national companies who will create and deliver healthy, Paleo-compliant meals to your door. Whether you're interested in a last-minute dinner, or a week's worth of pre-packed meals, we've got something for you. Take a look and see if something appeals.
We cover the following....
Local Paleo Food Delivery Hartford Options
Perhaps your boss called a last minute meeting, or you had an emergency errand to run, or maybe there was no time this weekend to shop – there are still ways for you to maintain a Paleo diet. Ordering locally also means you can supplement your home cooking and support your local food scene at the same time. While these local companies don't cater exclusively to their Paleo customers, they still offer several options that adhere to Paleo's grain, dairy, and sugar-free requirements.
The Black Market Kitchen
The Black Market Kitchen is the dream business of local resident Shannon Morcey, a former competitive athlete who has been focusing on clean eating for over a decade. The Black Market Kitchen offers meal plans geared towards Paleo eaters as well as a number of other health related diets like gluten free, vegetarian, ketogenic or just a generally clean healthy balanced diets. Meals can be picked up at the Black Market Kitchen in Oakville or can be delivered/shipped to area residents weekly.
For more information on The Black Market Kitchen and for prices see:
https://theblackmarketkitchen.com/
The Black Market Kitchen Reviews:
http://i95rock.com/too-busy-to-cook-do-you-want-to-eat-healthy-in-the-greater-waterbury-area/
The Black Market Kitchen Facebook Reviews: https://www.facebook.com/pg/The-Black-Market-Kitchen-364542256996329/reviews/
This post contains affiliate links. Thank you for supporting us! Click here to learn what this means.
National Companies Offering Paleo Meal Delivery to Hartford
Local companies are great solutions for those nights when something unexpected keeps you from the kitchen. However, if you know your upcoming week is going to be hectic, you might think about ordering from a national company. These companies create meals specifically for Paleo customers. This means that all the companies on our list source local, organic produce, and only use pastured and humanely raised proteins. These meals can be delivered fresh or frozen and can be stored in the freezer for use whenever you need them.
Many companies on our list also have menu options that adhere to specific Paleo plans like Autoimmune Paelo, Paleo-Zone, and Wahls Paleo. Along with a Paleo meal or meal plan, customers can also order time-saving add-ons like bone-broths and rendered fats and oils and Paleo-compliant snacks.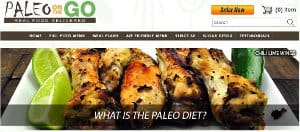 Paleo on the Go
Paleo on the Go, a popular meal delivery service founded in 2012, will deliver meals to the Hartford area. This company has been highly reviewed, both by bloggers and Paleo-centered institutions, and they offer a wide variety of meals like paleo pancaked, Cajun kielbasa, and garlic lime Mahi. Their customizable plans include options for those who need AIP specific meals, sugar-detox plans, or the thirty-day elimination challenge. The Florida based company personally visits the farms from which they source. They allow you the option of purchasing one of their plans, or choosing a variety of single meals. Their food arrives at your doorstep, frozen and ready to be heated and served.
See paleoonthego.com for prices and meal options.
Note: Paleo on the Go is offering a 10% discount for our readers, use code "MYPALEOS" at checkout for 10% off your entire order – one time use.
For our detailed write up on Paleo on the Go including reviews, see our in-depth coverage on them.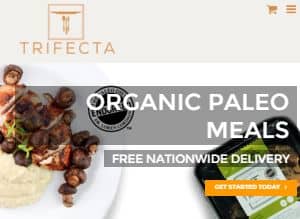 Trifecta
Trifecta Nutrition is a California-based company, and the majority of their ingredients come directly from local farmers. Trifecta is committed to using 100% organic ingredients and for all animal products used, strives to meet a minimum humane level rating of 5. They have worked to limit their environmental footprint, too, using green packaging options instead of Styrofoam. A great benefit to ordering from Trifecta: shipping is free!
See trifectanutrition.com for current prices for their Paleo and organic meal delivery Hartford offerings.
For our detailed write up on Trifecta including reviews, see our in-depth coverage on them.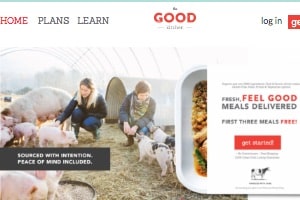 The Good Kitchen
The Good Kitchen has a lot to recommend it! The company often advertises introductory offers and has a variety of add-ons (like beef sticks or yogurt). While they require that you order five meals per shipment, you can customize your plan by choosing the type of meals and the frequency of shipment. Like many companies on this list, the North Carolina based Kitchen sources locally and uses grass-fed beef, pastured pork, and antibiotic and hormone-free chicken, as well as organic produce. They have plenty of options for those who are vegetarian and vegan. Like Trifecta, shipping is free to the Hartford area.
See thegoodkitchen.com for The Good Kitchens complete menu and list of healthy meals delivered Hartford / nationwide plans.
The Good Kitchen is offering a 15% discount for our readers. Use promo code "mypaleos" at checkout for 15% off your first order.
For our detailed write up on The Good Kitchen including reviews, see our in-depth coverage on them.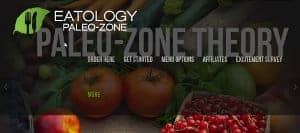 Eatology
Eatology creates a selection of Paleo dishes that also follow the Zone diet, which focuses on weight loss and macronutrient balance. Eatology is one the more affordable options on this list, and prices its food based on blocks (portion sizes). Regardless of content, a two block meal is $10.50 and a 3-block meal is $12.75. Eatology also offers discounts for customers who purchase a recurring meal plan. Their meals contain no added sugar, and last in the freezer for up to six months. If you're looking to lose weight on your Paleo diet, Eatology is a great option to consider.
See http://www.eatology.co for Eatology's Paleo-zone plans and pricing, including nationwide plans for healthy meal delivery Hartford options.
Eatology is offering a 20% off promo for our readers (works for first & all later orders), use code "ZACHPALEO" at checkout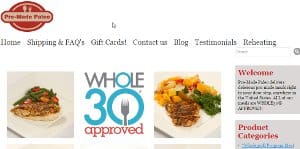 Pre-Made Paleo
One of Pre-Made Paleo's defining features is their list of rotating specialty items, which often includes hard-to-find ingredients like wild boar sausage, alpaca, or water buffalo. For those wishing to tailor their Paleo plans to specific diet requirements, Pre-made Paleo has a variety of meals that cater to the Whole30 diet, AIP, and family centered plans. You can order their meal plans, or choose from a la carte options like their popular burger sliders or sun-dried tomato pesto chicken. Though the company used to only offer frozen shipping, they now have an option for shipping fresh food. Depending on when you want your meals to arrive, you can choose from a variety of delivery options.
See premadepaleo.com for prices and Paleo meal delivery Hartford inclusive nationwide plans
Pre-made Paleo has offered a 5% discount (one time use) on all orders for our readers. Use code "MYPALEOS2018" at checkout
For our detailed write up on Pre Made Paleo including reviews, see our in-depth coverage on them.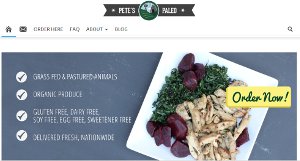 Petes Paleo
Pete's Paleo is a popular one and their services have been featured on a variety of television programs and in newspapers and magazines. The company is a southern California company who maintains close ties to local farmers and offers seasonal, fresh, organic ingredients. Their food uses naturally sweet fruits and vegetables, and so they're a great company for those looking to try a 21-day sugar detox diet. Their menus are inventive, exciting, and include options like curry braised pork cheeks with carrots and cilantro, or Garlic lamb shoulder with Sorel. Pete's also offers a family plan that comes with four servings of each meal.
See petespaleo.com for a complete list of prices, meal plans and healthy food delivery Hartford options.
For our detailed write up on Petes Paleo including reviews, see our in-depth coverage on them.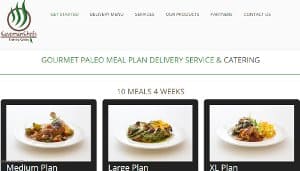 Caveman Chefs
Caveman Chefs is a Colorado-based company. It's run by chefs whose experiences range throughout the restaurant and catering industry. Their Paleo meals are created from locally sourced produce, meat, and fish. They are one of the few companies that allow for individual customization of specific meals. You have the opportunity, when you order, to specify dietary restrictions and food allergies.
Visit http://www.cavemanchefs.com for more information on their Paleo delivery Hartford options
Caveman Chefs has offered 10% off all orders by mentioning the promo #ZachmyPALeos in the order comments or mentioned by phone during checkout.
For our detailed write up on Caveman Chefs including reviews, see our in-depth coverage on them.
Every Year there are More Options for Paleo Meal Delivery Hartford & Paleo Delivery Options
The bottom line is that you don't have to worry about maintain your diet when life throws you curve balls. Whether you need an occasional kitchen reprieve or a month-long meal plan – there are plenty of options for Paleo meal delivery. And there are also many benefits to complementing your shopping and meal preparation with a few pre-made meals: Ordering locally allows you to further support your local economy, and when you order nationally you have access to a wide variety of local produce and protein you might not have otherwise have the opportunity to experience.
National companies also offer packaging perfect for clients who have to travel for work, so if you are looking to make the Paleo diet regular part of your life, these companies will help you stay on track with your plan. But if you're heading to a new town and want to experience the local cuisine, check out one of our other articles detailing Paleo options in other US and Canadian cities.
So whether you're in the middle of midterms, swimming in a pile of paperwork, out of town on vacation, know that you can still maintain your Paleo lifestyle. We hope this article has allowed you to select a few options for the next time you need help with your Paleo diet. If you're heading out of town, check out our other articles detailing the options available in other areas.
Other Paleo Delivery Hartford Area Companies
If you have any suggestions of other places offering Hartford Paleo Friendly Meal Delivery or know of Hartford Paleo restaurants that might offer takeout or delivery options, please let us know in the comments below.