It happened again: your day was running smoothly, going perfectly to plan, when suddenly something came up. You stayed at the office later than usual; you had to run a last minute errand; you had to help in a family emergency. Whatever the reason, you've run out of time at the end of your day to shop for and prepare a Paleo meal from scratch.
If you're like us, this is probably not the first time this has happened. Following the Paleo Diet can be incredibly rewarding, but Paleo practitioners know that preparing and cooking Paleo meals is a time consuming process. There are going to be moments in your week when you run out of time.
But running out of time doesn't mean you have to fall off track with your diet. If you're interested in finding a solution to the night of the week where cooking Paleo just isn't feasible, look no further: we've got you covered. Below, we've detailed a series of options both local and national that deliver Paleo meals to residents living in Houston and the surrounding areas. Read on to find something that will work with your needs and your schedule.
We cover the following....
Local Paleo Food Delivery Houston Options
Only recently has Houston's food scene really received the attention it deserves! Houston is a hotbed of culinary creativity and there are new restaurants popping up all the time. Would it surprise you to hear that many local businesses also cater to Paleo clients? If you've run out of time to cook dinner, or prepare Paleo meals to bring each day for work, these local meal delivery companies have a whole host of options available to customers who follow the Paleo Diet. Read on. Hopefully there's something on this list that will appeal!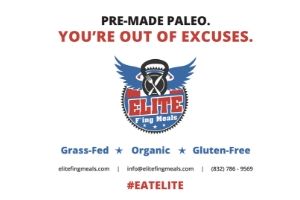 Elite F'ing Meals
Elite F'ing Meals are a highly rated meal delivery service offering Paleo- Keto- and Plant-based-friendly dishes to the Houston, Texas area. They give you the option of ordering for home delivery from either their subscription or a la carte options, or to pick up from their kitchen location in the Northside area.
They aim to simplify their customer's lives by catering to your goals, using locally-sourced and organic ingredients. They state that all dishes are 100% gluten-free, free from refined sugar and preservatives.
Their infamous Paleo 'f'ing crack' brownies are also available to purchase on their website alongside any of their meal plans, which are made with dairy-free chocolate, cassava flour rich in gut-friendly prebiotic fiber and coconut sugar.
Whilst offering a flat rate of $13 per delivery, Elite F'ing Meals serves a 60 mile radius from their kitchen location, and asks that you leave their packaging out to be reused for future orders. They use thermal insulated totes to keep your food fresh with reusable ice packs, so you don't have to worry about being in for a delivery.
Alternatively, their pickup option is free of charge, so if it's easier to pop in on the way home from work, they'll be more than happy to see you!
For more information on Elite Fing Meals and for prices see:
https://www.elitefingmeals.com/
Elite Fing Meals Reviews:
https://www.findmeglutenfree.com/biz/elite-fing-meals/5111030776594432
Elite Fing Meals Facebook Reviews: https://www.facebook.com/pg/eatelite/reviews/
Elite Fing Meals Yelp Reviews: https://www.yelp.com/biz/elite-fing-meals-houston-2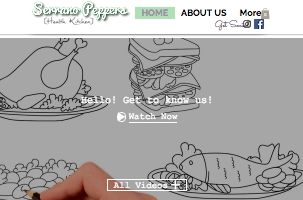 Serrano Peppers Health Kitchen
Serrano Peppers are a relatively small local business in the Houston area offering Paleo, Keto, Vegan and Vegetarian meal plans, all of which are gluten-free.
They try to encourage well-balanced meals by incorporating lean protein, fibrous vegetables and complex carbohydrates into all of their meals.
The only caveat in supporting this particular small business is that their meal options are quite limited, only offering three different Paleo lunch options and only one Paleo dinner option. However, their menu appears to change weekly to keep things interesting.
Serrano Peppers allows you to buy their meals seperately at the price of $12.50 for lunch and dinner dishes, and $10 for breakfast offerings, which are then shipped within 2-3 days of ordering.
For more information on Serrano Peppers Health Kitchen and for prices see:
https://www.eatserranopeppers.com
Serrano Peppers Health Kitchen Facebook Reviews:
https://www.facebook.com/serrano.peppers/posts_to_page/ (user posts)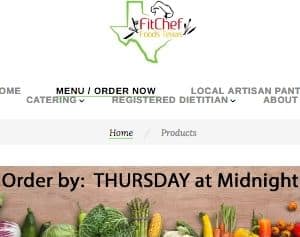 Fit Chef Foods Texas
Fit Chef Texas came about when owner Chef Gary realised the importance of nutrient-dense, natural food whilst managing a health food store. He understands that our diets have a profound impact on factors like sleep, weight, immune function, athletic performance and energy levels.
Fit Chef Texas are an affordable option for Texas citizens, providing the options of purchasing meals individually or going for their numerous meal plans. Their meal plans range from $50 to $160 per week, with their cheapest package taking the effort out of preparing your work week's lunches.
With dishes like Paleo Blueberry Pancakes with optional sides such as Bacon or Pork and Venison Sausage, you'll feel as though you have your own personal chef preparing gourmet meals for you.
For more information on Fit Chef Foods Texas and for prices see:
Fit Chef Foods Texas Facebook Reviews: https://www.facebook.com/pg/fitcheftexas/reviews/
Fit Chef Foods Texas Yelp Reviews: https://www.yelp.com/biz/fit-chef-texas-pearland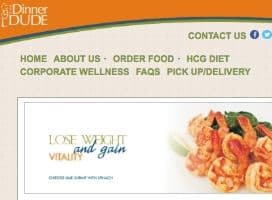 The Dinner Dude
Dinner Dude creates health-conscious fresh meals from scratch at their Houston-based kitchen. Their menu has Paleo, Gluten-free, Low Carb and interestingly, HCG Diet options to cater for a wide variety of customers, all meals of which are available for pickup.
Alternatively, if you're not around to pickup from their kitchen, Dinner Dude also delivers to the surrounding area for a flat shipping rate of $13. They encourage you to order as much or as little as you need, requiring no subscription or minimum order.
Dinner Dude offers a wide range of dishes to suit all palates, that are gluten-free, grain-free, low-carb or dairy-free. Every meal states whether it is suitable for Paleo practitioners, HCG followers and/or low-carb needs, making it easy for you to scan the most suitable meals. Be mindful that HCG-friendly meals are automatically very low in calories and fat, great for those who would like to see weight loss as one of the many benefits of following a Paleo-based meal plan.
For more information on The Dinner Dude and for prices see:
The Dinner Dude Reviews:
http://www.superpages.com/bp/the-dinner-dude-houston-L2356174709.htm
The Dinner Dude Yelp Reviews: https://www.yelp.com/biz/the-dinner-dude-houston-2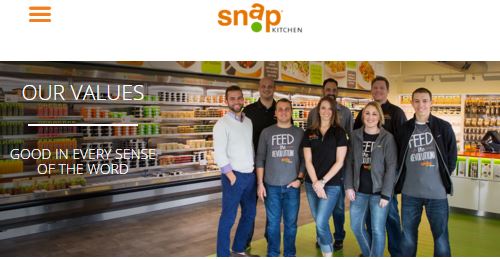 Snap Kitchen
Snap Kitchen is a local Paleo meal delivery service based in the state of Texas that offers ready-to-heat healthy meals. Snap Kitchen has the largest number of store locations in the Texas area, so even if you go outside of Houston, there is likely to be a Snap Kitchen location nearby.
Because there are so many Snap Kitchen locations, it's easy for you to pick up orders from their kitchens, although they do offer a doorstep delivery service as well, which usually gets to you on the same day that you order from them!
The guys at Snap state that all of their meals are free from gluten, artificial preservatives, antibiotics, hormones and artificial colors and flavors, so you don't need to worry about the quality of your meals, leaving you at ease and confident that you're making informed food choices.
They concentrate on affordability whilst serving not only Paleo needs, but also Whole30 and Keto diet plans. All main meals are well-balanced, containing protein and lots of non-starchy veggies, with some complex carbohydrates for those who want a bit more bulk in their meals.
F.A.R.M Meals
Farm Meals specialize in serving a wide variety of different customers and dietary requirements, including Paleo, SCD (Specific Carbohydrate Diet), Low-FODMAP, GAPS diet (Gut and Psychology Syndrome – initially a book written by Natasha Campbell-Mcbride for treating behavioural issues), Yeast-Free, Pegan, Keto, Vegan and Raw Vegan.
Farm Meals not only curates specifically for the individual, but offers organic, grass-fed/free-range beef and chicken bone broths as part of their products on offer.
It's worth noting that Farm Meals serves only the Northern more suburban area of The Woodlands, perfect for those of you who might be slightly further afield from central Houston.
https://www.gfpersonalchef.com/
Healthy Gourmet
Healthy Gourmet are based in Houston, Texas, and ship both locally and to a number of other states, including but not limited to Louisiana, Oklahoma and Kansas.
Their menu is Paleo-friendly, whilst also considering the needs of other dietary approaches, such as Keto, low-calorie, dairy-free, gluten-free, low-fat, sodium-conscious and low-carb. The main difference between the Keto and low-carb approaches are the number of net carbs, with Keto-friendly meals containing fewer than 10g of net carbs per meal.
Examples of Paleo-friendly meals include Bacon & Spinach Omelette, Beef Bourguignon and Keto Shepherd's Pie, although this is not all they have to offer.
Healthy Gourmet uses all-natural ingredients with no artificial additives or preservatives, with all dishes being cooked to order rather than batch-cooked. They also have no subscription service, meaning that you only buy as and when you need to.
https://www.healthygourmet.com/
This post contains affiliate links. Thank you for supporting us! Click here to learn what this means.
National Companies Offering Paleo Meal Delivery to Houston
While ordering locally is a great way to support your local food scene, there are a ton of benefits to ordering food from one of these national companies. For starters, these companies cater almost exclusively to Paleo customers. You can be sure your food is humanely raised and organically sourced. More importantly, if you're following a specific Paleo diet, like Wahls Paleo, or the newly popular Whole30 plan, these companies offer specific versions of Paleo Diets to cater to the particular needs of their clients.
Whether you're interested in ordering a whole month of meals, in getting a head start on a sugar detox, or simply ordering a few meals a la carte to keep in your freezer for emergencies, there are options for you amongst our list of national companies. You can choose to have your food shipped fresh or frozen, and most of these companies also offer Paleo-specific products – things that might be hard to find in your local market (like Paleo bagels, sugar-free bacon, or bone broth).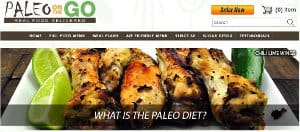 Paleo on the Go
Paleo on the Go is one of the companies that allows customers to order menu items a la carte. They have a whole host of options for customers to choose from, including breakfast, lunch, dinner and dessert-specific options. If you're interested in ordering meal plans, Paleo on the Go offers a monthly meal plan, as well as a specific plan for AIP and the Elimination Diet. The company is dedicated to sourcing from well regarded, organic vendors and has a page where consumers can explore the different vendors and products. Products ship to Houston in only two-day's time!
See paleoonthego.com for prices and meal options.
Note: Paleo on the Go is offering a 10% discount for our readers, use code "MYPALEOS" at checkout for 10% off your entire order – one time use.
For our detailed write up on Paleo on the Go including reviews, see our in-depth coverage on them.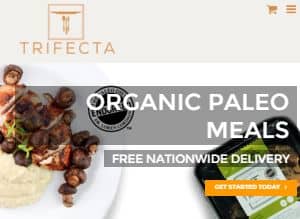 Trifecta
Trifecta Nutrition is a great place to order from if you're interested in pairing your fitness goals with your eating goals. Trifecta has a Paleo specific meal plan that highlights the natural flavors found in protein and vegetables; they offer options like caramelized onions and turkey, and a Portobello frittata. Because Trifecta knows that many of their customers wish to portion meals themselves, they offer an a la carte option that sells proteins and vegetables in bulk so you can create your own versions of their meals at home. Trifecta is also one of the only companies that offer free shipping to the Houston area.
See trifectanutrition.com for current prices for their Paleo and organic meal delivery Houston offerings.
For our detailed write up on Trifecta including reviews, see our in-depth coverage on them.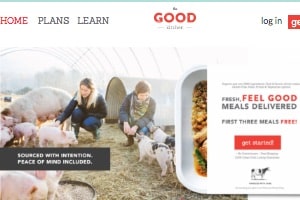 The Good Kitchen
The Good Kitchen is based out of North Carolina and maintains close relationships with local vendors. They only have options for meal plan purchases, but they allow for maximum customization. Their website is incredibly easy to maneuver: customers can choose the protein they want and choose meals based on their main ingredients. The Good Kitchen is a great option for people who are vegetarian as well. Like Trifecta, shipping is free. Their meals arrive right on your doorstep and only require three minutes in the microwave before serving.
See thegoodkitchen.com for The Good Kitchens complete menu and list of healthy meals delivered Houston / nationwide plans.
The Good Kitchen is offering a 15% discount for our readers. Use promo code "mypaleos" at checkout for 15% off your first order.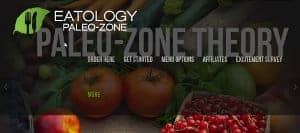 Eatology
If you're interested in focusing on maintaining or losing weight, Eatology is a great company to order from, as they combine Paleo principles with the Zone diet, creating meals that balance macronutrients.
Meals come in two or three "blocks" (portion sizes), and customers have a wide variety of options from which they can create meal plans.
Eatology is a great option for those of you who might be concerned about affordability. The company offers discounts for recurring meal plan orders and base the price of the meals of the "block" size, as opposed to the meal content. Meals cost between $10-12 each.
Because Eatology is located in Texas, meals will ship to Houston in no time, great for those who need orders delivered fast!
See http://www.eatology.co for Eatology's Paleo-zone plans and pricing, including nationwide plans for healthy meal delivery Houston options.
Eatology is offering a 20% off promo for our readers (works for first & all later orders), use code "ZACHPALEO" at checkout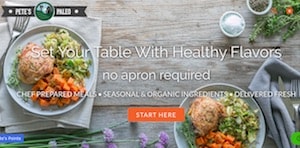 Petes Paleo
Like many companies on this list, Pete's Paleo offers a rotating menu of inventive and colorful Paleo dishes. Coconut curry chicken thighs with roasted squash and garlic chard, herb turkey with summer ratatouille and snap peas are just a couple of the numerous and delicious dishes they have up for grabs.
They are based now in Atlanta, Texas, having moved from their original location in San Diego, meaning that your orders are highly likely to be delivered in a short amount of time.
The company prides itself on creating meals from ingredients sourced from local farms. They create their menus based solely off of seasonally available ingredients and have options for a sugar-free detox meal plan as well as a plan that adheres to the Wahls Paleo Protocol. The company has been featured in a number of television programs, newspapers, and magazines, such as Men's Health and Crossfit Journal.
See petespaleo.com for a complete list of prices, meal plans and healthy food delivery Houston options.
For our detailed write up on Petes Paleo including reviews, see our in-depth coverage on them.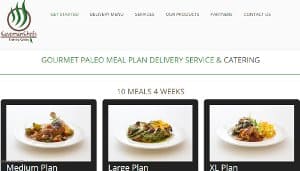 Caveman Chefs
Caveman Chefs is based out of Denver Colorado and prides itself on inventive, customizable menu options like duck salad, or pesto crusted lamb racks. The company is one of the few that allows customers the options of customizing their meals by including allergies or dietary restrictions. The company sources from local vendors, and while there aren't as many options for meal plans as some of the sites on this list, the menus are enticing, and customers can choose the size of their meal (from medium to extra-large), or can order meals by the pound.
Visit http://www.cavemanchefs.com for more information on their Paleo delivery Houston options
Caveman Chefs has offered 10% off all Caveman Chefs orders by mentioning the promo #ZachmyPALeos in the order comments or mentioned by phone during checkout.
Buying Frozen Meals in the Houston Area that are Paleo Friendly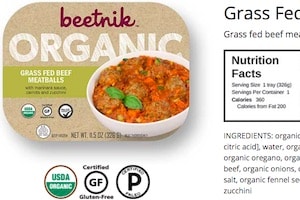 Beetnik
Beetnik Foods (based in Austin) are a national ready-to-heat meal company but they are based right out of Texas, so you can still feel happy about supporting a local business. Beetnik come well-recommended by media outlets such as Women's Health, ABC and USA Today.
They provide frozen, 100% organic, gluten-free meals with grass-fed beef, and organic, free-range poultry. They have multiple stores based in the US; their meals often being stocked at popular retailers such as Walmart and Whole Foods, making them easily accessible for everyone. The vast majority of their meals are Paleo certified, and are generally priced at $8 per meal.
Although they aren't a doorstop delivery service, the fact that at least 17 stores in the immediate Houston area stock Beetnik meals means that it's super easy for you to pop into a participating retailer on the way home and grab something that can be quickly defrosted and heated.
Every Year there are More Options for Paleo Meal Delivery Houston Paleo Delivery Options
You don't need to wait for an excuse to order meal delivery from one of these national or local companies. Shopping for and cooking Paleo takes a tremendous amount of effort and giving yourself a break from the kitchen can help you sustain your Paleo progress.
For those who are looking for out-of-town dining options, you might also want to consider ordering from one of these national companies. Many of them have packaging options that are conducive to travel. You might also think about checking out a few of our other local articles, detailing options in the area you'll be traveling to.
Even if you find cooking cathartic and take great pride in creating healthy, home-cooked meals, there will always be times when you need a plan B. We hope we've been able to provide you with a number of options you can go to when you need a little help with your Paleo Diet!
Other Paleo Delivery Houston Area Companies
If you have any suggestions of other places offering Houston Paleo Friendly Meal Delivery or know of Houston Paleo restaurants that might offer takeout or delivery options, please let us know in the comments below.