In following the Paleo Diet, you've probably experienced at least one or two evenings where your schedule doesn't allow you time to shop, prep, cook, and finally clean up. Similarly, scanning through take-out menus and food delivery apps is not an easy way to find restaurants with options compatible with the grain-free, sugar free lifestyle. If it's one of those weeknights where you've run out of time to cook healthy Paleo-compliant meals, look no further. In Indianapolis you have several options of Paleo practitioners that offer food delivery. Below we've assembled lists of local and national companies that create meals adhering to Paleo's grain, dairy, and sugar free requirements. Our goal is that you find something to suit your needs.
We cover the following....
Local Paleo Food Delivery Indianapolis Options
Indianapolis (recently named one of Zagat's hottest food cities) has some great restaurants that serve up a wide variety of cuisines. As the food scene is ever expanding, you may not have realized just how many places now cater to customers following the Paleo Diet. While local services don't always cater exclusively to all aspects of the Paleo diet like the national companies in the next section, they do have some healthful options that are many times grain, sugar, and dairy free.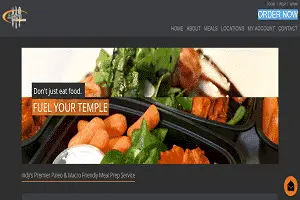 Artie's On the Go
Artie's On the Go offers two lines of meal plans, one catering to the Paleo Diet and another which they call their Macro line which is non-Paleo in most cases. Their founding goal is to create clean meals for the people of Indianapolis. Meal plans change weekly and meals ordered from the company are delivered to one of more than 50 Crossfit and other gym locations throughout the Indianapolis region.  They plan in 2017 to begin offering meal delivery directly to home addresses as well.
For more information on Artie's On the Go and for prices see:
https://www.artiesonthego.com/
Artie's On the Go Reviews:
http://www.aliwren.com/arties-paleo-on-the-go/
Artie's On the Go Facebook Reviews: https://www.facebook.com/pg/ArtiesPaleoOnTheGo/reviews/
Artie's On the Go Yelp Reviews: https://www.yelp.com.au/biz/arties-paleo-onthego-indianapolis
This post contains affiliate links. Thank you for supporting us! Click here to learn what this means.
National Companies Offering Paleo Meal Delivery to Indianapolis
Whereas local companies don't always cater exclusively to Paleo customers, these national companies do, and with the majority sourcing from organic farms and using only grass-fed meat, and high quality rendered fats and oils. These companies also have options for specific Paleo programs like AIP, Whole30, and Wahls Paleo – which are often difficult meal options to find locally. If you're not a big fan of cooking, if you know you have a busy week, or if you'd like to keep a few meals in the freezer, just in case, these companies allow you to order in advance and will ship meals direct to your door, ready to be reheated and served.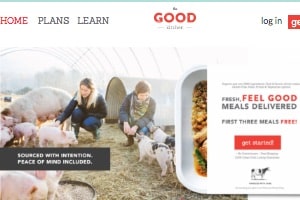 The Good Kitchen
The Good Kitchen sources its ingredients locally, using grass-fed beef, pastured pork, and antibiotic and hormone-free chicken, as well as organic produce. In addition, they have direct relationships with these local farms, and base their weekly ever changing menu around what is currently in season and tastes the best. They offer free shipping to all Indianapolis home or business addresses, as well as to residents throughout the entire region, although they do require customers order a minimum of 5 meals per order. While the North Carolina based company requires its customers to order meal plans (instead of a la carte options), they offer creative, colorful meals that come in highly customizable plans.  Meals are organized into menus based on the protein, such as beef, pork, poultry, seafood and even a Paleo vegetarian or Pegan meal line – as well as offering healthy lunch boxes for kids.  Their meals are priced based on the number of meals purchased as opposed to meal content like the majority other companies we cover in this article. 
See thegoodkitchen.com for prices and menus.
The Good Kitchen is offering a 15% discount for our readers. Use promo code "mypaleos" at checkout for 15% off your first order.
For our detailed write up on The Good Kitchen including reviews, see our in-depth coverage on them.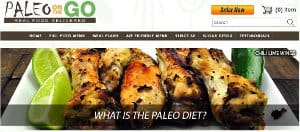 Paleo on the Go
Paleo on the Go is a popular meal delivery service known for their delicious food and plethora of options. Best of all? They ship to Indianapolis. The company has been well received by bloggers and consumer agencies. They offer customers a variety of specialized plans including AIP, sugar detox, and a thirty-day elimination diet. But you don't have to order one of their meal plans. Paleo on the Go is one of the few companies that allow you to purchase meals a la carte. So whether you're interested in an order of Paleo bagels, or an elk burger with wild mushrooms, you can order what you want without committing to a meal plan. The company believes in keeping their customers as informed as possible and lists all the farms and vendors from which they source.
See paleoonthego.com for prices, their complete menu and their list of healthy meals delivered Indianapolis / nationwide plans.
Note: Paleo on the Go is offering a 10% discount for our readers, use code "MYPALEOS" at checkout for 10% off your entire order – one time use.
For our detailed write up on Paleo on the Go including reviews, see our in-depth coverage on them.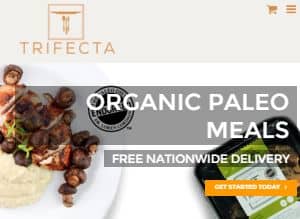 Trifecta
While Trifecta primarily advertises its meal plans (Paleo, Clean Eating, Vegan, and Vegetarian) it also offers consumers the option to purchase a la carte items (sold by the pound) so that you can portion meals yourself. Trifecta prides itself on providing customers with all-natural, healthful food to help fuel an active lifestyle. All of Trifecta's meals are 100% organic and their protein is humanely raised, grass fed and pastured. One of the best things about Trifecta: shipping is free!
See trifectanutrition.com for current prices for their Paleo and organic meal delivery Indianapolis offerings.
For our detailed write up on Trifecta including reviews, see our in-depth coverage on them.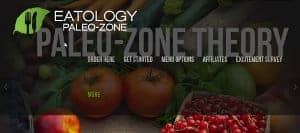 Eatology
Eatology is one of the more affordable options on this list. The company creates Paleo meals based on the principals of the Zone Diet (which focuses on weight loss and macronutrient balance). On the Zone Diet, your meals are defined by how many "blocks" (servings) they contain, with medium meals containing two blocks, and large meals containing three blocks. Regardless of content, Eatology charges the same price for all medium meals, and slightly more for large meals. While they require their customers to purchase one of their meal plans, they offer a wide variety of plan options and persuasive discounts on recurring plans.
See http://www.eatology.co for Eatology's Paleo-zone plans and pricing, including nationwide plans for healthy meal delivery Indianapolis options.
Eatology is offering a 20% off promo for our readers (works for first & all later orders), use code "ZACHPALEO" at checkout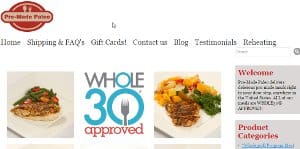 Pre-Made Paleo
Pre-made Paleo is known for their Whole30 compliant meal plans and menu options. They are another company that allows you the opportunity to order a la carte meals, and offer appealing dishes like mojo pork with organic vegetables, or Turkey meatloaf with mushroom sauce. One of the unique features of Pre-Made Paleo is their rotating menu of hard-to-find proteins like water buffalo bratwurst, Chilean sea bass, and elk chili. They also have a wide variety of time saving add-ons like bone broth, duck fat, or beef tallow, as well as snacks (RX bars, trail mixes, etc). If you've ordered from Pre-Made Paleo before, you might have only been given the option to order frozen meals. Recently, however, the company added the opportunity to choose meals shipped fresh.
See premadepaleo.com for prices and Paleo meal delivery Indianapolis inclusive nationwide plans
Pre-made Paleo has offered a 5% discount (one time use) on all orders for our readers. Use code "MYPALEOS2018" at checkout
For our detailed write up on Pre Made Paleo including reviews, see our in-depth coverage on them.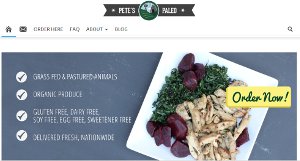 Petes Paleo
Pete's Paleo has been featured on a variety of television programs as well as in newspapers and magazines. It's another company with close ties to its local food community. In fact, their menu changes all the time based on what seasonal produce and protein are available. This makes them a great option for customers looking to set up a recurring order. If you order on a Monday, Pete's spends Tuesday and Wednesday getting ingredients and preparing your meals. The meals will arrive on Friday, ready to heat and eat. Pete's offers a variety of specialty programs like a 21-day sugar detox as well as a plan adhering to the Wahls Paleo requirements. They also have a family plan option, for those looking to feed a few people.
See petespaleo.com for a complete list of prices, meal plans and healthy food delivery Indianapolis options.
For our detailed write up on Petes Paleo including reviews, see our in-depth coverage on them.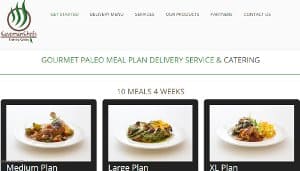 Caveman Chefs
Caveman Chefs is one of the only companies on this list to offer customers the option to tailor a meal plan to their specific tastes and dietary requirements. Their plans aren't as customizable as some of the companies on this list, but their food is inventive and their menu is constantly changing. Caveman Chefs is based out of Colorado and they maintain close ties to their local food community. While they list several options for local pickup in the Denver area, they also ship meals to Indianapolis.
See http://www.cavemanchefs.com for more information on their Paleo delivery Indianapolis options
Caveman Chefs has offered 10% off all orders by mentioning the promo #ZachmyPALeos in the order comments or mentioned by phone during checkout.
For our detailed write up on Caveman Chefs including reviews, see our in-depth coverage on them.
Every Year there are More Options for Paleo Meal Delivery Indianapolis & Paleo Delivery Options
With companies delivering Paleo meals straight to your front door, maintaining healthy eating habits has never been easier. Even if you're heading out of town, going on a cruise, or simply looking to bring meals with you to work, many of these companies ship their food in containers that are perfect for travelling. It's possible to leave home and still stay on your diet. For those who are interested in trying new foods, these companies give you the opportunity to try local, seasonal produce from all over the United States. Even if you're ordering from a local Indianapolis restaurant, these restaurants can often access ingredients that might otherwise be difficult for you to obtain. You may love shopping for and cooking your own meals, but there are bound to be nights when you're not able to commit to the kitchen. What we hope this list has established is that there are many options for Paleo practitioners who need the occasional back-up plan. With so many options to choose from, we hope you'll find something you love.
Other Paleo Delivery Indianapolis Area Companies
If you have any suggestions of other places offering Indianapolis Paleo Friendly Meal Delivery or know of Indianapolis Paleo restaurants that might offer takeout or delivery options, please let us know in the comments below.