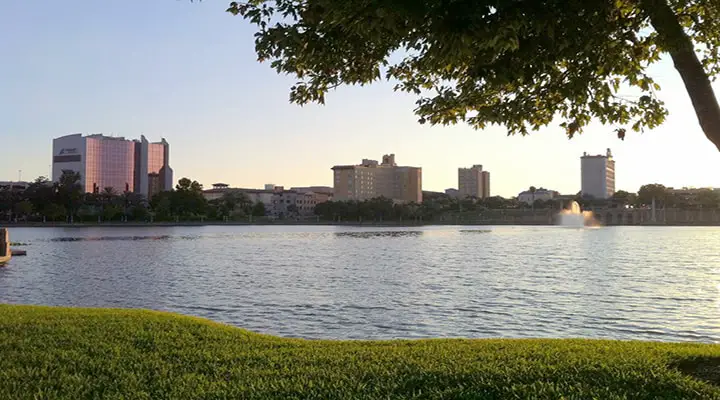 Following the Paleo diet can be a rewarding lifestyle in many ways, but unfortunately, some of its principles are just not compatible with the fast pace and busy schedules of modern life. Whether you just started the diet recently, or have been following it for years, you have likely struggled with the requirement of cooking all of your own meals from scratch, using seasonal, locally-sourced ingredients, at one time or another. The difficulty of achieving this requirement may have even led you to consider abandoning the diet completely.
Don't worry – you are not alone in your struggles. Many other dieters have faced the same challenges, and a number of solutions have arisen to make the Paleo diet more achievable for people with busy schedules. This guide will follow the various local and national delivery companies which cater to Paleo dieters, all of which are available to you in the Polk County area. While they all have certain characteristics which distinguish them from other companies, all of them have the potential to make your Paleo lifestyle more enjoyable and easier to manage.
This post contains affiliate links. Thank you for supporting us! Click here to learn what this means.
We cover the following....
Local Paleo Food Delivery Lakeland Options
The first section of our guide will cover a number of locally-based companies which deliver Paleo meals throughout the Lakeland area. These companies are all local businesses with a commitment to providing clean, healthy meals to dieters throughout the area – even if they don't all focus on the Paleo diet specifically. Regardless of their focus, all of them offer at least a few Paleo options which can be a great solution in situations where you suddenly find yourself pressed for time, while also offering a chance to support local businesses which use produce from local farmers in and around Polk County.
Cater Me Fit
Cater Me Fit, located in nearby Oldmar Florida, offers meal delivery to Lakeland residents. They offer several health based meal plans with one of the plans catering exclusively to the Paleo Diet. They offer delivery 3 days per week, and meals are delivered fresh. Their Paleo Lean Plan focuses on small, frequent meals, with a recommendation of ordering between 2 and 5 meals each day (including options for breakfast, lunch and dinner). Meals are typically between 350 and 450 calories each and can be customized to meet your needs with the help of their in-house nutrition specialists.
For more information on Cater Me Fit and for prices see:
https://www.catermefit.com/meal-plans/lean-paleo-plan/
Cater Me Fit Reviews:
http://tampabayparenting.com/40766/wanted-healthy-lifestyle/
Cater Me Fit Facebook Reviews: https://www.facebook.com/pg/CaterMeFitinc/reviews/?ref=page_internal
Cater Me Fit Yelp Reviews: https://www.yelp.com/biz/cater-me-fit-oldsmar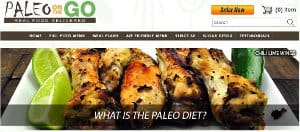 Paleo on the Go
Paleo on the Go, located in Largo Florida outside Tampa offers two options for area residents. They offer pickup of meals at their kitchen location in Largo, probably a bit far for Lakeland residents, as well as express delivery of their meals to your home or office for residents throughout Lakeland, Winter Haven and surrounding communities. As one of the largest chef delivery services in the country focused exclusively on meals designed for the Paleo Diet, Paleo on the Go, they offer ingredients that are in line with the highest standards set by the Paleo Diet, such as offering grass fed and pastured proteins, wild fish and seafood and produce sourced from named farms and local distributors. They also have obtained a large number of Paleo credentials, such as operating a dedicated gluten free kitchen facility and having obtained Paleo Certified and Certified Paleo Friendly certifications for their company. They also offer a number of specific Paleo plans for those using the Paleo Diet for healing, such as their Autoimmune Paleo meal plans, sugar free detox diet plans and 30 day elimination diet plans among other unique offerings.
For more information on Paleo on the Go and for prices see:
Note: Paleo on the Go is offering a 10% discount for our readers, use code "MYPALEOS" at checkout for 10% off your entire order – one time use.
For our detailed write up on Paleo on the Go including reviews, see our in-depth coverage on them.
Paleo on the Go Reviews:
http://www.phoenixhelix.com/2015/07/11/paleo-on-the-go-aip-frozen-meal-review/
http://www.thepaleomom.com/2015/12/product-review-autoimmune-protocol-meals-from-paleo-on-the-go.html
http://asquirrelinthekitchen.com/paleo-on-the-go-review-is-it-worth-the-money/
http://www.wickedspatula.com/paleo-on-the-go/
http://gutsybynature.com/2016/12/27/paleo-on-the-go-review/
Paleo on the Go Facebook Reviews: https://www.facebook.com/paleoonthego/reviews
Paleo on the Go Yelp Reviews: http://www.yelp.com/biz/paleo-on-the-go-largo
National Companies Offering Paleo Meal Delivery to Lakeland
The next section will cover seven different national companies which deliver to any address in Lakeland, Winter Haven, and the surrounding areas. These companies offer more variety than the local companies in the previous companies, mainly because of their larger scope and focus on the Paleo diet specifically. While all of them offer slightly different options for your consideration, all of them offer chef-curated Paleo meals, made with organic, locally-sourced ingredients whenever possible and shipped to your door via express shipping.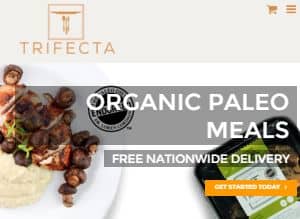 Trifecta
For those looking to gain an unprecedented level of structure and regularity in their Paleo meal schedule, look no further than Trifecta. This company's highly popular Paleo meal plan offers breakfast, lunch, and dinner options for every day of the week (breakfast optional), with each week's meals arriving in refrigerated cooler boxes every Friday to eliminate the worry associated with weekend grocery shopping and meal planning. Plus, Trifecta is the only national company on our list to offer non-Paleo meal plans as well, making them an ideal option for individuals with family or friends who don't follow the Paleo diet, but are looking for a healthy meal plan option which fits their own life.
See trifectanutrition.com for current prices for their Paleo and organic meal delivery Lakeland offerings.
For our detailed write up on Trifecta including reviews, see our in-depth coverage on them.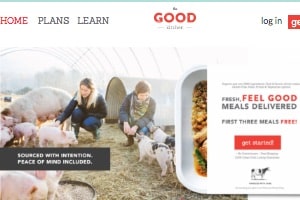 The Good Kitchen
The Good Kitchen offers a number of options for those who would like to try a more customizable meal plan. First, they allow you to choose from a list of different menus, which are divided up based on the main ingredients in each meal (such as Beef, Pork, Chicken, Seafood, and Vegetarian), along with a Primal meal plan which reduces the Paleo diet to its barest essentials. Then, you can mix and match meals from these menus until you have the ideal meal plan, while also being able to control the number of meals in each shipment (minimum of 5) and whether your meal plan shipments are delivered weekly, bi-weekly, or monthly.
See thegoodkitchen.com for The Good Kitchens complete menu and list of healthy meals delivered Lakeland / nationwide plans.
The Good Kitchen is offering a 15% discount for our readers. Use promo code "mypaleos" at checkout for 15% off your first order.
For our detailed write up on The Good Kitchen including reviews, see our in-depth coverage on them.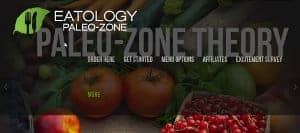 Eatology
Eatology allows Paleo dieters to get into the Zone by following the requirements of both the Paleo and Zone diets. This company's meals are divided into serving-size portions known as "blocks," which help to prevent overeating. Combined with balanced macronutrient levels, this helps to promote weight loss and general wellness – in addition to the benefits provided by adherence to the Paleo diet, such as exclusion of grains, dairy, and unhealthy oils. Eatology ships all of their meals to the Lakeland area frozen, in innovative packaging which can conveniently be heated in either a microwave or a conventional oven.
See http://www.eatology.co for Eatology's Paleo-zone plans and pricing, including nationwide plans for healthy meal delivery Lakeland options.
Eatology is offering a 20% off promo for our readers (works for first & all later orders), use code "ZACHPALEO" at checkout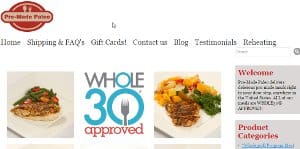 Pre-Made Paleo
Pre-Made Paleo is another company which appeals to dual dieters, as it combines the principles and requirements of the Whole30 program with those of the Paleo diet. It also boasts Richard Bradford, the creator of the recipes in the popular Whole30 series of cookbooks, as its head chefs, ensuring that the meals you get with this program are top quality Whole30 and Paleo-compliant meals. This company also includes unusual offerings like wild elk and water buffalo on its menu, which can be the perfect solution if you have become bored with the seasonal ingredients available at your local grocery store.
See premadepaleo.com for prices and Paleo meal delivery Lakeland inclusive nationwide plans
Pre-made Paleo has offered a 5% discount (one time use) on all orders for our readers. Use code "MYPALEOS2018" at checkout
For our detailed write up on Pre Made Paleo including reviews, see our in-depth coverage on them.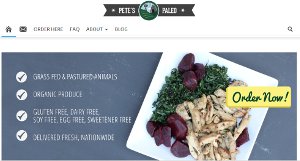 Petes Paleo
Pete's Paleo is a San Diego-based company which maintains an unwavering commitment to Paleo principles and healthy standards in all of their meals. They have developed close relationships with a number of farmers in the San Diego area, allowing these farmers' seasonal harvest schedules to provide the basis for their menus year-round. In addition, they exclude all sugars and sweeteners (even natural ones) from all of their meals, a high standard which has made their dedicated Sugar Detox and Wahl's Paleo meal plans especially popular for followers of those programs.
See petespaleo.com for a complete list of prices, meal plans and healthy food delivery Lakeland options.
For our detailed write up on Petes Paleo including reviews, see our in-depth coverage on them.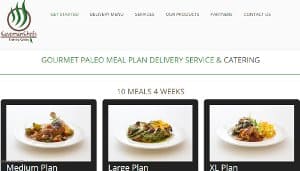 Caveman Chefs
Caveman Chefs is a Denver-based company which was formed by a group of friends and veterans of the food service industry in 2014. They have quickly built themselves up as a quality national business since then, with a combination of stellar service and dedication to Paleo principles which hits the mark every time. Their close relationships with local Colorado farmers allow them to provide fresh, seasonal produce in their meals, which you wouldn't otherwise have access to in Polk County, while also providing accommodations for those with food allergies and/or special dietary requirements – making their service accessible to just about anyone.
Visit http://www.cavemanchefs.com for more information on their Paleo delivery Lakeland options
Caveman Chefs has offered 10% off all orders by mentioning the promo #ZachmyPALeos in the order comments or mentioned by phone during checkout.
For our detailed write up on Caveman Chefs including reviews, see our in-depth coverage on them.
Every Year there are More Options for Paleo Meal Delivery Lakeland & Winter Haven Paleo Delivery Options
Hopefully this guide has showed you that it is not necessarily essential to cook all of your own meals in order to successfully follow the Paleo diet. While this remains one of the core tenets of an ideal Paleo lifestyle, for many it is an unachievable ideal. The companies listed above all recognizable the difficulties that many Paleo dieters have keeping up with the daily shopping and cooking requirements that go along with the diet, leading them to establish services which can help you save time and stay healthy.
All of the delivery companies listed above can be an invaluable tool in keeping you from giving up on the Paleo diet. The local companies offer a quick solution for times when you might otherwise be tempted to give in to the lure of convenient processed foods, by making Paleo meals more convenient and accessible to Lakeland area residents. The national companies, on the other hand, present great long-term solutions for Paleo dieters who need more structure and regularity in their daily lives – without the stress and time commitment that cooking and meal planning entails. Whatever your individual situation, we hope that, by choosing one of the options listed above, you will be able to make your Paleo lifestyle more enjoyable and more manageable.
Other Paleo Delivery Lakeland Area Companies
If you have any suggestions of other places offering Lakeland Paleo Friendly Meal Delivery or know of Lakeland Paleo restaurants that might offer takeout or delivery options, please let us know in the comments below.