Little Rock has a growing food scene in which the Paleo and Primal diets, to name a few, are increasing in popularity. If you live in this area, you have the option to take advantage of companies that create chef designed Paleo friendly meals and deliver them to residents in and around the Little Rock Arkansas region. In this article, we are going to explore some of your best options when it comes to the Paleo food delivery services in the greater Little Rock and Conway Arkansas area. We will be covering companies with options for grain free gluten free diets like Paleo, and those following the Whole 30, Primal, AIP, the Wahls Paleo plan as well as much more.
We cover the following....
Local Paleo Food Delivery Little Rock and Conway Options
The following section covers companies based locally in the Little Rock area that offer Paleo food delivery. There are a couple of these delivery services based locally in the Little Rock area. Although smaller in size than some of the regional or national Paleo delivery companies covered later in this article, these can be great options for those looking to supplement their home cooked meals with some meals that can be purchased. Although these local companies do not specialize exclusively in the Paleo and grain free diets as some of the national delivery companies do, they do offer Paleo friendly plan and meal options along with their more standard healthy meal plans.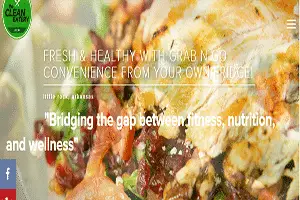 Clean Eatery
The Clean Eatery is a local Little Rock business offering healthy meal delivery. Meals are dropped off at your door in a reusable cooler that you leave out for that purpose. They cater to a wide range of meal preferences, from Paleo to Gluten Free, Primal and even Pegan offerings along with more standard diets. They note that they strive to use local, in-season, organic produce and grass fed/pastured meats and wild seafood whenever possible.
For more information on The Clean Eatery and for prices see:
The Clean Eatery Reviews:
https://www.tripadvisor.com/ShowUserReviews-g60766-d2248879-r267618540-Capital_Bar_and_Grill-Little_Rock_Arkansas.html
http://www.rockcityeats.com/healthy-meal-service-company-clean-eatery-sees-large-growth/
http://www.aymag.com/notable-the-clean-eatery/
The Clean Eatery Yelp Reviews: https://www.yelp.com/biz/the-clean-eatery-little-rock
The Clean Eatery Facebook Reviews: https://www.facebook.com/pg/cleaneatery.lr/reviews/?ref=page_internal
Crave
Crave is a local food delivery service covering Little Rock and North Little Rock. Although they cater to a range of healthy diets, they do offer Paleo and Primal meal options. They strive to use local farms when possible and source grass fed, pastured meats. Orders must be submitted by Monday for the following Monday, allowing them a week to source ingredients from local farms.
For more information on Crave and for prices see:
Crave Reviews:
http://www.rockcityeats.com/new-meal-delivery-service-hopes-to-help-others-achieve-new-years-goals/
Crave Facebook Reviews:
https://www.facebook.com/pg/cravefuel/reviews/?ref=page_internal
This post contains affiliate links. Thank you for supporting us! Click here to learn what this means.
National Companies Offering Paleo Food Delivery to Little Rock and Conway
The following national meal delivery companies all have Little Rock as well as surrounding areas within their delivery zone. Some of these companies are based in the region, such as The Good Kitchen, Paleo on the Go and Eatology, but are not based directly in Little Rock. Instead, they prepare their meals in their commercial kitchens and use express shipping and cooler shipping boxes with ice packs to get the meals sent out to any address in the region, in some cases still refrigerated and ready to simply heat, while in other cases shipping frozen Paleo meals. These companies offer services very specific to Paleo, such as AIP and other speciality Paleo plans, Paleo certifications and other attributes specifically catering to those eating Paleo and grain free diets.  Sometimes, you don't have time to cook, or you need inspiration for new and exciting Paleo recipes. These companies provide that option.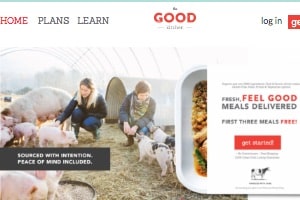 The Good Kitchen
The Good Kitchen, focuses on the highest sourcing standards recommended by the Paleo Diet: using organic produce (even working with farms that use regenerative agriculture), 100% grass fed and grass finished beef, pastured poultry, eggs, pork, lamb and Seafood Watch compliant fish and seafood. They have partnerships with small farms and farmers in their area, around Charlotte, to source in-season ingredients and to highlight those ingredients that are currently at the peak of freshness in their weekly changing menu. The Good Kitchen offers free delivery to home and office addresses throughout Little Rock and the surrounding region (even throughout Arkansas), with a minimum of 5 meals per order. They offer several menu lines, based on meat, fish, pork and even have a Paleo vegetable/Pegan menu, for those looking for a break from all meat centric dishes. In addition they offer a healthy kids lunch box meal line for parents looking for a healthy options for their children. 
See thegoodkitchen.com for prices and current menus.
The Good Kitchen is offering a 15% discount for our readers. Use promo code "mypaleos" at checkout for 15% off your first order.
For our detailed write up on The Good Kitchen including reviews, see our in-depth coverage on them.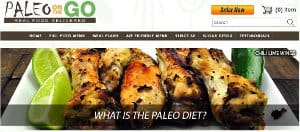 Paleo on the Go
Paleo on the Go delivers some of the highest quality meals available. They have multiple Paleo certifications, which they are sincere and earnest about. They will deliver to all of our readers in Little Rock.
See paleoonthego.com for prices and healthy meals delivered Little Rock / nationwide plans.
Note: Paleo on the Go is offering a 10% discount for our readers, use code "MYPALEOS" at checkout for 10% off your entire order – one time use.
For our detailed write up on Paleo on the Go including reviews, see our in-depth coverage on them.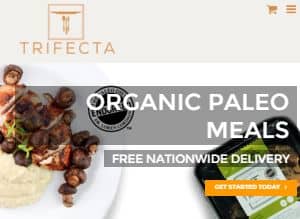 Trifecta
If you're looking for the Paleo compliance, wonderful food, and true nutritional value, then look no farther than Trifecta. This company, in partnership with famous members of the Paleo community, ship all of their products in green packaging such as corn based coolers. All of our readers who are in the area of Little Rock will be able to order their amazing meal plans.
See trifectanutrition.com for current prices for their Paleo and organic meal delivery Little Rock offerings.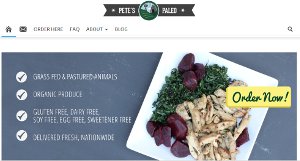 Petes Paleo
Pete's Paleo is an excellent company for those looking to do a sugar detox. All of their Paleo compliant meals are made from ingredients sourced in their region and without any sort of sweetener. They also deliver to all of our readers in the Little Rock/Conway region.
See petespaleo.com for a complete list of prices, meal plans and healthy food delivery Little Rock options.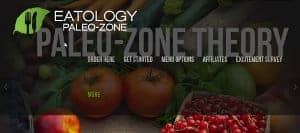 Eatology
Eatology brings the science of healthy eating together with the taste of great ingredients. They focus on the zone eating plan, which is about optimizing body weight through the proper divvying of fats, carbohydrates, and proteins. They will bring their meals to all residents of the Little Rock area.
See http://www.eatology.co for Eatology's Paleo-zone plans and pricing, including nationwide plans for healthy meal delivery Little Rock options.
Eatology is offering a 20% off promo for our readers (works for first & all later orders), use code "ZACHPALEO" at checkout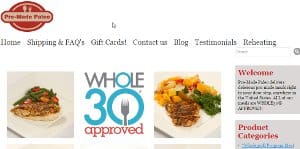 Pre-Made Paleo
Pre-Made Paleo specializes in Whole 30 and Paleo compliant meals. All of their meals are shipped frozen and are pre-made–perfect for those nights when life is at its busiest. And they service the entire Little Rock region.
See premadepaleo.com for prices and Paleo meal delivery Little Rock inclusive nationwide plans
Pre-made Paleo has offered a 10% discount (one time use) on all orders for our readers. Use code "MYPALEOS2018" at checkout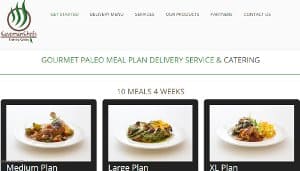 Caveman Chefs
In Little Rock, Caveman Chefs wants to bring our readers the healthiest, Paleo compliant meals. They aim to add spice to their customers' lives through internationally inspired cuisine. Despite their international flare, they source as much of their produce and proteins from their local area in Denver.
Visit http://www.cavemanchefs.com for more information on their Paleo delivery Little Rock options
Caveman Chefs has offered 10% off all orders by mentioning the promo #ZachmyPALeos in the order comments or mentioned by phone during checkout.
For our detailed write up on Caveman Chefs including reviews, see our in-depth coverage on them.
Every Year there are More Options for Paleo Meal Delivery Little Rock & Conway Paleo Delivery Options
Your life should never get in the way of your diet. For whatever reason you have chosen a healthier lifestyle, things should be made as easy as possible so you can stick to it. The companies that we've navigated through in this article are there to help with that. No matter where you are, these nationwide services will be able to deliver their meals and meal plans to you, which includes all areas within Little Rock, Conway and North Little Rock. They specialize in multiple different diets, including Wahls Paleo, AIP, Whole 30, and more.
Other Paleo Delivery Little Rock Area Companies
If you have any other suggestions of other places offering Little Rock Paleo Friendly Meal Delivery or Little Rock Paleo restaurants that might offer takeout or delivery options, please let us know in the comments below.