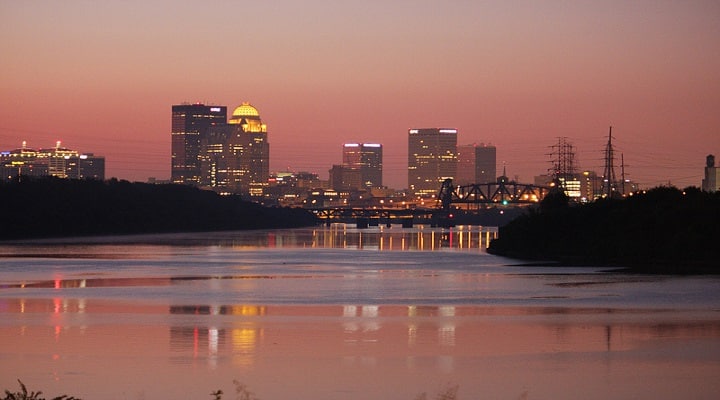 The Paleo diet has a number of incredible health and lifestyle benefits. In cutting out grains, dairy, sugar, and processed oils and preservatives, people who follow the Paleo Diet often feel more energetic, build leaner muscle, and are better able to manage blood glucose levels. But following the Paleo Diet means creating meals from scratch, and using high quality, wholesome ingredients – a process that can be very time consuming.
And sometimes, it feels like we just don't have the time to cook Paleo with all of the things we have going on in life.
The great news for Louisville residents is that there are actually a bunch of options for local Paleo meal-delivery. Even if you follow a specialized Paleo diet like AIP or Whole30 and/or you're looking to do a sugar detox, there are options for you. Below, we've compiled a comprehensive list of places you can try on those days or nights when your schedule just doesn't allow for cooking. Read on to discover all the places that will deliver grain, dairy, and sugar-free meals straight to your door.
We cover the following....
Local Paleo Food Delivery Louisville Options
In voting on their favorite local food scenes, USA today readers ranked Louisville 2nd, and so it's no secret that Louisville has a booming, vibrant local food scene. With the rise in popularity of the Paleo Diet, there are now many Louisville services and restaurants that cater to Paleo customers. Although local food delivery services exist that offer Paleo friendly meals, they often aren't as large as their national counterparts. In this article, we cover both options. Many of these area companies in this first section work with local vendors and farmers, and supporting them means continuing to support Louisville's ever-expanding food scene. Take a look! Hopefully you'll find something that works for you.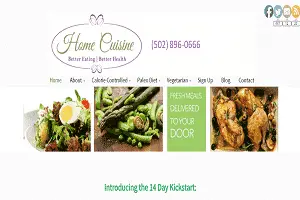 Home Cuisine
Home Cuisine, created by chef Sandy Pike, a longtime Louisville area restauranteur, was first created when one of her family member had a health issue and needed to begin having healthy meals delivered. More recently, Home Cuisine has added a Paleo meal plan to their health focused delivery meal plans at the request of local physicians. They mention so far the Paleo plan has been quite popular.  Meal plans are available in 3, 5 and 7 day increments with either all three daily meals or two daily meals as options. Meals are delivered in the local Louisville metro area and deliver fees vary by location. They also offer free pickup from one of five area Rainbow Blossom Natural Food markets.
For more information on Home Cuisine and for prices see:
Home Cuisine Reviews:
http://www.louisvillefamilyfun.net/2012/09/review-of-home-cuisine-in-louisville.html
http://www.todaystransitionsnow.com/2013/12/delicious-local-prepared-meals-home.html
Home Cuisine Yelp Reviews: https://www.yelp.com/biz/home-cuisine-louisville
This post contains affiliate links. Thank you for supporting us! Click here to learn what this means.
National Companies Offering Paleo Meal Delivery to Louisville
If you're not the biggest fan of cooking and are looking for a more sustained solution to eating Paleo, you might try ordering from one of the following national companies. The companies we've listed below specialize in crafting fresh, organic meals for Paleo customers, and all of them deliver to the Louisville area. In ordering from these companies, you'll be able to access a wide range of local produce, and these companies partner with local farms and vendors who specialize in Paleo products. Your meals use in-season produce, and free range, grass-fed proteins.
While many of these companies require that customers purchase meal plans, some of them allow customers to order a la carte meals, and many offer attractive add-ons like snack bars, bone-broths, and rendered fats. Most companies also offer specialized plans: AIP, Wahls Paleo, Whole30, Zone Diet… If you're looking to keep a few meals on hand or in your freezer, take a look at some of these companies and see which ones appeal.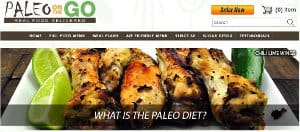 Paleo on the Go
Paleo on the Go is an excellent option for meal delivery, especially if you are following a specific Paleo Diet (AIP, detox, elimination diets, etc). Paleo on the Go maintains a series of relationships with their vendors and offers meals that boast local, organic produce. Customers interested in knowing where their food is coming from can also check out Paleo on the Go's website, where they list all their partner farms and vendors. One of the great options about ordering from this company is that they allow you to purchase individual meals as well as entire meal plans, and you can choose to have your meals delivered either fresh or frozen. Most importantly, this highly rated and well-reviewed company ships to the Louisville area!
See paleoonthego.com for prices and meal options.
Note: Paleo on the Go is offering a 10% discount for our readers, use code "MYPALEOS" at checkout for 10% off your entire order – one time use.
For our detailed write up on Paleo on the Go including reviews, see our in-depth coverage on them.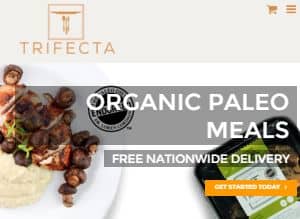 Trifecta
Trifecta advertises meals that are 100% organic, consistent with the Paleo diet, and perfect for customers trying to tailor their meal plans to their fitness goals. Trifecta is a great company to order from if you're looking for a bit of variety in your meal plan or if you're vegetarian, vegan, or interested in clean eating, as the company has specific plans for each of those options. While Trifecta primarily promotes its meal plan, they offer customers the opportunity to purchase items a la carte so that, they can portion meals in a way that best serves their weight loss and fitness goals. The best thing about Trifecta: They offer free shipping anywhere in the United States.
See trifectanutrition.com for current prices for their Paleo and organic meal delivery Louisville offerings.
For our detailed write up on Trifecta including reviews, see our in-depth coverage on them.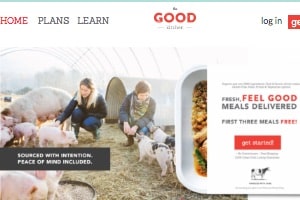 The Good Kitchen
The Good Kitchen is one of the few companies on this list that offers three free meals for first time customers (and these meals come with a complimentary order of bone broth). While they only offer meal plans, The Good Kitchen offers a variety of options for customizing those plans to fit your weekly or monthly needs. The company is based in North Carolina and, like many companies on our list, sources locally, using grass-fed beef, pastured pork, and antibiotic and hormone-free chicken, as well as organic produce. The company has several menus for its customers to choose meals from, including vegan, vegetarian, and seafood options. Like Trifecta, The Good Kitchen ships free to Louisville.
See thegoodkitchen.com for The Good Kitchens complete menu and list of healthy meals delivered Louisville / nationwide plans.
The Good Kitchen is offering a 15% discount for our readers. Use promo code "mypaleos" at checkout for 15% off your first order.
For our detailed write up on The Good Kitchen including reviews, see our in-depth coverage on them.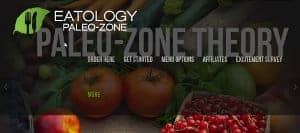 Eatology
Eatology is one of the more affordable options for Paleo meal plans. This is because the company portions its meals according to the Zone diet (which focuses on weight loss and macronutrient balance), making it a great option for those trying to lose weight. Eatology has a wide variety of plans, and while many of these plans are geared towards their local community (Near Texas A&M), these plans are also available to ship to Louisville. Eatology's pricing is upfront and consistent, with single meals costing either $10.50 or $12.75 (depending on how many servings there are per meal). If you order a recurring plan, you can often save between 15% and 20% on each shipment.
See http://www.eatology.co for Eatology's Paleo-zone plans and pricing, including nationwide plans for healthy meal delivery Louisville options.
Eatology is offering a 20% off promo for our readers (works for first & all later orders), use code "ZACHPALEO" at checkout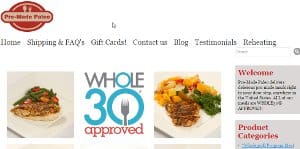 Pre-Made Paleo
Pre-made Paleo's head chef is the author of a Whole30 cookbook and the company specializes in strict adherence to Whole30 principals. Pre-made Paleo is known for their inventive meals as well as for their rotating menu of hard-get items like venison, alpaca, or paleo chorizo sausage. The company allows customers to order meals a la carte, and offers a variety of add-ons like Paleo pork-rinds, spice mixes, rendered fats, and RX bars. Pre Made Paleo used to ship only flash-frozen, vacuum-packed meals, but they've recently added an option for fresh food shipping. Depending on how soon you want your meals delivered, the company has a variety of shipping options, but all ship to the Louisville area.
See premadepaleo.com for prices and Paleo meal delivery Louisville inclusive nationwide plans
Pre-made Paleo has offered a 5% discount (one time use) on all orders for our readers. Use code "MYPALEOS2018" at checkout
For our detailed write up on Pre Made Paleo including reviews, see our in-depth coverage on them.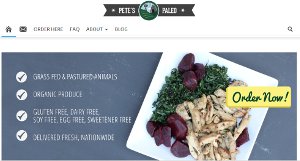 Petes Paleo
Pete's Paleo site has been featured on numerous TV shows, and in newspapers and magazines. The company prides itself on its rotating, seasonal menu, which changes based on locally available meat, seafood, and produce. Because their meals are dependent on available ingredients, they can't offer a comprehensive list of meals, however searching their website allows you to see what they might typically offer in a given season. They offer specific programs, including a 21-day sugar detox and a plan adhering to the Wahls Paleo requirements. You can choose to order singular or recurring meal plans, and the food is shipped right to your door.
See petespaleo.com for a complete list of prices, meal plans and healthy food delivery Louisville options.
For our detailed write up on Petes Paleo including reviews, see our in-depth coverage on them.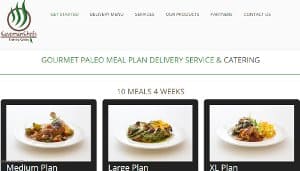 Caveman Chefs
Caveman Chefs is owned and operated by a group of professionals with a broad range of backgrounds in the restaurant and catering industries. The company is local to Colorado and, like Eatology, offers opportunities for local food pick-up and catering as well as shipping to Louisville. Caveman Chefs offers limited meal plan options, but their food is inventive and inspired by global cuisines (they offer dishes like souvlaki pork and quail tacos). Though their options for meal plan ordering are limited, the company is one of the few that allows customers to customize their meal plans to specify dietary restrictions or preferences.
Visit http://www.cavemanchefs.com for more information on their Paleo delivery Louisville options
Caveman Chefs has offered 10% off all orders by mentioning the promo #ZachmyPALeos in the order comments or mentioned by phone during checkout.
For our detailed write up on Caveman Chefs including reviews, see our in-depth coverage on them.
Every Year there are More Options for Paleo Meal Delivery Louisville & Paleo Delivery Options
We all experience those moments in our lives when time is tight and when eliminating something from your to-do list can make a big difference in your stress level. It's worth it to have a few favorite places from which to order the occasional pre-made Paleo meal.
Whether you're moving to a new house, starting a new job, recovering from an illness, or are simply looking for a bit of help keeping on track with your Paleo diet, it doesn't matter. There are many reasons for you to consider ordering pre-made meals, and many options out there for you to choose from.
Supplementing your home-cooking can often mean the difference in staying on track with your diet. These companies are expert in sourcing healthful, organic, and humanely raised ingredients, and are committed to helping you stay on track with your diet and achieving your nutritional goals. We recommend checking them out and hope you'll find something you love.
Other Paleo Delivery Louisville Area Companies
If you have any suggestions of other places offering Louisville Paleo Friendly Meal Delivery or know of Louisville Paleo restaurants that might offer takeout or delivery options, please let us know in the comments below.