The Paleo diet, with its requirements of buying seasonal ingredients and cooking meals from scratch, can be extremely difficult to keep up with at times. Especially if you have recently experienced a major life transition, such as having a new baby or starting a new job, you may have considered abandoning the diet for good. However, you can rest assured that it is possible to continue following the Paleo diet with less stress – even if you don't have time to cook your own meals on a regular basis.
In the following guide, we will cover a variety of options which can help to improve the livability of your Paleo experience. These companies include local companies based in the Madison area, along with national companies which deliver to any Madison address. They all provide meals which adhere to Paleo standards, while maintaining commitments to using locally-sourced produce and meats whenever possible. Although they all exhibit differences which distinguish them from the competition, all of them can be great options which make following the Paleo diet more convenient.
We cover the following....
Local Paleo Food Delivery Madison Options
In this section, we will cover a number of locally-based Madison companies which deliver Paleo meals throughout the area. These companies strive to use organic produce and meats from Wisconsin farms whenever possible, allowing you to get meals similar to the ones you might cook at home, without the accompanying hassle. While these companies might not all focus exclusively on providing Paleo meals, all of them offer at least a few Paleo-friendly options which can be a great alternative to unhealthy processed foods if you find yourself unable to cook at short notice.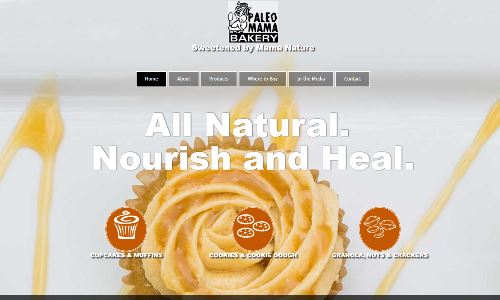 Paleo Mama Bakery
As the name suggests, the Paleo Mama Bakery, based right in Madison offers a number of Paleo friendly baked goods. They do however have a few items that are Paleo compliant that could replace your regular breakfast items or supplement a dish, such as their various Paleo granolas, muffins or crackers. That said, they do specialize in sweeter items such as Paleo compliant cupcakes, cookies and "cheesecake". They do offer shipping for some items, but given that they are right in Madison, you may want to stop by in person to get their full selection.
For more information on Paleo Mama Bakery and for prices see:
http://www.paleomamabakery.com/
Paleo Mama Bakery Reviews:
http://host.madison.com/ct/entertainment/dining/paleo-mama-bakery-mixes-up-cookie-dough-for-the-gluten/article_879fb59c-4171-548b-8a5e-2691e9fc7f7a.html http://isthmus.com/food-drink/paleo-mama-bakery-make-delicious-treats/
Paleo Mama Bakery Facebook Reviews: https://www.facebook.com/pg/paleomamabakery/reviews/  
Paleo Mama Bakery Yelp Reviews: https://www.yelp.com/biz/paleo-mama-bakery-madison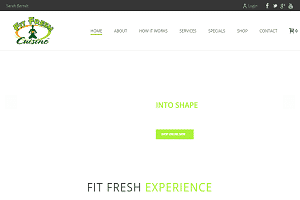 Fit Fresh Cuisine
Fit Fresh Cuisine unfortunately does not offer Paleo meals as part of their standard meal plans and does not offer customization or substitutions of their meals. However, they do offer a juice cleanse program, which are typically Paleo, for those inclined to supplement their daily meals with fresh juices made from……
For more information on Fit Fresh Cuisine and for prices see:
Fit Fresh Cuisine Reviews:
https://fitfreshcuisine.com/our-blog/ http://host.madison.com/entertainment/dining/fit-fresh-offers-all-in-one-package/article_145fd540-8eb1-11df-88e8-001cc4c002e0.html
http://host.madison.com/wsj/business/executive-qa/executive-q-a-owner-of-fit-fresh-cuisine-emphasizes-the/article_7abca558-8de8-5ba0-8a63-3f2a1d1eeb5b.html
https://hannahmcclung.com/tag/fit-fresh-cuisine/
Fit Fresh Cuisine Facebook Reviews: https://www.facebook.com/pg/FitFreshCuisine/reviews/?ref=page_internal
Fit Fresh Cuisine Yelp Reviews: https://www.yelp.com/biz/fit-fresh-cuisine-fitchburg
This post contains affiliate links. Thank you for supporting us! Click here to learn what this means.
National Companies Offering Paleo Meal Delivery to Madison
The following section covers seven different national delivery companies which offer meal plans specifically for Paleo dieters. All of these companies deliver straight to the Madison area, via express shipping, with meals being shipped either fresh or frozen, depending on the company. These companies all have something a bit different to offer, but all of them are experienced in providing Paleo-compliant meals, and make every effort to source ingredients locally and in-season.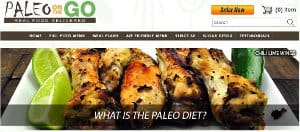 Paleo on the Go
Paleo on the Go is one of the most popular and acclaimed Paleo delivery services, with endorsements from throughout the Paleo community and partnerships with notable Paleo bloggers such as The Paleo Mom. The company's pledge to buy all items on the EWG's "Dirty Dozen" list organic has won wide acclaim, as has their creation of dedicated meal plans for followers of Autoimmune Protocol (AIP) and 30-Day Elimination programs. They ship all of their meals fresh, in refrigerated cooler boxes, which ensure that your food arrives in Madison ready to eat.
See paleoonthego.com for prices and meal options.
Note: Paleo on the Go is offering a 10% discount for our readers, use code "MYPALEOS" at checkout for 10% off your entire order – one time use.
For our detailed write up on Paleo on the Go including reviews, see our in-depth coverage on them.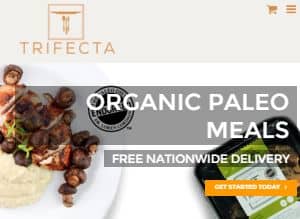 Trifecta
Trifecta is a national delivery service which appeals to those who buy all of their food organic, as they pledge to use 100% organic ingredients in every one of their meals. In addition to this important credential, Trifecta's popular Paleo meal plan boasts a varied menu which refreshes each week, with unique breakfast, lunch, and dinner options for each day of the week (breakfast is optional). This makes Trifecta one of the comprehensive meal delivery services out there, with meals delivered fresh to the Madison area, in weekly batches, every Friday.
See trifectanutrition.com for current prices for their Paleo and organic meal delivery Madison offerings.
For our detailed write up on Trifecta including reviews, see our in-depth coverage on them.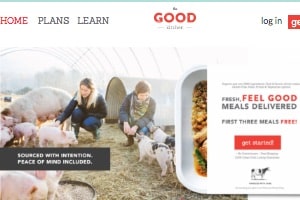 The Good Kitchen
The Good Kitchen is a Paleo delivery service which appeals to those who like to have a wide variety of options to choose from when planning their dietary schedule. This company's meal plans allow you to mix and match meals from a number of ingredient based menus (such as Beef, Chicken, Pork, Vegetarian, and Seafood), ensuring that the meal plan you receive perfectly matches your individual tastes. Plus, The Good Kitchen allows you to choose how frequently you would like your meals delivered (weekly, bi-weekly, or monthly), as well as how many meals you would like in each shipment (minimum of 5), making theirs one of the most adaptable and user-friendly meal plan services out there.
See thegoodkitchen.com for The Good Kitchens complete menu and list of healthy meals delivered Madison / nationwide plans.
The Good Kitchen is offering a 15% discount for our readers. Use promo code "mypaleos" at checkout for 15% off your first order.
For our detailed write up on The Good Kitchen including reviews, see our in-depth coverage on them.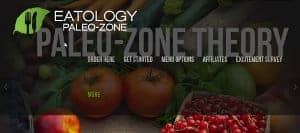 Eatology
Eatology is a national delivery service which is primarily known for combining the requirements of the Zone and Paleo diets in all of their meals – something which they do exceedingly well. Not only do their meals exclude ingredients such as grains, dairy and unhealthy oils, as required by Paleo standards, but they also boast balanced macronutrient levels which help to promote weight loss as well as general health and wellness. The serving-sized "block" packaging which Eatology uses also helps to prevent overeating, while the innovative package design allows these meals to be shipped frozen, in dry ice, and heated in either the microwave or a conventional oven.
See http://www.eatology.co for Eatology's Paleo-zone plans and pricing, including nationwide plans for healthy meal delivery Madison options.
Eatology is offering a 20% off promo for our readers (works for first & all later orders), use code "ZACHPALEO" at checkout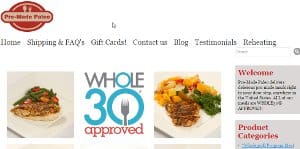 Pre-Made Paleo
Pre-Made Paleo adds the requirements of the Whole30 program to those of the Paleo diet – making it the perfect delivery service for followers of both. To make matters better, this company boasts the creator of the recipes in the Whole30 cookbook series as its head chef, ensuring that the meals this company delivers are all made with high standards for both health and culinary quality. Plus, adventurous Paleo dieters will be glad to see unusual offerings such as wild boar sausage and water buffalo on Pre-Made Paleo's menus, making this company's meals a welcome change from the usual grocery store fare.
See premadepaleo.com for prices and Paleo meal delivery Madison inclusive nationwide plans
Pre-made Paleo has offered a 5% discount (one time use) on all orders for our readers. Use code "MYPALEOS2018" at checkout
For our detailed write up on Pre Made Paleo including reviews, see our in-depth coverage on them.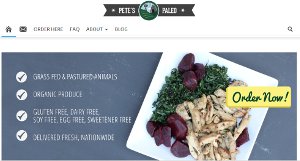 Petes Paleo
Pete's Paleo is the ideal delivery service for the most health-conscious of Paleo dieters – with a serious commitment to sourcing ingredients locally and excluding all sugars and sweeteners from their meals. Their relationships with local San Diego farmers are so close that they allow the farmers' harvest schedules to guide their seasonal menu options, while the exclusion of both natural and artificial sweeteners has helped to add an air of authority to their popular Sugar Detox and Wahl's Paleo meal plans. Plus, their unique vacuum-sealed pouches ensure that your meals arrive in Wisconsin as fresh as when their California chefs prepared them.
See petespaleo.com for a complete list of prices, meal plans and healthy food delivery Madison options.
For our detailed write up on Petes Paleo including reviews, see our in-depth coverage on them.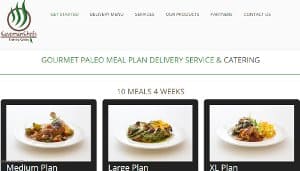 Caveman Chefs
Caveman Chefs is a Denver-based national delivery service which has already built up a formidable reputation in a relatively short time on the scene. Its owners are long-time friends and Paleo enthusiasts who bring decades of local food service experience to the company, giving them the ability to provide great service throughout the country, while also turning out consistently high-quality meals. Their close relationships with local Colorado farmers also ensure that their meals are always based primarily on fresh, seasonal ingredients, while the company's many options for accommodating individuals with food allergies or other dietary requirements makes their service accessible to all.
Visit http://www.cavemanchefs.com for more information on their Paleo delivery Madison options
Caveman Chefs has offered 10% off all orders by mentioning the promo #ZachmyPALeos in the order comments or mentioned by phone during checkout.
For our detailed write up on Caveman Chefs including reviews, see our in-depth coverage on them.
Every Year there are More Options for Paleo Meal Delivery Madison & Paleo Delivery Options
Hopefully this guide has helped to establish some of options available to you in the Madison area to help make your Paleo lifestyle less stressful. Whether you've just moved into a new house, had a new baby, or just have a generally busy schedule, any one of the above options can help you save time by eliminating the necessity for constant shopping and meal preparation.
While the concept of cooking your own meals from scratch remains a core tenet of the Paleo diet in theory, it is much more important to prevent backsliding into old, unhealthy habits in whichever way possible. This is where the delivery companies described in this guide come in. The local companies can provide quick meal options for those times when you find yourself unable to cook at short notice, while the national companies listed offer a broad selection of options to help implement more long-term meal planning solutions into your busy schedule. Whatever your situation, we hope that one of the options listed here will fit your needs and allow you to realize the full benefits that the Paleo diet has to offer.
Other Paleo Delivery Madison Area Companies
If you have any suggestions of other places offering Madison Paleo Friendly meal delivery or know of Madison Paleo restaurants that might offer takeout or delivery options, please let us know in the comments below.