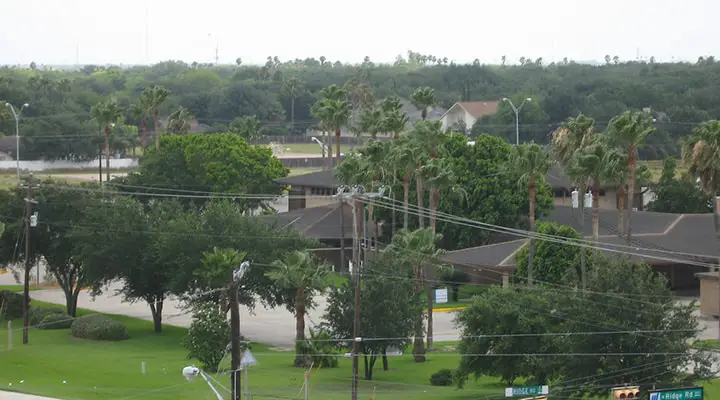 Following the Paleo diet involves the task of constantly shopping for fresh ingredients and making all of your meals from scratch. For many, this can be the hardest part of the diet, since it is an everyday task and can be a major source of stress for those whose busy schedules are already too much to handle. But don't worry, if you live in McAllen Texas or elsewhere in Hidalgo County, there are a variety of options available to help you keep your Paleo lifestyle in line.
The following guide will cover a number of Paleo meal services available to McAllen area residents, including seven national meal delivery services, as well as local businesses based in the Hidalgo County area which offer Paleo meals for pickup and/or delivery. These services all provide something different, but what they all share is a dedication to providing healthy Paleo meals made with the freshest seasonal ingredients available. Whether you've recently experienced a big change in your life, or are just constantly busy no matter what, trying any one of these options can give you some much needed room to breathe in your busy routine.
We cover the following....
Local Paleo Food Delivery McAllen Options
The first section of our guide will cover local companies based in the McAllen area, all of which offer at least a few Paleo meal choices on their menus. While not always dedicated exclusively to the Paleo diet, these companies can be a valuable resource if you need something to eat at a moment's notice, as well as giving you an opportunity to support local businesses. These companies also use ingredients sourced locally in South Texas, allowing you to get meals with familiar local flavor without the hassle of having to cook them yourself.
Nutrition Made Easy
Nutrition Made Easy, based locally in Mission Texas, is a small meal delivery company that offers weekly and monthly healthy meal plans, with options like gluten free food, vegan food and other "specialty diets". It may take a bit of negotiation with them to coordinate a full meal plan that fulfills the requirements of the Paleo Diet, but the majority of their gluten free meals focus on Paleo friendly ingredients, such as fresh salads, meats and spiraled vegetables. If you'd like to support a local company, you might give Nutrition Made Easy a call and see if their offerings meet your needs.
For more information on Nutrition Made Easy and for prices see:
https://www.facebook.com/NutritionMadeEasy/
Nutrition Made Easy Reviews:
Nutrition Made Easy Facebook Reviews: https://www.facebook.com/pg/NutritionMadeEasy/reviews/?ref=page_internal
Beauty & Beast Cuisine
Beauty and the Beast is a local gluten free meal delivery service based out of Edinburg that delivers to McAllen and the whole Upper Rio Grande Valley area. Although only claiming to offer gluten free meals, in addition their meals are also soy free and use 100% organic and antibiotic free ingredients. However in terms of supporting Paleo meals, they request that you contact them to see if they can accommodate your particular diet requirements prior to ordering one of their plans.  Beauty and the Beast Cuisine may be a great option for some, but it all depends on how strictly you are following the letter of the law of the Paleo diet and will have to be a personal, individual decision.
For more information on Beauty & Beast Cuisine and for prices see:
Beaty and the Beast Cuisine Reviews:
Beauty & Beast Cuisine Facebook Reviews: https://www.facebook.com/pg/bbccuisine/reviews/?ref=page_internal
Beauty & Beast Cuisine Yelp Reviews: https://www.yelp.com/biz/beauty-and-beast-cuisine-edinburg-2?osq=paleo
This post contains affiliate links. Thank you for supporting us! Click here to learn what this means.
National Companies Offering Paleo Meal Delivery to McAllen
The national section covers national companies which deliver Paleo-compliant meals to any address throughout McAllen and Hidalgo County. All of these companies have extensive experience in sourcing ingredients locally and shipping their meals around the country quickly and efficiently – making any one of them an easy choice to make your Paleo experience more convenient and varied. But while all of these companies offer an efficient and reliable service, they all differ somewhat in the types of meal choices and shipping options available.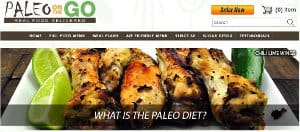 Paleo on the Go
Paleo on the Go is a great starter option if you're interested in seeing how a Paleo delivery service works. This company has received nearly unanimous acclaim for their service in the Paleo community, with numerous awards and an excellent track record for their commitment to providing top-quality ingredients, including grass-fed, free-range meats, along with their pledge to purchase all items found on the EWG's "Dirty Dozen" list organic. They ship all of their meals fresh, in refrigerated cooler boxes, to any address in the Hidalgo County area – giving you convenient access to a varied range of chef-quality Paleo meals without even needing to leave the house.
See paleoonthego.com for prices and meal options.
Note: Paleo on the Go is offering a 10% discount for our readers, use code "MYPALEOS" at checkout for 10% off your entire order – one time use.
For our detailed write up on Paleo on the Go including reviews, see our in-depth coverage on them.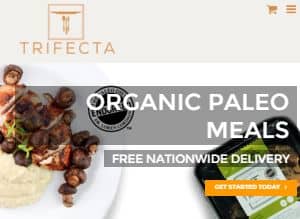 Trifecta
Trifecta is another national delivery service which has received consistent acclaim from the Paleo community, not least for its commitment to using 100% organic ingredients in all of its meals. In order to fulfill this commitment, Trifecta maintains close relationships with farmers in their local Southern California region, which helps to ensure that their meals are made with seasonal organic produce and humanely-treated, grass-fed meats. This company also offers free shipping for its excellent delivery service, which ships meals to any address in the country, including the McAllen area, with meals arriving fresh in refrigerated cooler boxes.
See trifectanutrition.com for current prices for their Paleo and organic meal delivery McAllen offerings.
For our detailed write up on Trifecta including reviews, see our in-depth coverage on them.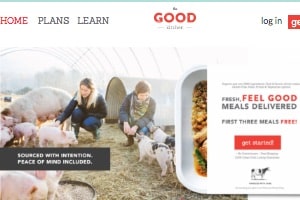 The Good Kitchen
The Good Kitchen is one of the most customizable Paleo delivery services in the country, making them a great choice if you're looking for a meal plan with a lot of options. The choices start with a number of separate menus based on the main ingredients included in the meals offered – including beef, pork, chicken, vegetarian, and even primal menus – and go on to include options for how many meals you want to receive at a time (minimum of 5) and how often you would like them delivered (weekly or monthly). This allows you to pick and choose from different meal choices and delivery choices to ensure that your Paleo meal plan fits perfectly with your particular tastes and eating habits.
See thegoodkitchen.com for The Good Kitchens complete menu and list of healthy meals delivered McAllen / nationwide plans.
The Good Kitchen is offering a 15% discount for our readers. Use promo code "mypaleos" at checkout for 15% off your first order.
For our detailed write up on The Good Kitchen including reviews, see our in-depth coverage on them.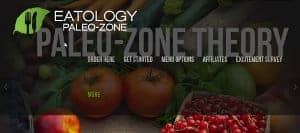 Eatology
With Eatology, not only will you receive the full benefits of the Paleo diet, but those of the Zone diet as well. Eatology combines the requirements of both diets in order to offer meals with a finely-tuned balance of macronutrients which promote weight loss and general wellness. They also break their meals down into convenient portion sizes known as "blocks," making healthy, balanced eating a breeze. Plus, Eatology ships all of their meals frozen, in unique foil packaging which allows them to be heated in either the microwave or the oven for especially easy and flexible prep.
See http://www.eatology.co for Eatology's Paleo-zone plans and pricing, including nationwide plans for healthy meal delivery McAllen options.
Eatology is offering a 20% off promo for our readers (works for first & all later orders), use code "ZACHPALEO" at checkout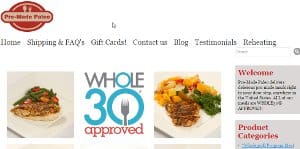 Pre-Made Paleo
If you are looking for a meal service which combines the requirements of Whole30 and Paleo together into one plan, look no further than Pre-Made Paleo. This company boasts the creator of all the Whole30 recipes (from the popular series of cookbooks) as its head chef, allowing you to experience the benefits of the Whole30 program straight from the source. As if that weren't enough, Pre-Made Paleo offers an abundance of food choices through its service that are not available anywhere else, including meats like wild boar and elk, along with its own line of individually-sold products such as homemade cooking oil and Paleo pork rinds.
See premadepaleo.com for prices and Paleo meal delivery McAllen inclusive nationwide plans
Pre-made Paleo has offered a 5% discount (one time use) on all orders for our readers. Use code "MYPALEOS2018" at checkout
For our detailed write up on Pre Made Paleo including reviews, see our in-depth coverage on them.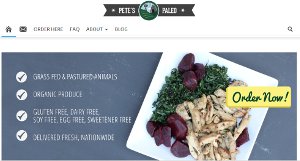 Petes Paleo
Pete's Paleo is a national delivery service with a particularly rigorous commitment to Paleo standards, making them a great fit for Paleo dieters who are seriously committed to the diet but just don't have the time to make healthy, Paleo-compliant meals for themselves on a regular basis. Rest assured, Pete's will meet your high standards for health and wellness, with a firm commitment to providing only organic, in-season produce and the highest-quality meats in all of its meals. Pete's also goes the extra mile by excluding all sweeteners from its meals, making their service especially fitting if you're attempting a Sugar Detox program in addition to the Paleo diet.
See petespaleo.com for a complete list of prices, meal plans and healthy food delivery McAllen options.
For our detailed write up on Petes Paleo including reviews, see our in-depth coverage on them.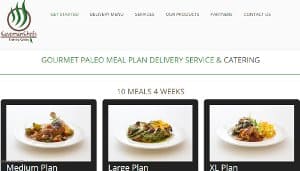 Caveman Chefs
Caveman Chefs is a Denver-based Paleo delivery service which is known for its single-minded adherence to the Paleo diet and its owners' desire to accommodate any possible dietary needs which their customers might have. This makes Caveman Chefs a great choice if you or someone in your family has a specific food allergy or dietary requirement, as they are sure to have options for you. Caveman Chefs also maintains intimate relationship with Colorado farmers in and around the Denver region, which provide their meals with fresh, organic ingredients and give them a unique regional flavor which you might not otherwise be able to experience at home.
Visit http://www.cavemanchefs.com for more information on their Paleo delivery McAllen options
Caveman Chefs has offered 10% off all orders by mentioning the promo #ZachmyPALeos in the order comments or mentioned by phone during checkout.
For our detailed write up on Caveman Chefs including reviews, see our in-depth coverage on them.
Every Year there are More Options for Paleo Meal Delivery McAllen Paleo Delivery Options
We hope that this article has convinced you of the many options available to you in the McAllen area to make your Paleo experience more convenient and enjoyable. Some people have busier schedules than others, but everyone can benefit from a little extra time in the day. By taking the constant responsibility of shopping for ingredients and cooking meals out of your hands, the various local and national companies listed above are able to give you this added convenience, while not requiring you to give way to the temptation of unhealthy processed foods to get it.
By choosing to receive some of your weekly meals from national Paleo delivery services like the ones listed above, you will open yourself up to a great possibility of ingredients and meal choices than you would likely have access to by limiting yourself to the seasonal options at your local grocery store. In time, being exposed to new ingredients and recipes can help in your efforts to expand your culinary horizons and might even provide you with ideas for future recipes of your own. Furthermore, the local companies listed above can give you convenient options when you're pressed for time and need a quick Paleo meal at short notice. Taken together, these options can ultimately help to strengthen your efforts at achieving a healthy Paleo lifestyle, while adding a much-needed level of convenience to your daily life which might keep you from abandoning the diet altogether.
Other Paleo Delivery McAllen Area Companies
If you have any suggestions of other places offering McAllen Paleo Friendly Meal Delivery or know of McAllen Paleo restaurants that might offer takeout or delivery options, please let us know in the comments below.