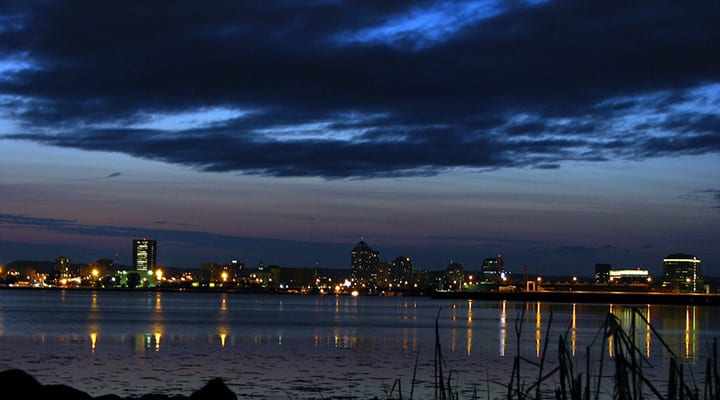 If you live in New Haven or the surrounding area and wished there was a way to compliment your home cooked Paleo/grain free/gluten free meals with some chef prepared meals following the requirements of your diet, you are in luck.  In this post, we will take you on a virtual tour of the best Paleo finds of this region for getting grain free meals delivered.
The New Haven and Milford area are known for their educational and economic ties with Yale University, however, it should also be known for the plentiful resources that it offers to those with Paleo dietary requirements. This region of the country is rich with grain-free alternatives and bursting with restaurants and food delivery companies offering up mouth watering meals.
We cover the following....
Local Paleo Food Delivery New Haven Options
The following section covers companies based locally in the New Haven Connecticut area that offer Paleo food delivery. These are small companies with headquarters in the local area, as opposed to companies that just deliver meals to residents in the New Haven/Milford area. For those who want to try to work with local businesses, you will definitely want to check out these options to see if that meet your needs.
Deb's Healthy Plate (Metamorphosis body mind spirit)
Although the options located within New Haven and Milford are a bit sparse without looking at businesses in the wider region that deliver here, there are those local companies like Deb's Healthy Plate that do focus on delivering Paleo friendly meals, among other healthy meal options. Deb offers a personal chef and meal delivery service to people based locally in her area. She commits to crafting meal plans that fit into several specialty diets including Paleo and gluten free. In addition to the limited local businesses, there are also a number of delivery services that will deliver Paleo meals to anyone in the greater New Haven area that are covered in the next section in this article.
For more information on Deb's Healthy Plate and for prices see:
http://metamorphosisbodymindspirit.com/?page_id=4
Deb's Healthy Plate Reviews:
https://www.thumbtack.com/ct/new-haven/personal-chefs/
Deb's Healthy Plate Facebook Reviews: https://www.facebook.com/pg/DebsHealthyPlate/reviews/
This post contains affiliate links. Thank you for supporting us! Click here to learn what this means.
National Companies Offering Paleo Food Delivery to New Haven and Milford
In this section, we cover companies that offer Paleo meal delivery to all addresses within New Haven as well as the greater area. These companies specialize in the Paleo Diet and offer chef created meals that are made from Paleo friendly ingredients like grass fed and pastured proteins, in-season, locally grown and organic produce as well as omitting ingredients considered non-Paleo. In general, these companies use express shipping to send meals in a special cooler box packed with ice packs or dry ice, keeping your meals refrigerated or frozen and ready to re-heat on arrival.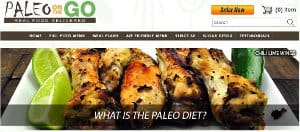 Paleo on the Go
In order to craft some of their amazing product line, Paleo on the Go has teamed up with Paleo Mom (a great Paleo Diet blog and cookbook). In order to prove that they're dedicated, however, they then deliver their meals and meal plans all throughout the New Haven area. If you're looking for delicious, practical food, then Paleo on the Go is likely right for you.
See paleoonthego.com for prices and meal options.
Note: Paleo on the Go is offering a 10% discount for our readers, use code "MYPALEOS" at checkout for 10% off your entire order – one time use.
For our detailed write up on Paleo on the Go including reviews, see our in-depth coverage on them.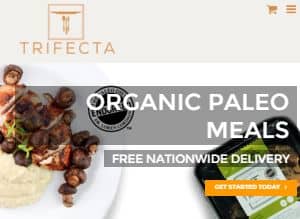 Trifecta
Serving 100% organic meal plans to the residents of New Haven, Trifecta delivers them in corn-based packaging and believes in a minimum humane rating of 5 for their animal products. They also work alongside famous authors in the Paleo community in order to follow through on their commitment to the Paleo diet.
See trifectanutrition.com for current prices for their Paleo and organic meal delivery New Haven offerings.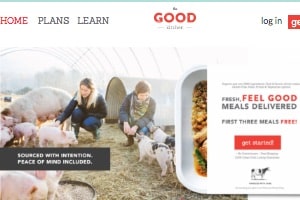 The Good Kitchen
Offering customizable weekly or monthly meal plans where you pick exactly the dishes and quantities that you want, The Good Kitchen is another Paleo grain free meal delivery service. If you live in New Haven, and you and your family eat Paleo, Pegan, or vegetarian, then The Good Kitchen is a good option to consider. Plus, they are offering a discount for our readership!
See thegoodkitchen.com for The Good Kitchens complete menu and list of healthy meals delivered New Haven / nationwide plans.
The Good Kitchen is offering a 15% discount for our readers. Use promo code "mypaleos" at checkout for 15% off your first order.
For our detailed write up on The Good Kitchen including reviews, see our in-depth coverage on them.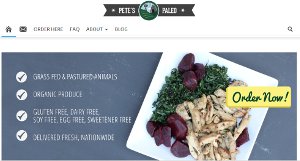 Petes Paleo
For Pete's Paleo, quality is most important. They deliver organic fruits and vegetables in accordance with their meal plans, as well as animals that are grass fed and grass finished in accordance with the highest standards of Paleo principles. And, they make sure they bring it to all of the residents of New Haven.
See petespaleo.com for a complete list of prices, meal plans and healthy food delivery New Haven options.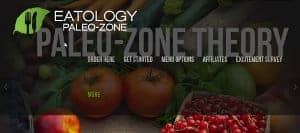 Eatology
Not only is Eatology a low-cost, high-quality alternative to buying and preparing your meals at a grocery store, they also strive to create nutritionally balanced meals. Eatology focuses on the right combination of fats and proteins and carbohydrates in order to help you achieve a healthy body weight. And, they deliver to all of the residents in New Haven.
See http://www.eatology.co for Eatology's Paleo-zone plans and pricing, including nationwide plans for healthy meal delivery New Haven options.
Eatology is offering a 20% off promo for our readers (works for first & all later orders), use code "ZACHPALEO" at checkout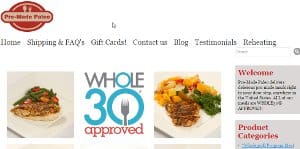 Pre-Made Paleo
Frozen Paleo meals are the specialty of Pre-Made Paleo as their name likely suggests. However, they are also the designated company of the Whole 30 program. They are also offering a promo code for our readers, and deliver throughout the New Haven region.
See premadepaleo.com for prices and Paleo meal delivery New Haven inclusive nationwide plans
Pre-made Paleo has offered a 10% discount (one time use) on all orders for our readers. Use code "MYPALEOS2018" at checkout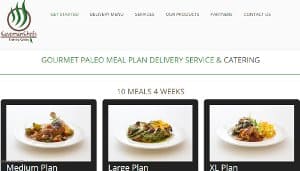 Caveman Chefs
Caveman Chefs is another excellent option for New Haven residents. They deliver throughout the area, and bring with them an international flair and delicious food. They are based out of Denver, and they source most of their produce and proteins in-state.
Visit http://www.cavemanchefs.com for more information on their Paleo delivery New Haven options
Caveman Chefs has offered 10% off all orders by mentioning the promo #ZachmyPALeos in the order comments or mentioned by phone during checkout.
For our detailed write up on Caveman Chefs including reviews, see our in-depth coverage on them.
Every Year there are More Options for Paleo Meal Delivery New Haven & Milford Paleo Delivery Options
Sometimes going out to buy whole food ingredients is heavy, tiring, or overwhelming, especially during the busiest times of the year. Luckily, there are great food delivery services that operate nation-wide to bring fresh ingredients or meals right to your door.
New Haven residents, rejoice! These amazing companies are here to help, no matter where you are or what stressful or exciting thing is currently happening in your life. We all have days when we can't cook, but that doesn't mean we should sacrifice our health or our principles. With fresh, healthy food or inspirational meal plans being sent across the nation, it never has to be difficult to eat healthy.
The companies in this article are fully Paleo compliant, so you don't have to worry about eating the wrong thing. On top of serving customers nationwide, they are often organic, ethical, eco-friendly, and locally sourced. With these services, eating healthy also means eating sustainably.
Other Paleo Delivery New Haven Area Companies
If you have any other suggestions of other places offering New Haven Paleo Friendly Meal Delivery or New Haven Paleo restaurants that might offer takeout or delivery options, please let us know in the comments below.