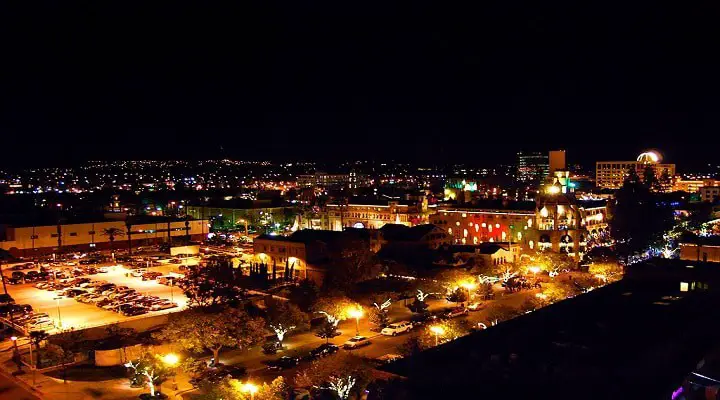 As a follower of the Paleo diet, you've probably become very experienced at  preparing meals from high-quality, natural ingredients, and cutting out grains, dairy, and sugars. Which means you're also familiar what that pesky phenomenon: time. If you're like the rest of us, there are going to be occasions when your schedule gets hectic, and you run out of time to spend in the kitchen, preparing a meal. If you've worried about how ordering out might affect your diet: worry no longer.
There are many options available to those living in the Riverside and Ontario area who are looking to order out and maintain their Paleo lifestyle. Whether you're interested in ordering a spur-of-the-moment takeout meal, or establishing a recurring meal delivery plan, we've got you covered. Below, we've outlined local restaurants and national companies that will deliver Paleo meals to your door. Our hope is that you'll find a few options that help keep you on track with your Paleo Diet.
We cover the following....
Local Paleo Food Delivery Riverside Options
There are quite a few restaurants and delivery services local to Riverside and Ontario Califoria. Many of these restaurants and services are closely tied to their local food movements. While they may not cater exclusively to Paleo customers, their menus contain several options that are Paleo compliant. If you find yourself pressed for time on a weekday evening, you might choose to support your local food scene and give one of these places a try!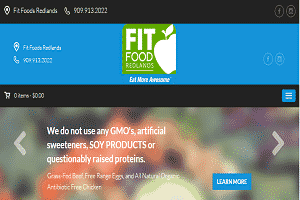 Fit Foods
Fit Foods, a delivery service based out of Redlands, delivers to Riverside addresses and surrounding communities. They offer several plans geared to people who are focusing on improving their fitness and health, including a plan designed around the Paleo Diet. The founder of the company had previously been a competitive body builder and works as the head of the nutritional programs at crossfit CDR. If you are serious about weight training, crossfit and want a meal plan package that supports those lifestyles all while also keeping Paleo Fit Foods might be a good option for you.
For more information on Fit Foods and for prices see:
Fit Foods Reviews:
Fit Foods Facebook Reviews: https://www.facebook.com/fitfoodredlands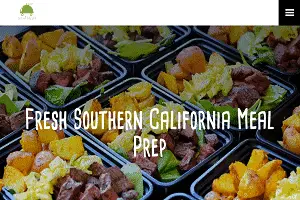 SoCalFRESH
SoCalFresh, based in Temecula is a fresh meal delivery service offering delivery throughout the surrounding area of Southern California. Although they do not mention Paleo specifically in their meal plan options, meals are made with organic ingredients when available, grass fed or pasture raised meats and wild fish. In addition, their custom meal plans allow you to choose a meal that excludes a side dish that contains grains. That said, without any specific commitment to Paleo food options, you will likely want to contact them to ensure any meal plan you order fully complies with Paleo requirements. If you are looking for a local company that follows the majority of the ingredient tenets of the Paleo diet, without the specific certifications of Paleo,  then SoCalFRESH may be a great choice. If you are looking for a company that focuses exclusively on the Paleo diet, you might consider some of the companies in the next section.
For more information on SoCalFRESH and for prices see:
SoCalFRESH Reviews:
SoCalFRESH Facebook Reviews: https://www.facebook.com/pg/socalfreshprep/reviews/?ref=page_internal SoCalFRESH Yelp Reviews: https://www.yelp.com/biz/socalfresh-temecula This post contains affiliate links. Thank you for supporting us! Click here to learn what this means.
National Companies Offering Paleo Meal Delivery to Riverside
If you're you're frequently busy (or inefficient in the kitchen) and are looking to more regularly order pre-made meals, or if you'd like to order a few meals to store in your freezer, you might try ordering from these national companies. All the companies we've listed below specialize in creating meals for the Paleo Diet. With these companies, you often know exactly where your food is coming from. They create relationships with local farms and vendors, and craft meals comprised of organic produce, grass-fed, pastured proteins, and fresh, often wild-caught seafood. Many of these companies tailor meal plans that cater to specific Paleo diets, like Autoimmune Paleo protocol, Paleo-Zone and sugar free detox programs. Best part: All of these companies ship express to the Riverside and Ontario area.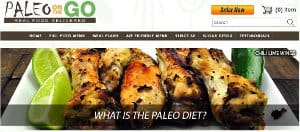 Paleo on the Go
Paleo on the Go is a popular delivery service focusing exclusively on Paleo meals. They've earned numerous certifications from Paleo organizations as well as rave reviews from several well known food-bloggers. The company focuses on creating meals that use grass fed humanely raised meats. If you're interested in a 30-day elimination diet or sugar detox, they have options that cater specifically to those diets. They also offer an AIP plan, which cuts out nightshades and other restricted ingredients. Their weekly and a la carte meal plans allow you to better customize your order, then their meals are packaged and shipped straight to you.See paleoonthego.com for prices and meal options. Note: Paleo on the Go is offering a 10% discount for our readers, use code "MYPALEOS" at checkout for 10% off your entire order – one time use.
For our detailed write up on Paleo on the Go including reviews, see our in-depth coverage on them.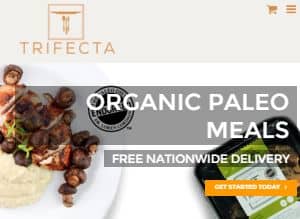 Trifecta
Trifecta Nutrition is a California-based company, and the majority of their ingredients come directly from local farmers. Trifecta is one of the larger companies on this list. They have a meal plan exclusively for the Paleo Diet, but they also offer a Clean Eating Diet, and Vegan and Vegetarian options. No matter which meal plan you order, Trifecta's ingredients are 100% organic. For all animal products used, Trifecta works to meet a minimum humane level rating of 5, as well as limit their environmental footprint. A great benefit to ordering from Trifecta: shipping is free! See trifectanutrition.com for current prices for their Paleo and organic meal delivery Riverside offerings.
For our detailed write up on Trifecta including reviews, see our in-depth coverage on them.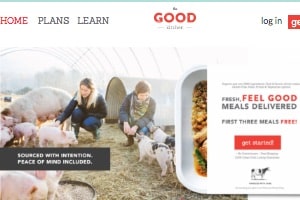 The Good Kitchen
The Good Kitchen has a bunch of options for those seeking to customize meal plans. They're also one of the few companies who offer complimentary meals for first time customers. They make the meal selection process easy, allowing you to choose from grass fed beef, chicken, pork, or vegetarian focused menus. Based out of North Carolina, The Good Kitchen sources from local farmers, meaning you can access produce you might otherwise be unable to obtain. See thegoodkitchen.com for The Good Kitchens complete menu and list of healthy meals delivered Riverside / nationwide plans. The Good Kitchen is offering a 15% discount for our readers. Use promo code "mypaleos" at checkout for 15% off your first order.
For our detailed write up on The Good Kitchen including reviews, see our in-depth coverage on them.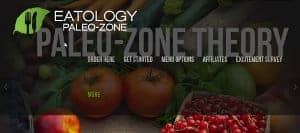 Eatology
Eatology's meal plans incorporate the principles of the Zone protocol, which works to balance carbohydrates, proteins and fats within each meal. Theirs is a great plan for anyone on the Paleo Diet looking to lose weight and balance blood insulin levels. Eatology is also one of the least expensive meal services available. Their meals are priced by the portion, regardless of meal content. Eatology also offers discounts if you sign up for one of their recurring meal plans (of which there are a variety of options). See http://www.eatology.co for Eatology's Paleo-zone plans and pricing, including nationwide plans for healthy meal delivery Riverside options. Eatology is offering a 20% off promo for our readers (works for first & all later orders), use code "ZACHPALEO" at checkout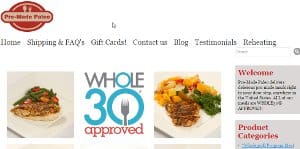 Pre-Made Paleo
Pre-Made Paleo's chef is the author of a Whole30 cookbook series and is a contributing writer on the Whole30 website. Among Pre-made Paleo's many offerings is a rotating selection of chef specials, which include hard-to-find menu items like water buffalo, wild boar, and alpaca. They are known for their Whole30 meal plans (and AIP option) and their branded add-on products like paleo pork rinds, sauces, and cooking oils. They offer a variety of shipping options and are definitely worth a try! See premadepaleo.com for prices and Paleo meal delivery Riverside inclusive nationwide plans Pre-made Paleo has offered a 5% discount (one time use) on all orders for our readers. Use code "MYPALEOS2018" at checkout
For our detailed write up on Pre Made Paleo including reviews, see our in-depth coverage on them.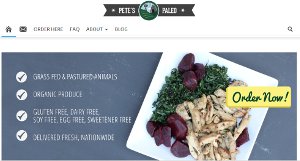 Petes Paleo
Pete's Paleo prides itself on using in-season produce and proteins. Because they source their ingredients from local farmers, they have a constantly changing, seasonal menu. The company is highly rated and reviewed, and one of their more popular options is their sugar-detox menu, which is naturally sweetened by fruits and vegetables. For those striving to reduce symptoms of major health issues, Pete's also has a plan that follows the requirements of Wahls Paleo. See petespaleo.com for a complete list of prices, meal plans and healthy food delivery Riverside options.
For our detailed write up on Petes Paleo including reviews, see our in-depth coverage on them.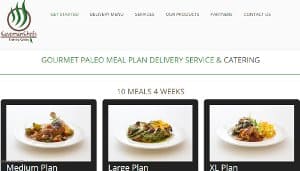 Caveman Chefs
Caveman Chefs sources their protein and produce from local Colorado farms and ranches. The founders are friends who've an abundance of experience in the restaurant and catering industry. Their dishes are innovative and highly customizable. Caveman Chefs is also one of the few companies that will work to accommodate individual dietary restrictions (like food allergies or AIP restrictions). While their website offers local pickup locations, they also ship nationally. Visit http://www.cavemanchefs.com for more information on their Paleo delivery Riverside options Caveman Chefs has offered 10% off all orders by mentioning the promo #ZachmyPALeos in the order comments or mentioned by phone during checkout.
For our detailed write up on Caveman Chefs including reviews, see our in-depth coverage on them.
Every Year there are More Options for Paleo Meal Delivery Riverside & Ontario Paleo Delivery Options
With a profusion of options available in and to the Riverside and Ontario area, there are plenty of solutions for those nights of the week when cooking just isn't possible. Especially if you are trying to maintain a diet that follows AIP, Wahls Paleo, or Whole 30 restrictions, there are companies that cater specifically to your needs.
Finding Paleo Delivery Orange County Options
As you can see from the companies listed above, finding Paleo delivery in southern California and especially in OC is not as hard as you might imagine.  Finding Paleo meal delivery Orange county CA options is now as easy as going online and choosing a meal plan and telling them where to deliver.
Supplementing cooking with the occasional pre-made Paleo meal can often make a difference in your ability to maintain your diet. Even when at your busiest,  you still have options that allow you to eat healthy and maintain your lifestyle.
Other Paleo Delivery Riverside Area Companies
If you have any suggestions of other places offering Riverside Paleo Friendly Meal Delivery or know of Riverside Paleo restaurants that might offer takeout or delivery options, please let us know in the comments below.