Sacramento has a great local food scene complete with specialty stores and organic supermarkets where Paleo practitioners have their choice of healthful, all-natural ingredients. Whether you're a practiced Paleo cook, or just starting your journey into the Paleo lifestyle, you know how gratifying preparing home-cooked Paleo meals from scratch can be. You've probably also experienced how time consuming it can be. If you're like us, you're familiar with the struggle of finding time to devote to food prep – especially when life gets hectic. If you're looking for help maintaining your Paleo lifestyle during these hectic times, then you've come to the right place. Whether a meeting has run late and you're looking for a last-minute meal, or if you're in search of a more sustained solution, we've got you covered.
There are a number of options for residents in the Sacramento area to get Paleo meals, cooked from scratch, delivered straight to your door. Below, we've compiled lists of local and national companies who tailor grain, dairy, and sugar-free Paleo meals to customers in the Sacramento area. Read on to learn more.
This post contains affiliate links. Thank you for supporting us! Click here to learn what this means.
We cover the following....
Local Paleo Food Delivery Sacramento Options
If you've arrived at the end of your day with little time to devote to food prep and cooking, you might think about ordering take-out or delivery from a local restaurant. In the following section, we've listed a bunch of places local to Sacramento from whom you can order Paleo meals. If you're interested in supporting your local community, and want a break from the kitchen these places are absolutely worth a try!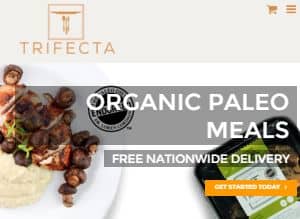 Trifecta
Based in West Sacramento, but really serving a nationwide audience, Trifecta Nutrition gears its meal plans toward athletes, or those looking to augment their athletic performance through diet. They offer a Paleo meal plan designed with help with some of the biggest names in the Paleo community as well as a variety of other menu options like clean eating, vegetarian, and vegan meal plans. Trifecta commits to using 100% organic ingredients in absolutely all of their meals and, in their use of proteins, strives to maintain a humane level rating of 5. They allow customers to order meal plans or order precooked items in bulk (in case you want to portion out food yourself). The best part about Trifecta? They ship their meals straight to your door in refrigerated cooler boxes so there is no coordination needed. Plus all orders include free shipping. Unlike some of the smaller local companies in this article, Trifecta will deliver to all addresses, both home and office, anywhere in the region (so you don't have to worry about how many miles you live from the center of Sacramento). Their meals, delivered fresh, are ready to heat up in the microwave or oven or can be frozen if you won't be able to eat everything that week. If you live in the Sacramento area, the meals are not going far.
See trifectanutrition.com for current prices for their Paleo and organic meal delivery Sacramento offerings.
For our detailed write up on Trifecta including reviews, see our in-depth coverage on them.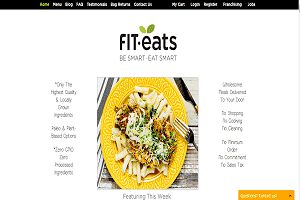 Fit Eats
Fit Eats is a local meal delivery service focusing on healthy meals for those trying to stay fit, catering to a variety of diets plans one of which is Paleo. They let you filter their meals based on check boxes to screen by the type of diet you follow. That said, of the handful of options designated as Paleo on the website, we noticed items that included brown sugar and agave in the ingredients list, so be sure to check the ingredients of each meal and make sure they fit with your strictness with the Paleo Diet. One nice thing is that they do include an ingredient list with their meals on their website so confirming meal ingredients is pretty straight forward. They deliver meals three nights a week to most areas of greater Sacramento in insulated cooler bags so you have them the next morning.
For more information on Fit Eats and for prices see:
Fit Eats Reviews:
http://submergemag.com/food-drink/fit-eats/15449/
http://myhealthyhappyhome.com/2015/04/16/fit-eats-opens-in-downtown-sacramento/
Fit Eats Facebook Reviews: https://www.facebook.com/FitEatsCom/
Fit Eats Yelp Reviews: https://www.yelp.com/biz/fit-eats-sacramento
National Companies Offering Paleo Meal Delivery to Sacramento
Maybe you know your week is going to be a busy one,  maybe you're traveling out of town, or maybe you're not the biggest fan of cooking – you may want to look at one of these national companies. These companies offer meal delivery services exclusively to Paleo customers. Ordering from a national company, you can be absolutely certain that your meals are created with fresh, organic ingredients that  adhere to Paleo principles. These companies craft their menus using grass fed and pastured proteins, local in-season and organic produce, and high quality oils, fats, and broths. These companies ship food express and straight to your doors. Their meals either fresh or frozen, and packaged in insulated cooler boxes with ice packs or dry ice. Most of these companies also offer specific Paleo meal plans, accommodating clients who follow the Autoimmune Paleo protocol,  Wahls Paleo, or thirty-day detoxes. If you're interested in a more sustained solution to meal-prep and cooking, give any one of these companies a try!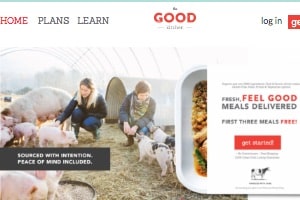 The Good Kitchen
The Good Kitchen has some great offers for first time customers: In your first shipment you can often get three free meals and a complimentary order of bone broth. The Good Kitchen is another company invested in sourcing ingredients from their local, North Carolina farmers and vendors. Though the company requires its customers purchase a meal plan, they allow for a great deal of variety in creating those plans and have many different menu options you can choose from – including vegetarian and vegan options. No matter the content of your meal, pricing of meal plans is based on the number of meals ordered. Like Trifecta, The Good Kitchen ships free.
See thegoodkitchen.com for The Good Kitchens complete menu and list of healthy meals delivered Sacramento / nationwide plans.
The Good Kitchen is offering a 15% discount for our readers. Use promo code "mypaleos" at checkout for 15% off your first order.
For our detailed write up on The Good Kitchen including reviews, see our in-depth coverage on them.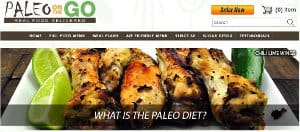 Paleo on the Go
Paleo on the Go is a popular Paleo delivery service that ships to the Sacramento area. They've received rave reviews from well known Paleo bloggers and have won several Paleo magazine readers' choice awards for their services. This company is one of the few that gives customers an option to order both meal plans and single meals. And they offer some interesting options including Paleo tarts, pot pies, and stews. They have a great working relationship with local farmers and focus on using organic produce from the dirty dozen list. For those looking to order specific Paleo plans like AIP or a thirty day detox, Paleo on the Go is a great place to order from.
See paleoonthego.com for prices and meal options.
Note: Paleo on the Go is offering a 10% discount for our readers, use code "MYPALEOS" at checkout for 10% off your entire order – one time use.
For our detailed write up on Paleo on the Go including reviews, see our in-depth coverage on them.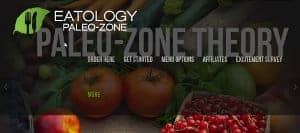 Eatology
Eatology is one of the most affordable options on this list and is unique in that its Paleo meals also follow the Zone protocol (which breaks meals into "blocks" in order to balance macronutrients). The company is based out of Texas and is a great one to consider if you're trying to lose weight. Eatology bases their meal prices on blocks, regardless of content, and there are an abundance of meal-plan options you can choose from. They offer persuasive deals for customers ordering recurring meal plans. You can often get between 10% and 20% discounts.
See http://www.eatology.co for Eatology's Paleo-zone plans and pricing, including nationwide plans for healthy meal delivery Sacramento options.
Eatology is offering a 20% off promo for our readers (works for first & all later orders), use code "ZACHPALEO" at checkout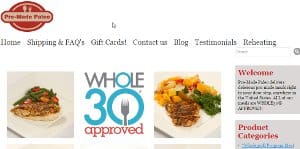 Pre-Made Paleo
Pre-Made Paleo offers a Whole30 meal plan and follows strict Paleo protocol. Their service is one that has a wide range of unique product offerings for customers, including house-made add-ons and popular specialty items – which rotate and frequently sell out! The company is one of the few that offers customers the opportunity to purchase a la carte meals and they offer inventive dishes created from fresh ingredients (including wild-caught fish!). They have a variety of shipping options available to customers, but all options ship to the Sacramento area.
See premadepaleo.com for prices and Paleo meal delivery Sacramento inclusive nationwide plans
Pre-made Paleo has offered a 5% discount (one time use) on all orders for our readers. Use code "MYPALEOS2018" at checkout
For our detailed write up on Pre Made Paleo including reviews, see our in-depth coverage on them.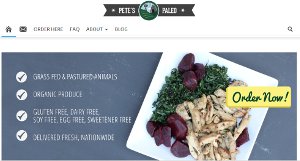 Petes Paleo
Pete's Paleo is local to Southern California and meals are easily sent fresh to the Sacramento area. Pete's offers a seasonal menu based on what produce is available, and they pride themselves on selecting choice ingredients and preparing food that highlights the ingredients' natural flavors. Pete's meals contain no added sugars and are great for anyone looking to do a sugar detox. They also have a program that follows the Wahls Paleo plan (for those with chronic health issues). The company has been featured on a variety of TV programs as well as in Newspapers and Magazines. If you're looking to order recurring meal plans, Pete's is a great company to consider.
See petespaleo.com for a complete list of prices, meal plans and healthy food delivery Sacramento options.
For our detailed write up on Petes Paleo including reviews, see our in-depth coverage on them.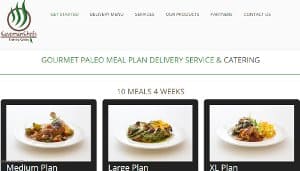 Caveman Chefs
Caveman Chefs, headquartered in Denver, uses local Colorado farms and ranches to source their organic produce and protein. The company advertises local pickup options, but also delivers to the Sacramento area. While options for meal plans are more limited than some of the other companies listed, Caveman chefs offers a rotating and highly creative menu. The owners have been in the restaurant and catering business for a while and know how important customization is. They are one of the few companies that allow you to request special dietary requirements like Keto, AIP, FODMAP or any other variation or food allergy you might have.
Visit http://www.cavemanchefs.com for more information on their Paleo delivery Sacramento options
Caveman Chefs has offered 10% off all orders by mentioning the promo #ZachmyPALeos in the order comments or mentioned by phone during checkout.
For our detailed write up on Caveman Chefs including reviews, see our in-depth coverage on them.
Every Year there are More Options for Paleo Meal Delivery Sacramento & Paleo Delivery Options
We hope this article has provided you with a multitude of options for meal-delivery available to Paleo customers in the Sacramento area. Between the great local meal services and the variety of national companies and meal options, there is no shortage of solutions to maintaining your Paleo diet. There are tons of great reasons to order pre-made meals. Ordering locally helps support and sustain Sacramento's robust food scene. If you order nationally, you can access wholesome, natural ingredients from Florida, Colorado, North Carolina – places whose local produce might otherwise be difficult to obtain. Even if you love spending time in the kitchen, ordering an occasional meal can make a real difference in your ability to sustain your Paleo lifestyle. Keep in mind too that, if you're travelling out of town, these delivery services make it easy to maintain your diet. Many national companies ship their food in travel-conducive packaging, or, if you are interested in supporting the local economy, you can check out our other articles on local options for eating Paleo. Hopefully with all these options for meal delivery, you'll find something you enjoy!
Other Paleo Delivery Sacramento Area Companies
If you have any suggestions of other places offering Sacramento Paleo Friendly Meal Delivery or know of Sacramento Paleo restaurants that might offer takeout or delivery options, please let us know in the comments below.