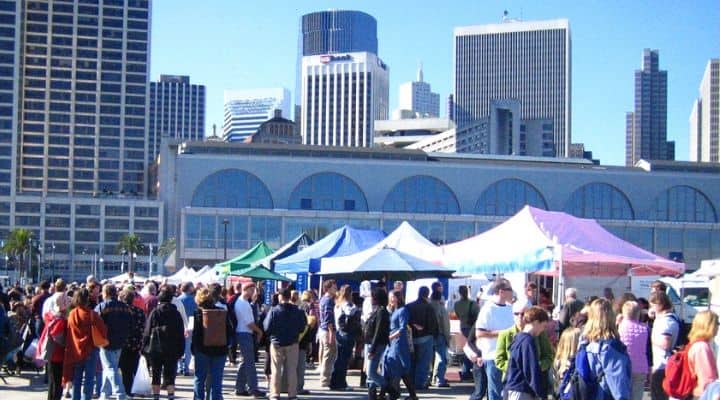 If you follow the Paleo diet, then you are very familiar with its tenets: preparing meals from high-quality, natural ingredients, cutting out grains, dairy, sugars, and processed and unhealthy oils found in many convenience foods. You're probably also familiar with the time it takes to create Paleo-compliant meals. And sometimes you just don't have time to cook Paleo.
If you're like the rest of us, there are going to be occasions when your schedule gets hectic, and you're unable to devote the effort needed to create Paleo specific dishes. Don't worry. If you're living in the San Francisco and Oakland areas, there are actually a ton of options available for those who don't have time to spend in the kitchen. Whether you're interested in ordering a spur-of-the-moment takeout meal, or establishing a recurring meal delivery plan, we've got you covered.
Below, we've outlined local and national companies who will deliver Paleo meals right to your door. Our hope is that you'll find a series of options helpful to staying on track with your Paleo diet.
We cover the following....
Local Paleo Food Delivery San Francisco Options
There are some great restaurants and delivery services local to San Francisco and Oakland. The food scene is one of the great benefits to living in the area as it accommodates all kinds of diets. Though these services are smaller than their national counterparts, and many don't cater only to Paleo customers, there are still a host of options available to you. If you find yourself pressed for time on a weekday evening, you might choose to support your local food scene and give one of these places a try!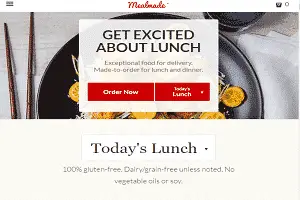 Kitava
Rebranded as Kitava when they opened their physical restaurant (formerly Mealmade), using options like UberEats and Caviar they offer a 100% gluten free and grain free meal delivery service that offers a number of Paleo meal options on their menu. Meals are delivered in as little as 30 minutes, with delivery throughout all of San Francisco proper. Kitava offers grass fed beef, free range poultry and sustainably caught seafood in their meals, as well as striving to use local ingredients.
For more information on Kitava and for prices see:
https://www.kitava.com/
Kitava/Mealmade Reviews:
http://www.sfchronicle.com/food/article/Cook-Your-Week-New-Mealmade-delivers-Paleo-fare-6600827.php
Kitava Facebook Reviews: https://www.facebook.com/kitavakitchen/reviews/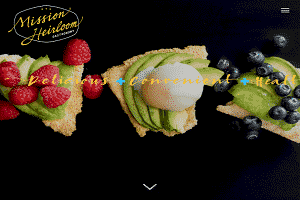 Mission Heirloom
Mission Heirloom is a an Organic, gluten and grain free restaurant in Berkeley that also offers delivery of their meals via delivery partners throughout the SF Bay area. Meal ingredients are Organic, locally sourced, and pasture raised with grass fed beef and wild line and hook caught seafood. Meals can be delivered to your home or office in SF with Good Eggs, Uber Eats and Caviar or even to surrounding areas with Real Food Bay Area.
For more information on Mission Heirloom and for prices see:
http://www.missionheirloom.com/
Mission Heirloom Reviews:
https://healyeatsreal.com/mission-heirloom/
http://www.gfinorlando.com/2016/10/mission-heirloom-berkeley-california.html
https://www.fearlessdining.com/mission-heirloom-gluten-free/
Mission Heirloom Facebook Reviews: https://www.facebook.com/missionheirloom/ Mission Heirloom Yelp Reviews: https://www.facebook.com/pg/munchery/reviews/
Nybll
Nybll, formerly Kombu Kitchen, is a prepared meals delivery service that operates in San Francisco. They offer Paleo meal options along with other options such as gluten free and plant based menus. The owner, Chef Kristen Thibeault, has a history with plant based diets, but the the company later expanded to include a gluten/grain free meal plan offering.
For more information on Nybll and for prices see:
Nybll Reviews:
http://sarahfit.com/kombu-kitchen-ready-made-gourmet-superfood-in-boston/ 
Nybll Facebook Reviews: https://www.facebook.com/nybll/?hc_location=ufi
Nybll Yelp Reviews: https://www.yelp.com/biz/nybll-ipswich
This post contains affiliate links. Thank you for supporting us! Click here to learn what this means.
National Companies Offering Paleo Meal Delivery to San Francisco
If you're looking for a more regular option for pre-made meals, or if you'd like to order a few meals to store in your freezer, you might think about ordering from some of these national Paleo delivery companies. All the companies we've listed below specialize in cooking for the Paleo Diet.
These companies create relationships with local farms and vendors and craft meals comprised of local, organic produce and grass-fed, pastured proteins and wild-caught fish. Many of these companies tailor meal plans to specific sub-sets of the Paleo diet, like Autoimmune Paleo protocol, Paleo-Zone and sugar-free detox programs. Several also have the option to ship meals fresh, ready to warm or eat, but all have options for shipping meals frozen and express to your door.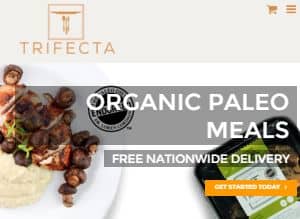 Trifecta
Trifecta Nutrition is a Northern California based company, and the majority of their ingredients come directly from California farmers. Trifecta is committed to using 100% organic ingredients and, while they create meals for other diet plans as well, they have a program dedicated to Paleo. For all animal products used, Trifecta strives to meet a minimum humane level rating of 5. They have worked to limit their environmental footprint, using green packaging options instead of Styrofoam. A great benefit to ordering from Trifecta: shipping is free!
See trifectanutrition.com for current prices for their Paleo and organic meal delivery San Francisco offerings.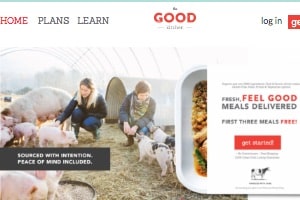 The Good Kitchen
The Good Kitchen has great options for those looking to customize their meal plans, and it has a large variety of meal options, including Paleo vegetarian and vegan dishes. They are also one of the few companies who offer free delivery, including on orders as small as 5 meals. They make the meal selection process easy, allowing you to choose from grass fed beef, chicken, pork, or vegetarian focused menus. The Good Kitchen is based out of North Carolina and sources from local farmers in their area. If you're looking to try another region's local produce, the Good Kitchen could be a good option.
See thegoodkitchen.com for The Good Kitchens complete menu and list of healthy meals delivered San Francisco / nationwide plans.
The Good Kitchen is offering a 15% discount for our readers. Use promo code "mypaleos" at checkout for 15% off your first order.
For our detailed write up on The Good Kitchen including reviews, see our in-depth coverage on them.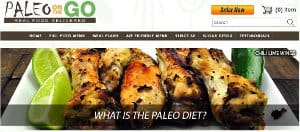 Paleo on the Go
Paleo on the Go is a popular delivery service focusing exclusively on Paleo meals. They've earned a series of certifications from Paleo organizations as well as rave reviews by bloggers. They focus on creating meals that use grass fed, free range and humanely raised meats. They are one of the companies that offer a few different meal lines, including an AIP plan that cuts out nightshades and restricted ingredients. Paleo on the Go also offers weekly and a la carte meal plans, so you are able to better customize your orders. Their meals are then packaged and shipped straight to you.
See paleoonthego.com for prices and meal options.
Note: Paleo on the Go is offering a 10% discount for our readers, use code "MYPALEOS" at checkout for 10% off your entire order – one time use.
For our detailed write up on Paleo on the Go including reviews, see our in-depth coverage on them.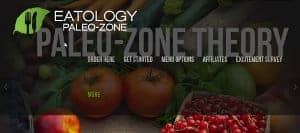 Eatology
Eatology's Paleo meal plans incorporate the principles of the Zone protocol, which works to balance carbohydrates, proteins and fats within each meal. Theirs is a great plan for anyone looking to lose weight and balance blood insulin levels. As the meals are portion controlled, Eatology is also one of the least expensive meal services available. Their pricing remains consistent no matter the content of the meals, with increases in price responding only to increases in portion size. Eatology also offers discounts if you sign up for one of their recurring meal plans.
See http://www.eatology.co for Eatology's Paleo-zone plans and pricing, including nationwide plans for healthy meal delivery San Francisco options.
Eatology is offering a 20% off promo for our readers (works for first & all later orders), use code "ZACHPALEO" at checkout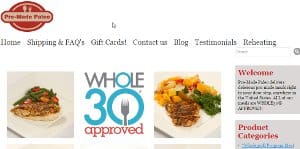 Pre-Made Paleo
What differentiates Pre-made Paleo from some of the other national services is their rotating selection of chef specials, which include hard-to-find menu items like water buffalo, wild boar, and alpaca. They've been in business a while and, alongside their popular Whole30 meal plan, offer a number of complimentary products, like their own brand of Paleo pork rinds and cooking oils. Pre-Made Paleo's chef is the author of a Whole30 cookbook series and is a contributing writer on the Whole30 website. They offer a variety of shipping options and are worth a try!
See premadepaleo.com for prices and Paleo meal delivery San Francisco inclusive nationwide plans
Pre-made Paleo has offered a 5% discount (one time use) on all orders for our readers. Use code "MYPALEOS2018" at checkout
For our detailed write up on Pre Made Paleo including reviews, see our in-depth coverage on them.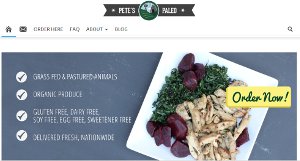 Petes Paleo
Pete's Paleo is a well-reviewed, high quality delivery service that prides itself on using in-season produce and proteins. They source their ingredients from local farmers and offer a constantly changing, seasonal menu. For those interesting in purchasing sugar-free meals, Pete's meals are sweetened naturally by fruits and vegetables. They're a great option for those attempting a sugar detox. They also have a plan that follows the requirements of Wahl's Paleo, for those striving to reduce symptoms of major health issues.
See petespaleo.com for a complete list of prices, meal plans and healthy food delivery San Francisco options.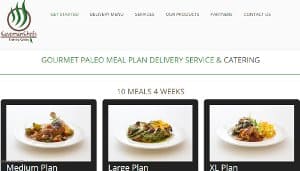 Caveman Chefs
Caveman Chefs is a Paleo delivery service based out in Denver and sourcing protein and produce from local Colorado farms and ranches. Their dishes are innovative and highly customizable. They're one of the few companies that will work to accommodate individual dietary restrictions (like food allergies or AIP restrictions). While their website offers local pickup locations, they also ship nationally.
Visit http://www.cavemanchefs.com for more information on their Paleo delivery San Francisco options
Caveman Chefs has offered 10% off all orders by mentioning the promo #ZachmyPALeos in the order comments or mentioned by phone during checkout.
For our detailed write up on Caveman Chefs including reviews, see our in-depth coverage on them.
Every Year there are More Options for Paleo Meal Delivery San Francisco & Oakland Paleo Delivery Options
With an abundance of options in San Francisco and Oakland areas, there are plenty of solutions for those nights of the week when cooking just isn't feasible. And if you are trying to maintain a diet that follows AIP, Wahls Paleo, or Whole30 restrictions there are companies that cater specifically to your needs. Supplementing your Paleo cooking with the occasional pre-made meal can make a real difference in your ability to maintain your diet. Even when life gets stressful, there are still options that allow you to eat healthy and maintain your lifestyle. Consider, too, the benefits of occasionally ordering meals. When you order from local restaurants, you're supporting your local economy and food scene. If you order national companies, you're able to try a wide variety of meats, fish, and produce that might not be available in your area. Even if you love the process of shopping for and preparing Paleo meals, it's nice to take a break every once and awhile and let someone else do the cooking for you.
Other Paleo Delivery San Francisco Area Companies
If you have any suggestions of other places offering San Francisco Paleo Friendly Meal Delivery or know of San Francisco Paleo restaurants that might offer takeout or delivery options, please let us know in the comments below.