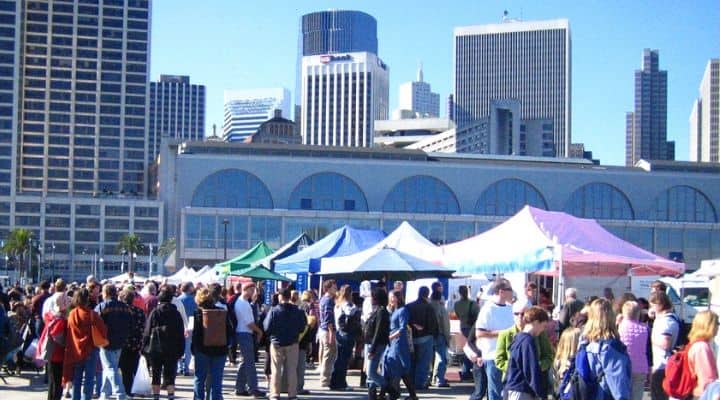 If you follow the Paleo diet, then you are very familiar with its tenets: preparing meals from high-quality, natural ingredients, cutting out grains, dairy, sugars, and processed and unhealthy oils found in many convenience foods. You're probably also familiar with the time it takes to create Paleo-compliant meals. And sometimes you just don't have time to cook Paleo.
If you're like the rest of us, there are going to be occasions when your schedule gets hectic, and you're unable to devote the effort needed to create Paleo specific dishes. Don't worry. If you're living in the San Francisco and Oakland areas, there are actually a ton of options available for those who don't have time to spend in the kitchen. Whether you're interested in ordering a spur-of-the-moment takeout meal, or establishing a recurring meal delivery plan, we've got you covered.
Below, we've outlined local and national companies who will deliver Paleo meals right to your door. Our hope is that you'll find a series of options helpful to staying on track with your Paleo diet.
We cover the following....
Local Paleo Food Delivery San Francisco Options
There are some great restaurants and delivery services local to San Francisco and Oakland. The food scene is one of the great benefits to living in the area as it accommodates all kinds of diets. Though these services are smaller than their national counterparts, and many don't cater only to Paleo customers, there are still a host of options available to you. If you find yourself pressed for time on a weekday evening, you might choose to support your local food scene and give one of these places a try!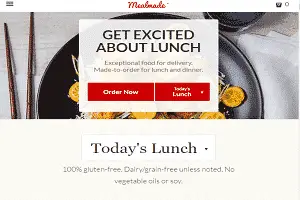 Kitava
Whilst not necessarily acting as a ready-to-heat meal delivery service, Kitava does offer home delivery for all of the meals that they provide in-house at their local restaurant. This means that if you're in need of a healthy, Paleo-friendly take-away, Kitava can and will provide!
They use a number of delivery companies such as UberEats and DoorDash, but they also give you the option of picking up if you just happen to be passing on the way home from work.
Kitava are a completely Paleo restaurant, catering to Whole30, AIP and vegetarian/vegans alike, listing all of their allergens so that their meals can be accessible to everyone. As an extra bonus, Kitava also serve Paleo desserts, such as their anticipated ice cream sandwich and almond butter cookies, so you can have a well-deserved treat.
For more information on Kitava and for prices see:
https://www.kitava.com/
Kitava/Mealmade Reviews:
http://www.sfchronicle.com/food/article/Cook-Your-Week-New-Mealmade-delivers-Paleo-fare-6600827.php
Kitava Facebook Reviews: https://www.facebook.com/kitavakitchen/reviews/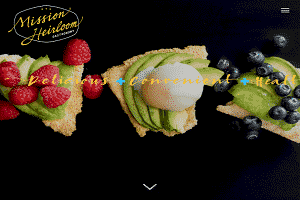 Mission Heirloom
Mission Heirloom have been featured in the San Francisco Times, Vogue and on TEDx, just a few of the many media outlets that have recognised the hard work that this company has put in throughout San Francisco.
Mission Heirloom is similar to Kitava in the fact that they are actually a cafe located in the Bay Area. And like Kitava, they offer the option of ordering from scratch meals that are then delivered to your front door.
They pride themselves on using organic and locally-sourced ingredients, including pasture-raised and grass-fed beef, free-range poultry and eggs, wild line- and hook-caught seafood, good fats and fairtrade caffeinated beverages. They also refuse to use gluten, GMO products, grains, legumes, refined sugars, alliums (aka onion and garlic which are commonly unfriendly to those following a FODMAP diet), preservatives, fillers or chemicals.
Their high standards result in dishes that are nutritionally-dense and consistent with your Paleo needs, bar the odd meal that contains dairy (ask them directly to omit any dairy and they'll surely oblige).
For more information on Mission Heirloom and for prices see:
http://www.missionheirloom.com/
Mission Heirloom Reviews:
https://healyeatsreal.com/mission-heirloom/
http://www.gfinorlando.com/2016/10/mission-heirloom-berkeley-california.html
https://www.fearlessdining.com/mission-heirloom-gluten-free/
Mission Heirloom Facebook Reviews: https://www.facebook.com/missionheirloom/ Mission Heirloom Yelp Reviews: https://www.facebook.com/pg/munchery/reviews/
Cast Iron Kitchen
Cast Iron Kitchen delivers through the local areas of San Fransisco and Marin. Devised by chef and nutritionist Diane, Cast Iron Kitchen uses evidence-based nutrition to create healthy, tasty meals that you're bound to love.
Her dishes use organic and fresh ingredients from local farmer's markets, which are completely gluten-free and Paleo-friendly. Diane's online menu is the definition of extensive listing just about any and every meal you could think of. It seems highly unlikely that anyone using Cast Iron Kitchen could ever complain of repetitive meal plans.
Due to the popularity of Cast Iron Kitchen, you may have to get in line to appreciate the wonders of Diane's cooking; they are often fully-booked but encourage you to subscribe to their waitlist so you're the first to know when they're accepting new clients.
https://www.castironkitchen.com/
Thistle
If you're looking for a vegan or vegetarian-friendly meal delivery service that also suits the needs of a Paleo diet, look no further. Thistly focuses primarily on cultivating 'plant-forward' dishes; essentially they use plants as the centerpiece of the meal, with at least 5 unique vegetables utilised in every meal.
Thistle does provide meat options if you want them but tends to use them as a condiment to the meal. All ingredients are organic and locally-sourced wherever possible, and 100% dairy-free. This local business also tries to incorporate superfoods such as maca, reishi, turmeric and ginger, which are often cited as having anti-inflammatory or hormone-balancing properties.
Menus are rotated on a weekly basis to keep things interesting for the consumers as well as allowing them to take advantage of seasonal and local ingredients. They steer away from gluten-containing foods, even using quinoa pasta instead of wheat pasta (although quinoa is technically not allowed on a Paleo diet, most of their meals are completely grain-free).
Priced reasonably at roughly $11.50 per meal, Thistle is a great choice for people on a less meat-centric Paleo approach who want to support a local San Francisco business.
Good Eggs
In case all of these options weren't amazing enough, enter Good Eggs, the online grocery store that doubles up as a meal preparation service. They have a whole section dedicated to ready-to-heat Paleo meal components, with the rest of the products up for grabs reminiscent of chain stores like Whole Foods and Trader Joes.
If you're more interested in supporting local stores, Good Eggs may be just what you've been looking for. Good Eggs have a number of complete meals ready for you to purchase, but for Paleo practitioners it might be best to order their Paleo-friendly meal components and combine them at home. Where they're already prepared and cooked, all you need to do is portion out what you need, heat it up and eat!
This is an ideal choice for those of you that have specific macronutrients needs that require foods to be weighed out (Good Eggs tells you the weight of every product they send out so you can divide it as needed), or the environmentally-concerned individuals that have containers at home that need using. Although many companies now use recyclable packaging, there are still widespread concerns about creating unnecessary waste and increasing the need for initial harvesting of materials.
https://www.goodeggs.com/sfbay/home
Vita Kitchen
Last but far from least, Vita Kitchen brings up the rear on our subsection for local meal delivery services. They serve the Bay Area and their food philosophy respects the need for high quality ingredients. They believe that food should be organic, responsibly-sourced, pastured where possible and plant-forward. Interestingly, Vita Kitchen also use adaptogenic herbs, broths and probiotic-rich fermented foods, great for those who need an extra bit of support or are healing their gut.
Vita Kitchens are a premium-priced company,with their packages starting at $350 per week at the time of writing. They are also a completely plastic-free company, requesting a one-time non-refundable deposit of $100 for use of their glass pyrex containers. Their Gold Standard package is their most popular and most suitable for enthusiasts of the Paleo diet.
This post contains affiliate links. Thank you for supporting us! Click here to learn what this means.
National Companies Offering Paleo Meal Delivery to San Francisco
If you're looking for a more regular option for pre-made meals, or if you'd like to order a few meals to store in your freezer, you might think about ordering from some of these national Paleo delivery companies. All the companies we've listed below specialize in cooking for the Paleo Diet.
These companies create relationships with local farms and vendors and craft meals comprised of local, organic produce and grass-fed, pastured proteins and wild-caught fish. Many of these companies tailor meal plans to specific sub-sets of the Paleo diet, like Autoimmune Paleo protocol, Paleo-Zone and sugar-free detox programs. Several also have the option to ship meals fresh, ready to warm or eat, but all have options for shipping meals frozen and express to your door.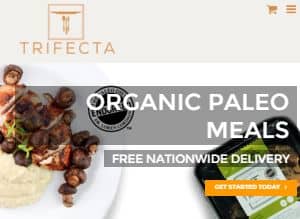 Trifecta
Trifecta Nutrition is a Northern California based company, and the majority of their ingredients come directly from California farmers. Trifecta is committed to using 100% organic ingredients and, while they create meals for other diet plans as well, they have a program dedicated to Paleo. For all animal products used, Trifecta strives to meet a minimum humane level rating of 5. They have worked to limit their environmental footprint, using green packaging options instead of Styrofoam. A great benefit to ordering from Trifecta: shipping is free!
See trifectanutrition.com for current prices for their Paleo and organic meal delivery San Francisco offerings.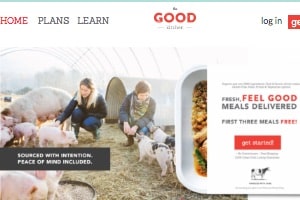 The Good Kitchen
The Good Kitchen are a fantastic meal delivery service based out of North Carolina. They aim to meet the needs of most specialized diets, including Whole30, Paleo, and Keto. As an automatic result of providing Whole30-approved meals, most dishes are also suitable for sugar detoxes.
Their menu appears to change weekly, but even if it didn't, their meals are unlikely to get stagnant, with at least 27 meals to choose from, most of which are Whole30-friendly. From Asian Style Pork Stir Fry to Beef Pot Roast with Sweet Potato Mash, there's always lots to choose from.
All orders ship completely free of charge, and subscriptions start at a reasonable 10 meals per week (only $130/week for this option). Rather than pricing individual meals, they just charge based on your weekly plan, meaning that the cost per meal only ranges from $11-$13 for any of their dishes.
See thegoodkitchen.com for The Good Kitchens complete menu and list of healthy meals delivered San Francisco / nationwide plans.
The Good Kitchen is offering a 15% discount for our readers. Use promo code "mypaleos" at checkout for 15% off your first order.
For our detailed write up on The Good Kitchen including reviews, see our in-depth coverage on them.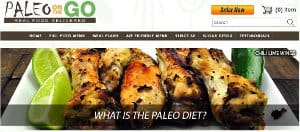 Paleo on the Go
Paleo on the Go are another nationwide service offering exclusively Paleo-friendly meals to the whole of the US. A number of their meals are dedicated to those following an autoimmune-protocol; a variation of the Paleo diet that is more restrictive in order to reduce chronic inflammation in the body.
They source their animal products from high-welfare farms because they value the way these practices allow animals to be humanely-raised and support the ecosystem. Grass-fed and pastured animals are not only happier, but their meat contains more nutrients than their industrially-raised counterparts. Additionally, grazing animals support soil structure and fertility which would otherwise be lost in industrial farming methods.
Paleo on the Go offers weekly and a la carte meal plans, so you are able to better customize your orders. Their meals are then packaged and shipped straight to you. The only thing to be aware of is their minimum $99 order, which allows this company to make their nationwide shipping economically viable.
See paleoonthego.com for prices and meal options.
Note: Paleo on the Go is offering a 10% discount for our readers, use code "MYPALEOS" at checkout for 10% off your entire order – one time use.
For our detailed write up on Paleo on the Go including reviews, see our in-depth coverage on them.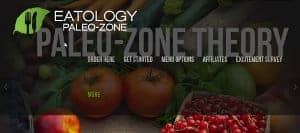 Eatology
Eatology's Paleo meal plans incorporate the principles of the Zone protocol, which works to balance carbohydrates, proteins and fats within each meal. Theirs is a great plan for anyone looking to lose weight and balance blood sugar levels, and is particularly suited to athletes.
As the meals are portion controlled using a two-block or three-block system, Eatology is also one of the least expensive meal services available. Their pricing remains consistent no matter the content of the meals, with increases in price responding only to increases in portion size. Eatology dishes are naturally low-calorie, with 2-block meals being between 155-175 calories, and 3-block meals being between 230-250 calories. This may mean that you need to double up on dishes if you have particularly high energy requirements.
Eatology also offers discounts if you sign up for one of their recurring meal plans, although you can still pay as you go if that's preferable for you.
See http://www.eatology.co for Eatology's Paleo-zone plans and pricing, including nationwide plans for healthy meal delivery San Francisco options.
Eatology is offering a 20% off promo for our readers (works for first & all later orders), use code "ZACHPALEO" at checkout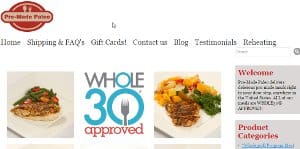 Pre-Made Paleo
What differentiates Pre-made Paleo from some of the other national services is their rotating selection of chef specials, which include hard-to-find menu items like water buffalo, wild boar, and alpaca. They've been in business a while and, alongside their popular Whole30 meal plan, offer a number of complimentary products, like their own brand of Paleo pork rinds and cooking oils. Pre-Made Paleo's chef is the author of a Whole30 cookbook series and is a contributing writer on the Whole30 website. They offer a variety of shipping options and are worth a try!
See premadepaleo.com for prices and Paleo meal delivery San Francisco inclusive nationwide plans
Pre-made Paleo has offered a 5% discount (one time use) on all orders for our readers. Use code "MYPALEOS2018" at checkout
For our detailed write up on Pre Made Paleo including reviews, see our in-depth coverage on them.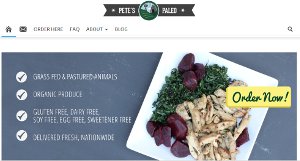 Petes Paleo
Pete's Paleo is a well-reviewed, high quality delivery service that prides itself on using in-season produce and proteins. They source their ingredients from local farmers and offer a constantly changing, seasonal menu. For those interesting in purchasing sugar-free meals, Pete's meals are sweetened naturally by fruits and vegetables. They're a great option for those attempting a sugar detox. They also have a plan that follows the requirements of Wahl's Paleo, for those striving to reduce symptoms of major health issues.
See petespaleo.com for a complete list of prices, meal plans and healthy food delivery San Francisco options.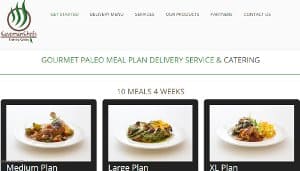 Caveman Chefs
Caveman Chefs is a Paleo delivery service based out in Denver and sourcing protein and produce from local Colorado farms and ranches. Their dishes are innovative and highly customizable. They're one of the few companies that will work to accommodate individual dietary restrictions (like food allergies or AIP restrictions). While their website offers local pickup locations, they also ship nationally.
Visit http://www.cavemanchefs.com for more information on their Paleo delivery San Francisco options
Caveman Chefs has offered 10% off all orders by mentioning the promo #ZachmyPALeos in the order comments or mentioned by phone during checkout.
For our detailed write up on Caveman Chefs including reviews, see our in-depth coverage on them.
Every Year there are More Options for Paleo Meal Delivery San Francisco & Oakland Paleo Delivery Options
With an abundance of options in San Francisco and Oakland areas, there are plenty of solutions for those nights of the week when cooking just isn't feasible. And if you are trying to maintain a diet that follows AIP, Wahls Paleo, or Whole30 restrictions there are companies that cater specifically to your needs. Supplementing your Paleo cooking with the occasional pre-made meal can make a real difference in your ability to maintain your diet. Even when life gets stressful, there are still options that allow you to eat healthy and maintain your lifestyle. Consider, too, the benefits of occasionally ordering meals. When you order from local restaurants, you're supporting your local economy and food scene. If you order national companies, you're able to try a wide variety of meats, fish, and produce that might not be available in your area. Even if you love the process of shopping for and preparing Paleo meals, it's nice to take a break every once and awhile and let someone else do the cooking for you.
Other Paleo Delivery San Francisco Area Companies
If you have any suggestions of other places offering San Francisco Paleo Friendly Meal Delivery or know of San Francisco Paleo restaurants that might offer takeout or delivery options, please let us know in the comments below.