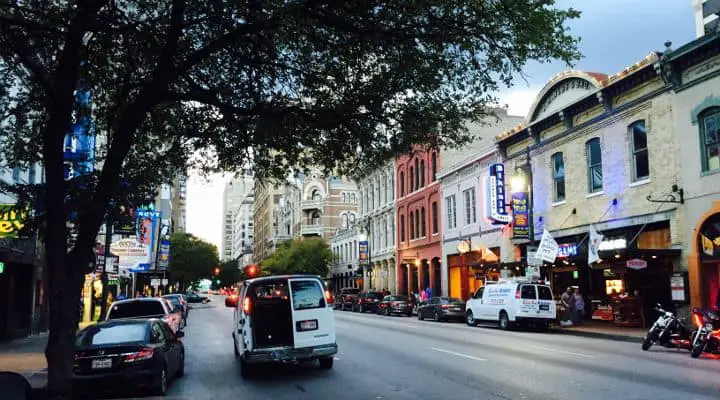 Have you ever wondered if there are Paleo meal delivery services in the State of Texas? You might be surprised to find that there are more than you think, and all of them deliver straight to your doorstep, no matter where you live! 
Read on to find out who they are and how you can save both your precious time and money by choosing the right one.
We cover the following....
Local Paleo Meal Delivery Options in Texas
We here at MyPaleos love to support the underdog; the small business owners who are striving to make the world a better place in some way or another. The following Paleo meal delivery services are local businesses who want to make it easy for the people of Texas to follow a healthy diet plan.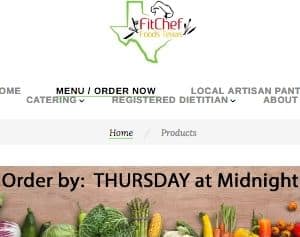 Fit Chef Texas
Fit Chef Texas is a small business located in Pearland, Texas. They craft healthy meals that use only grass-fed beef, antiobiotic-free chicken and wild-caught seafood. Their goal is to inspire and support people who are looking for a diet that is clean and helps them to achieve their weight loss and/or athletic goals.
Not only this, but they refuse to use high-fructose corn syrup, hydrogenated oils or GMO ingredients, which bigger healthy food companies are not always as careful with.
They use the dirty dozen guide to choose organic ingredients, and their menu rotates every week, so you don't get bored of eating the same meals, although firm favorites do tend to come back around.
On top of this, they have a special menu dedicated to Paleo diets, which makes it much easier for you to pick meals that are suitable.
The only thing with Fit Chef Foods is that they only deliver to Houston, Pearland and the immediate area, so this may not be the best option for folks in or around El Paso, Austin or Dallas.
However, if you do live in Houston or Pearland, Fit Chef Texas are a fantastic Paleo-friendly meal delivery service to take advantage of.
To see if they deliver to you and explore their offerings, see: https://www.fitcheftexas.com/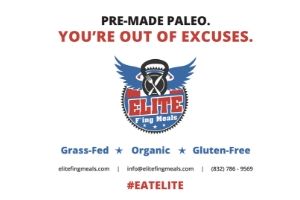 Elite F'ing Meals
Elite F'ing Meals are a Texas-based business located in Houston offering ready-made Paleo, Keto and even plant-based meals to the Houston area. Like Fit Chef Foods, they do only have a particular delivery radius, but the quality of their food more than makes up for this fact.
Their food is 100% gluten-free, processed sugar-free and don't contain preservatives, so you can be comfortable knowing there's no cross-contamination with these ingredients.
They deliver within a 60-mile radius of Houston, so if you're not based in central Houston but want to experience a high-quality Paleo meal delivery service, you can certainly benefit from using Elite F-ing Meals.
Infamous for their Paleo 'crack' brownies, they have something for everyone within an affordable price range, so check out their website and get ordering from the link below!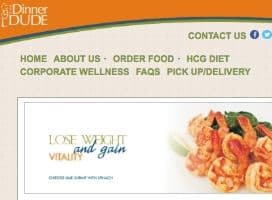 Dinner Dude
Dinner Dude are a Paleo meal delivery service based in Houston Texas. They focus on providing healthy, delicious and gourmet meals for people with busy lifestyles in the Houston area.
Dinner Dude deliver fresh, chilled meals to most Houston zipcodes. Their meals use locally-sourced ingredients and state whether they are suitable for Paleo, keto, gluten-free, low-carb or hcG diets.
Interestingly, Dinner Dude is one of very few meal preparation companies that cater to a hcG diet. The hcG diet is a very low-calorie and low-fat diet that combines supplemental dosaging of the hormone hcG, with the main outcome being rapid weight loss for those who struggle to achieve a healthy lifestyle.
Dinner Dude operates only in Greater Houston area, not the rest of Texas, but they do offer delivery to over 300 zipcodes in Houston. If you're local to the area, Dinner Dude might be worth a try!
To check out the meals they have on offer, follow this link: https://www.dinnerdude.com/
Spirited Food Co.
Spirited Food Co are based in Austin, Texas, and offer Paleo-friendly fare to surrounding areas. They don't explicitly list just how far their delivery zone is, but they do state that deliveries outside of the immediate Austin area will incur additional charges.
This business has three main menus for people to try: Standard, AIP, and Skinny Gourmet. Their standard menu is usually Paleo-friendly, although some meals do contain dairy. As a result this menu is suitable for those who are less strict with a Paleo lifestyle.
For people who have food intolerances or chronic health conditions and are using Paleo to therapeutically treat their problem, the AIP menu may be appealing. The AIP menu is plant-forward and features locally sourced and organic ingredients, as well as grass-fed, lean meats.
If you're local to Austin, this business is a great one to show your support to: https://spiritedfood.com/index.php
This post contains affiliate links. Thank you for supporting us! Click here to learn what this means.
Companies Based in Texas offering Paleo Meal Delivery Anywhere in Texas
Although there are lots of local businesses offering Paleo meal delivery in Texas, not all of them deliver to all locations in the state.
Luckily the below businesses will deliver to any home or business address throughout the State of Texas, no matter how far it is from a major city. As long as you can get package delivery, these services will deliver to you.
Some of you who are further out from the major cities but still want to support a business that's rooted in Texas will want to read on.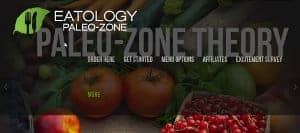 Eatology
Eatology are a national company that started in Bryan, Texas. They use a combination of the Paleo diet and the Zone diet to create meals that are fantastic for athletes and anyone looking to drop body fat.
The Zone diet uses 'block' principles. Meals are made up of either 2 or 3 'blocks', which tells you how many calories are roughly in each meal. The meals are balanced with the right amount of protein, fat and carbohydrates you need, whilst still sticking to the Paleo fundamental rules.
Eatology deliver their meals frozen so that you can pick when you want to thaw and eat them. They last for up to 6 months in the freezer, so feel free to stock up as much as you want.
Expect either next-day delivery or two-delivery in all areas of Texas. Because this company's kitchen and headquarters are in Texas, you'll be supporting a local business that has become so popular that it's now able to cater to all states in America.
If you're an athlete, or just want help balancing your blood sugar levels, check out the website linked: http://www.eatology.co 
Eatology is offering a 20% off promo for our readers (works for first & all later orders), use code "ZACHPALEO" at checkout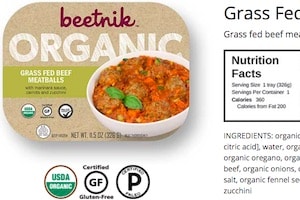 Beetnik Foods
Beetnik Foods is nestled in Austin, Texas; a family-owned business passionate about providing organic, Paleo meals to all states in the USA. Not only can you order their frozen meals online, but Beetnik Foods are stocked in many locations across the United States.
Beetnik Foods are seen in the frozen sections of Whole Foods, Kroger, Walmart and Safeway, amongst other retailers.
You can also order their meals online individually, but a more cost-effective option is purchasing their Super Paleo Pack or 24 meals for $169 (only $7 each). They also have Back To School and Super Whole30 meal bundles.  
They only use organic ingredients and incorporate grass-fed beef in many of their dishes. They also refuse to use ingredients that contain MSG, high fructose corn syrup, artificial colors and flavorings, hormones or antibiotics.
To check Beetnik Foods offerings and where their nearest partnered stores are to you, check out:
Prices via Amazon or http://www.beetnikfoods.com/
Healthy Gourmet
Healthy Gourmet serve the entire contiguous United States, but their roots are firmly based in Houston, Texas.
They offer Paleo-friendly meals to doorsteps throughout the state of Texas, as well as Keto and vegetarian fare as some of their many options.
Healthy Gourmet allows you to buy as many or as little meals as you like, without signing up to a subscription. They also offer free shipping for orders over $99 in value.
Meals arrive fresh, made with all-natural ingredients and are delivered within days of production, so you know that your food will be high-quality, flavorful and nutrient-dense.
If you'd like to show your support for local business Healthy Gourmet, order at: https://www.healthygourmet.com/
Major Paleo Companies that Deliver to All Locations in Texas
If you live in West Texas or outside one of the major metro areas listed above, you may find success with one of the following regional services specializing in Paleo Delivery.
These companies completely specialize in the Paleo diet and are able to offer things that smaller companies often don't access to such as the ability to cater to very specific dietary preferences within the overall Paleo movement or the ability to partner with local farms to offer less common and more varied menus and proteins.
These companies have been at the Paleo game for a long time and have their operations and delivery systems down.
And fortunately, wherever you live in the state of Texas, these companies will deliver straight to your home or office.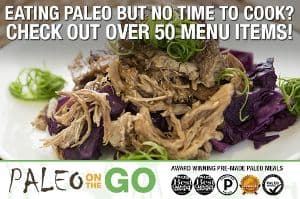 Paleo on the Go
Paleo on the Go is one of the more established delivery services for the Paleo Diet.
They set themselves apart from the other big players by focusing on those who are using the Paleo Diet as part of a way to overcome a health condition, such as an autoimmune disease.
They have partnered with some of the biggest names in the Paleo autoimmune health movement such as Sarah Ballantyne credited with creating the Autoimmune Paleo Diet (AIP) and other big names such as the created of the Pheonix Helix podcast.
Paleo on the Go has a vast menu with a focus on recreating some of the foods you might miss on these restrictive diets with alternative healthful ingredients that are allowed even on the strictest of dietary restrictions.
They are based in Florida but source local ingredients with partnership with farmers throughout the southeast. Best of all, they are set up to delivery throughout Texas as part of their normal operations.
They partner with area farms to source only grass fed beef and wild meats and source those items on the dirty dozen organic as a organizing principal.
To find out more, check out: paleoonthego.com 
Note: Paleo on the Go is offering a 10% discount for our readers, use code "MYPALEOS" at checkout for 10% off your entire order – one time use.
Here is a video of me unboxing my latest Paleo on the Go order: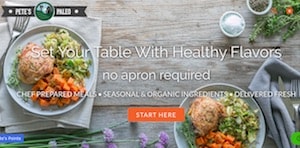 Pete's Paleo
Pete's Paleo is a great options for those who are taking the Paleo Diet seriously in all aspects.
You can think of Pete's Paleo as if you had a private chef that went to a local farmers market every week and planned the entire weekly menu around what is in season and fresh.
Actually the standards are a bit higher than most farmers markets as in addition to working directly with farmers, they only source organic ingredients in all aspects of their meals, with no exceptions and only source the absolute gold standard grass fed, grass finished and wild proteins.
As a major national Paleo meal company, they deliver to all addresses anywhere in Texas with ease. They have worked out a system to send the meals refrigerated and ready to heat, either in the microwave or on the stove or oven.
They have kitchens based in Atlanta that serve clients in the Southeast, so meals will be based on what is in-season at the local farms in that area. But they are definitely an option for anyone in Texas who is looking for the gold standard in sourcing for their Paleo meals.
For more information about Pete's Paleo and to to see samples of their seasonal menu for the week see: petespaleo.com
Every Year There Are More Texas Paleo Meal Delivery Options
So as you can see, there are a surprising number of Paleo-friendly meal delivery options available in Texas for you to try.
Supporting and using these businesses allows you to tell the food industry what you want and why you want natural, locally-sourced food. Not only this but it makes your life easier by giving you more time to do the things you want, whilst still maintaining a healthy, Paleo lifestyle.
Even if you prefer to prepare your meals from scratch, there are always going to be those days that you need a quick-fix. Having meals from one of these local businesses on-hand will make it much easier for you to continue reaping the benefits of a Paleo diet.
Other Texas Paleo Meal Delivery Options
If you have come across any other Texas-based Paleo meal delivery services, let us know in the comments below.
There are always new Paleo businesses and restaurants popping up that need our support, and we'd love to hear from you!