In order to cook Paleo, you need to find Paleo-friendly recipes and specialty food stores where you can locate organic produce and grass-fed, pastured, or wild-caught proteins. While you love home-cooked meals, the process of preparing to cook Paleo can be incredibly time consuming. A number of our readers have expressed interest in home-delivered Paleo meal kits.
You've seen companies like Blue Apron advertised across your social media platforms and have checked them out only to discover they don't consistently offer Paleo-compliant recipes.
Are there Paleo meal kit companies that offer something like a Paleo version of Blue Apron? Absolutely. There are now several services offering something along the lines of Blue Apron Paleo meals (except they are not Blue Apron itself). Blue Apron did do a single month of Whole30 meals back in September but you will find the companies below cater all the time to Paleo and Whole30 eaters. 
If you're stressed and are looking to save a bit of time and energy in your week, you're in luck! We've located and detailed those companies who will deliver Paleo compliant meal-kits straight to your door.
We cover the following....
Companies Offering Paleo Home Delivery Meal Kits
These at-home Meal Delivery kits take all of the guesswork and anxiety out of planning and cooking. For Paleo dieters, these companies are doubly beneficial, as they've already located excellent quality produce and proteins. Their kits come complete with all the necessary ingredients, as well as step-by-step how-to directions.
The following companies aren't necessarily dedicated to serving Paleo customers, but they do have a whole line of meal-kits designed specifically for people who are following the Paleo Diet. If you're interested in saving a bit of time during the week, read on to discover which companies might work for you and your lifestyle.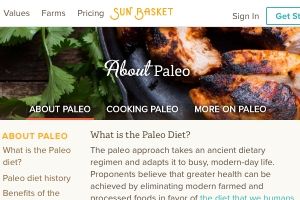 Sun Basket
Sun Basket was created by Chef Justine Kelly, who is associated with the James Beard award–winning restaurant The Slanted Door. The company offers customers the opportunity to purchase three meals a week and has a variety of different plans depending on your family size. For Paleo dieters, they have a whole range of Paleo recipes made from sustainable ingredients and offer meals for two adults, four adults, or a family option (with kid-friendly meals). Their produce is organic and non-GMO, their protein is antibiotic free and humanely raised, and their seafood is approved by the Monterey Bay Aquarium watch list.
Customers can order meals like yakitori chicken meatballs with roasted cauliflower and carrots, or steak with paprika butter, pan-charred vegetables, and gremolata. Their recipes are specifically designed for a busy schedule and take only thirty minutes to make. At the time of writing, the company is currently offering $35 off for first-time customers, and three meals for two people ends up costing just over $68. A four-person family can choose between having two or four meals delivered a week, and meals come out to just $9.99 per person per meal.
For more information on Sun Basket and for prices see:
Sun Basket Paleo Reviews:
http://www.thesophisticatedcaveman.com/sun-basket-review/
http://www.justjessieb.com/2017/05/sun-basket-meal-delivery-review.html
http://faganeatspaleo.blogspot.com/2016/04/fagan-eats-paleo-product-review-sun.html
http://www.oliveyouwhole.com/favorites/sun-basket-review-healthy-meal-delivery-service/
http://www.grassfedgirl.com/healthy-dinner-recipes-from-sunbasket-delivery/
Sun Basket Facebook Reviews (community page): https://www.facebook.com/pg/sunbasket/community/
Sun Basket Yelp Reviews: https://www.yelp.com/biz/sun-basket-san-francisco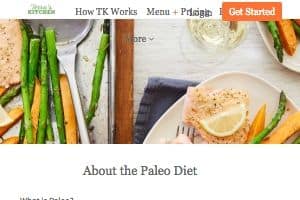 Terra's Kitchen
Terra's kitchen is a meal-kit delivery company that prides itself on sourcing clean, sustainable ingredients that follow the principals of the Mediterranean diet. They have a whole range of meal-kits that appeal to customers on a variety of diets (and of course they have a line just for Paleo customers). You can choose to order for two or four people and meal prices vary $10 to $20 depending on ingredients. A black and blue steak salad, for instance, will cost you $16.99 a serving, while garlic mushroom smothered chicken is just $11.99 a serving. What distinguishes Terra's kitchen from some of the other services is that they've completed most of the prep (peeling and chopping) for you, so each meal takes only 15-30 minutes to prepare.
Terra's kitchen ships their meals in sustainable "vessels" – climate controlled, reusable containers that ship free as long as they're returned. Where companies like Sun Basket offer customers three meals a week, Terra's kitchen offers meals based on how much space they take up in the shipping vessel. Customers can order meals, add on salads, bento-style lunch boxes, or other snacks. Their produce is non-GMO and organic when possible, and their proteins are antibiotic and hormone free. Terra's is currently offering $75 off of your first three orders.
For more information on Terra's Kitchen and for prices on their Paleo meal kits see:
http://www.terraskitchen.com/paleo/
Terra's Kitchen Reviews:
https://healyeatsreal.com/terras-kitchen-review/
https://www.peanutbutterrunner.com/terras-kitchen-review/
http://www.thekitchn.com/i-tried-the-meal-kits-from-terras-kitchen-and-heres-what-i-thought-229943
http://rachlmansfield.com/meal-prep-with-terras-kitchen/
Terra's Kitchen Facebook Reviews: https://www.facebook.com/terraskitchen/app/65206056824/
Terra's Kitchen Yelp Reviews: https://www.yelp.com/biz/terras-kitchen-baltimore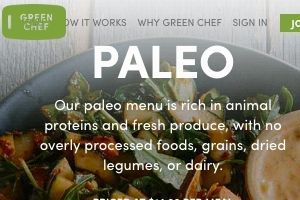 Green Chef
Green Chef uses premium ingredients and creates certified organic meal kits. Like the other companies on this list, they offer a series of options for all diet types, including Paleo. Each Green Chef Paleo box contains three meals a week and costs $14.99 a meal. Like Terra, ingredients come already prepped and ready to cook. Unlike Sun Basket and Terra, customers can't choose their meal options. However, they can see what options are offered each week. On this week's Paleo menu, for instance, the meals include Jerk chicken with raisin-studded collards and roasted sweet potatoes, mustard-roasted pork with fennel, sweet potatoes, cremini mushrooms, and a sauerkraut sauce, and dill-caper sole roulades with bacon, green beans, tomatoes, and a spinach salad. At the time of writing they are currently offering $30 off the first order.
For more information on Green Chef and for their Paleo meal kit delivery service prices see:
https://greenchef.com/menus/paleo
Green Chef Paleo Reviews:
http://www.workingmomsbalance.com/green-chef-review/
https://ecocult.com/review-green-chef-is-a-sustainable-nationwide-meal-kit-service/
https://www.consumerreports.org/food/consumer-reports-reviews-green-chef/
https://invertedsneakers.wordpress.com/2016/03/10/review-green-chef/
http://www.hungrymeetshealthy.com/green-chef-organic-meal-kit-service-review/
Green Chef Facebook Reviews (community): https://www.facebook.com/pg/GreenChefPage/community/
Green Chef Yelp Reviews: https://www.yelp.com/biz/green-chef-aurora-2
This post contains affiliate links. Thank you for supporting us! Click here to learn what this means.
Other Paleo Ingredient Delivery Options
If you're looking for pre-selected ingredients, but want a bit more control over your menu and meals, there are other options available. Some companies offer Paleo-compliant, prepped, and pre-cooked ingredients that you can buy in bulk and assemble yourself.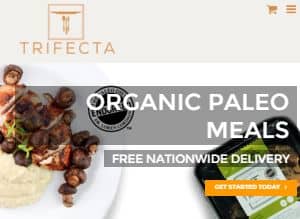 Trifecta
While Trifecta mainly advertises its pre-made meal services, they also offer customers the opportunity to purchase ingredients in bulk quantities. Trifecta's a la carte menu offers customers organic, pre-cooked, and lightly seasoned produce like broccoli and cauliflower, sweet potatoes, asparagus, or grilled tomatoes. They also offer an ever-changing variety of hard-to-find proteins like elk, venison, or basa fillets, and all of their proteins are humanely raised and grass-fed. Because the company is based near the central valley of California, and they source locally, many of their ingredients aren't necessarily available in other parts of the United States. And yet, through Trifecta, these ingredients are delivered to your address, ready to be heated and consumed. A great selling feature of Trifecta: shipping is free.
See trifectanutrition.com for current prices for their bulk Paleo ingredient delivery.
Alternatives to Paleo Meal Kit Services – Chef Prepared Paleo Meals
In case you're having an incredibly hectic week and don't have time to cook, there are also options available for you. There are several companies dedicated to providing customers with healthy, Paleo-compliant premade meals. These meals are either refrigerated or flash frozen and shipped to your door in to-go containers. All you have to do is follow the reheating instructions. If you are short on time, you might want to check these companies out. It can be extremely useful to keep a few frozen meals on hand in case something unexpected comes up!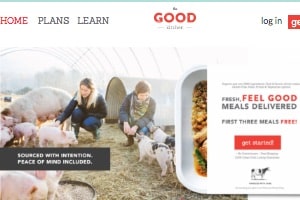 The Good Kitchen
The North Carolina-based Good Kitchen offers a highly customizable meal plan subscription service. Customers can order between 5 and 21 meals a week, and all meals ship free to your door. Most of their food ships frozen, but they have a fresh-shipping option as well. Their menu changes weekly and features local grass-fed, free-range proteins and organic produce, and the occasional locally inspired menu option (this week they have smoky North Carolina pulled pork barbecue). For customers with kids, The Good Kitchen offer meals specifically geared towards children. Their website is easy to navigate and meal-plan prices remain the same, no matter which types of meals you choose to include in your order.
See thegoodkitchen.com for The Good Kitchen prices on their chef created meals and meal kit delivery Paleo alternatives.
The Good Kitchen is offering a 15% discount for our readers. Use promo code "mypaleos" at checkout for 15% off your first order.
Here is a look at me unpacking a recent purchase from The Good Kitchen: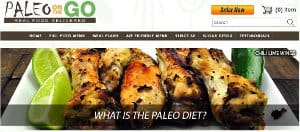 Paleo on the Go
Paleo on the Go is a popular meal-delivery company that maintains a gluten-free kitchen. The company has close relationships with its local vendors and sources only grass-fed proteins and organic produce from the dirty dozen list. They're one of the few companies who offer an extensive AIP menu for customers following the autoimmune protocol. They allow customers the opportunity to order meals a la carte and have delicious breakfast, lunch, and dinner options like apple-cinnamon Paleo breakfast tarts, creamy asparagus soup, and beef short ribs over portabella. They also offer desserts like carob and cream vanilla cake, or nut and chocolate truffles. If you're looking for a weekly or monthly meal-plan, Paleo on the Go offers those too!
See paleoonthego.com for prices on their prepared meals and alternatives to Gluten free meal kit delivery.
Note: Paleo on the Go is offering a 10% discount for our readers, use code "MYPALEOS" at checkout for 10% off your entire order – one time use.
I also took a video of unboxing a recent Paleo on the Go order: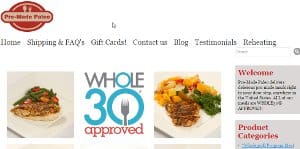 Pre-Made Paleo
For customers interested in the Whole30 diet, all Pre Made Paleo meals are Whole30 approved. Like Paleo on the Go, they offer an a la carte menu that features a wide range of meals like barbecue chicken with sweet potato salad, or grass-fed beef chili. They also offer a list of rotating, hard-to-find exotic game meats and wild-caught fish (like water buffalo breakfast sausage or Chilean sea bass), as well as spices and Paleo-friendly snack foods. You can order your meals fresh or frozen, and they'll ship anywhere in the US.
See premadepaleo.com for prices on their frozen prepared meals, a compliment to getting organic meal kit delivery.
Pre-made Paleo has offered a 5% discount (one time use) on all orders for our readers. Use code "MYPALEOS2018" at checkout
Finding the Best Paleo Meal Kit Delivery Service for You
What we hope you've attained from reading this article is a variety of options to help you maintain your Paleo diet in the face of a hectic and unpredictable schedule. Whether you're interested in cooking your own meals with pre-selected and prepped ingredients, or keeping a few frozen meals on hand, there are plenty of solutions to helping those with busy schedules maintain their Paleo Diet. Everyone needs a bit of help meal-planning now and then. Let us know which companies you love in the comments and keep the conversation going.