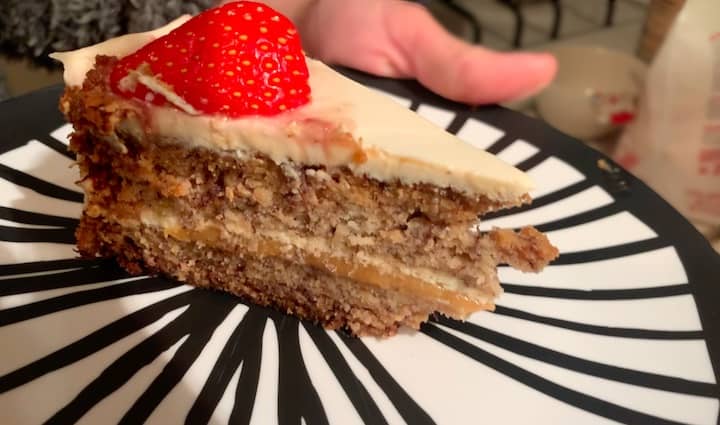 As a DC resident, I know the challenge of finding Paleo compliant baked goods, especially locally. In this article I cover Paleo Bakeries I've been able to find in the Washington DC area.
Bakefully Yours and Muyscakes are Paleo bakery options in the Washington DC area. There are also several gluten-free bakeries for those not strictly following a Paleo diet, such as Rise Bakery and Happy Tart.
Paleo Baked Goods Customized to Your Personal Dietary Restrictions:
The bakeries below are local to the DC area and specialize in Paleo baked goods. If you'd like to support a local business, this is your chance!
Muyscakes
Muyscakes is a custom bakery serving the DMV area that will create baked goods tailored to any dietary restrictions, including the Paleo diet.
The photo above is of a custom Paleo cake created for a special occasion.
Operating similarly to a Personal Chef service for baked goods, you can specify what you are looking for, what your dietary requirements are and they will do the rest.
A specialty is cakes, which can be very difficult to create using Paleo ingredients but they also regularly create cookies, cupcakes and other custom treats.
The baker behind Muyscakes is a personal friend. Please reach out to her through her Instagram account and she will work with you on creating a special treat that will totally fit your lifestyle, whatever combination of grain-free diet you are following. Please be sure to go over with her what you can and cannot eat as part of placing any request (she also asks for at least a week notice on orders for specialty diets to make sure she has all the ingredients).
Update: Below (and also the main article featured image above) are photos of a specialty custom cake made for me by muyscakes for my birthday this year. Beyond my being on a strict version of Paleo/SCD, I cut out eggs over the last several years due to an allergy so making a cake on my diet is virtually impossible. The cake was amazing! She used bananas as an egg replacement and caramelized coconut milk between the cake layers as a caramel layer. It was truly a magical combination and with incredibly creative and impressive substitutions that resulted in something far better (cake texture, icing flavor) than cakes I had before starting on these restrictive diets!

21
If you are interested in finding out more about Muyscakes, please send a message to them through Instagram.
Local Brick and Morter Paleo Bakeries:
Bakefully Yours
Bakefully Yours is a fairly recent addition to the DVM Paleo scene. With a bakery located in Sterling VA where you can pick up your baked goods. They focus on a tailored line of Paleo products: Paleo brownies and 2 sizes of Paleo chocolate chip Cookies as well as offering a gluten free coconut brittle. You can also pick up their products at a lot of local retail locations such as Mom's Organic Markets, Yes! Organic Markets, Streets Markets as well as a number of independent cafe's throughout DC, Maryland and Northern Virginia. There is some evaporated cane juice used in the chocolate chips and coconut brittle, so those staying on the stricter side of Paleo may want to opt for the Paleo brownies, which themselves are sweetened with coconut sugar. The bakery is woman run and a nice success story of a local DMV business that has expanded.
Local Gluten Free Bakeries that Might Work in a Pinch:
Although the below bakeries are all gluten free and not fully Paleo, we wanted to at least mention them for those who are not super strict and having the occasional gluten free baked good fits within their lifestyle.
Rise Bakery
Rise Bakery located in Adams Morgan in DC offers an extensive menu of gluten free baked goods as well as a cafe menu. Although only focusing on gluten free offerings and not specifically Paleo baked goods, they do offer for patrons to call them with specific ingredient questions about anything on their menu. They offer a wide array of gluten free baked goods including breads, cupcakes, pastries, croissants, cookies, cakes and pies.
The Happy Tart
The Happy Tart located in Falls Church VA has a large gluten free menu, which includes a wide range of gluten free baked goods such as Pastries, Cupcakes, Cookies, Tarts, Mousse Cakes, Bread and Pies. Like Rise Bakery in DC, they make their food in a dedicated gluten free kitchen – however they are not committed to fully Paleo baked goods.
Some National Paleo Bakeries that Deliver to DC:
The below companies specialize in the Paleo Diet and have extensive Paleo bakery collections. They deliver throughout the DMV, so no matter where you live they deliver to you. If you feel limited by the local options, these companies will deliver to you as if they were down the block.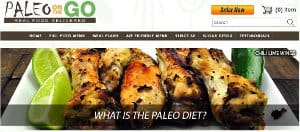 Paleo on the Go
Paleo on the Go has a dedicated Paleo and AIP bakery as part of their services. They are one of the larger Paleo catering companies, but the only one with such a large bakery department. As an added plus, they focus on foods for those doing the stricter versions of the Paleo and Whole30 diets for autoimmune health. Their bakery menu specifically is tailored to helping out those following the very restrictive autoimmune (AIP) version of the Paleo Diet. Their kitchens are also dedicated gluten-free, for those with strict grain intollerances. They have focused a lot of their recipes on baked goods you might miss on these restrictive diets, recreating not just cookies but items like pop tarts using exclusively AIP friendly flours.
To see their AIP bakery menu see: paleoonthego.com
Note: Paleo on the Go is offering a 10% discount for our readers, use code "MYPALEOS" at checkout for 10% off your entire order – one time use.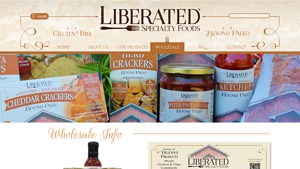 Liberated Specialty Foods
Of all the bakeries listed in this article, what sets Liberated Specialty Foods apart is the strict healthful ingredients they use in their baked goods. If you are trying to stay as strictly to these diets as possible (for example when you are just starting out on these diets) but are still hoping to purchase the occasional baked good, Liberated Specialty Foods is likely for you. Their baked goods are sweetened with honey, which is typically less controversial than coconut sugar and some of the other sweeteners used by many of the companies above. Baked goods are based around common nut flours like almond flour, cashew flour and coconut flour, and have very few other ingredients and more importantly, avoid controversial ingredients. The founder of Liberated Specialty Foods started following grain-free diets trying to improve to her own health conditions. The goal was to offer baked goods to save time for others who were going through a similar situation.
Check out Liberated Specialty Foods baked goods menu here: https://liberatedspecialtyfoods.com/
Have another Suggestion?
Please let us know if you have found other amazing Paleo bakeries in the greater Washington, DC area. We'd love to feature them!