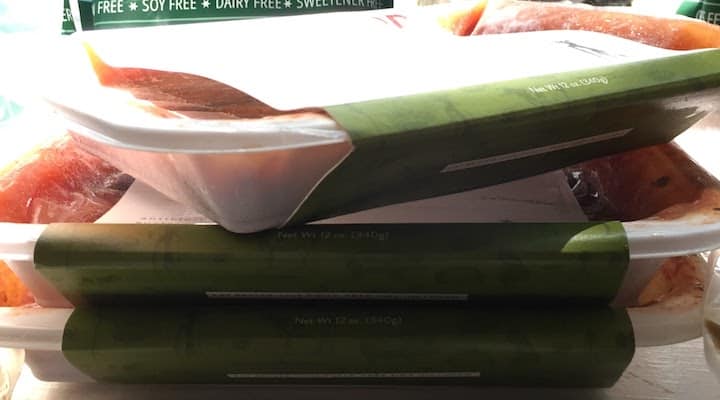 I have often wondered if any of the Paleo meal delivery companies can be cost-competitive with other prepared meals.
In our research for this article we found the following Paleo meal delivery services to be the cheapest:
The Good Kitchen in-store frozen meals range in price from $4.98 – $6.98
The Good Kitchen's home delivery meals come in at $11 per meal for their larger plan
Beetnik frozen meals start at $7.99 per meal, including their Paleo meal line
This said, there are other nuances such as order delivery fees (some companies offer free delivery if you meet a certain minimum), organic and grass-fed proteins vs conventional. bulk discounts and other variations that will likely factor into what ends up being the cheapest for your particular situation – we go through our findings below.
We cover the following....
Why the Quest for Cheap Paleo Meals?
Imagine a world where you can follow a healthy, Paleo diet without having to lift a finger.
No preparation, no clean-up, and the food is nutritious and tasty.
No running after meddlesome children with one eye on the stove, no hanging out clothes to dry whilst stirring a pot with the other hand.
Now, imagine how you'd feel if I told you that you live in that world right now.
There are tens of Paleo meal delivery companies that would be happy to send fresh, ready-to-heat meals straight to your doorstep within just a couple of days of ordering.
I can't promise that they'll put the tumble dryer on for you, or that they'll babysit your kids, but I can promise you that these Paleo meal delivery services will give you the extra time you need to take a step back and relax, all whilst knowing that you're not giving up on your Paleo lifestyle.
Okay, so now you're thinking; 'This all sounds great, but does it fit in with my budget?'
We've compiled a list of the most affordable Paleo meal delivery services that ship to all locations in the USA, so you can have meals delivered to your door that won't break the bank.
National Companies Offering Cheap Paleo Meal Delivery
On today's list, you'll find a lot of memorable Paleo meal delivery services that you may have used before or have considered purchasing from.
Many of these national companies offer different prices per meal depending on how much you bulk-buy from them. What we've done to make things easier for you is created two lists for you to check; one with companies that offer a flat-rate fee per meal, and the other with companies that offer a range on fees per meal.
If you're somebody who needs to buy a lot of meals at once and on a regular basis, it might be more affordable to choose a company that offers discounts on bulk-bought orders.
If you don't need to bulk-buy or don't have the space to stockpile and want to save money, you might prefer to pick a company that offers a flat-rate fee per meal.
We've ordered our list from highest price to lowest, so if you need to know which company is the cheapest, head straight to the bottom of each list. However, it's worth checking out the other companies on our list to see if there are any bulk order incentives and other important factors when choosing a Paleo meal delivery service.
This post contains affiliate links. Thank you for supporting us! Click here to learn what this means.
Companies Offering a Flat-Rate Fee per Meal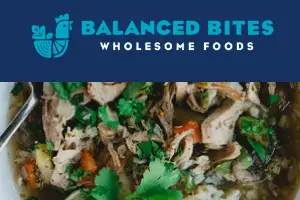 Balanced Bites
Balanced Bites was created by Practical Paleo author Diane Sanfilippo, and strives to serve the entire US with Paleo-friendly, low-sugar meals.
Their cost per meal is $15.99, which makes them one of the more expensive meal delivery services on offer. The other caveat is that dishes must be ordered in a bundle of 10, meaning that you pay $159.99 for 10 meals.
However, the quality of the food is very high. Although they don't use grass-fed and organic everything, you'll recognise every ingredient on their list and dishes are made in small batches as opposed to mass-produced.
What results are meals that are very tasty, convenient and fresh. They are frozen and then shipped in order to retain as much flavor as possible.
Every meal is one serving, with a net weight of roughly 12oz. Calorie content ranges from 260-550, so if you have particularly high energy requirements you may want to consider adding a side to some of your lower-calorie meals.
Balanced Bites meals are also low in carbohydrates at around 10-20g, which is fantastic for those who are following a low-carb or keto diet, but should be factored in by athletes or those who follow a higher carbohydrate diet.
With Balanced Bites, you don't need to factor in shipping costs, because all ground shipping orders are completely free.
To find out more, check out https://meals.balancedbites.com/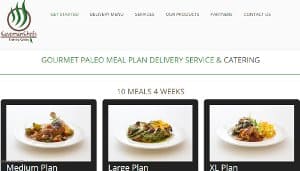 Caveman Chefs
Caveman Chefs are a highly-recommended Paleo meal delivery service based in Colorado. They have meal plans dedicated to Paleo, Whole30, Keto, AIP, SIBO/FODMAP and Vegan/Vegetarian diets.
Although they are a subscription service and do require you to consistently order a certain amount of meals per week, there don't appear to be any discounts available on bulk orders, so there's a flat rate of $13.75 for a regular-size meal.
Since the time of writing, Caveman Chefs have made amendments to their website and now include large and XL meal sizes: $16.25 and $18.75 respectively.
Their menu rotates weekly with 10 different meal choices every week, and use 100% grass-fed wagyu beef & lamb, 100% antibiotic- and hormone-free pork and chicken, wild-caught Alaskan & verlasso salmon, and local, organic & seasonal vegetables.
The only thing to be mindful of when choosing Caveman Chefs is that because they are still a relatively small business, shipping costs become exponentially more expensive when ordering out of state – up to $60 per order.
Therefore, Caveman Chefs is a great affordable option for those living in the state of Colorado who want to support a company that has cheaper meal options and personal relationships with all their customers.
To see what they've got available this week, see: https://cavemanchefs.com/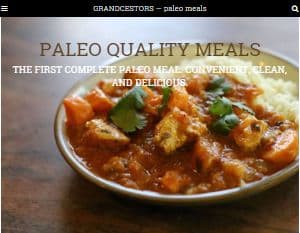 Grandcestors
Grandcestors are a national Paleo meal delivery service shipping to the 48 continental states of America. Unfortunately at this time of writing they are unable to deliver to Hawaii and Alaska.
However, if you live anywhere else in the US, you'll be pleased to hear that Grandcestors deliver Paleo-friendly, Whole30-approved meals straight to your door for a flat-rate fee of $9.99 per meal.
They have 7 options for meals that remain consistently available, including favorites such as Colorado Hash and Jambalaya. They also work hard on creating new recipes that customers will love, trialing usually 2 meals at a time for a discounted fee of $8 per meal.
Meals are shipped frozen so that they retain their freshness and can either be put straight into your freezer upon arrival or thawed at your convenience. If you purchase 25 meals or more at once, you'll also benefit from a 10% discount.
To see more of their offerings and prices see:
Prices via Amazon or http://grandcestors.com/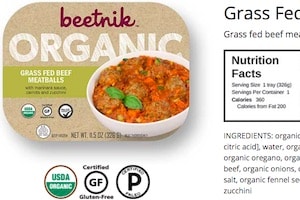 Beetnik Foods
Beetnik Foods are our most affordable meals on this list, sitting at $7.99 per meal across the board, regardless of whether you like their Shepherd's Pie or their Lemongrass Chicken.
And with a net weight of between 10oz and 11oz, these meals are the perfect size for lunch and/or dinner without having to add anything else on the side.
Beetnik Foods are based in Austin, Texas, but they deliver to many locations in the USA. They also have deals with many retailers throughout the United States who stock their meals in the frozen section, such as Walmart, Kroger and Whole Foods.
Interestingly, they are even stocked in more out-of-reach locations, such as Anchorage in Alaska. Beetnik Foods are passionate about providing healthy, organic Paleo meals to everyone in the US.
On their online store, they even have a Super Paleo Pack available for those who do like to buy online in bulk. The Super Paleo Pack works out to $7.04 per meal, which is an incredible cost for dishes that are organic and include grass-fed ingredients.
To get more information about Beetnik and see prices:
Prices via Amazon or http://www.beetnikfoods.com/
Companies Offering Discounts on Paleo Meal Bundles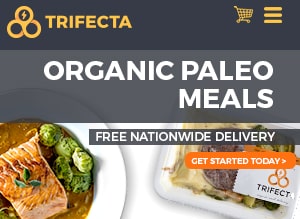 Trifecta
Trifecta are a very popular meal delivery service with Paleo being one of their many dietary options for customers. They specialise in providing athletes with macro-balanced meals that support athletic performance, but it isn't a prerequisite for experiencing their flavorful dishes!
Although they are in the more expensive range, Trifecta meals still only cost between $13.79 and $15.49 per meal, putting them in even stead with Ice Age Meals.
The difference here is that to benefit from the most affordable option ($13.79), you need to be buying 4 meals a day, 7 days a week from them, making your weekly total $386.12!
Understandably, this is not an affordable option for everyone but is more suited to somebody who is taking their training and nutrition very seriously and doesn't mind splashing out on their diet.
If you're opting for 7 meals a week (1 lunch per day), you'll pay $15.49 per meal. The average calorie content of each meal is 350 calories, with at least 30g protein per serving.
If you want to try Trifecta out, you'll be glad to hear that their ingredients are squeaky-clean, only sourcing organic, wild-caught, and grass-fed for their meals. Their dishes are also entirely gluten-free, dairy-free and soy-free, and they only ship their meals fresh and vacuum-sealed.
Check out Trifecta's Paleo plan at: http://trifectanutrition.com/paleo-meal-plans/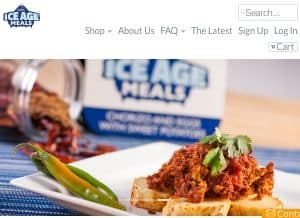 Ice Age Meals
Ice Age Meals are a Paleo ready-to-heat meal delivery service shipping boxes all over the United States (and yes, that includes Hawaii and Alaska!). You can buy boxes of 6, 14, 24 or 48 meals with no pressure to purchase weekly or monthly.
The benefit of stocking up on 48 meals at once is the reduction in cost; $10.99 per meal on average instead of between $15.83 and $17.42 per meal for a box of 6 meals.
Ice Age Meals pride themselves on using only high-quality ingredients, including organic produce and grass-fed and organic meat. Their meals are created in small batches to avoid mass production and to ensure a finished product that looks and tastes amazing.
Net weight of each meal is between 14-15oz, making Ice Age Meals satisfactory and sizeable for most adults, and are on the weightier side than most other Paleo meal delivery services' products.
Although Ice Age Meals aren't the cheapest, their increased serving sizes may be more cost-effective for customers who have higher energy requirements.
To see more and place your order, check out: https://iceagemeals.net/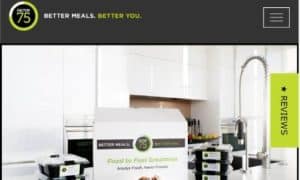 Factor 75
In third place on this list is Factor 75, a meal delivery service serving Paleo, Gluten-free and Keto diets. They deliver to all 48 contiguous states, and dishes are shipped fresh using gel ice packs and insulation techniques to keep your food cold upon arrival.
Factor 75 has 5 meal plans available for purchase; 4 meals/week, 6 meals/week, 8 meals/week, 12 meals/week and 18 meals/week. Opting for the 4 meal option is the most expensive per meal, making each dish $15.
However, on the other end of things, the 18 meal option works out at $11 per meal, making Factor 75 similarly priced to The Good Kitchen.
The ingredients that this company use are grass-fed, pasture-raised, gluten-free, antiobiotic/hormone-free, soy-free and GMO-free, so you can be sure that these meals are of the highest quality with a reasonable price tag.
Factor 75 is a great choice for those who need a certain amount of meals delivered to their house on a weekly basis. You may be a working professional who doesn't need to buy in bulk and don't mind paying slightly more for the privilege of having a smaller number of meals delivered.
To look at Factor 75's offerings, check out: https://www.factor75.com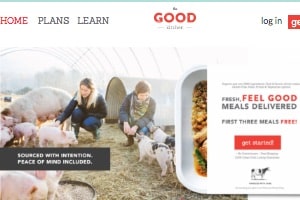 The Good Kitchen
The Good Kitchen are an affordable national Paleo meal delivery service based out of North Carolina and serving the entire US. They have an extensive range of Paleo-friendly, Whole30-approved meals available to purchase, and their menu rotates weekly to prevent you from getting bored.
Not that their meals could be considered boring at all, with familiar favorites made Paleo, like their Beef Pot Roast, Beef Bolognese and Citrus Shrimp Stir Fry. Their meals range in calorie content, with some being 250 calories per serving, and others up to 650 calories per serving.
Their subscription service gives you the option of ordering either 10, 14 or 21 meals per week. Opting for their 10 or 14 meal option means that your meals will cost $13 each, and choosing the 21 meal plan works out at $11 per meal.
This makes The Good Kitchen one of the cheapest Paleo meal delivery options whilst still maintaining high quality food standards, such as ensuring that all of their ingredients are organic, grass-fed, free-range and pasture-raised.
Alternatively, you can visit Walmart stores where The Good Kitchen have their own frozen range. The meals in-store range from $4.98 – $6.98, meaning that they are cheaper than their subscription range, but you don't get the benefit of having meals delivered straight to your door.. These meals have a net weight of between 10oz and 11oz, meaning that they are a suitable size for an adult.
To check out the website, see: http://www.eatology.co
I created a video while unboxing a recent TGK order in case that is helpful: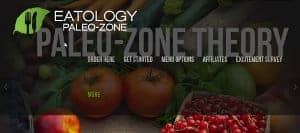 Eatology
Eatology are a national Paleo meal delivery service that specialize in serving members of the Zone diet, a macro-balanced plan for athletes and those looking to balance their blood sugar naturally.
They use a block system to determine portion size for customers, with 2 blocks working out at roughly 175 calories, and 3 blocks working out at 232 calories in each meal.
These meals are obviously quite low in calories, so you might feel that this is too low for your energy needs and you need to bulk up the meals with extra sides.
However, at an investment of between $10.50 and $12.75 per meal, Eatology are certainly on the more affordable end of the scale. This makes Eatology a good option, especially for people who are on a Paleo diet and want to lose a certain amount of weight or balance their blood sugar levels.
As you can probably imagine, 2 block meals are $10.50 each, and 3 block meals are $12.75, so factor this is when you make an order. Eatology recommend 2 block meals for most women and 3 block meals for most men.
To check out their meals and to make an order, see: https://www.eatology.co/
Every Year There Are More Affordable Paleo Meal Delivery Companies
We hope this article has given you a break down on the cheapest Paleo-friendly meal delivery companies available and which one is most suitable for you and your family.
With Eatology and Beetnik Foods topping the list of affordability on their respective lists, you can also feel confident knowing that you're getting high-quality products as well as good service at a reasonable price.
We appreciate that cooking meals from scratch using organic, locally-sourced ingredients isn't always feasible, so by having some trusted companies on hand that you can return to time and time again, you won't find yourself reaching for the pizza delivery leaflet when you're in a pinch.
These Paleo meal delivery companies are the most affordable services on offer at the moment, but with the Paleo diet maintaining popularity, you can be sure that more and more will pop up over time.
Other Affordable Paleo Meal Delivery Options
Do you know of any other affordable Paleo meal delivery services that top this list? Do let us know in the comments below and we can share it with everyone!