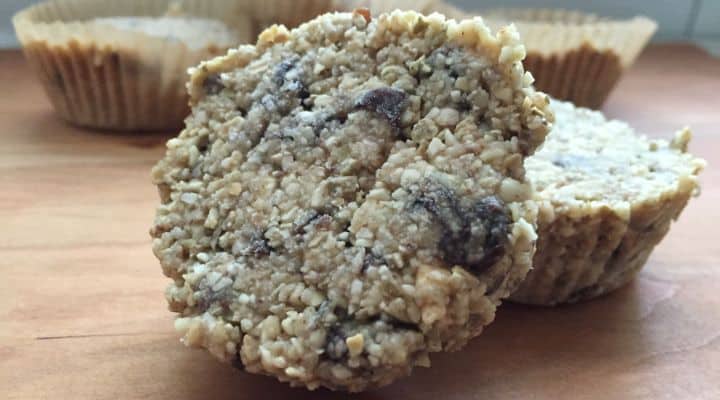 Always a favorite treat at home these granola bars also double as a great option for airport travel days or any time when you are on the road. And with rich and luxurious ingredients like walnuts, and cashews as a base, you will feel like you are in getting a first class treat.
These bars are also completely gluten free, grain free and dairy free and have no refined sugar, making them a delicious option for just about any diet or lifestyle. 
Great on the Go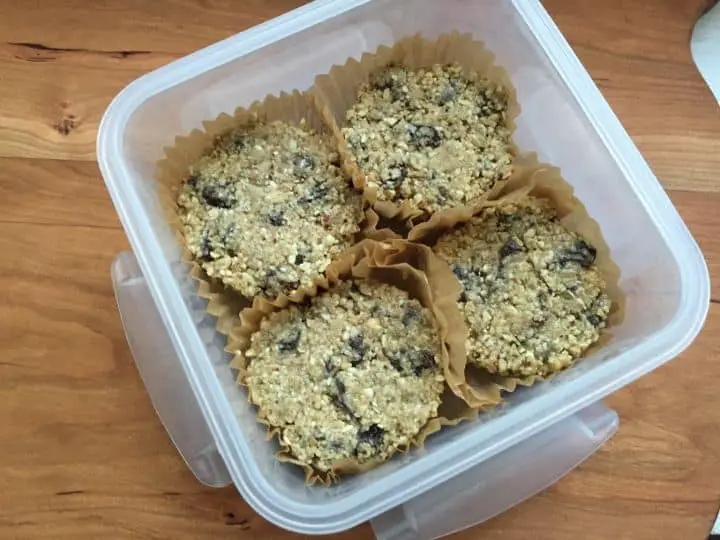 Simply throw a few into a resealable container and take them along for the ride. Including cupcake liners (such as the parchment cupcakes liners pictured) can help keep them separated and easy to remove.
If you want to get even fancier, these bars make a refreshing treat when served cold. One way to achieve this is to include an optional ice pack in your bag or purse or pack them next to a cold drink or other cold item. Either way, you will be very glad you packed them. 
A Blend of the Healthy Nuts: Walnuts, Almonds and Cashews
With raw nuts as one of the major ingredients in the granola, along with ingredients usually associated with health foods such as coconut oil and raisins, these bars are not really a guilty pleasure. Walnuts provide both richness to the flavor of the bars and also provide the health benefits of Omega 3's included in every bite. 
With the sweetness of the raisins, you almost don't need to add honey or any other form of sweetener to the recipe. They are a great option for breakfast on the go, for example on a day with an early morning flight. The honey can be adjusted to your preference level, whether you are looking for more of a treat or simply a portable version of breakfast granola. 

Quick to Make with No baking Required
The recipe is also super simple with no baking or cooking required. Simply mix the ingredients in a bowl, stir them together, spoon into a muffin tin or individual muffin liners and place into the freezer until solid. 
Although having ingredients such as cashew meal and almond butter on hand will speed up the process, these are also quick to make from raw cashews or blanched almonds with a food processor or blender for the cashew meal. In addition, cashew meal and almond meal are usually both available at Trader Joes.  
Ingredients
1 cup salted roasted cashews (or cashew pieces)
1 cup walnuts (or walnut pieces)
1 cup almond meal
1+ cup Thompson raisins
1/4 cup coconut oil
1/4 cup almond butter
1/4 cup cashew meal
less than 1/3 cup honey
4 tsp vanilla
1 tsp almond extract
salt
Directions:
In a large bowl, mix the almond butter, coconut oil, honey, vanilla and almond extract with a spoon until fairly uniform. In the winter if the coconut oil has solidified, you may want to microwave it in a bowl for a few seconds until it melts back to liquid form prior to mixing. Crush or chop the walnuts and cashew until they are small pieces, roughly 1/8 inch. Stir in the raisins, cashew meal, almond meal, walnut pieces and cashew pieces as well as a pinch of salt. Mix until uniform, the consistency of granola. Add additional salt to-taste. Finally, spoon small scoops of the granola into muffin liners or a muffin pan and pack down to form the shape of the muffin tin.
Storage:
Cool in the freezer for 30 minutes or longer, then finally transfer to tupperware. Store in the freezer or refrigerator for freshness, although all ingredients are non-perishable and can be left un-refrigerated for a full travel day or longer.