Have you been looking for a simple Paleo Chips recipe that you can whip up in minutes? Do you find that many of the baked Paleo chip options available don't seem healthy enough or low enough in calories to enjoy all of the time? Are you always on the lookout for new delicious and fast paleo snack recipes?
Although we have recently been focusing our article series on ways to save time with the Paleo Diet like Paleo frozen meals reviews and where to buy Paleo food online at a Paleo store, we love to share our best time saving recipes with our readers as well. These quick and easy no bake radish chips definitely check all those boxes.   
We cover the following....
The search for the Perfect Paleo Chips
When searching for a great paleo chip replacement, one thing I was looking for personally was something that could be ready in a few minutes. This is after all one of the reasons people tend to eat chips in the first place – when you are hungry you want to just be able to crack open a bag.
Does this sound familiar? I spend time crafting a delicious paleo guacamole or paleo veggie dip.  At the point I finish the paleo dips I'm dying to eat.
The prospect of spending double the time in order to make baked paleo chips or paleo crackers just to be able to eat some of the delicious paleo dips you made is pretty frustrating. These radish chips couldn't be much quicker to prepare. If you have some radishes and salt on hand, you are all set.
And you can always spend time crafting a perfect chip after eating a bit with the radish chips (although if you are like me, there likely won't be much dip left).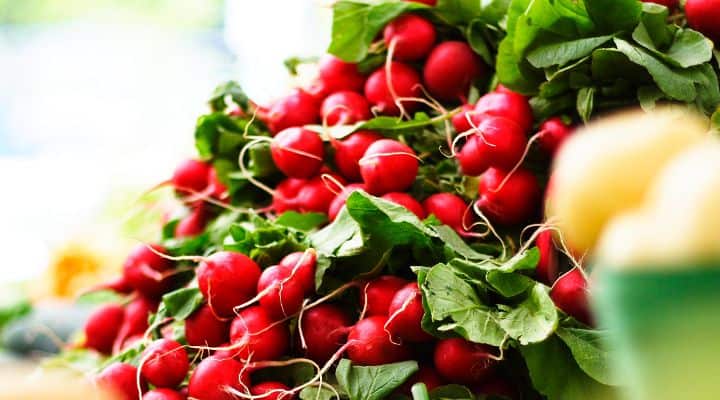 Paleo Radish Chips
We observed radishes being used in this way in traditional restaurants in Mexico. Traditional mom and pop restaurants would include a side of radish chips to go along to scoop up tacos and homemade sauces. So when thinking about a perfect Paleo chip to scoop up our guacamole in Mexico, the choice was suddenly clear.
If you salt the chips beforehand and slice them nice and big, they make a great scooping chip with a nice crunch. Our recommendation is to let the salt sit for a bit to draw out some of the water, then simply drain the chips and pat them dry with a towel or paper towel. Or if you are like me and too impatient, they are almost as good with the liquid just shaken off – a few minutes after you salt them.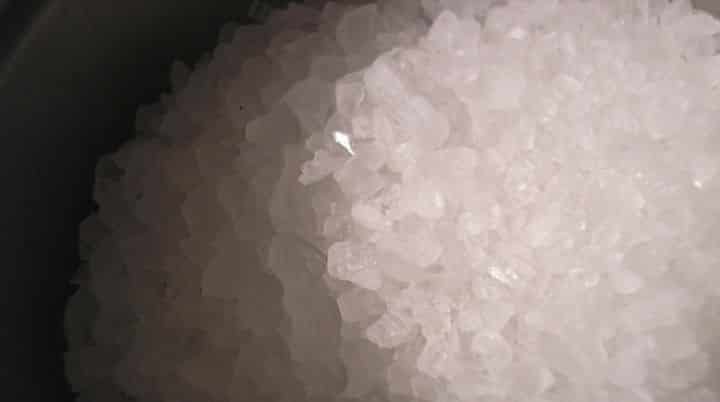 Baked Paleo Tortilla Chips are great in Moderation…
Sometimes you want a chip that is light, that do not double the calories of the dip you have prepared. Although many of the paleo chips and paleo cracker options may be delicious and amazingly close to the real thing, in many cases you may find yourself eating a ton of nut flour if you go on a snacking binge, a dangerous prospect.
In other cases, the chips themselves may be vegetable based, but between the oil and the baking, they seem better to save as a treat rather than as an everyday indulgence. I've seen recipes for baked radish chips, but to me they are just as crisp and delicious served raw and marinated in salt for a few minutes to crisp them up, which takes a fraction of the time to prepare.
Let's Be Honest When Do Chips and Dip = Moderation?
Although sometimes you want something that mimics the real thing and are willing to spend the time in advance to prepare it – sometimes you want something quick and light and that you can eat as much of as you want!
Solution: Salad Chips
These chips fill this second need. You can completely stuff your face with these. The chips themselves (minus the paleo dip) are just raw vegetables and a little salt, similar to eating more salad in terms of calories.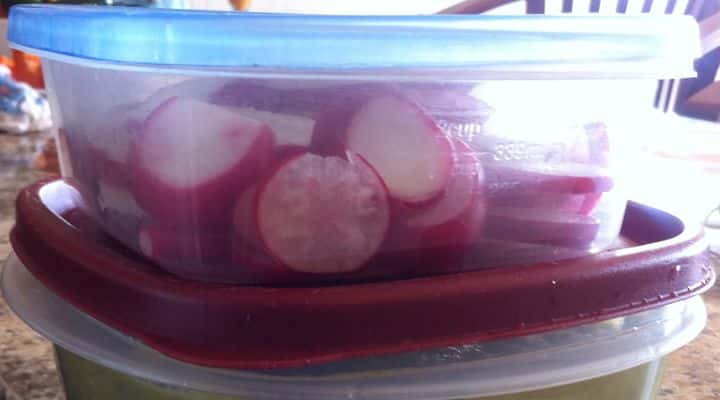 Ingredients – Couldn't Be Simpler (no dehydrator required)
Bunch Fresh Radishes
Salt
Instructions
Clean, remove ends and slice radishes into thin slices lengthwise (ideally not much thicker than a traditional potato chip although thicker is also fine)
On a flat surface such as a cutting board or plate, sprinkle liberally with salt (ideally larger grained salt like kosher sea salt)
Wait a few minutes for the salt to pull out some of the water from the radishes
Drain any excess water by tilting the plate/board slightly
Optional (for the best crunch) – pat the radishes down with paper towel or a clean towel to remove additional excess water 
Serve with your favorite dip!
Notes
If you can't wait, you can skip the draining/drying step, although this will help yield the crunchiest most chip-like texture
Radish Chips Keto Friendly 
We have written a bit in the past here about the Keto diet, such as our article on getting Keto meals delivered to your door. For those following the Keto diet or a low carb version of Paleo, you will be happy to know that radishes are considered a wonderful root vegetable to eat while doing Keto, coming in at only 1 gram net carbs per 1/2 cup of sliced radishes they are certainly a lower carb vegetable. Considering avocados are also considered very Keto friendly a snack of radish chips and guacamole make a wonderful (and delicious!) Keto snack food. 
Great for Guacamole
One of my favorite quick paleo recipes, the perfect thing to accompany radish chips remains the first thing that inspired us to make them originally, guacamole. The salty chips compliment home made guacamole perfectly. And let's be honest, the goal here is to scoop as much guacamole into your bite as possible!
I have to say I love guacamole, it has to be up there as one of my favorite paleo diet snacks, but sometimes I feel a little silly eating it with a spoon. Luckily, those days are over. Radish chips are the secret to being able to eat paleo chips and salsa or chips and guac as often as you want!
So there you have it, radish chips are a great addition to your paleo snack foods collection. They can be great for dinner parties, for taking to the beach or picnic, to bring to work – just about anywhere…although fresh is always the best.