Updated August 17th, 2019
This may or may not surprise you – Paleo freezer meals do exist!
You may have had some luck scouring your local grocery store freezer aisle for grain, gluten, and dairy-free Lean Cuisines, but you're all too aware that these dinners (and products like them) aren't really made for Paleo eaters. You can't be certain from where they source their proteins, what types of oil they use, or if their produce is organic (and ignorance is often not bliss when it comes to ingredient sources).
We cover the following....
Our guide to Paleo Friendly Frozen Meals
There are, however, companies that produce frozen dinners specifically for The Paleo Diet. Companies like Beetnik Foods and Grandcestors make their frozen dinners using high quality proteins, organic produce, and healthy fats and can be found in select groceries stores.
Where to look for Paleo Frozen Dinners
While it's true that the availability of frozen Paleo meals is still limited – this doesn't mean you won't be able to find healthy and wholesome frozen meal options near you. If you're looking to grab a couple of these dinners during your weekly grocery run, we've listed a few ways to try and locate Paleo microwave meals in your local area.
If you find yourself unexpectedly busy and want these meals delivered straight to your door, we've listed a bunch of companies who specialize in Paleo meal prep and will deliver Paleo frozen food anywhere in the US.
Consistently locating frozen Paleo meals is still not as easy as we wish it would be. What we've done below is taken out some of the search work for you: there are companies who specialize in creating Paleo prepackaged food while following all the tenets of Paleo eating. Depending on where you live, you might be able to find these meals near you. If you don't we outline how you can still get your hands on them. 
Companies Offering Paleo Freezer Meals
The following companies create Paleo ready to eat meals specifically for the supermarket frozen food aisle. While these particular companies tend to be regional in their distribution, their websites have store locators, so it should be possible to find out if your local markets carry them.
This post contains affiliate links. Thank you for supporting us! Click here to learn what this means.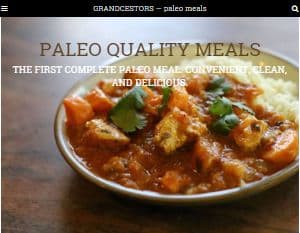 Grandcestors Frozen Meals
Grandcestors meals are that traditional freezer option. They have that familiar tv-dinner look: plastic packaging that you poke a few holes into, slide in the microwave, and enjoy minutes later. But unlike your typical microwave dinner, Grandcestors sole focus is making their frozen meals paleo friendly. They use only whole foods to produce their meals, and each of their meals is crafted to maximize the balance of macronutrients (proteins and healthy carbs and fats).
They currently offer seven meal options, like chicken tikka masala, and Colorado hash. Their Grumbo (that's Grandcestors gumbo) is made from free-range chicken thighs, turkey Andouille, cauliflower rice, and "a ton of vegetables and spices."
If you live in Colorado, Idaho, Kansas, New Mexico, Oregon, Utah or Washington, you can pick up Grandcestors frozen meals in your local Whole Foods. If you don't, you can order Grandcestor meals online and they'll ship their meals to your door.
For Full Pricing See:
http://grandcestors.com/ or Prices via Amazon 
Grandcestors Review:
For our more detailed write up on Grandcestors including Grandcestors frozen meal reviews, see our in-depth coverage on them.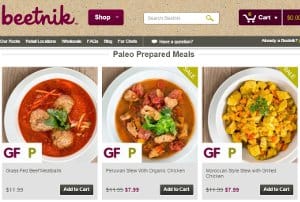 Beetnik Paleo Frozen Meals
Beetnik foods offers Paleo packaged frozen meals with simple, organic ingredients. While not all of Beetnik's meals are Paleo approved, at least half of their freezer meals have been certified "Paleo friendly" by the Paleo Foundation. You can get your hands on options like Shepherd's pie with grass-fed beef, or Moroccan Chicken stew.
You can find Beetnik frozen meals in all fifty states and in almost 4,000 stores nation-wide (check your local Whole Foods and/or Walmart – Beetnik meals are one of the few Paleo freezer meals Walmart sometimes carries). The website has a locator where you can type in your zip code and find the nearest retail establishment.
For Full Pricing See:
Prices via Amazon or http://www.beetnikfoods.com/paleo
For our detailed write up on Beetnik including Beetnik frozen foods reviews, see our in-depth coverage on them.
Are there Paleo Approved Frozen Meals?
Several of the Beetnik meals covered above have been "certified Paleo" by the Paleo Foundation, the closest thing to an official approval you can get with Paleo products. I don't always agree with all of their decisions, but it's definitely a helpful guide in terms of discovering packaged products that you might be able to eat. Just make sure you check the ingredients to make sure they all work for your specific version of Paleo.
Paleo Frozen Food Delivery Services
Maybe you live in Montana (where you can only find Beetnik meals at the Helena Walmart), maybe your favorite specialty food store is constantly out of stock, or maybe you're looking for a bit more variety from your Paleo freezer meals. If shopping at your local market just isn't doing it for you, there are a whole range of fantastic companies you can order from online that offer Paleo gourmet frozen meals.
While ordering online can often be slightly pricier than picking up a frozen meal from the grocery store, there are a lot of pros to ordering from an online company. For one: it saves you a shopping trip. For another: the companies we've listed specialize in creating meals for the Paleo Diet. Because they make their meals fresh, and often use local vendors and seasonal produce, their customers have a wide variety of exciting meal options.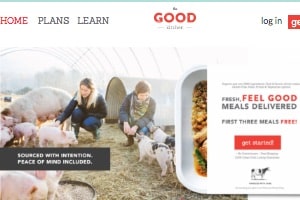 The Good Kitchen
The Good Kitchen is the first on our list of companies with conveniently packaged Paleo TV dinner style meals and offer delivery to any address in all corners of the US. Their meals come in microwave safe plastic trays with the familiar vacuum sealed shrink wrap, just like traditional frozen meals you'd find in your grocery aisle. The difference is the meals are based on a weekly changing menu using seasonal ingredients being harvested fresh from local farms they partner with in their area – similar to you cooking meals based on what's in season at your local farmers market. They offer both frozen and fresh meals all packaged in the familiar TV dinner style (fresh meals have instructions for freezing for long term storage), and you can choose how many meals you'd like and whether you'd like to sign up for a meal plan or a just start with a "One-Time Order". 
In terms of produce, The Good Kitchen uses farms and farmers following organic practices and regenerative agriculture and use only non-GMO ingredients. Their beef is 100% grass fed and grass finished, their poultry, pork, eggs, lamb and turkey is all pasture raised and their wild caught fish and shellfish are seafood watch compliant. Their menus are organized by main ingredient and even offer categories like Paleo vegetarian meals, Paleo pescatarian meals and Keto friendly meals. When customizing your meal plan, you can pick and choose your meals from a variety of their constantly changing menus (with meals like curry braised lamb, primal tamale pie, or beef barbacoa).
If you're trying to feed a family, The Good Kitchen has two other great options: their "keep it clean" bulk order, and their "lunchbox" meals for kids. If you choose to order their meals in bulk, you get a variety of 40 freezer meals. Their kids' meals are separated into visually pleasing compartments and typically include a protein, vegetable, fruit and/or dessert item. Best news with TGK: all orders ship free, with a minimum order amount of only 5 meals. 
If you aren't finding Paleo prepackaged meals in your local grocery store that meet all your requirements, and are looking for a lot of control over the types of meals you choose based on their complete list of the ingredients, The Good Kitchen may be a good choice for you. 
For full pricing see:
http://thegoodkitchen.com
The Good Kitchen is offering a 15% discount for our readers. Use promo code "mypaleos" at checkout for 15% off your first order.
I made a video of unpacking a recent TGK order: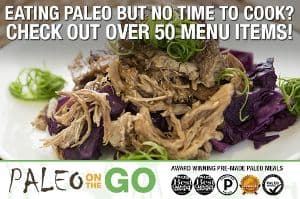 Paleo on the Go
You can occasionally get lucky and find some Paleo frozen dinners in your local supermarket, but what about breakfasts or desserts? Paleo on the Go offers a whole range of Paleo meals for customers looking to stock their freezer with their extensive Paleo-compliant menu. Whether you're interested in satisfying your sweet tooth with Paleo blondies, or ordering a month-long meal deal, you'll be able to find something on their website.
Paleo on the Go operates a gluten-free kitchen and has an entire line of menu options for those following the Paleo AIP. Paleo on the Go is one of the few Paleo frozen food delivery services that allow you to order meals a la carte. You can fill your online basket with items like beef short ribs over portabella, butternut squash bisque and even paleo freezer breakfast items like breakfast tarts or deserts like carrot cake with Paleo icing.
The company maintains a gluten free kitchen and is meticulous in sourcing its ingredients: if a food item is on the EWG's "dirty dozen" list, it's sourced organically. All food on the "clean fifteen" list they source conventionally in order to keep costs down. If you're interested in knowing where your food comes from, Paleo on the Go has a list of its vendors. 
POTG also maintains a huge AIP menu, which is one of their specialties. The founder of the company has used the Paleo diet to improve his own health conditions and so helping people heal has been a focus of their company. If you looking for AIP freezer meals you are in luck, POTG offers a whole line of AIP frozen meals.
If you are finding it challenging to find Paleo ready meals that work for you, such as if you are following a more strict version of Paleo such as the Paleo Autoimmune Protocol, meals from Paleo on the Go may be just what you are looking for. 
For full pricing see:
www.paleoonthego.com
Note: Paleo on the Go is offering a 10% discount for our readers, use code "MYPALEOS" at checkout for 10% off your entire order – one time use.
A video of me unboxing a recent Paleo on the Go package: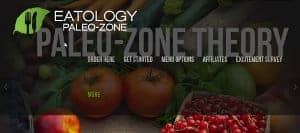 Eatology
If you're eating Paleo as a way to lose/maintain a healthy weight, you'll be interested in checking out Eatology. Eatology is the only meal delivery option on this list that follows both Paleo and Primal diets as well as the Zone protocol. For those unfamiliar with the zone protocol, it focuses on balancing macronutrients to help you stabilize blood sugar levels. In creating its meals, Eatology makes sure that its recipes are balanced in their inclusion of proteins, carbs, and healthy fats.
The company has several ordering options and delivers their frozen meals nation-wide. Like Paleo on the Go, Eatology has options for ordering breakfast as well as lunches and dinners. Their meals come in portion sizes called "blocks" and you can order 2-3 block meals, as well as their "party platter" 12-block meal (which is a great family-friendly option). Like many other companies, Eatology has a rotating menu, so each time you order you'll have a different menu to choose from. With options like lemon-dill breakfast sausage with pumpkin pie and fruit compote, or mushroom and gravy brisket poutine, it's easy to find something appealing.
Plans are incredibly affordable and there are often monthly discounts on meal plans, as well as discounts for customers who order recurring plans. If you are looking to stock your kitchen with Paleo freezer meals on a budget Eatology may be the best option you have when your local health food store does not carry packaged frozen Paleo meals.
For full pricing see: 
http://www.eatology.co
Eatology is offering a 20% off promo for our readers (works for first & all later orders), use code "ZACHPALEO" at checkout
For our detailed write up on Eatology and their Paleo friendly frozen dinners and zone frozen meals, see our in-depth coverage on them.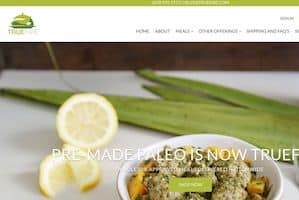 True Fare
If you're following the Whole30 diet, you'll be interested in True Fare frozen meals (recently rebranded from Pre-made Paleo). The company offers a wide-ranging menu of Whole30 (and Paleo) compliant frozen meals. Their proteins are all grass-fed, free range, and wild caught, and their produce is organic. Like Paleo on the Go, True Fare allows customers to explore their full list of vendors so you can be certain that your barbecue turkey burger, or curried pork meatballs are made from quality ingredients.
True Fare allows you the option of ordering certain meals a la carte, but they also offer a wide variety of enticing meal plan options (Whole 30 frozen meals, AIP frozen meals, wild-caught fish, Athlete-specific plans, you name it!). All True Fare meals are Whole30 approved, so they are a great source for Whole 30 freezer meals. For those interested in hard-to-find ingredients, True Fare also offers a rotating list of specialty proteins like alpaca or water buffalo bratwurst. They also sell their own line of Paleo compliant snacks.
If you order meals on a Sunday, your food will be prepared and then shipped to your door on Thursday. True Fare can be a good option for those looking for more variety in their life, especially those looking specifically for Whole 30 approved frozen meals and even keto friendly freezer meals (with their new Keto offerings). 
For full pricing see: 
http://premadepaleo.com
Pre-made Paleo has offered a 5% discount (one time use) on all orders for our readers. Use code "MYPALEOS2018" at checkout
For our detailed write up on True Fare's Whole 30 compliant frozen meals, including reviews, see our in-depth coverage on them.
Supplementing your Everyday Meals with Paleo Frozen Food
While it's incredibly rewarding to shop for and cook these meals at home, it also takes time. If you're looking for the occasional Paleo-friendly TV dinner, you know the benefits of the Paleo Diet but wish to maintain healthy eating even when life gets busy. If you don't have time every night of the week, keeping a few healthful frozen meals on hand is a good idea.
For those trying to find the best options for a Paleo-friendly TV dinner, we hope we've given you at least a few different places you can check out for wholesome, no hassle meals. With luck, there's a store near you that sells prepackaged Paleo meals. But if there's not, or if you'd rather order from an online company, we hope at least one of the preceding companies with their ready made Paleo meals will work for you.
Paleo Frozen Meals at Walmart, Whole Foods and other Supermarkets
If you're lucky, you live relatively close to a health food store. Whole Foods, for instance, has over 450 stores in the United States (though these stores are mostly located in and around major cities or heavily populated suburbs). And it will surprise no one that Whole Foods carries several lines of organic frozen meals.
Depending on which store you go into, they may even carry Paleo specific meal options (like Paleo meals from Beetnik Foods – see above) although unfortunately, your chances of finding something at a particular WF store are not that high.
Stores that Carry Paleo & Gluten and Dairy Free Frozen Meals
Whole Foods competitor Walmart has also started stocking frozen Paleo dinners (like those from Tastefully Plated) in a few of their stores. These meals sell out with some frequency, and there's no guarantee that your local store carries them – but this doesn't mean you can't look.
If there are health-food stores near you, we recommend checking their frozen food section. Smaller, specialty shops will make stocking Paleo frozen meals a higher priority than big box stores. 
Paleo frozen foods vs Paleo frozen entrees
At some of the larger food stores, like Target or Trader Joe's, you might get lucky and find some Paleo-specific frozen meal ingredients (like the excellent frozen Cauliflower rice at Trader Joes) but often not whole Paleo compliant frozen meals.
Whole-sellers like Costco have started stocking frozen, cooked Paleo-friendly proteins (like wild-caught fish and free-range chicken) but that isn't the same thing as a ready to eat meal.
Alternative Ideas for Where to Buy Paleo Frozen Meals
Although I have not highlighted them in this article, a few other brands out there that might appeal for those looking for frozen meals Paleo brands are ice age frozen meals which we have covered previously and the so called Paleo brand frozen meals sold at some Walmart locations, which we cover in our article on Paleo frozen meals at Walmart.
In addition for those looking specifically for keto frozen meals, our previous article on prepackaged Keto meals should be a good resource.
We hope with all of the resources listed in this article you have the information you need to pick out the best Paleo freezer meals for your own personal needs.
The Search for the Best Frozen Paleo Meals
This article is our attempt at covering the most accessible options for Paleo Diet frozen meals.
As you can see, getting frozen paleo meals delivered or from a local market is not impossible if you know where to look. I often stockpile enough Paleo freezer meals for a month in my chest freezer at home so that I can take meals for work each day or reheat one for dinner.
If you have any suggestions of other Paleo and gluten free dairy free frozen meals, please let us know in the comments below.