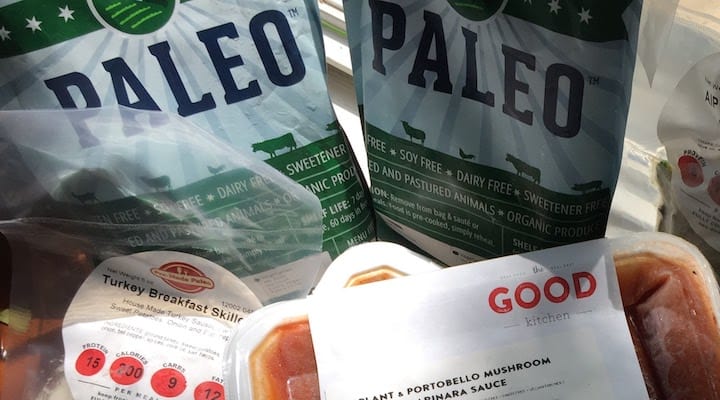 There are many reasons you may have chosen to follow a diet that eliminates grains, sugar, and processed oils and fats. If you're following a Paleo diet you might be looking to lose weight, or ease digestive distress caused by gluten. Similarly, if you're following a Keto diet, you're looking to dramatically reduce your carbohydrate intake in order to burn more fat. Whatever your reason, there are many benefits to choosing to follow a Paleo or Keto diet, especially one that consists of organic produce and humanely raised, wild-caught proteins.
Whether you're new to these diets or have adhered to their tenets for years, you've probably come across some of the difficulties of following a restrictive meal plan: namely, the time it takes to plan for and cook organic, Paleo or Keto meals at home.
If you find yourself struggling to make time in your day to prepare Paleo or Keto meals, you're in luck. There is an abundance of companies out there whose singular purpose is to save you time in your week and help you maintain your diet. Whether you're interested in ordering pre-made, organic meals or a do-it-yourself meal-kit, there are companies who fit your needs and will deliver organic Paleo and Keto meals straight to your door.
We cover the following....
Companies that Offer Pre-Made, Organic Paleo Meal Delivery
Maybe you're looking for a few organic, Paleo-compliant meals to store in your freezer in case of emergencies. Or maybe you're looking to take the stress out of your meal planning by subscribing to a service that will deliver fresh meals weekly. Whatever your needs, there are plenty of companies that not only specialize in providing their customers with organic, pre-made Paleo meals, but will ship those meals anywhere in the US (home, gym, place of business, it doesn't matter!). Read on to learn about the companies specializing in organic Paleo meal delivery.
This post contains affiliate links. Thank you for supporting us! Click here to learn what this means.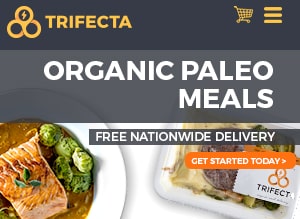 Trifecta
Trifecta Nutrition prides itself on the quality of its proteins and produce. Their produce is 100% USDA certified organic, and their proteins are humanely raised, grass-fed and wild caught. The company offers several meal plans (clean eating, vegan, vegetarian, etc), one of which is specifically for customers looking to eat Paleo. 
Their sugar and grain-free Paleo meals follow the traditional definition of the Paleo Diet, and all meals are low fat, low sodium, and low calorie, but high in nutritional value. All Trifecta meal plans are 100% Organic, dairy-free, gluten-free, and soy-free. The meals are also cooked from scratch each week, then vacuum-sealed and come fresh and ready-to-eat. Some unique features of Trifecta include offering free nationwide delivery with all of their meal plans. They also offer complimentary 30 minute consultations with a nutrition coach to help you set goals, review your progress, and provide tips and suggestions. Another nice aspect of the Trifecta meal delivery service is an emphasis on reducing the environmental footprint of their operations and packaging and a goal of using Animal Welfare certified ingredients at or above level 5.
A typical day of Trifecta meals includes options like cauliflower frittata, balsamic mushroom shrimp, and Asian vegetable and beef stir fry. For customers looking for a more economical option, Trifecta allows you to order pre-cooked food (like basa filets, elk, and mixed vegetables) in bulk quantities and portion meals yourself. A great benefit to ordering from Trifecta: they ship free to anywhere in the US.
See trifectanutrition.com for current prices for their organic Paleo meal delivery offerings.
For our full write up on Trifecta Nutrition including reviews, see our earlier coverage on them.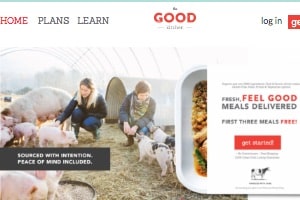 The Good Kitchen
The Good Kitchen is another company that prides itself on the quality of its ingredients. Located in North Carolina, the company maintains close ties with its local vendors. Its ingredients are sourced seasonally from farms that provide organic, non GMO produce and grass fed, pastured protein. All of The Good Kitchen's meals are soy, gluten, and sugar-free. While the company used to be strictly Paleo, a few of their menu options now include dairy. Most of their meals, however, are still Paleo compliant, and the company allows you to view the ingredients of each meal (this week's Mongolian pork skillet looks particularly good!).
The company does require that customers purchase a meal plan, but gives you options that allow you to tailor those meals to meet your family's needs. For customers with kids, The Good Kitchen offers lunch-box style school meals to save you further prep. Their interface makes it easy to customize your meal choice, or you can leave it to the company to decide what meals they'll send you. Like Trifecta, meals ship free anywhere in the US.
See thegoodkitchen.com for The Good Kitchens complete menu and list of healthy organic paleo food delivery meals and plans.
The Good Kitchen is offering a 15% discount for our readers. Use promo code "mypaleos" at checkout for 15% off your first order.
For our full write up on The Good Kitchen including reviews, see our earlier coverage on them.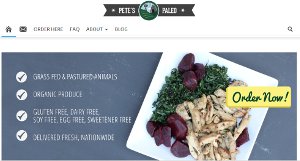 Petes Paleo
Pete's Paleo is another company dedicated to sourcing local, organic produce. Like The Good Kitchen, Pete's menu is seasonal and changes based on available produce and protein. Pete's allows you to choose 5, 10, and 14 meals a week and also has a plan for families. Their meals include options like curry roasted chicken with broccoli and butternut squash, or garlic lamb with turnips and roasted broccoli, and customers who are interested can also order add-ons like Pete's Paleo Bacon, or seven days of breakfast.
For customers interested in doing a sugar detox, the company also partnered with Diane Sanfillipo to offer a 21-day detox plan.
See petespaleo.com for a complete list of prices and availability of their organic meal delivery nationwide.
For our full write up on Petes Paleo including reviews, see our earlier coverage on them.
Companies that Offer Pre-made, Organic Keto Meal Delivery
Though it's been around for years in various forms, the Keto diet has seen a recent resurgence, and many companies are now offering pre-made, organic Keto meals to customers interested in following a strict low carb, high protein, high fat diet.
While there are companies out there that cater specifically to Keto diets, the Keto diet doesn't necessitate organic produce or humanely raised proteins. As these ingredients are tenets of the Paleo Diet, it's no surprise that companies offering organic Keto meals are also companies who offer Paleo meal plans as well. The companies we've listed below offer both Paleo and Keto plans; all you need to do is specify which diet you're interested in following!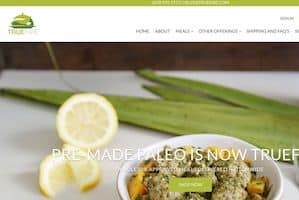 True Fare
True Fare (formerly premadepaleo but recently rebranded to focus on not just Paleo but also Whole30 and Keto as well as Paleo compliant meal offerings) focuses on meals that follow a grain, dairy, soy, and legume-free diet. With the majority of their meal plans, meals are made with solely organic ingredients. The company produces meals that comply specifically with the tenets of the Whole30 diet, having worked with the Whole 30 foundation for a number of years. Recently, however, True Fare has introduced a Keto-compliant meal plan as well as a few a la carte Keto meal options (which are so popular, they often sell out!). Customers looking to purchase a recurring meal plan can order a Keto and Whole30 friendly plan, as well as a la carte options like their Keto pork breakfast skillet.
True Fare also offers several hard to find proteins (like water buffalo sausage and wild caught grouper). Each meal you order comes with a vegetable side dish made from entirely organic produce. True Fare offers two kinds of shipping, fresh and frozen, and customers can choose the option that best fits their price range.
See truefare.com for prices on their organic Paleo and organic keto meal delivery menus.
True Fare has offered a 5% discount (one time use) on all orders for our readers. Use code "MYPALEOS2018" at checkout
For our full write up on Pre-made Paleo including reviews, see our earlier coverage on them.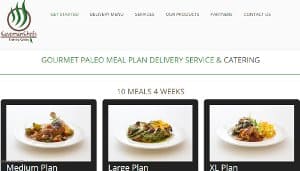 Caveman Chefs
Caveman Chefs is another company that uses locally sourced, organic produce and grass-fed proteins. The company is located in Colorado and, while the offer local pickup options around the Denver area, will also ship their meals anywhere in the US. While the company requires that their customers order a month's worth of meals (with the minimum order being 3 meals a week), they allow customers the option to customize meal size as well as meal content.
Caveman Chefs specialize in working with specialty diets, including the Keto diet. For customers looking to follow a Keto meal plan, Caveman Chefs will craft a month's worth of meals to cater specifically to the Keto diet. The company offers inventive, globally inspired meals (like lamb sirloin with artichoke olive tapenade and radicchio) as well as recipes for some of their most popular dishes.
Visit http://www.cavemanchefs.com for more information on their Keto and Paleo organic food delivery service
Caveman Chefs has offered 10% off all Caveman Chefs orders by mentioning the promo #ZachmyPALeos in the order comments or mentioned by phone during checkout.
For our full write up on Caveman Chefs including reviews, see our earlier coverage on them.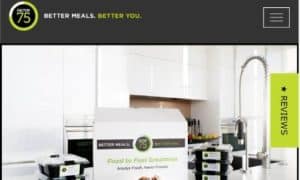 Factor 75
Factor 75 claims that "75% of how you look, feel, and perform is based on how you eat." Like Trifecta, Factor 75 offers pre-made meals featuring ingredients that are organic, non GMO, grass-fed, pasture-raised, and soy and gluten-free. Unlike Trifecta, Factor 75 has a Keto meal-plan option (and an option for the Paleo Diet as well). The company has created their meals and meal plans in partnership with doctors and dietitians, focusing on science-based nutrition to create its meal plans.
Customers have the opportunity to order between 4 and 18 meals a week and can choose from options like Paleo-friendly chicken vesuvio, or Keto-friendly sloppy Joes. Though the company's office is in Batavia, their kitchen is in Chicago and they ship their meals to anywhere in the continental US.
See https://www.factor75.com/ketosis-diet for more info on Factor 75's organic prepared meal delivery plans.
For our full write up on Factor 75 including reviews, see our earlier coverage on them.
Organic Paleo and Keto Meal Kit Delivery
There are many reasons customers might want to order mean kits instead of pre-made meals. You might not have time to plan a weekly menu and shop your local organic market for ingredients, but you have time at the end of the day to cook a meal at home. Meal kits take the planning and the shopping out of your week, and provide you with easy to follow cooking instructions, allowing customers to prepare home-cooked meals in less than 30 minutes. These kits are also great options for customers looking to improve their cooking skills and expand their recipe repertoire.
While there are many meal-kit delivery companies out there, not all of them use mostly organic produce and humanely raised proteins. We've found a few options that do! If you love cooking or want to learn to cook, but aren't able to do the meal prep or the shopping, check out one of the following companies.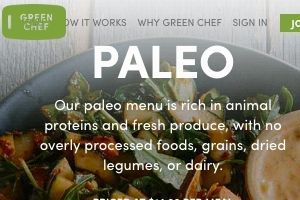 Green Chef
Green Chef is the one meal kit option on this list that not only offers a Paleo meal plan, but a Keto meal plan as well. The company admits that, in its efforts to produce meals made entirely from organic ingredients, every once and awhile an ingredient isn't available ("Did you know there's no certified organic sea-salt or wild-caught salmon" the website asks). If an organic ingredient is not available, the company makes sure to source only the highest quality conventional product and makes sure to label every ingredient that enters one of their kits.
Each meal kit comes with 3 meals a week, each meal takes about 30 minutes to make, and they have meal plans for couples or families of 4. Their Keto menu offers options like garlic-Dijon cod with braised cabbage and hazelnuts and butternut squash. Their Paleo menu has option like Teriyaki pork burger with pineapple slaw. The company delivers anywhere in the continental US.
For more information on Green Chef and for their Paleo meal kit delivery service prices see:
For our full write up on Green Chef including reviews, see our earlier coverage on them.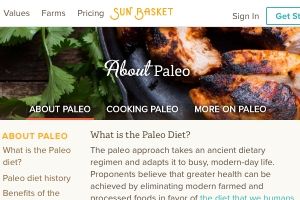 Sun Basket
Unlike Green Chef, Sun Basket doesn't offer a Keto option. However, the company does have a Paleo meal plan, which boasts chef-created, diverse recipes like Korean steak japchae or pork chops with fig sauce and quinoa and dried cherry salad. For customers looking for more Keto-friendly options, Sunbasket lists the ingredients for each of its meals on their website, and many meals, like their sole almondine with roasted broccoli, adhere to the tenets of the Keto diet.
Sun Basket has several meal-plans that customers can choose from like Paleo, Gluten free, or Vegetarian. There's also an option to mix and match meals from different plans (customers can choose from 12 weekly recipes). Sun Basket sources its ingredients from local farmers and features many of their vendors on their website. Currently, the company is able to use 75% organic ingredients in its meals, but hopes to be 100% organic by 2018.
For more information on Sun Basket and for prices see:
For our full write up on Sun Basket including reviews, see our earlier coverage on them.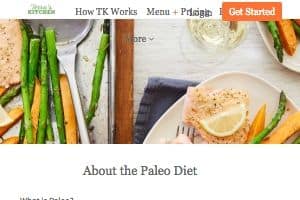 Terra's Kitchen
Though Terra's kitchen isn't an entirely organic meal-kit delivery service, they pride themselves on sourcing clean, sustainable ingredients. Their organic options are growing and they strive to use organic ingredients "whenever possible." Terra's kitchen takes its meal-prep a step further than companies like Green Chef and Sun Basket, doing all the peeling and chopping for you. For customers who want to cook and are wishing to save even more time in the kitchen, Terra's is a great option.
This company is dedicated to sustainability and eco-friendliness. Ingredients ship in sustainable "vessels," which are climate-controlled and can be reused up to 100 times (just send it back when you're finished with it). Meal prices vary based on content, with meals costing anywhere between $10 and $20: their crispy lime cod with mango and radish salad is $12.99 and Paleo-friendly. Not only can customers order dinners, but they can also order salads, snacks, and smoothies – as many items as fits in a shipping vessel.
For more information on Terra's Kitchen and for prices on their Paleo meal kits see:
For our full write up on Terra's Kitchen including reviews, see our earlier coverage on them.
Organic Paleo Meal Delivery and Organic Keto Meal Delivery is Available Near You!
Whether you're looking for pre-made, organic meals or meal kits, whether you're following the Paleo or the Keto diet, there are plenty of options online that will help you save time during your week. Maybe you're an athlete looking to supplement your training goals with healthy eating, or maybe you're a busy parent looking to save a bit of time in your hectic schedule. It doesn't matter if you're looking for a few emergency freezer-meals or a week's worth of do-it-yourself kits: there's an option to fit your needs.
Many of these companies also offer deals for first-time customers, so you can try a few of them before deciding what company you like best. Take a look at some of the options we've listed, read the reviews, browse their websites, and try them out. Let us know what you think!