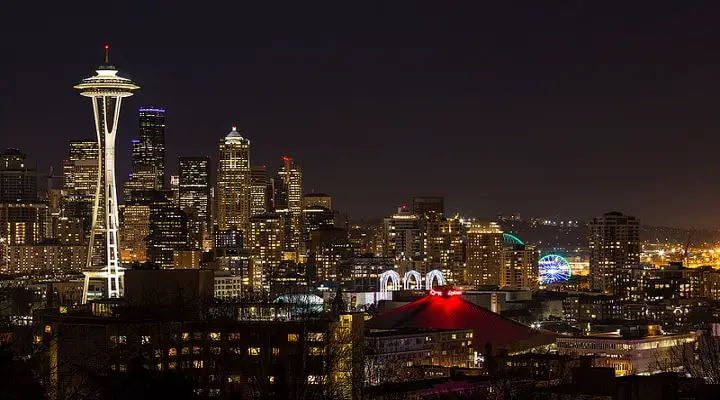 If you're following the Paleo Diet, then you know how rewarding it is to prepare a meal comprised entirely of wholesome, all-natural ingredients. You've probably also experienced how time consuming it can be to shop for and prepare meals adhering to Paleo's grain, dairy, and sugar-free restrictions. We understand that there are bound to be moments when life gets busier and more complicated than usual and that, in these moments, it's hard to find time to cook. You want to order take-out, or delivery, but can't be certain that your favorite restaurants are following all the tenets of Paleo, even for their "healthy" dishes.
Here's where we can help:   There are places in the Seattle area that offer meal delivery to Paleo practitioners. Below, we've compiled a comprehensive list of local and national companies who create Paleo-compliant meals and deliver them right to your door. Read on to discover the many chef delivery services that cater to Seattle and Washington State residents.
We cover the following....
Local Paleo Food Delivery Options in Seattle
Seattle has a storied and vibrant food scene, often on the cutting edge of emerging healthful food trends. No so surprisingly there are several local places that now cater to customers who follow the Paleo Diet. For those nights and occasional days when you need a spur-of-the-moment solution to dinner (or lunch!), you can check out any of the following places. While these local companies might not all cater exclusively to Paleo customers, they do have more than a few options that meet Paleo's healthful requirements.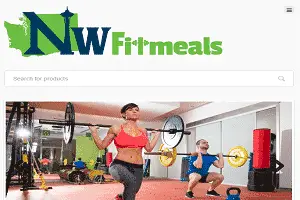 Northwest Fit Meals
Northwest Fit Meals are a Seattle-based meal prep company focused on serving the needs of those following a Paleo lifestyle, both athletes and non-athletes alike. They are also Whole30-approved, useful for those of you who are looking to do a reset or just want to find out where their intolerances lie.
Northwest Fit Meals state that they use local, sustainably-sourced and organic ingredients where possible, and allow you to subscribe to a weekly delivery service of either 5, 10, 15 or 20 meals for lunch and/or dinner.
The only caveat to ordering with Northwest Fit Meals is that they only deliver to Crossfit gyms that have a minimum of 3 people ordering separate meal plans from them. As a small business, this is understandable in order to keep the cost of preparation and delivery viable, but it may be something to take into consideration.
For more information on Northwest Fit Meals and for prices see:
Northwest Fit Meals Reviews:
https://local.yahoo.com/info-196437101-northwest-fit-meals-everett
Northwest Fit Meals Facebook Reviews: https://www.facebook.com/pg/nwfitmeals/reviews/?ref=page_internal
Northwest Fit Meals Yelp Reviews: https://www.yelp.com/biz/northwest-fit-meals-everett
The Custom Plate
Predominately acting as a catering service, The Custom Plate is a family-owned small business serving the Seattle area. However, they also provide a meal-delivery system for people who find themselves too busy or unable to prepare their own healthy meals.
These meals are delivered on either a Monday or Friday, preparing you for the week or weekend depending on your needs. They have multiple meal plans for you to choose from, ranging from Whole30 and Keto meals to anti-inflammatory detox programs and macro-based meals. Although there is no specific Paleo meal package, The Custom Plate states that they are a gluten-free and dairy-free company.
As if that weren't enough, The Custom Plate buys local, organic produce whenever possible because they understand the dangers of consuming excessive pesticides and herbicides. Any meat products that they use are also either organic and/or grass-fed.
Urban Pantry Catering
Urban Pantry Catering are located slightly further afield from the Greater Seattle area, being based in Lake Stevens. However, if you're based in the more rural areas of Seattle, this meal preparation service might be what you're looking for.
Urban Pantry Catering is completely Paleo-friendly, Keto-friendly, and suitable for those following a Whole30 reset. Unlike many Keto meal delivery services, this business caters to dairy-free Ketogenic diets as well, making it easier for you to follow a lower-carbohydrate Paleo approach.
Their meal subscription plan allows you to purchase a month of dinners which is delivered weekly to their affliliate location Ancient Grains Bakery in Mt Vernon, ready for pickup. However, that's not all. Urban Pantry Catering also offers bulletproof coffee mixes, keto desserts, breakfasts and soups.
Be aware that Mt Vernon is about an hour out from Seattle, which may be worth the drive for those of you North of Seattle, but orders must be picked up between the hours of 3pm and 6pm every Wednesday. For those of you who are super busy and not flexible with your time, these restrictions may make it difficult to try this wonderful business out.
https://www.urbanpantrycatering.com/
Fuller Nutri-Fuel
If you have less time on your hands but still want to take the opportunity to support a local business, you might find that Fuller Nutri-Fuel fills the spot. Fuller Nutri-Fuel are a sister-led meal prep company that delivers to your home, office or gym twice a week, either on a Wednesday or Sunday.
They offer a Paleo meal plan, as well as a Keto package and $8 meal deals amongst other options. Because Fuller Nutri-Fuel are still a small business, they don't have as many choices as perhaps national companies do, but they strive to change their menu on a bi-weekly basis to incorporate seasonal ingredients.
They have a flat rate delivery rate of $8 as well as free pickup locations, and don't require a minimum order size, which is great if you don't have loads of fridge/freezer space or need all of your meals catered for in the week.
What's Cooking Seattle
The last of the ultra-small local options may well be just what you're looking for. What's Cooking Seattle delivers chef-prepared meals to your doorstep, with many gluten-free and dairy-free options. They use fresh, local and organic produce that are on the Dirty Dozen list to minimize pesticide contamination.
Offering breakfasts, entrees, rice bowls (that you can switch out for cauliflower rice), soups and salads, you'll never find yourself running out of choices or time. What's Cooking Seattle are a great choice for general meal delivery or if you're hosting a large meal at home, such as Thanksgiving or Christmas dinner.
Whilst their entrees are priced slightly higher than most other Paleo meal delivery services, their desirable soups, salads and bowls are very reasonably priced at between $7-$10. These dishes may generally be lower in calories than a standard entree, but they make for ideal lunch options.
What's Cooking Seattle appear to have a flat rate delivery charge of $12, and require you to contact them directly via email or phone call in order to start working with them.
https://www.whatscookingseattle.com/
This post contains affiliate links. Thank you for supporting us! Click here to learn what this means.
National Companies Offering Paleo Meal Delivery to Seattle
Local companies are useful for when life's curve-balls keep you from the kitchen. If you know your week is going to be hectic and can plan in advance – or if you'd simply like to keep a store of pre-prepared meals on hand – consider ordering from a national company. These companies also will deliver to areas of Washington state that are too far from Seattle to be serviced by some of the local delivery companies operating there. There are several benefits to ordering from these companies: They create meals that are Paleo specific; they source local, organic produce, and only use pastured and humanely raised proteins; their meals arrive express to your door, fresh or frozen. Keep in mind, too, that many of these companies also offer specific Paleo plans (AIP, sugar-detox, Whole30), as well as time-saving add ons like bone-broths and rendered fats and oils.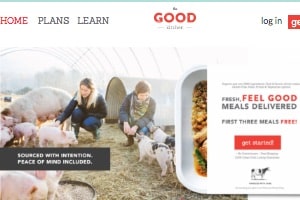 The Good Kitchen
Though the Good Kitchen requires customers to purchase a minimum of ten meals per week on a subscription basis, they offer free shipping on all orders.
Like many companies on this list, the North Carolina based Kitchen sources locally and uses 100% grass-fed beef, pastured pork, and antibiotic and hormone-free chicken, as well as organic produce on the Dirty Dozen list.
Their prices are set based on the number of meals ordered, rather than having different prices for different meals. Generally they try to make their prices range from $11-$14, depending on the number of meals you have subscribed to weekly. They also allow for a good deal of customization regarding food content, by catering for gluten-free, dairy-free, soy-free and Whole30 needs.
Be aware that although The Good Kitchen is primarily a meal delivery service, they have partnered with Walmart and now stock a frozen version of their meals at most locations. This is fantastic news for people who may need a Whole30 or Paleo-compliant meal on short notice and don't have time to wait for a delivery.
See thegoodkitchen.com for The Good Kitchens complete menu and list of healthy meals delivered Seattle / nationwide plans.
The Good Kitchen is offering a 15% discount for our readers. Use promo code "mypaleos" at checkout for 15% off your first order.
I put together the below video showing opening and preparing my most recent order from The Good Kitchen:
For our detailed write up on The Good Kitchen including reviews, see our in-depth coverage on them.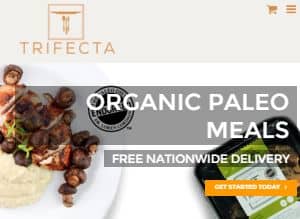 Trifecta
Trifecta, based in Northern California, is one of the largest companies in this list and offers Paleo as one of its many gluten free/dairy free/soy free meal plans. The company is a good one to order from if there are people in your household who don't necessarily eat Paleo (they have clean eating, vegan, and vegetarian plans). Trifecta's meals are 100% organic, and, while the company primarily advertises its meal plans, it allows customers to buy bulk items a la carte. This is a great option for those who wish to portion their meals themselves. They offer free shipping to anywhere in the United States.
See trifectanutrition.com for current prices for their Paleo and organic meal delivery Seattle offerings.
For our detailed write up on Trifecta including reviews, see our in-depth coverage on them.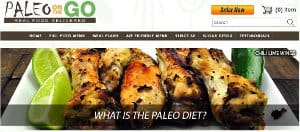 Paleo on the Go
Paleo on the Go is a popular meal delivery service that was founded in 2012. The Florida-based company selects local farms and suppliers from which they source their ingredients, and has been highly rated, both by bloggers and Paleo-centered institutions.
Their plans are highly customizable, and include options for those who need AIP specific meals, as well as meal plans for sugar detoxification programs and Whole30-style challenges.
Paleo on the Go is one of the few companies that allows you the opportunity to purchase single meals. You can buy anything from an order of banana nut muffins, to a whole month of meals. In order to take advantage of these options you will need to invest a minimum order of $99, but due to the range of meals and products they have on offer, this is more than easy to do and worth it. Their food arrives at your doorstep, frozen and ready to be heated and served.

See paleoonthego.com for prices and meal options.
Note: Paleo on the Go is offering a 10% discount for our readers, use code "MYPALEOS" at checkout for 10% off your entire order – one time use.
I also created an unboxing video of my most recent order from Paleo on the Go:
For our detailed write up on Paleo on the Go including reviews, see our in-depth coverage on them.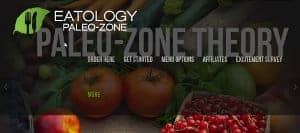 Eatology
Eatology creates a selection of Paleo dishes that also follow the Zone diet (which focuses on weight loss and macronutrient balance). Eatology is one of the more affordable options on this list, and prices their food based on blocks (portion sizes) rather than content.
A 2-block meal is $10.50 and a 3-block meal is $12.75. They also offer discounts for customers who purchase recurring meal plans (you can save up to 20%), but you can still opt in for one-time orders if you don't need consistent deliveries. Their meals contain no added sugar, and last in the freezer for up to six months.
For those who are interested in the difference between a 2-block meal and a 3-block meal, 2-block meals are roughly 155-175 calories, where 3-block meals are around 230-250 calories. This is useful to know for those of you who are on a calorie-restricted diet, or even for those who have higher caloric requirements to determine which block system to choose.

See http://www.eatology.co for Eatology's Paleo-zone plans and pricing, including nationwide plans for healthy meal delivery Seattle options.
Eatology is offering a 20% off promo for our readers (works for first & all later orders), use code "ZACHPALEO" at checkout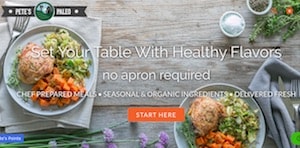 Petes Paleo
Pete's Paleo is a Southern California company which maintains close ties to local farmers and offers seasonal, fresh, organic ingredients. The company is a popular one whose meals have been featured on a variety of television programs and in newspapers and magazines.
For those who like variety, Pete's offers a seasonal menu, based entirely around the ingredients their farmers and vendors produce in a given season. Because their food is naturally sweetened by fruits and vegetables, they're a great company for those looking to try a 21-day sugar detox diet.
They also offer a plan adhering to the Wahls Paleo requirements, as well as a family plan, which provides four servings of each meal.
See petespaleo.com for a complete list of prices, meal plans and healthy food delivery Seattle options.
For our detailed write up on Petes Paleo including reviews, see our in-depth coverage on them.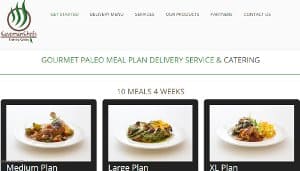 Caveman Chefs
Caveman Chefs was created by chefs whose experience and expertise range throughout the restaurant and catering industry. They appear to cater to all of the possible Paleo variations, such as Keto, AIP, Whole30, Vegetarian Paleo and Vegan Paleo as well as SIBO/FODMAP requirements, which are often neglected by bigger nationwide meal delivery companies.
The company maintains close ties with its local community, sourcing their produce, meat, and fish from Colorado farms and vendors, and offering multiple locations in the Denver area for food pick up.
Whilst Caveman Chefs do ship nationwide, out-of-state deliveries require a flat-rate of $60 per shipment, so it can be quite costly despite their reasonable pricing for the meals themselves.
Visit http://www.cavemanchefs.com for more information on their Paleo delivery Seattle options
Caveman Chefs has offered 10% off all orders by mentioning the promo #ZachmyPALeos in the order comments or mentioned by phone during checkout.
For our detailed write up on Caveman Chefs including reviews, see our in-depth coverage on them.
Ice Age Meals
Ice Age Meals are a national Paleo meal delivery service that produce frozen Paleo-friendly meals in small batches and ship to the Seattle area.
Seattle citizens will be pleased to discover that shipping will only cost them a maximum of $10, and even better, orders of 24 or 48 meals will ship completely free of charge.
Their meals are completely gluten-free, dairy-free, soy-free and nut-free (the only exception being that organic coconut milk is used in two of their meals). The founder, Paleo Nick, is passionate about giving people the tools they need to make healthy choices for themselves, using an alternative platform called PaleoNick.com to teach people how to cook similar meals for themselves.
However, if you'd like to take advantage of having your meals made for you, you can rest assured that they use only grass-fed and organic meats from family ranchers and fresh produce. They are in the process of finding a consistent organic fresh produce source but still try to use organic wherever possible for their meals.
Every Year there are More Options for Paleo Meal Delivery Seattle Paleo Delivery Options
It should be mentioned that many of the national companies offer packaging that is useful for those who are often on the road. But if you're looking to sponsor the local restaurant communities when you travel, you can also read our other articles (which detail Paleo delivery options in other US and Canadian cities). Supplementing your home cooking for a few pre-made meals can make a huge difference in staying on track with Paleo. Though creating a lifestyle that includes consistently healthy food might seem difficult, it only takes a bit of research and preparation to maintain healthy eating habits. What this list has hopefully provided you with is a number of options available to Paleo practitioners needing a break from the kitchen. Even if you love shopping and cooking your own meals, remember that there are still reasons to check out these restaurants and companies. These services maintain close relationships with local farmers and can often access ingredients that may otherwise be difficult for you to obtain. We recommend giving their services a try!
Other Paleo Delivery Seattle Area Companies
If you have any suggestions of other places offering Seattle Paleo Friendly Meal Delivery or know of Seattle Paleo restaurants that might offer takeout or delivery options, please let us know in the comments below.