I'd like to share some good news – if you are looking for a way to order Paleo compliant dishes from restaurants and chefs in the DC area, your search is over. From local companies like Power Supply, which have now expanded nationally, to national services that deliver to all locations in the DC area, you have a number of great options you might consider. In this article we'll lay out the different companies and some of the pluses and minuses of each.
We cover the following....
Local Paleo Food Delivery DC Companies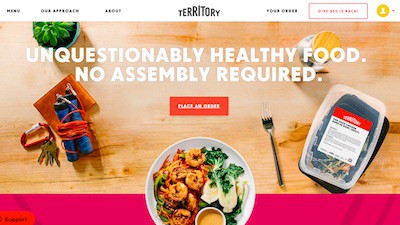 Territory Foods
Territory Foods, started in the DC area (current headquarters in Alexandria) delivers Paleo prepared meals to locations throughout the DC/MD/VA metro area. One unique aspect of Territory is that they partner with chefs at local restaurants and catering companies throughout the area to craft their Paleo meals instead of making meals at a central kitchen. This means that you will find foods inspired by the chefs at various local restaurants such as the chef behind DC Empanadas and Taquaria Del Barrio and local caterers such as Meski's (Etheopean) catering and Demeter's Pantry (Greek).  For those chefs participating in creating their Paleo dishes they have dedicated to following strict Paleo guidelines for those meals.
This distributed model of chef delivery brings variety and fresh ideas to your daily food routine, similar to ordering the healthiest food items from various local restaurants and delivering them together in a weekly meal plan. Initially, Territory delivered meals to gyms throughout the region for pick up by both gym members and non gym members with no delivery charge. That is still an option, but they now offer delivery "direct to you" at your home or office within specific areas of the city (I was able to confirm sample addresses in DC, Arlington and Bethesda were all eligible).
For full Pricing See:
https://www.territoryfoods.com
Territory Foods Reviews:
https://wickedhealthywashingtonian.com/tag/my-power-supply/ http://www.floridagirlindc.com/2013/01/paleo-easy-button-my-power-supply-meal.html
http://maryqin.com/power-supply-week-of-dec-15-review/ https://brokegirlfitness.com/2015/07/09/my-power-supply-a-meal-delivery-service/
https://www.washingtonpost.com/lifestyle/wellness/fresh-diet-meals-offer-alternative-to-frozen-shelf-stable/2013/02/12/bc9f5cf6-6ec6-11e2-aa58-243de81040ba_story.html https://www.borderstan.com/2013/03/07/borderstan-business-power-supply/
Mighty Meals, also based in Northern Virginia offers a portion of their menu designated as Paleo and/or Whole 30 friendly. Meals are delivered once a week on Sundays either to a local gym in the area and other pickup locations throughout the DC metro region or alternatively can be delivered to your home between 11am and 3pm on Sundays (someone must either be present to accept the meals or you will need to make arrangements for leaving a cooler or authorize pickup).
For full Pricing See:
Mighty Meals Reviews:
https://eatingbrofood.com/2016/08/03/mighty-meals-product-review/
https://www.yelp.com/biz/mightymeals-burke-2
Another local delivery company worth mentioning is Vegetable and Butcher, who offer "Paleo Friendly" menu options. Although it may be a bit more challenging to pin down a 100% Paleo meal plan, for those looking for pastured meat and sustainably grown produce, along with a partial commitment to Paleo principles, they may be worth checking out as well.
See: https://vegetableandbutcher.com
Note: this post contains affiliate links. Click here to see what this means.
Other Paleo Meal Delivery DC Options – National Companies Delivering to Entire DC/MD/VA Region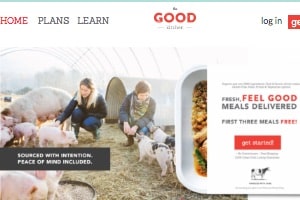 The Good Kitchen
The Good Kitchen is one of the closest major nationwide Paleo delivery companies to Washington DC, operating out of Charlotte NC and using local NC farm fresh ingredients in their convenient pre-prepared meals. They use grass fed, grass finished, pastured and antibiotic free proteins, organic seasonal produce from GAPS certified farms. The company had been named modPALEO for a good number of years, and after their rebranding to The Good Kitchen they still focus the majority of their food items on following the protocols of the Paleo Diet religiously, but have expanded their menus to include a few additional items each week for people eating primal instead of strict Paleo. They offer a number of unique lines of food such as their Paleo Vegetarian line. They recently added a line of healthy kid lunch boxes if you are looking for an alternative for school lunches. If you are on the hunt for a healthy Washington DC meal delivery service with produce from the region, The Good Kitchen might be just what you have been looking for.
See thegoodkitchen.com (they recently rebranded from modPALEO to The Good Kitchen) for current prices.
The Good Kitchen is offering a 10% discount for our readers. Use promo code "mypaleos" at checkout for 10% off your first order.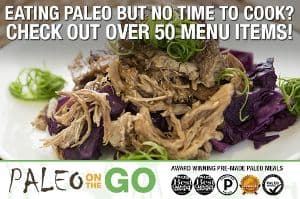 Paleo on the Go
Paleo on the Go, one of the more popular Paleo delivery companies delivering meals throughout the DC area, has multiple Paleo certifications from different certifying organizations. As is the case with many of the dedicated Paleo delivery services, they work with local farms to purchase in-season foods directly from small family farmers, so you are getting ingredients equivalent to shopping at a farmers market. They partner with popular bloggers such as The Paleo Mom on the design of a good number of their meals, providing a nice variety to the types and styles of dishes they offer. They offer a few different Paleo meal plans, including a line of meals compliant with the more restrictive Autoimmune Paleo (AIP) guidelines.  Paleo on the Go makes their own line of Paleo free range chicken and beef bone broths and cooking fats which are used as a base in many of their meals. Paleo on the Go is a great dc meal delivery service option as they deliver to all locations throughout DC, Maryland, Virginia and even West Virginia. Based out of Florida and using local farmers and grass fed meat suppliers in their local area to make the meals, they express ship meals to your door each week See paleoonthego.com for prices and meal options.
Note: Paleo on the Go is offering a 10% discount for our readers, use code "MYPALEOS" at checkout for 10% off your entire order – one time use.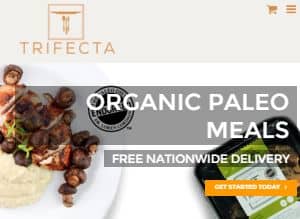 Trifecta
Trifecta Nutrition is another popular Paleo meal delivery service and the entire DC region is within their delivery area. Trifecta is heavily promoted by Dr. Lauren Cordain, one of the early and most well know figures associated with the Paleo diet. Dr. Cordain overseas the design of their Paleo meal subscription. In addition, Trifecta offers 100% organic ingredients in every one of their meal plans, making it one of the few organic meal delivery dc options. Meals are packaged in convenient reheatable to-go containers. Trifecta also places an emphasis on using environmentally friendly materials for packaging and shipping as well as only purchasing meats meeting humanely raised standards.  Another nice feature is that all meals are delivered to you fresh rather than frozen, so no thawing is required.
See trifectanutrition.com for current prices and Paleo meal options.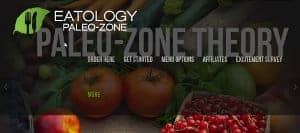 Eatology
Eatology is another Paleo meal service offering nationwide delivery, including to the DC area. Their plans focus on optimizing your health and weight by following both the Paleo Diet as well as using the zone system for balancing the portion of protein, carbohydrates and fats in each meal. This gives the double health benefit of sticking to a Paleo diet along with the weight loss, satiety and portion control benefits of following the zone. Meals are shipped in special portioned containers designed for heating both in the microwave or oven. If you are looking for diet food delivery dc options and would consider trying Paleo & Zone food, Eatology is definitely a company to check out. See www.eatology.co for Eatology's Paleo-zone meal plans and pricing.
Eatology is offering a 20% off promo for our readers (works for first & all later orders), use code "ZACHPALEO" at checkout
For our detailed write up on Eatology including reviews, see our in-depth coverage on them.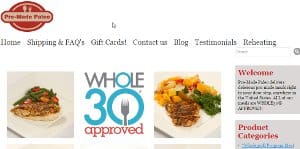 Pre-Made Paleo
PreMade paleo, popular with the adherents of the Whole 30 program, Pre made Paleo is a nationwide meal delivery service that ships to DC. All of the Pre Made paleo meals are Whole 30 compliant, as the head chef is the main author of the Whole 30 series cookbooks. The meals also for the most part are Paleo compliant as well, with high quality grass fed protiens and organic vegetables in all meals except for their more affordable "sustainably sourced" line. Some unique offerings from Pre Made Paleo include a whole line of wild caught seafood based dishes, with a large number of different types of wild fish. They also offer an exotic meat line with meals centered around protiens like Elk, Venisonand Wild Boar.
See premadepaleo.com for prices and meals.
Pre-made Paleo has offered a 10% discount (one time use) on all orders for our readers. Use code "MYPALEOS2018" at checkout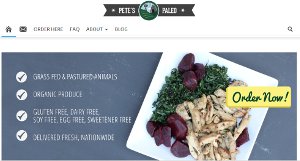 Petes Paleo
Petes Paleo is another major Paleo delivery company. One unique feature of their Paleo meal service is that they omit sweeteners, even Paleo sweeteners like maple syrup or honey, from all of their meals using instead the natural sweetness of in-season vegetables in their meals. This makes Pete's Paleo a great option for those people looking to go on a sugar detox and cut out sugar for period of time. Some other nice aspects of Pete's Paleo include a serious emphasis on sourcing organic ingredients from local farms in their area of Sourthern California, giving you the option of eating California in-season farmers market produce in DC, even in winter months when DC local farms do not have many in-season options.  They also have a serious emphasis on using only grass fed, grass finished beef and free range antibiotic free poultry and pork products.  As with the companies mentioned thus far, Pete's Paleo delivers to addresses throughout the DC/MD/VA area, offering a great healthy meal delivery dc option.
See petespaleo.com for a complete list of prices and meal plans.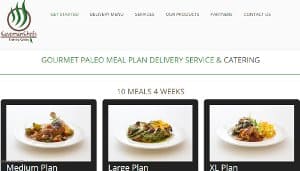 Caveman Chefs
Caveman Chefs, based in Denver Colorado, also delivers Paleo meal plans to addresses throughout the country including addresses in the DC metropolitan area. They offer meals made with local Colorado grass fed meat, such as local Wagyu beef, lamb and poultry and local Colorado produce. Caveman Chefs is known for their wide variety of Paleo meals, including recipes based on Asian, Indian, Thai and new American cuisine.
Visit http://www.cavemanchefs.com for more information
Caveman Chefs has offered 10% off all orders by mentioning the promo #ZachmyPALeos in the order comments or mentioned by phone during checkout.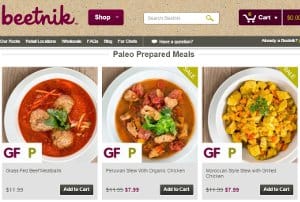 Beetnik Foods
Beetnik Foods offers a line of frozen paleo meals that they deliver to locations in the Washington DC area, in addition to being available at select health food stores in the area. Their Paleo frozen entree line is a spin off on their more traditional gluten free frozen meal line. Although not a traditional chef or healthy delivery dc service, it seemed worth mentioning as they do ship their meals to addresses in DC, making Beetnik another option for Paleo food delivery in DC.
For additional information on Beetnik Foods and their paleo frozen meals, please see the detailed write up on them.
Finding Keto Meal Delivery DC Options
For those looking more for Keto meals rather than specifically Paleo, there are several companies that offer Keto food delivery DC options (meaning they deliver to you in DC). These would include The Good Kitchen, Paleo on the Go, Trifecta and True Fare mentioned above which all offer Keto specific meal plans, as well as other national companies such asKetoned Bodies and Keto Fridge.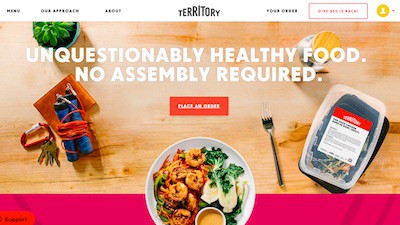 In terms of local companies offering DC Keto meal delivery, Territory Foods does offer a Keto friendly menu as one of their filtering options. These are all viable options for people looking for delivery of Keto food in DC.
Paleo Bakery DC Options
I wanted to mention that I have a friend who lives in the DMV area who is a baker, and who works with people to try to create baked goods for whatever individual dietary restrictions they might have: Paleo, AIP, Keto, SCD, Gluten Free, Nut Free, Vegan, etc. She started by creating specialty baked goods for one of her relatives who had severe allergies and has branched out from there. If you are interested in getting in touch with her to see if she can customize a bakery order to your needs, please reach out to me via my contact info on my contact page and I will put you in touch with her. You can find some photos and info about her creations on her instagram profile (photos tagged #muyscakes) you'll notice she does regular baking as well but will work with you to make baked goods to fit your dietary needs, no matter how restrictive.
Here is an example of a custom cake she created for someone following a version of Paleo to their specific dietary requirements:
Although there are a couple of gluten free bakeries around the DC, MD, VA region, such as Rise Bakery in DC, so far I have yet to find one that offers 100% Paleo ingredients in their off the shelf products. One company in the region, Ape Man Foods, was offering a single product, their banana cashew bisquits, that met all my dietary requirements, but all the other products I have seen from them contain ingredients I cannot eat. If others know of any Washington DC Paleo bakery options  with truly Paleo baked goods in the region, if you'd be willing to post them in the comments below, I'd love to cover them in the future.
DC Paleo Takeout and Delivery
I have found one company that I order a form of Paleo "takeout" from occasionally. Let me clarify, out of their menu of 30+ dishes, I am personally only able to eat one item on the menu, their Syrian Moussaka…I have to remember to order it without the pita bread on the side, but I have to say it is delicious!
The company, Foodhini, and is also a really cool concept in my opinion. They specifically hire recent refugees as chefs, people with backgrounds in cuisines that you wouldn't normally be able to get anywhere else, while also helping out people who have just moved to the U.S. and really need the work (several were chefs in their prior country).
Another really great thing is that they list the ingredients in each of their meals, so it makes it easy for people with dietary preferences to pick out meals that will work for them. I'd still recommend emailing them to confirm you know exactly what is in the dishes you order, that is what I did for the Moussaka, but it's nice that they are transparent about their ingredients.
Finding Paleo Delivery DC Options Has Never Been Easier
So there you have it, a number of great options for anyone living in the DC area and eating Paleo. These services can help you save time during a busy period in your life, such as when moving, have a new baby, just started a new job, recently moved to the area or many such situations.
These services can also be a great way to have food stocked in your freezer as a backup for when you have a day where you ran out of time to cook and want to avoid falling back on unhealthy non-Paleo take out.
They can also be a great compliment, rather than replacement for home cooked recipes, such as items to bring with you for lunch at work each day. Many of the meals offered by these paleo meal delivery washington dc companies can be useful for any other similar grain free diet such as the SCD, GAPS or AIP diets.
A good portion of these delivery meals will fit into those diet plans as well, especially if you order meals a la carte. They are also great for people seeking out gluten free or organic food delivery dc options. Companies come and go, for example the healthy bites washington dc service is no longer available. But with such a wide range of national dc food delivery service options, you should never have to be forced to go off the diet because you don't have time to cook a healthy Paleo meal at home.
It is possible to find healthy food delivery dc options if you know where to look, even without options like healthy bites dc.  So if you are on the hunt for meal delivery service dc companies, hopefully you feel like you learned about some great options in the group presented above.