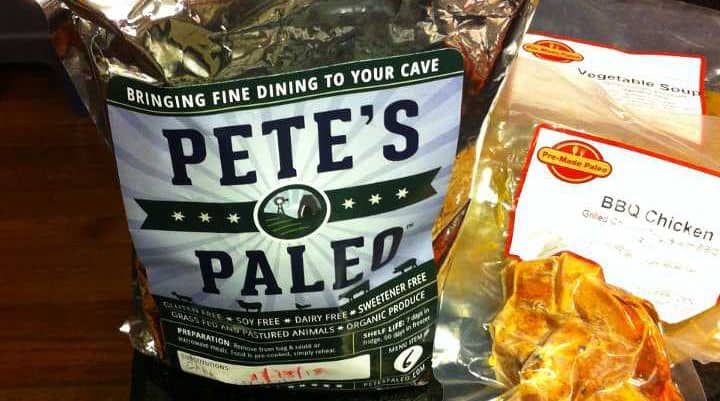 Note: We have since published a newer version of this article with 7 additional companies
Last Updated: 1/19/2019
Have you ever felt overwhelmed with cooking Paleo compliant dishes? Has there ever been a week (or a month) where you wanted to keep Paleo but just didn't know how you were going to find the time?
Or have you ever wanted to introduce a friend or family member to the diet but worry that it may be overwhelming for them to have to learn the rules while also switching to learning and cooking all Paleo compliant recipes with the inevitable sugar/carb withdrawal symptoms thrown in the mix?
I recently researched the various Paleo food delivery services that are available nationwide and put together the below list. I tried to hit the highlights of the available Paleo meal delivery companies to give a quick overview of each and compile Paleo meal delivery reviews I found on each company.
In taking a look at some of the existing summaries online, the information was either not very detailed or in many cases was somewhat out of date, so I thought this was a good time to put together an updated, and hopefully more complete list with some background info on each company.
Reasons You Might Get Paleo Meals Delivered
You are moving, started a new job, have a new baby or are currently working through health issues that you hope the Paleo Diet will help improve over time. During these life transitions, it can be difficult to make time to find Paleo friendly ingredients and cook. To avoid falling back on fast food and takout, choosing a paleo delivery service for a fixed period is an investment in your health..
You are finding it difficult to get grass fed, grass finished meats, wild caught fish and organic vegetables from local farms in your area. The best of these companies spend their time researching and finding the best local paleo ingredients. Depending on where you live and at certain times of the year, this can be tricky to pull off yourself.
If you live in an expensive city or are cooking for one, in some cases it can actually be cheaper to buy paleo food online from one of these services than buying all the ingredients and making it youself, even when factoring in delivery charges. For example the paleo delivery service may operate out an area where the cost of living is lower and access to high quality produce and meats is more readily available. Some of the below companies (although not all) try to offer cheap paleo meals. Paleo on the go put together a great infographic to give an example of when this can be the case.
This post contains affiliate links. Thank you for supporting us!  Click here to learn what this means.
Paleo Meal Delivery Services – Nationwide Paleo Food Delivery (US)
Below are my findings, please let me know if you know of other companies that I have missed and I'll be sure to add them to the below list: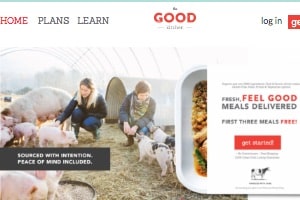 ---
Based out of Charlotte, NC
The Good Kitchen, formerly modPALEO before a recent rebranding, has specialized in Paleo since 2011. TGK was started by a husband and wife team based on their own goal of incorporating Paleo principles into their own life. The company has expanded over the years to offer a nationwide meal subscription service. They offer a weekly changing menu that allows you to mix and match various styles of Paleo meals, such as: Paleo/Primal beef entrees, Paleo/Primal Seafood/Pescatarian entrees, Paleo/Primal pork entrees, Paleo/Primal vegetarian (or Pegan) entrees, Paleo/Primal chicken entrees and Keto friendly entrees.  Their meals use 100% grass fed and grass finished beef and pasture raised pork, chicken, lamb, turkey and eggs along with primarily organic produce being sourced almost exclusively from small local farms in the Sourthern North Carolina region where they are based, as well as seafood watch compliant seafood. Their menu is seasonal, changing weekly and by season based on what is currently being harvested and available at the small farms they work with. An extensive listing of the farms they work with is available on their website. Although they encourage setting up a recurring meal plan, they also offer one-time orders with a minimum order of just 5 meals – with every order including free shipping anywhere in the U.S. 
Established: October 2011
Executive Chef: Thomas Kerns
Training: "better part of his life cooking in upscale restaurants and professional kitchens"
Delivery: US Nationwide (refrigerated, recyclable trays fit for microwave or oven, shipped in insulated boxes with ice packs – frozen paleo meals delivered also available) via FedEx
Local Pickup/Delivery: NA
Ingredient Features: locally sourced grass-fed, grass-finished, pasture raised proteins and locally sourced seasonal organic produce as available (small scale producers they know)
Plan Options: One time, weekly, biweekly and monthly subscription plans
Sample Prices: Subscription plan of 10 meals per week is $130 including shipping
For full pricing see: thegoodkitchen.com 
[The Good Kitchen is offering a 15% discount for our readers. Use promo code "mypaleos" at checkout for 15% off your first order.]
Below is a video clip of me unboxing a recent TGK order I purchased:
The Good Kitchen Reviews:
https://www.mypaleos.com/review-modpaleo-grilled-butternut-satay-kale-paleo-vegan-meal-delivery-nationwide/
https://www.youtube.com/watch?v=PTAUWHIKp2Y
http://www.everylastrep.com/nutrition/paleo-meals-delivered-by-modpaleo#
http://wholefoodhalfass.com/post/22172010132/whole-30-day-22-april-30-lunch-modpaleo-pork
https://www.charlotteagenda.com/12083/modpaleo-ships-modern-tv-dinners-direct-to-your-door-with-a-focus-on-sustainability-nutrition-and-customer-service/
The Good Kitchen Facebook Reviews: https://www.facebook.com/pg/eatTGK/reviews/
We also did a Q&A with Carter Lewis, the co-owner of The Good Kitchen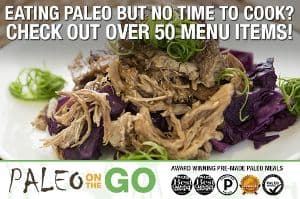 ---
Based out of Largo, FL
Paleo on the Go is a popular Paleo delivery service based out of Florida, delivering meals nationwide. They are both "Certified Paleo" and "Certified Paleo Friendly" and use a dedicated gluten free kitchen. They offer a complete line of meals confirming to the AIP (Autoimmune Protocol) specifications, a line of Strict 30 meals (no maple syrup, honey, carrageenan, sulfites or alchohol) as well as a line of 48 hour homemade Paleo bone broths, Paleo soups, Paleo breakfasts, Paleo cooking fats, Paleo bacon, Paleo veggie sides and Paleo deserts. They also offer a line of recipes created by the celebrity blogger The Paleo Mom, that they cook and deliver. All their meals are gluten free, grain free, dairy free (except for ghee), soy free, legume free and contain grass fed, pastured or wild proteins.
Established: February 2012
Executive Chef: Ann Lotterhos
Training: CIA (Culinary Institute of America)
Delivery: US Nationwide (including PR) and Canada (Frozen, vacuum sealed) via UPS
Local Pickup/Delivery: Local pick up in Largo, FL
Ingredient Features: Grass Fed Organic Beef, Lamb, Pork (Blackwing Quality Meats, Mountain Valley Farm), Wild Caught Seafood (Sammys Seafood), Antibiotic/Hormone Free Chicken (Springer Mountain Farms), Olive Oil, Coconut Oil and Grass Fed Organic Ghee (OMGhee), Organic Vegetables if part of the 15 "Dirty Dozen" vegetable/fruit list, other produce conventional to keep prices down
Plan Options: Meal plans, AIP menu (aip meals delivered), Paleo menu, subscription service, paleo a la carte menu and volume discounts.
Sample prices: 10 complete meals, 1 soup, 1 bone broth, and 2 paleo treats for $189 plus shipping
For full pricing see:   www.paleoonthego.com
[Use the coupon code "MYPALEOS" they created for our readers for 10% off your entire order. One time use]
Here is a video of me unboxing a recent Paleo On The Go purchase:
Paleo On the Go Reviews:
http://www.phoenixhelix.com/2015/07/11/paleo-on-the-go-aip-frozen-meal-review/
http://www.thepaleomom.com/2015/12/product-review-autoimmune-protocol-meals-from-paleo-on-the-go.html
http://www.plaidandpaleo.com/2014/05/paleo-go-review.html
yelp & facebook
Other Notable Details: Winner 2013, 2014 paleo magazine Best Of Paleo Meal Delivery Service – The Paleo Approach Certified, Paleo Certified, and Certified Paleo Friendly.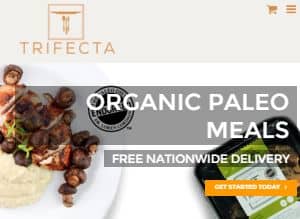 ---
Based out of Davis, CA
The Trifecta Nutrition meal delivery service was initially founded by a veteran of the Paleo community in partnership with Dr. Loren Cordain.  Although Trifecta has a few different gluten free meal plan offerings, their Paleo meal plans follow the traditional definition of the Paleo Diet as outlined in the oldest books on the Paleo Diet. Some unique features of Trifecta include offering free nationwide delivery with all of their meal plans. They also offer weekly 30 minute consultations with a nutrition coach included as part of  several of their weekly meal plans, to help you set goals, review your progress and provide tips and suggestions. All Trifecta meal plans are one hundred percent Organic, dairy free, gluten free, and soy free. One other nice aspect of the Trifecta meal delivery service is an emphasis on reducing the environmental footprint of their operations and packaging and a goal of using Animal Welfare certified ingredients at or above level 5.
Established: 2015
Executive Chef:  NA
Training: NA
Delivery: Free Delivery to all US States including Hawaii and Alaska (refrigerated paleo meals shipped in a cooler, vacuum sealed) via FedEx Air Freight
Local Pickup/Delivery: NA
Ingredient Features: According to the company, their Paleo meals use all organic ingredients. They purchase as many ingredients as they can from local family-run suppliers with sustainable practices. Fruits and vegetables are naturally grown and livestock and fish are naturally raised. They use very little oil but when they do, they use coconut oil, grape seed oil, and sesame oil. They do not use any sugar in their food. Sugar content comes from the ingredients themselves. For some meals they use maple syrup as a sweetener.
Sample Prices: 5 dinner entrees + 5 lunch entrees $149.90/week
For Full Pricing See:  http://trifectanutrition.com/paleo-meal-plans/
Trifecta Paleo Meal Plan Reviews:
Trifecta Nutrition review by winner of giveaway we did in partnership with Trifecta
http://blog.paleohacks.com/trifecta-review/
http://www.paleoista.com/food-and-drink/can-convenience-food-be-healthy/
yelp & facebook
We also did a Q&A with the Founder of Trifecta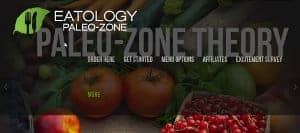 ---
Based out of Bryan, TX
Eatology takes a unique aproach with their Paleo delivery plans by following both Paleo (or Primal if requested) guidelines and Zone principles when designing their meals. The goal of the Zone Diet is to balance proteins/carbs/fats. Each meal consists of clean proteins, natural fats and whole fruit/vegetable based carbohydrates to achieve appropriate hormonal responses while controlling hunger. Eatology meals are sold in different sizes or number of Zone "blocks". Meals are delivered frozen in microwave and oven friendly foil containers with heating instructions and sent from their kitchen in Bryan Texas near Texas A&M University.
Established: 2010
Executive Chef: Laurah Lawson
Training: Mother is chef
Delivery: US Nationwide (Frozen, microwave friendly aluminum containers packed in dry ice cooler) via UPS
Local Pickup/Delivery: Bryan/College Station, Texas
Ingredient Features: Paleo and Primal (Primal meals can be omitted upon request)
Plan Options: 10, 15, or 21 meal packages (one time or recurring)
Sample Prices: 10 Meals – 2 Block size: $105 3 Block size: $127.50 plus shipping 
For full pricing see:  http://www.eatology.co
[Eatology is offering a 20% off promo for our readers (works for first & all later orders), use code "ZACHPALEO" at checkout]
Eatology Zone Reviews:
http://perfectcouplet.com/2012/10/10/eatology-review/
http://eatbcs.com/2015/12/31/eatology-cooks-crave-worthy-foods-with-focus-on-fitness/
https://www.facebook.com/Eatology/reviews/
http://www.yelp.com/biz/eatology-paleo-zone-bryan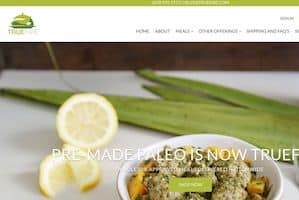 ---
Based out of Atlanta, GA
True Fare (formerly Pre-Made Paleo) was created by Chef Richard Bradford, recipe author for the #1 NYTimes bestselling Whole30 Book. He is also the chef behind the "Ask Chef Richard" column on the Whole30 website. The Whole30 program officially endorses True Fare as a recommended meal delivery service and all meals and products sold by True Fare are Whole30 approved. Some unique offerings from True Fare include meals incorporating exotic meats such as Venison, Elk and Wild Boar. In addition, they offer a wide selection of meals based on various wild caught fish, such as wild grouper, wild snapper and Alaskan Halibut. They also produce their own homemade Paleo snack products such as their Galactic Hog Skins brand Paleo Pork Rinds. Meals sold by True Fare are delivered frozen prepared in their kitchens in Atlanta Georgia. They cover one of the largest delivery areas of any of the Paleo food delivery services, serving not only all 50 states including Hawaii and Alaska, but also Puerto Rico and Canada. All vegetables sourced in their premium True Fare meals are 100% Certified Organic. 
Established: 2012 as RSB Foods
Executive Chef: Richard Bradford
Training: CIA (Culinary Institute of America)
Delivery: US Nationwide (including AK,HI and PR) right to customers doorstep (Frozen, Vacuum Sealed) via FedEx as well as Canada
Local Pickup/Delivery: Customers inside the Atlanta perimeter offered complimentary FedEx Same Day
Ingredient Features: Hand picked, locally sourced, 100% organic produce and Grass-Fed, Grass Finished, Antibiotic-Free, Free-Range, Pastured (All meals the chefs prepare are Whole30® Approved)
Plan Options: Whole30, AIP and Keto plans available. 
Sample prices: 10 Meal Subscription $135 plus shipping
For full pricing see: truefare.com
[Save 5% (one time use) when you use the special code they created for our readers:  "MYPALEOS2018" ]
True Fare Reviews:
http://www.hellobee.com/2014/05/22/pre-made-paleo-a-whole-30-meal-delivery-service/
https://cuttingthecheese.wordpress.com/2012/09/28/pre-made-paleo-meal-1/
http://fenglongphoto.com/review-premadepaleo-com-pre-cooked-paleo-diet-meals/
http://www.tallmomtinybaby.com/2014/07/my-whole30-lifesaver-pre-made-paleo.html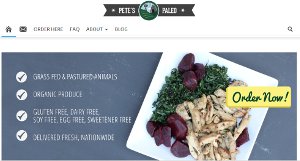 ---
Based out of San Diego California
Pete's Paleo, the creation of Pete and Sarah Servold, is a Paleo Certified and REAL certified San Diego based Paleo delivery service focusing on produce from Southern California. Meals are shipped refrigerated in vacuum sealed packaging and are good for a week or can be frozen. One interesting feature is they do not use any sweeteners at all in their meals (no Paleo maple syrup or honey) using vegetables and fruits to sweeten dishes. In addition to paleo meal subscriptions they offer a 21 day sugar detox program, as well as a Paleo meal plan tailored specifically to those doing the Wahl's Paleo program for MS or other autoimmune conditions. In addition, they  produce an in-house Paleo bacon product with no added sweeteners. 
Established: February 2012
Executive Chef: Peter Sevold
Training: Le Cordon Bleu College of Culinary Arts
Delivery: US Nationwide (refrigerated food shipped in a cooler with gel packs or dry ice, vacuum sealed) shipped via UPS
Local Pickup/Delivery: San Diego, CA Area
Ingredient Features: All produce from "Suzie's Farm" a local organic farm and other local farms and ranches. Sustainable, pastured protein (where appropriate) and grass fed. All meals are free of glnjkmuten, dairy, soy, corn, eggs, legumes, preservatives, GMOs, artificial sweeteners, and natural sweeteners (e.g. honey & maple syrup). They cook with avocado oil, animal fat, coconut oil, and olive oil (below the smoke point). They do NOT cook with butter or ghee.
Plan Options: Pete's Paleo Meals, Pete's Paleo Lite, Eat What You Love, Pete's Paleo Bacon
Sample prices: 10 Paleo meals 189.00 (most orders ship free)
For full pricing see:  http://petespaleo.com
 Petes Paleo Reviews:
http://calorielab.com/news/2012/08/06/test-driving-the-paleo-diet-petes-premade-paleo-unboxing-and-day-1-of-the-caveman-challenge/
http://stupideasypaleo.com/2013/04/23/petes-paleo-review/
http://jenjoandpaleo.wordpress.com/2014/08/15/review-petes-paleo/
http://www.healthhomeandhappiness.com/review-petes-paleo-premade-paleo-meals-just-heat-and-serve.html
facebook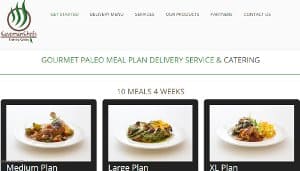 ---
Based out of Denver, CO
Caveman Chefs is a local Denver area Paleo meal service offering both local catering as well as nationwide delivery of their Paleo meal plans. They focus on local Colorado area meats, seafood and produce, with the majority of dishes based around the availability of an ingredient from a specific local area farm. Several of the founders of Caveman Chefs hail from the popular former Caveman Cafeteria food truck team.
Established: 2014
Chef/Owners: David Kenney, Edward Coulombe
Operations Manager and Partner: Zach Kopp
Training: CIA (Culinary Institute of America) Graduate, 30+ years food service management, 15+ event management/operations
Delivery: US Nationwide (most of lower 48 states) with UPS
Overnight shipping –  shipping cost depends on proximity and amount ordered. Locally deliver via UPS Ground for $10, and as low as $20 for out of state clients, but based on UPS charges for guaranteed 1-2 day shipping.
Local Pickup/Delivery: Several Denver Area Locations:
Barclay TowerDenver, CO 802021625 Larimer St
CrossFit Colfax Denver, 80218 1516 Emerson St
CrossFit Broadway Denver, 80203 227 Broadway St
Blunt Force Denver, 80211 2031 Bryant ST
CrossFit MODIG Higlands Ranch, 80126 7048 E County Line Rd
CrossFit Greenwood Village Greenwood Village, 80111 8081 E Orchard Rd #123
Gates Tennis Center Denver, 80209 3300 E Bayaud Ave
MBS CrossFit Broomfield, 80021 10900 120th Ave
CrossFit Jefferson Park Denver, 80211 2441 Eliot St
CrossFit Golden Golden, 80401 720 Corporate Cir
MBS CrossFit II Arvada, 80007 6945 Indiana Ct #700
CrossFit Sanitas Boulder, 80302 2525 Arapahoe Ave
Iron Tribe Fitness Greenwood Village, 80111 5996 S Holly St
Orange Theory Fitness Centennial, 80016 15735 E Arapahoe Rd
Back Country CrossFit Highlands Ranch, 80129 8990 Barrons Blvd
All Pro Fitness Lakewood, 80232 11068 W Jewell Ave C10
South Suburban Family Medicine Littleton, 80122 7720 S Broadway #480
Denver Vitality Center Lakewood, 80227 3110 S Wadsworth Blvd Ste 303
Sample prices: Prices on the website are quoted by the month. For example, 40 "medium" meals for $550 = 10 "medium" meals per week for approximately $137.50 + shipping, They currently are offering a trial package at $100 where they set a new client up with 4 fresh meals, 2 frozen and both of their bottled sauces (Paleo Chipotle BBQ, and Paleo Sriracha)
For Full Pricing See: http://www.cavemanchefs.com/
Note: Save 10% off your first or monthly recurring order if you mention the Caveman Chefs Promo Code #ZachmyPALeos – a special discount for readers of this blog! Just mention the code when calling or in the notes in the contact form.
Caveman Chefs Reviews:
http://www.yelp.com/biz/caveman-chefs-denver
http://www.businessden.com/2015/01/13/paleo-meal-service-evolves-bankruptcy/
History/Mission Statement:  CavemanChefs was founded in 2014 by Chef Owners David Kenney, Edward Coulombe, and Partner & Operations Manager Zach Kopp. We have been friends, more like family, for over 25 years! As a Colorado native, our Sous Chef Johnny Hurley is happy to be based out of Denver! Here at CavemanChefs, we love to eat, and know you do to! That fact is what drives us. We are champions of environmental stewardship, sustainability, and humanely raised meats.  We offer pasture raised beef and lamb, 100% antibiotic and hormone free pork, and chicken, and the worlds best Verlasso Salmon. We do our very best to buy local, organic, and seasonal vegetables, while also providing the variety and quality our customers demand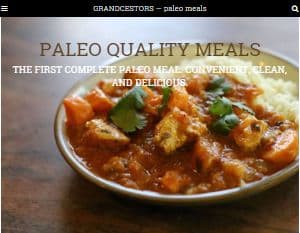 ---
Based out of Denver, CO
Grandcestors (formerly Noble Savage) is a Paleo frozen meal company based in the Colorado region. Their meals are available in the freezer section on Whole Foods in Colorado, New Mexico, Utah and Kansas as well as online grocery services in the region. They offer nationwide delivery of their meals to homes or businesses anywhere in the continental U.S. via their website. Their microwave ready Paleo meals look largely like other frozen entrees in the grocery store freezer section, but focus on whole food paleo friendly ingredients, in addition to maintaining a macronutrient balance of roughly 40% paleo friendly carbs, 30% protein and 30% fat. They vaccum seal all meals within the microwavable packaging, in an attempt to eliminate freezer burn and resulting in an expanding self vented plastic film that when microwaved keeps the steam in and cooks the food evenly.
Established: 2013
Executive Chef:  NA
Training: NA
Delivery: Continental 48 US States (paleo frozen meals packaged in microwave friendly, BPA free, vacuum sealed containers) via FedEx
Local Pickup/Delivery: Available in the Frozen Food case of select Whole Foods Market stores in Colorado, New Mexico, Kansas, and Utah – in addition, meals also sold via the Door to Door Organics grocery service
Ingredient Features: According to the company, the only ingredients in a GRANDCESTORS meal are vegetables, high quality proteins, spices, and healthy fats (coconut and olive oil). All frozen and paleo delivery meals have all ingredients and nutritional info listed on the front of the package, as well as being available from the meals page of the Grandcestors website.
Sample Prices: 10 meals (entrees) cost $99.90 plus shipping (meals are priced a la cart)
For Full Pricing See: http://grandcestors.com/
Grandcestors (formerly Noble Savage) Reviews:
http://paleomovement.com/noble-savage/
https://www.facebook.com/NobleSavageFoods/reviews
http://companyweek.com/company-profile/grandcestors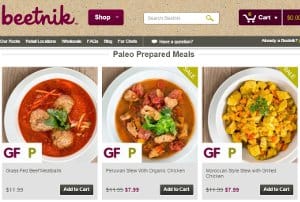 ---
Based out of East Austin, Texas
Beetnik foods offers a line of Paleo frozen entrees certified as Paleo friendly by The Paleo Foundation. This is in addition to their line of frozen grass fed beef, wild caught seafood and free range organic poulty ingredients. Beetnik organic frozen meals and products are available at select health food stores across the U.S. as well as available via nationwide delivery by purchasing from their website. Note that not all of the meals in their organic frozen meal line are Paleo, so be careful to select only those meals marked paleo friendly when choosing meals.
Established: 2012
Executive Chef: David Perkins
Training: Le Cordon Bleu Paris
Delivery: Continental US (paleo frozen meals, packed with dry ice) via FedEx Ground
Local Pickup/Delivery: Available in paleo to go containers in the frozen foods section of some nationalwide health food stores (keep in mind that not all Beatnik meals sold are Paleo)
Sample Prices: 10 Paleo Meals through their online store $79.90 plus shipping
For Full Pricing See: www.beetnikfoods.com
Beetnik Foods Paleo Reviews:
http://www.whywelovegreen.com/2012/11/beetnik-foods-natural-organic-food-delivery-review.html
http://paleomovement.com/beetnik-foods/
http://www.yelp.com/biz/beetnik-foods-austin
You Have Options Getting Paleo Meals Delivered
So there you have it, some great and in many respects different paleo meal service options to consider. Depending on whether you live in a major city, you could choose a local provider in your city for paleo to go meals. However for everyone else, the above companies ship anywhere, so you can choose based on taste, food restrictions, price, fresh versus frozen or any number of factors that are best for you and have them deliver to your door.
Although the options for paleo pre made meals in your community might be limited, everyone in the US has the option to purchase from these companies and get paleo diet meals delivered – some of the above companies are now even offering to ship individual meals rather than subscriptions as in the past. As you can see from the amazing options above getting grain free, gluten free, organic paleo meals delivered is easier than ever.
Have you tried one of the paleo diet pre made meals services above? More than one? Is there a particular meal you absolutely love from one of these paleo delivery food companies? Is there another delivery company we should add to this list? We would love to hear about your experience getting paleo delivered meals! Please leave your feedback in the comments below.