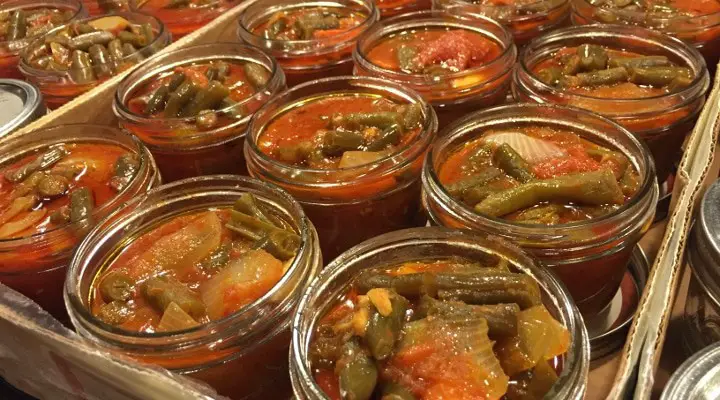 First up from quick paleo meals from this week, a quick, paleo, easy cucumber appetizer dish:
We cover the following....
Paleo Smashed Shanghai Cucumber Salad, Appetizer
These garlicy cucumbers are truly addictive! This is a slight modification for Paleo eaters of a unique recipe that has been gaining traction online. I personally find these cucumbers really refreshing, but they are great even in the winter. These are also a quick appetizer to put together as a snack while you work on a main course.
Ingredients: Cucumber, Garlic (can omit), Rice Vinegar (can substitute for White Wine Vinegar), Toasted Sesame Oil, Crushed Red Peppers (spice), Salt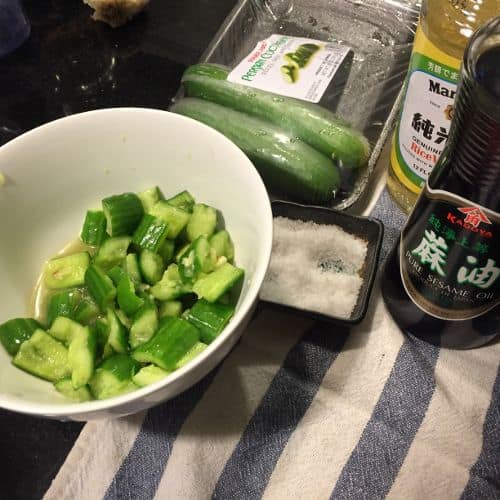 Here are the steps I followed (essentially combining all seasonings in a bowl with the cucumber and stir):
cut into 1 inch chunks some small cucumbers (I used the little persian cucumbers that are becoming increasingly common – which are great for this). The recipe suggests taking the flat end of your knife and smashing the cucumbers a bit – this seems to help them absorb the dressing
add the cucumbers to a bowl and top with a couple of pinches of salt (let the cucumbers marinate in the salt in the refrigerator as you work on the garlic)
mince one or two cloves of fresh garlic (or feel free to use less or omit if you are not a garlic lover, it is still delicious)
Take the cucumbers out of the fridge and
add 3-4 tablespoons of rice vinegar (to taste)
Add 1-2 tablespoons of toasted sesame oil (to taste)
Add red pepper flakes (to taste)
Finally stir the ingredients, adjust seasonings to taste and either eat it there or chill the cucumbers a bit more in the refrigerator (for maximum the refreshing effect)
Next, there was one day this week that we decided to go slightly fancier with desert. Even though it was a weeknight, this quick desert can be whipped up very quickly. All the ingredients are essentially pre-made and just combined. We had some strawberries that needed to be eaten, so this is a nice way to turn a handful of strawberries into something more impressive and restaurant quality.
Paleo Whipped Coconut Cream with Strawberries, Almond Slivers and Toasted Coconut
Here are the steps to whip up (see what I did there) a quick desert with some ingredients you likely have already: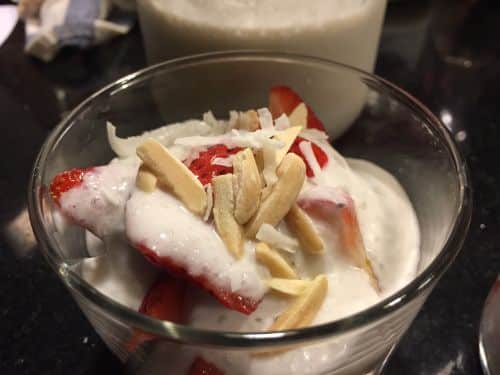 The only real work here was whipping coconut cream into a paleo whipped cream alternative.
We typically do this as follows:
We find a jar or bowl (in this case we use a jar we cleaned out an saved – ideally with a large neck) and use a hand blender (alternatively you can use a blender or food processor, it's just more to clean up)
Add canned or tetra pack coconut cream. The brand we have been using recently is Arroy D, which contains only coconut and water. Many brands contain gums and other ingredients, which I avoid for health reasons but also interfere with the consistency of the whipped coconut cream. We typically like to refrigerate the coconut cream prior to making this. It further separates out the water from creamy coconut.
We add a couple of tablespoons of a paleo vanilla extract as well as a bit of honey to taste. I personally like it only very lightly sweetened, but this is a personal preference.
Finally, whip up the coconut cream. It can take a minute or two to fully whip. However, once you get a pretty fluffy consistency, don't overdue it, as too much whipping can cause it to actually lose light airy consistency. It's a bit of an art – luckily if it's slightly under whipped or slightly over whipped, it's still delicious!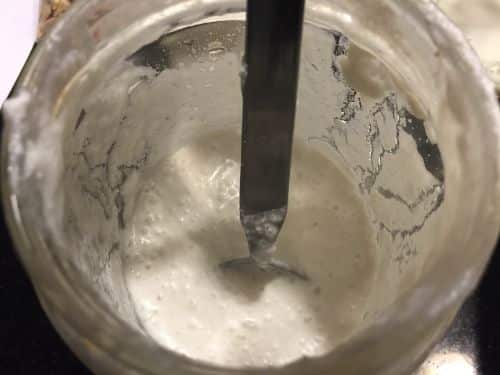 Finally, we sliced the strawberries (any berries will work), add a couple of dollops of the coconut whipped cream, and top with some sliced almonds and dried organic coconut (both very much optional – it's great with just the berries and coconut cream as well)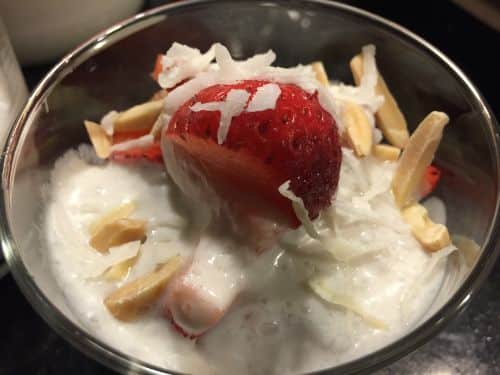 Next up is one of my truly everyday paleo staple meals for weeknights these days, paleo steamed arthichokes. Quick, cheap, delicous, what more could you ask for.
One of our favorite cheap, delicious and simple no fuss Vegetarian Paleo weeknight Meals – Artichokes with Grass Fed Butter
I have to admit, I have always been a fan of steamed artichokes. So I was so happy when I realized I could continue to eat them on the Paleo Diet.  After all, it is just a steamed vegetable, that's it. And my favorite dipping sauce has always been butter. Kerrygold grass fed butter is even better than the butters I have used in the past, so no deprivation there. If you are avoiding butter, a homemade vinaigrette for dipping the leaves can also be delicious, so you can still enjoy steamed artichokes on the paleo diet.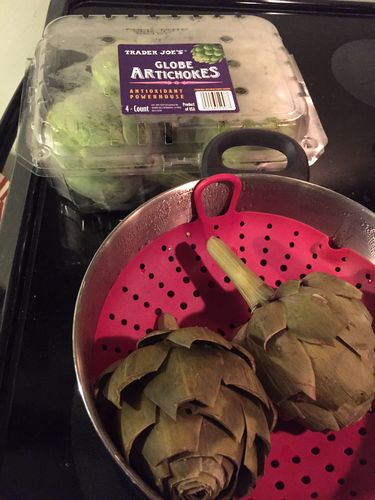 There is a common perception that artichokes are a bit of a splurge, but luckily we have been able to find them consistenty at our local Trader Joes for $2.99 for 4. This is enough for a fairly filling dinner for 2 people (2 artichokes each) for $1.50 each plus the cost of a tablespoon or two of butter. Not exactly an expensive meal! I wish they were organic as well, but finding organic arthichokes is much more difficult – definitely a plus if you can find them though.
For those who have not steamed artichokes before, here are the steps we follow: Take a knife and cut off the ends of the leaves at the pointy end, as well as the very end of the stems that have turned a dark color. We usually cut off the pointy ends of the leaves with a scissor as well, just to prevent ourselves from getting pricked when eating them, but you could skip this part if you are feeling brave.
Then simply fill a pot with an inch or two of water and a steamer basket, drop in all of the artichokes you want to eat and bring it to boil on high, with the pot covered then reduce the temperature to a simmer and simmer/steam them for 30 mins or so, check on the artichokes and see if the leaves come off easily when tugged. We have found the timing can vary from 30 to 60 mins, so you will have to check, but other than waiting for them to be done, there is no other work needed – so this is a very hands off dish. We often add a bit of fresh lemon juice and a little extra salt added to the melted butter for flavor.
Quick Paleo Cremini Mushroom Saute with Parsley or Garlic Chives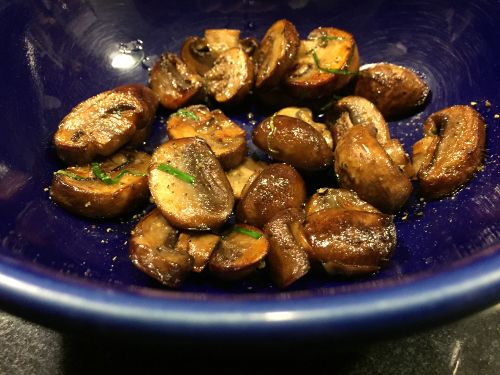 This is another one of my go to dishes when I need a fast paleo meal I can throw together as fast as possible. I have had a similar mushroom with parsley dish as spanish tapas restaurants for years and always love it. Luckily, all of the ingredients in the dish are in fact paleo.
This recipe is a about as simple as you can get. All you need are mushrooms: white button mushrooms, cremini mushrooms (what I used below) or even shitake or my favorite beech mushrooms are all great options, and some optional parsley, fresh or dried, or chives or optional garlic and grass fed butter (and/or optional olive oil, although butter works and tastes better). The steps are just:
clean off the mushrooms and slice them into uniform 1/4 inch or so slices
heat grass fed butter like kerrygold in a skillet on medium-high heat until the butter is melted, add salt to the butter depending on whether you are using salted or unsalted butter
Add the mushrooms and avoid moving them around too much – let them get nicely brown and slightly crispy before flipping them with a spatula
As you are finishing up browning the second side, add in the parsley, garlic chives or garlic and cook for a minute or two, stirring occasionally. You will want to add salt and pepper to taste and cook until the parsley or garlic is to your desired consistency and flavor (generally less is more with garlic and fresh herbs)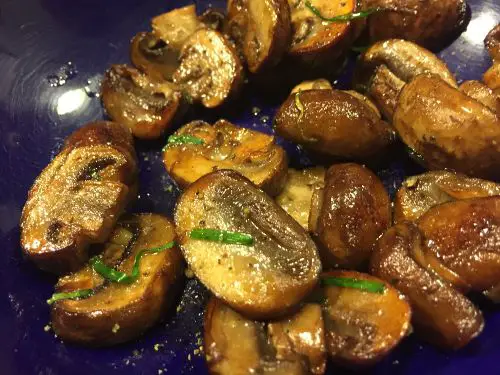 Paleo Greek Fasalia – Green Beans in a Tomato Based Stew with lots of Garlic, Olive Oil, Carrots and Onions
For weekday lunches, I do utilize batch cooking to make a massive amount of a staple paleo dish, typically during a free weekend day and freeze individual servings to take to work with me during the week or when I need to grab a quick bite at home and don't have time to cook.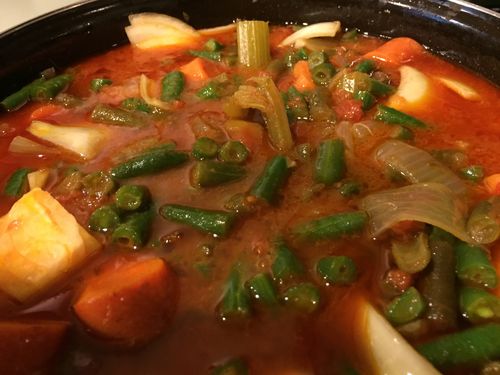 Having gone through tons of these batch cooking sessions with different dishes, I now have a better sense which recipes work really well for these batch cooking sessions. I typically try to stick to recipes which: I truly love to eat, I will not get sick of eating multiple times a week over the next few months, do not require too much prep so that I can make a massive amount quickly, are healthy and are the type of dish, such as stews and soups that freeze well and tend to improve over time. This dish, a paleo take on greek Fasolia (green beens), passes all of these criteria with flying colors. I could eat this dish all the time and be thrilled, and so often do.
These are basically all of the ingredients for the dish: garlic, canned tomato (look for one with just tomatoes if possible), green beans, celery, fresh thyme, fresh oregano, carrots, onions and tomato paste (again, look for a brand which is just tomatoes) and lots of olive oil. The beauty of this dish is that you simply chop up the onions and carrots and then everything else can be dumped into the recipe whole.
If you purchase frozen organic green beans like I did, you don't have to wash or prep green beans either. And since this recipe is basically a stew, the ingredients soften on their own and you can't tell the difference between adding everything whole at once or meticulously chopping everything.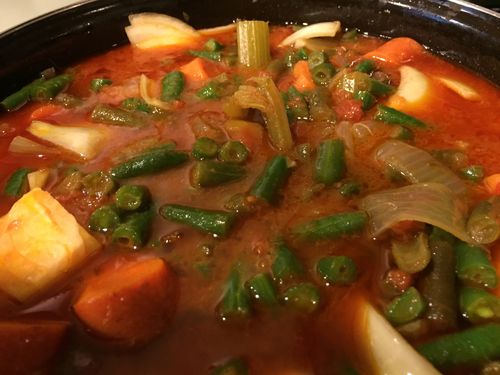 Directions: This recipe is extremely forgiving, but here are the general steps to put the stew together.  After chopping the several onions in large chunks, add enough olive oil to liberally coat the bottom of a large stock pot and put it on medium heat and fill up the pot with onions so that they cover the bottom of the pan. Sautee the onions until they are soft. At this point, add everything else in the dish – canned tomatoes, green beans, whole cloves of garlic, whole sprigs of fresh thyme and oregano, carrots chopped into large pieces, some salt and tomato paste, a lot of olive oil (typically a cup for every couple of cans of tomatoes) and some water to thin the stew a bit. Don't worry if you need some time to chop the carrots, you can throw everything else in, then the carrots. Finally cover the pot and bring the contents to a boil. As soon as you see the pot beginning to bubble, turn the heat down to a simmer and simmer the soup for at least 45 minutes (I typically make huge pots worth of this stew and will leave the pot simmering on the stove for several hours if I can spare the time until the carrots are extremely soft and the fresh herbs have all but disintegrated, allowing the flavors to meld together).
Finally, I portion out the stew into lot of containers (I like the glass ball jars shown above as they freeze well, are relatively cheap containers compared to other glass tupperware optons – I avoid plastic tupperware when possible).
Snacks purchased this week – Macadamia Nuts from Mauna Loa (the best quality) ordered from Amazon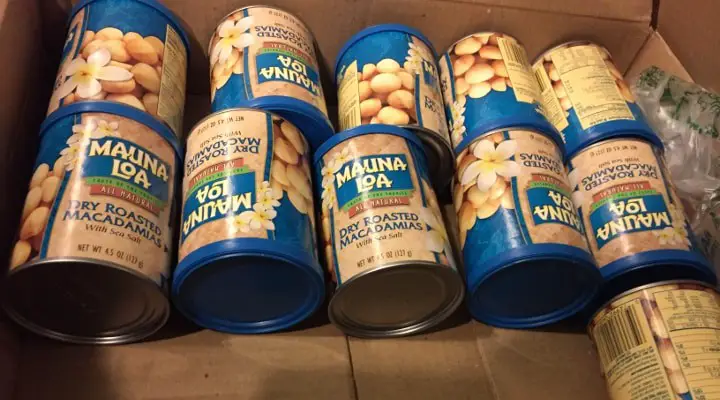 This week a delivery of Mac Nuts arrived so I thought I would mention it here. Macadamia Nuts are one of my go to Paleo snack options. They are extremely delicious and addictive, filling and heart healthy (shown to reduce the risk of heart disease). I had figured out a way to get these Mauna Loa Macadamia Nuts cheap, relative to anywhere else, so I wrote a post this week about it if anyone is interested in my secret. Although nuts are high calorie, they are a good option for keeping calories up for those who aren't necessarily trying to drop weight further on the Paleo diet, which is the case for me.
I snack on Mac Nuts at my desk at work between meals, at home while watching TV, or even pack them for trips where I don't know if I will have trouble finding Paleo Friendly foods between major meals. I use them as a form of insurance when I'm not sure if I'll have trouble finding good food options. And I'm never disappointed getting to eat more Mac Nuts. These 4.5 once cans are a good size for stashing in a bag or backpack.
So that a quick wrap up of some of the foods I ate this week. I hope it gives some inspiration for things you might incorporate into your diet as you are trying to work Paleo friendly meals into your lifestyle.