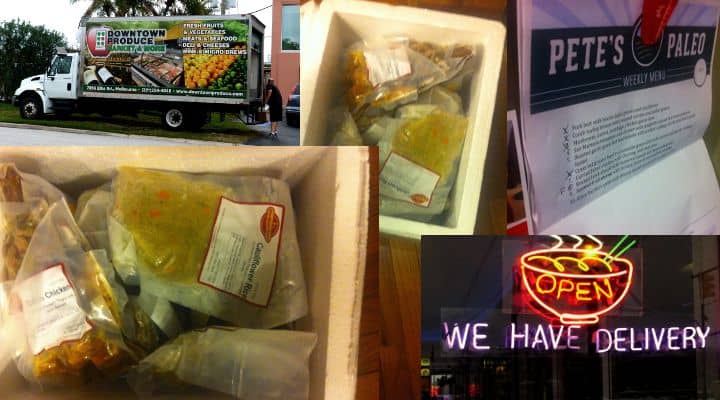 Are you looking for a way to save some cooking time each week by getting paleo meals delivered to your home or office? In this article, we weigh three different strategies that make paleo delivery a reality: paleo meal delivery services, local paleo restaurant takeout or hiring a paleo private chef. Whether you prefer to work with local chefs, catering companies, restaurants, or want to use one of the increasingly popular paleo meal delvery services sprouting up, we cover these different options to help you decide which is the best for your current situation.
We cover the following....
Option 1 – Get Paleo Meals Delivered by a Nationwide Paleo Delivery Service
No matter where you live in North America (and more recently the world) there is likely a paleo meal service that will deliver to where you live. The below list covers companies that will deliver paleo meals to anywhere in the US, some also covering Hawaii and Alaska and even Puerto Rico and Canada. Below are some companies you might consider. With a number of great paleo food delivery services to choose from, it has never been a better time to be paleo.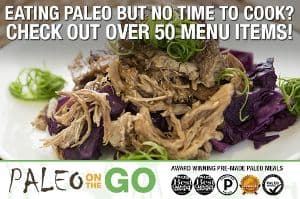 Paleo on the Go
Paleo on the go is a gourmet paleo meal delivery service based out of Florida. Similar to Pete's, they ship weekly meal plans to your door ready to eat that week. They have won numerous awards, such as the best of paleo magazine for several years. They are definitely worth checking out if you are considering a Paleo meal delivery service. They have a focus on keeping costs as low as possible for their gourmet meals, despite choosing high quality grass fed meats and wild seafood products. See www.paleoonthego.com for menus and prices. Note: Paleo on the Go has offered a 10% off coupon code for readers of this blog: use "MYPALEOS" at checkout for 10% off your entire order – one time use.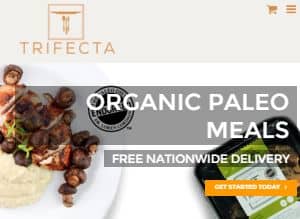 Trifecta
Trifecta is a newer paleo food delivery service on the scene based out of Davis California. They are backed by Loren Cordain, the founder of the Paleo Diet. Trifecta offers paleo meal plans which like Pete's Paleos arrive refrigerated rather than frozen. They deliver nationwide, with free delivery thrown in as part of the package. See trifectanutrition.com for current meal plan prices.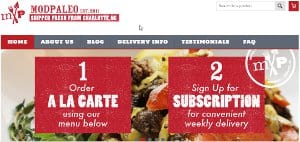 modPALEO
Note: modPALEO has more recently rebranded themselves The Good Kitchen, for our detailed write up on The Good Kitchen including reviews, see our in-depth coverage on them.
Mod Paleo is another option for nationwide paleo meal delivery services, based out of North Carolina. They focus on partnering with local area farms to source their meats and produce. They offer their meals in frozen reheatable trays so that they are easy to pop in the microwave and defrost. In addition, most of their meals are able to be purchased individually, so you can choose to pick out as many, or as few of each type of meal as you are interested. See thegoodkitchen.com (they recently rebranded from modPALEO to The Good Kitchen) for prices and menus. The Good Kitchen is offering a 15% discount for our readers. Use promo code "mypaleos" at checkout for 15% off your first order.
For our detailed write up on The Good Kitchen including reviews, see our in-depth coverage on them.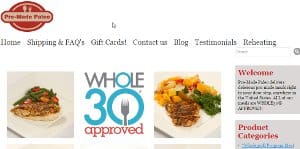 Pre-Made Paleo
Pre Made Paleo offers paleo frozen meal delivery from their base in Atlanta. They offer a number of unique products including paleo meal plans, paleo meals made with exotic meats such as venison and elk meat, home made pork rinds, vegetable (and often vegetarian) paleo side dishes, and soup bases such as homemade vegetable stock. See premadepaleo.com for current prices and all meal plan options. Pre-made Paleo has offered a 5% discount for our readers on all orders, enter promo code "MYPALEOS2018" at checkout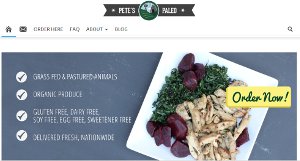 Petes Paleo
Petes Paleo uses overnight shipping services to deliver paleo chef created meals to you in days from their base in San Diego. The meals are ready to heat up in the microwave or stovetop. Pete's doesn't freeze their food, delivering to you refrigerated meals and vaccum sealed in a styrofoam cooler, ready to be heated and eaten that week (or frozen if there are leftovers). They are extremely picky about ingredients, working with local San Diego area organic farms growing fruits, vegetables to use those that are in-season and farms raising grass fed and grass finished livestock. See: https://www.petespaleo.com/ for a complete list of prices and meal plans offered through Pete's Paleo.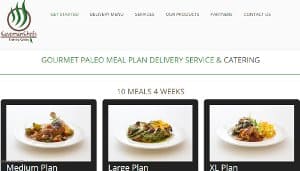 Caveman Chefs
Caveman Chefs
Caveman Chefs is a Denver based Paleo Delivery service serving clients nationwide. The three partners who started the company were initially involved with one of the original paleo restaurants and catering services in Denver. Their meals tend to be on the more adventurous side and they utilize local, in season specialty produce from farms and ranches throughout Colorado. See cavemanchefs.com for full pricing and menus. Caveman Chefs has extended a 10% off discount on all orders when you mention promo "#ZachmyPALeos" when calling or via the notes on your order.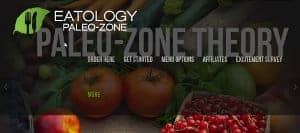 Eatology
Eatology is a nationwide paleo prepared meals service based out of Bryan Texas that offers paleo meals portioned to follow the zone theory in which the portions and amount of protein, fats and carbohydrates are kept in a specific balance. The goal is to offer portion controlled meals that keep your glycemic index in balance and lead to less inflammation, better health and weight control. See http://www.eatology.co to learn more about Eatology's Paleo-zone meal plans. Eatology is offering a 20% off promo for our readers (works for first & all later orders), use code "ZACHPALEO" at checkout
For our detailed write up on Eatology including reviews, see our in-depth coverage on them.
For our detailed write up, including reviews, see our in-depth coverage on Eatology.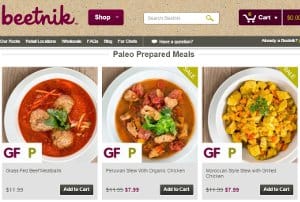 Beetnik Foods
Beetnik foods is a paleo frozen meal company based out of Austin Texas. Their paleo line of frozen dinners can be found at select Whole Foods markets and health food stores nationwide. In addition, you can also order their pre-made meals from several grocery delivery companies as well as directly from the company. For more information on Beetnik Foods and their prepackaged paleo meals see our detailed write up.   In addition to the nationwide services mentioned above, we have written articles covering local paleo delivery services offered in specific cities in the US.
Option 2 – Get Paleo Meals Delivered by Private Local Chef or Catering Service
Despite where you live, there are likely local catering or independent chefs in your local area. The easiest option is doing a google search to see if there is someone advertising specifically that they provide catering and meal delivery services specifically for the paleo diet. But even if that is not the case, that doesn't mean that a talented chef wouldn't be able to quickly tailor a meal plan based on the paleo guidelines and principles. In general, this is a longer term commitment, as it has to be worthwhile for the catering company involved to create and tailor a menu for you. However, there are also many chefs that offer a one time meal as an alternative option, where they either bring or fix dinner at your home based on specifications of a meal plan that you request. A couple of place to find private chefs and catering companies are:
Google – searches for paleo chef services, paleo catering are a good start, as are chefs specializing in gluten free meals would be a good place to start. You may need to send over an overview of the paleo diet allowed and unallowed foods so that they have a sense of what the requirements are when coming up with a meal plan.
Craigslist – Many chefs advertise their services on craigslist as well in specific cities. One advantage of craigslist is that this likely equates to a s smaller operation, and possibly correspondingly lower prices. It might be easier to get a chef on craiglist to commit to making a single meal or a one week trial period menu. Given the ad-hoc nature of craigslist you may want to ask for references and have a conversation with the chef who will be doing the meal preparation so that they have understood all of your requirements when coming up with the proposed menu.
Taskrabbit– A newer service related to hiring people for individual jobs, taskrabbit advertises itself as a place to hire people to shop for your groceries or even cook meals for you. It may be possible to find someone that was trained as a chef as in the linked post or to simply provide links to paleo recipes and have person do the grocery shopping and following of the recipes.
Option 3 – Order Paleo Delivery from a Local Paleo Friendly Restaurant
Depending on where you live, it may be possible to order takeout from one of your local restaurants that fits with the criteria of the paleo diet. This continues to get easier as restaurants proliferate that support both the paleo diet and gluten free eating requirements. That said, the progress is not as fast as many would like, and currently ordering takeout that conforms to the paleo diet is still definitely a challenge in most locations, with the exception of a few major cities. It is often typical that the kinds of farm to table restaurants that value sourcing local, high quality ingredients are the types of restaurants that do not offer takeout or delivery. However with some careful research, you may find some option out there in your area. We continue to write articles that highlight restaurants in major metropolitan areas that offer paleo friendly options, so checking if there is an article already researched by someone on the paleo diet for your metropolitan area is a good place to start. If you are researching paleo takeout options in your area, the first best place to look is at paleo friendly restaurants in your area. Several restaurants may be willing to offer takeout that you can pick up from their bar or reception area. This does mean that someone needs to pick the food up, but this still save a lot of time versus dining in. In addition, this is the starting point for the next step. If you are not able to pick up your food from one of the paleo restaurants in your area, there are an increasing number of services that offer either food delivery or individuals for hire that can do these types of tasks for you. Here are just some of these services, that may be available in your area: http://eat24.com/ https://postmates.com/ http://ubereats.com/eats/ https://www.doordash.com https://www.trycaviar.com/ And this brings me to the most all purpose task service of all of them, task rabbit. If you can find someone on task rabbit in your particular area, you can likely get them to pick up takeout for you from your paleo friendly restaurant of choice. https://www.taskrabbit.com/m/shopping-delivery Getting paleo delivery from local restaurants with one of the above services is definitely a cost versus reward kind of scenario, so you will have to make your decisions bases on your own financial situation and amount of free time. But it's nice to know that you have options. Have you tried any other services that have worked for you to get paleo meals delivered? Have you found another way of hiring someone to help with some of the paleo cooking for your household? Have any general tips for others? We'd love to hear from you! Please leave your findings in the comments below.