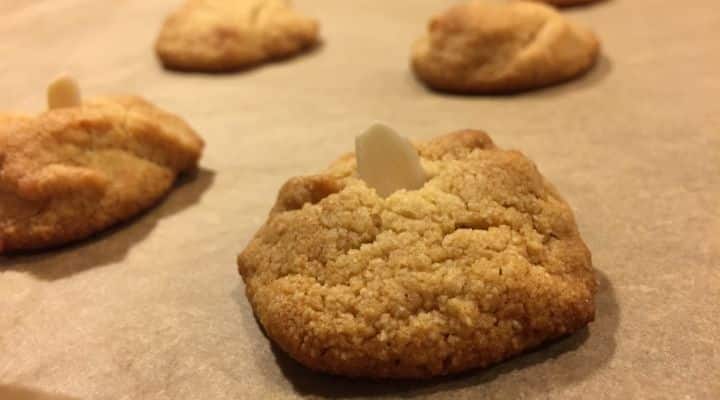 This continues a recent series I have been publishing highlighting our everyday weekly meals for the week. It has been fun keeping track of what paleo dishes we have been making. I hope they provide some inspiration into quick meals you might make on a normal weeknight or weekend afternoon.
There was a definite trend towards asian dishes this week, from homemade Paleo compliant Thai red curry paste and then Thai coconut mushroom soup, Thai Red Coconut Curry with Sweet Japanese Pumpkin and Thai Mushroom Krapow to Chinese Almond Cookies and Japanese Style Kabocha Squash with Ginger and Garlic. But there were some European/American style dishes thrown in as well, such as Zoodles with Spicy Olive Oil and Garlic Sauce to Garlic and Spiced Brussels Sprouts. 
We cover the following....
Asian Style Paleo Cabbage Salad with Cilantro and Carrot (Fresh, all raw, except for Red Boat fish sauce)
This paleo cabbage slaw/salad is quick dish that you can easily throw together on a weekday night after work. It tastes fairly substantial for a salad, with the almond butter and sauce, but you simply throw the ingredients in a bowl, mix them up until they are soft and blended and you have a quick delicious meal (or at the minimum a delicious side dish).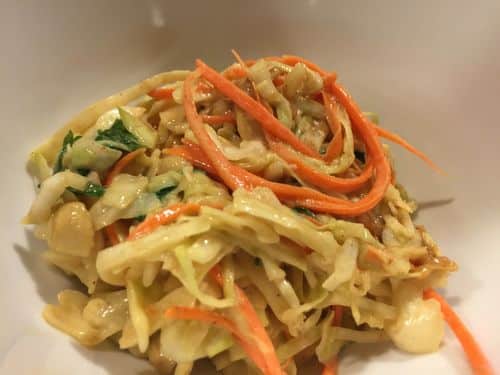 The ingredients for the paleo cabbage salad: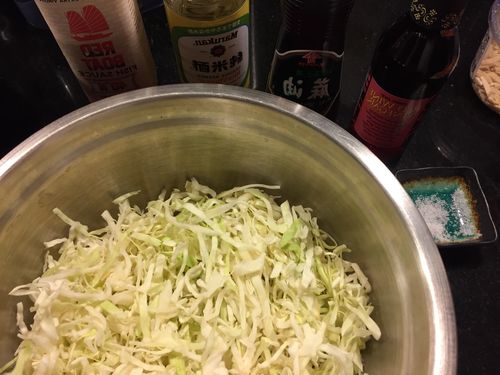 Green cabbage, shredded (if you are looking to save lots of time, Trader Joes and I believe Whole Foods sell pre-shredded fresh cabbage in their produce sections)
Shredded carrot (optional, but gives a nice additional depth the texture)
Cilantro (also optional but it does take the taste to a whole new level – I have to say I love cilantro though so I am not impartial)
Red Boat Fish Sauce (our favorite and also gluten free, paleo fish sauce with no sugar)
Rice Vinegar (does taste great and I believe most people consider it paleo because it's just vinegar – but if you are not comfortable just used white wine vinegar – we like the Japanese Marukan brand)
White wine vinegar (we usually use some of both vinegars for the best flavor)
Toasted Sesame Oil (We love the Kadoya Japanese brand)
Almond Butter (just scoop out a few heaping spoonfuls)
Cashews (optional, but again they really give a delicious crunch to the salad)
Salt
A closeup of the ingredients – mmm, cilantro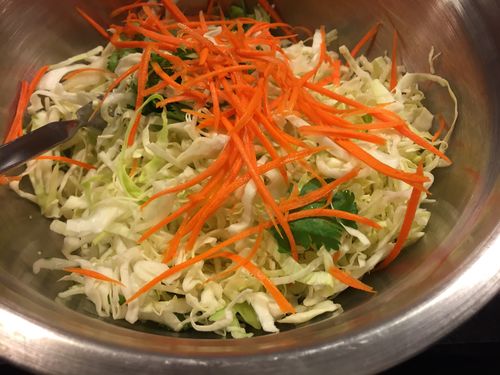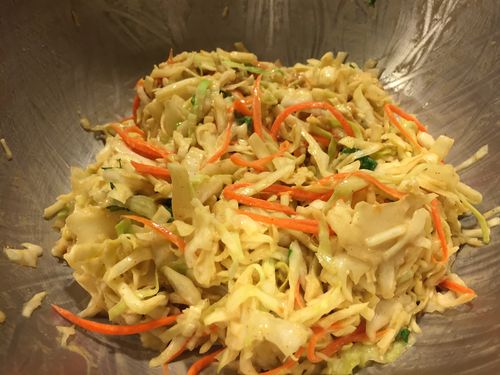 After adding the almond butter, add some vinegar, toasted sesame oil and fish sauce and start to mix it up in the bowl with a spoon. You might want to go light on the vinegar, fish sauce, salt and sesame oil at first. That way you can taste it and incrementally add more of each until it matches your taste preferences.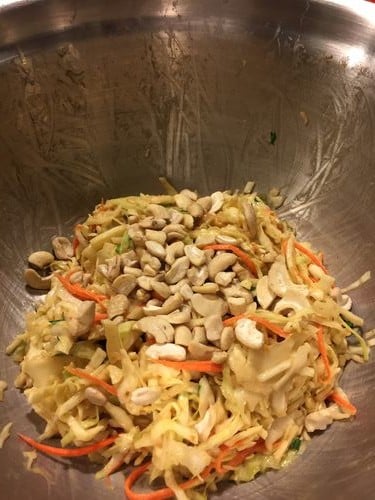 Add it to a nice bowl: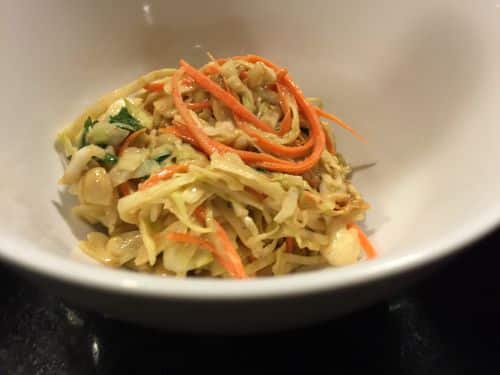 And there you have it, a fast, delicious asian style cabbage slaw or cabbage salad. I'm pretty addicted to this stuff, I must say: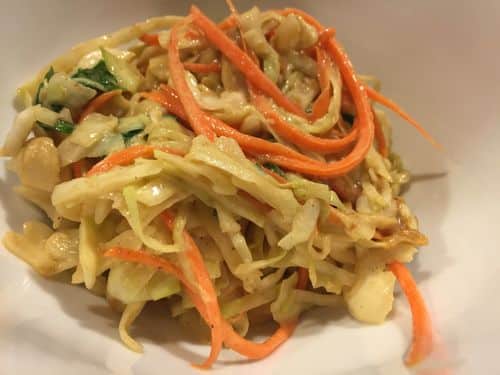 Paleo "Chinese Style" Soft Almond Cookies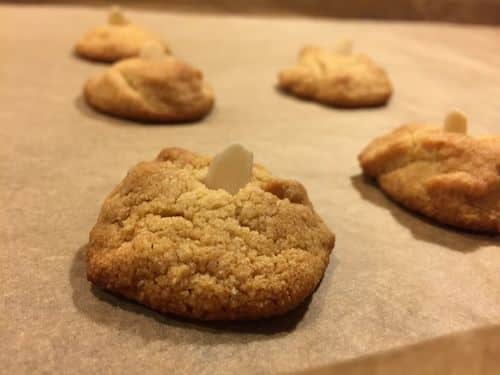 These are one of my favorite cookies in the world. I think I actually like these better than just about any cookie I have ever had, including prior to starting the Paleo Diet.  First of all, they smell AMAZING. Your house or apartment couldn't smell any better than the combination of organic vanilla and organic almond extract wafting out of the oven. Second, if you time it right (basically only cook them for 3-5 minutes) they are also moist and chewy. As I'm writing this, I wonder why I don't make these more often. A big thank you to Texanerin for the original recipe for these, we modified the recipe slightly (no coconut flour, more almond extract, honey instead of maple syrup, a little less sweet) but it is basically her recipe. 
The ingredients to make the almond cookie dough are fairly simple:
Almond Flour (I have used both blanched skinless almond flour and the cheaper Trader Joes almond flour with the skin bits included, I would spring for the blanched almond flour, it makes the texture really light, and moist but either could be used in a pinch)
Coconut Oil
Organic Almond Extract
Organic Vanilla Extract
Baking Soda
Honey (I tend to go very light on the honey, a very little bit goes a long way)
Salt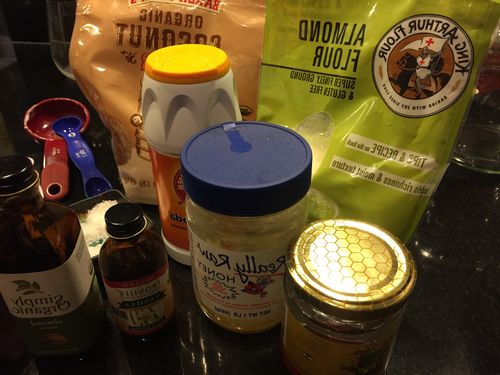 That's it. There are no eggs in the recipe so the cookie dough can be eaten raw (which you might feel compelled to do after smelling the almond and vanilla extracts)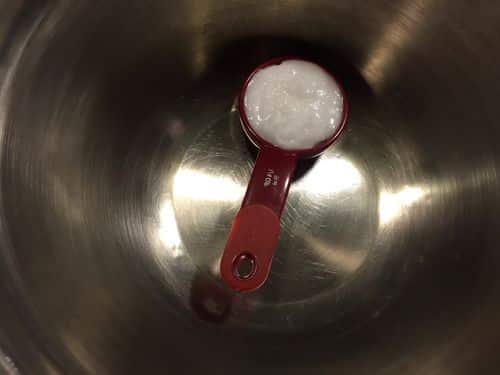 I like to use a large mixing bowl (but any bowl will do). Add a 1/4 cup of coconut oil (it is easier if you can heat it slightly just to get it to the liquid form, but solidified is also possible, just harder to mix)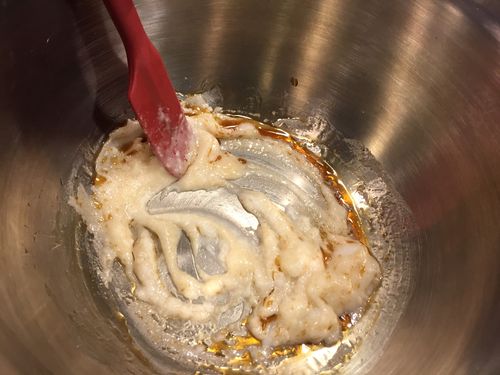 Add in a teaspoon of vanilla extract and 1 tablespoon of almond extract (I sometimes add a little more of both, but for your first batch you might just want to start with one and one). Add  in 1 tablespoon of honey and mix the contents of the bowl until they are somewhat consistent.
Then add 1 & 1/3 cups almond flour, 1/8 teaspoon of salt (kosher or course sea salt gives a nice texture to the cookies) and 1/2 teaspoon baking soda. Mix everything in the bowl and kneed the dough until you get a ball of almond cookie of fairly uniform consistency.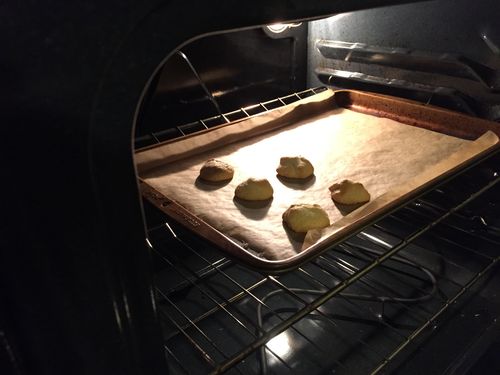 Preheat an oven to 350. Line a baking sheet with parchment paper or aluminum foil. Make small balls of cookie dough about 2 inches apart (the cookies really expand out so you might leave some extra space). At this point you can push almond slivers or any topping you would like for the cookies.
I like to take the cookies out after the edges are just getting slightly brown, but while the cookies are still super soft. They tend to harden quite a bit as they are cooling. I usually let the cookies cool for 10 minutes or however long I can resist without trying one.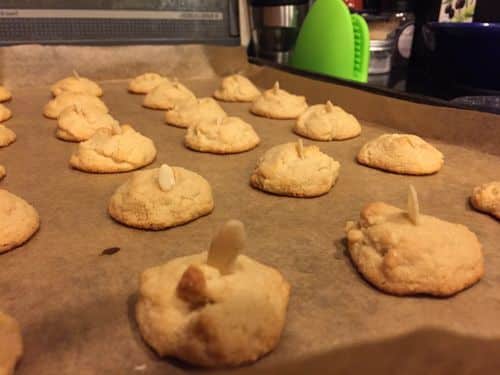 The above amount of paleo almond cookie dough should make about 2 cookie sheets worth of cookies, or one sheet if you want larger cookies.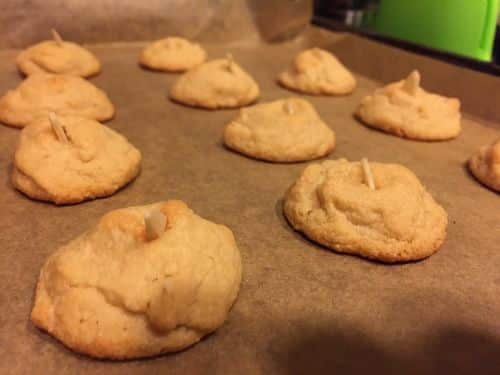 Garlic and Spicy Paleo Roasted Brussels Sprouts – A Quick, Simple Everyday Recipe 
One of my go-to quick every dishes on work nights is Brussels Sprouts, roasted in the oven. Other than prepping the actual brussels sprouts, roasting is a pretty hands off activity. You coat with a little olive or coconut oil and shove them in the oven and wait until it's time to eat. With this recipe, I simply flavor with garlic powder and add some paleo friendly hot sauce and black pepper as a "sauce" to change the flavor slightly from just plain roasted paleo brussels sprouts (which are great on their own as well).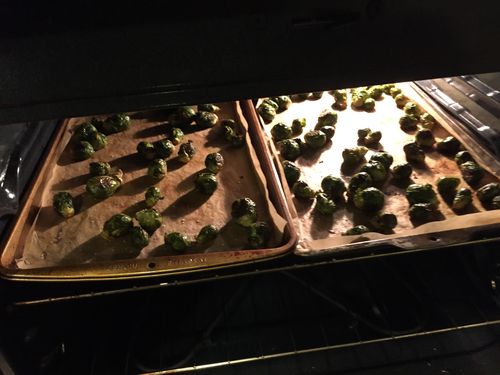 The ingredients for this one are very simple. In addition to the brussels sprouts (chop the ends, take off any bad leaves and ideally cut in half) and olive oil (or coconut oil if you are worried about the high heat), add some salt and garlic powder before baking. Once browned in the oven, remove and add additional salt and garlic powder (look for one without anti-caking agents) to taste, as well as black pepper and paleo friendly hot sauce, such as Franks Hot Sauce I am pretty sure qualifies as paleo (if you want to be extra safe, buy from one of these companies catering to Paleo eaters)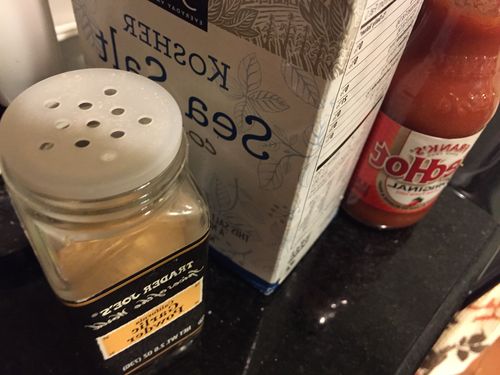 Paleo Noodles (Zucchini) with homemade Paleo Aglio e Olio Sauce (zesty Italian garlic and olive oil sauce)  
Although I love marinara sauce, sometimes it's nice to have another paleo faux pasta sauce that is quick, tasty and easy to make. It doesn't get much simpler than this sauce, which is literally just fresh garlic, organic red pepper flakes, salt and olive oil.
First, I use my trusty special peeler to peel the zucchini into strips (light pressure works best with ours).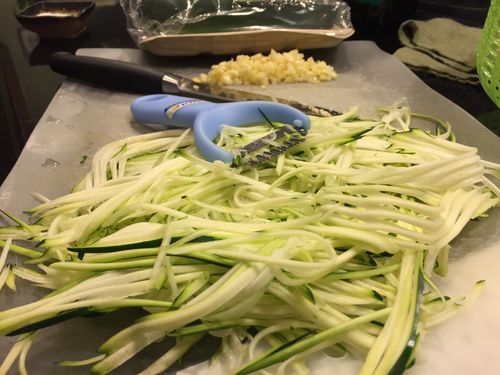 I chop up a plentiful amount of garlic coarsely, add olive oil into a pan on low to medium heat,  add sea salt and red pepper flakes and let the garlic cook until it becomes fragrant. Even easier is to continue to taste it as it cooks until it gets to just the exact point that you like. As it's cooking, you can adjust the salt and red pepper to your taste.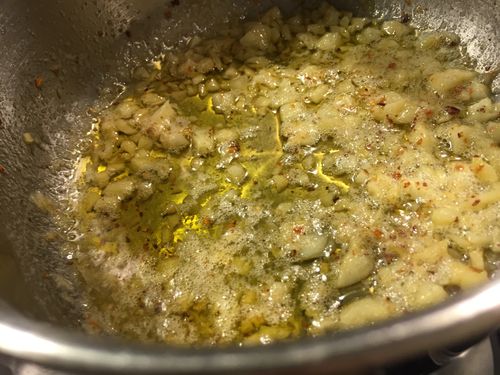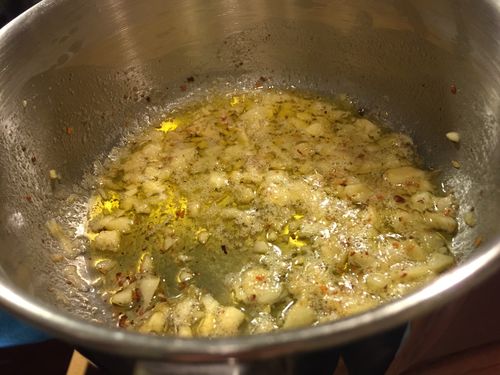 Thai Style Paleo Red Coconut Curry Paste – Homemade from scratch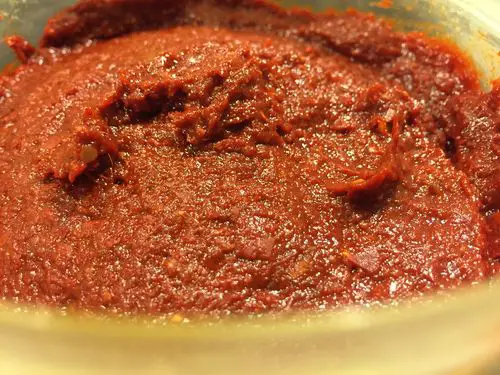 One thing I definitely miss being on the paleo diet are Thai coconut curries (like Thai Red Curry, Green and Yellow Curry). At one point I think I was ordering Thai takeout about once a week and this was my go-to dish. Even trying to make these curries from scratch, the cans of Thai curry paste always contain sugar and other ingredients that are not Paleo. In fact, it had now been many years since I last had this dish. 
Luckily it turns out you can make your own curry paste from scratch and simply add paleo approved ingredients. The sugar and preservatives you find in the canned products are completely unnecessary if you make the curry past from scratch.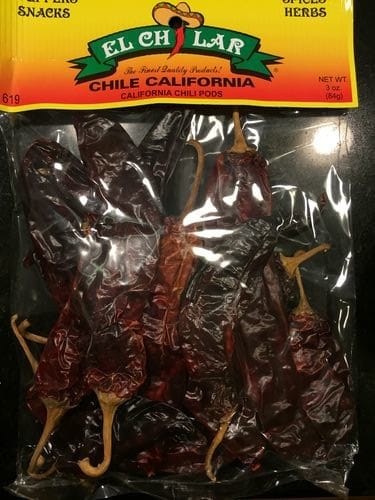 The first step for making homemade paleo Thai red curry paste was finding "California Chile Peppers". Luckily a local Latin market in our area carried these dried peppers. The first step was slicing them up (removing the seeds will result in a very mild curry paste – I'm a wimp when it comes to spicy food so that is helpful for me).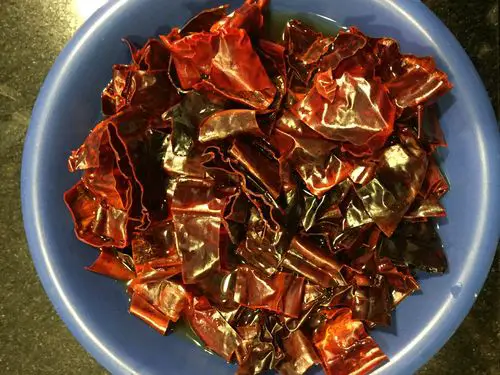 Next step is to combine white peppercorns, cumin and coriander  – the best option is to grind them into a powder, however you can skip this step and just throw everything into a food processor, it just likely wont be blended quite as well.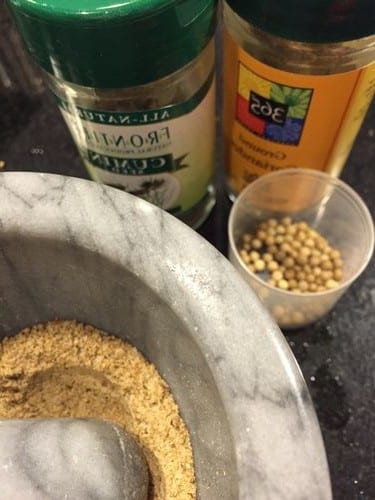 Finally combined the chopped California Chilli Peppers, cilantro stems, garlic and lemongrass and some lime juice into the food processor (I couldn't find Kaffir Lime Leaves or Galangal at the current time, so had to skip those two typical ingredients but you might want to include one or both instead of the lime juice if you can find it)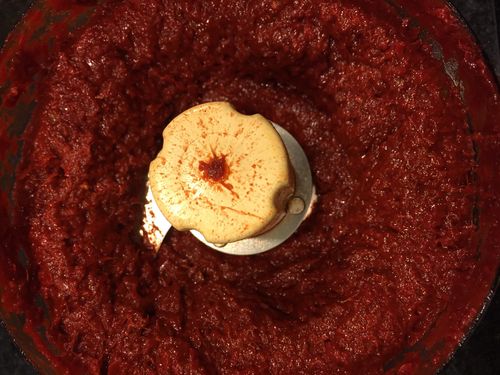 After a while in the food processor, you will start to notice a uniform, paste like consistency. The paste can be refrigerated or frozen depending on when you think you will get to use it.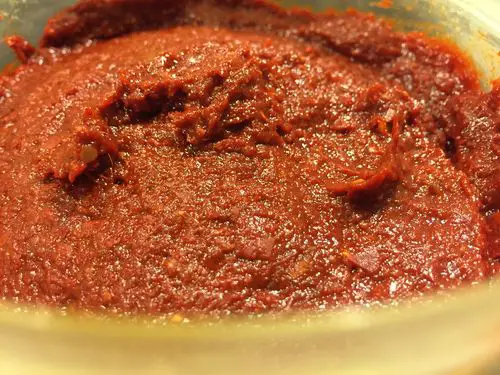 Paleo Thom Kha Hed (Paleo Thai Coconut Mushroom Soup) – Paleo Vegan/Vegetarian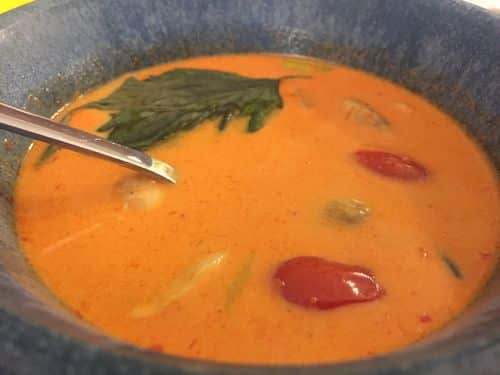 This was the first dish we made with our newly created Thai Red Curry paste. Basically, it is just coconut milk, curry paste, fresh mushrooms and cherry tomatoes.
The first step was to add a good portion of the red curry paste to a soup pot and since it was raw at this point, heat it for a few minutes in a pot (just to cook the garlic and some of the other ingredients.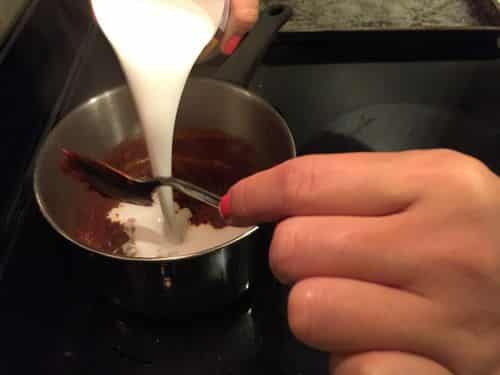 Next we added a full can of coconut milk and mixing until the soup is the consistency and strength you like. We like the following Aroy-D Thai brand of organic coconut milk because unlike most other coconut milks, it doesn't have added thickeners and gums or preservatives, it's just organic coconut and water (we REALLY like their coconut cream products too).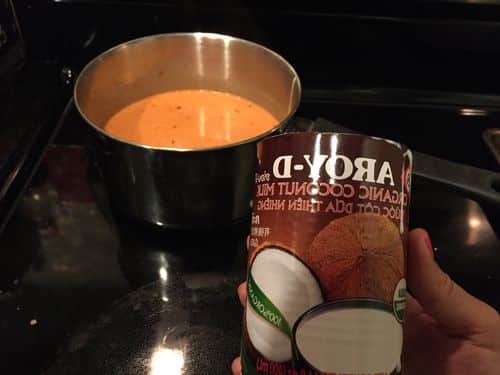 Finally we added the mushrooms, some Thai basil and cherry tomatoes and cooked a few more minutes, then served.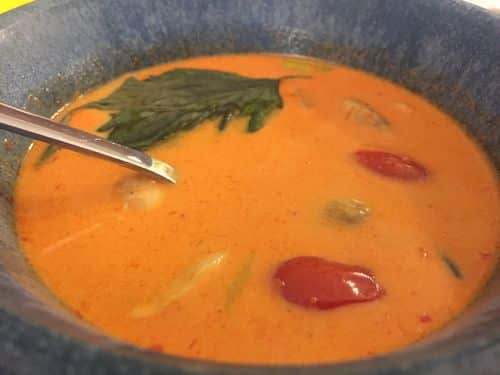 Paleo Thai Red Coconut Curry with Japanese Pumpkin (Kabocha Squash) – Made from Scratch and Paleo Vegetarian 
Once we made our homemade paleo red curry paste, we wanted to use it! In this recipe we make a paleo version of Thai red curry made with a coconut milk base. I thought it turned out really well (and was mild, which I loved).
First, we prepped onions, garlic closes and the Kabocha squash (Japanese pumpkin). You can sometimes find it at farmers markets or Trader Joes in season. It's a very sweet squash, so it's great for this recipe as it sweetens everything without having to add any other sweeteners. You can substitute other squashes as well, or really any vegetables you want (or even chicken, etc).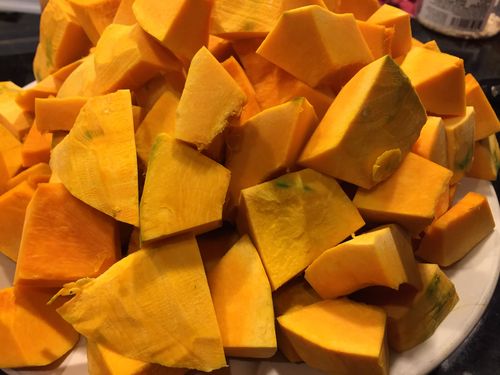 Sautee yellow onions (prefer a lot myself) with garlic.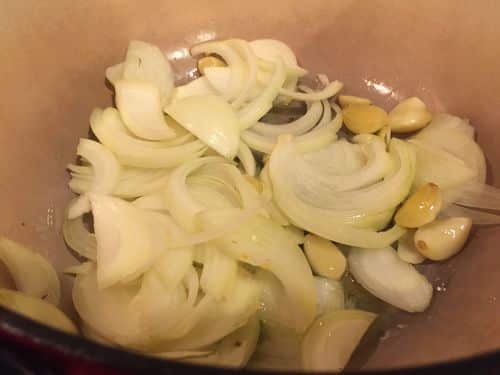 Add the curry paste so that it cooks a bit as well (if homemade, the ingredients are blended raw).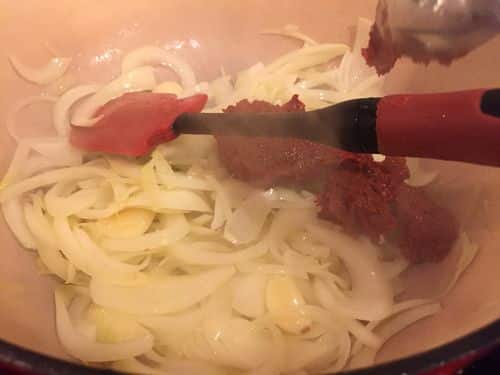 Once it has cooked for a bit, add coconut milk (we added a few cans of Aroy-D Organic coconut milk which we like since it's organic and has no gums, thickeners or preservatives, it's just organic coconut and water)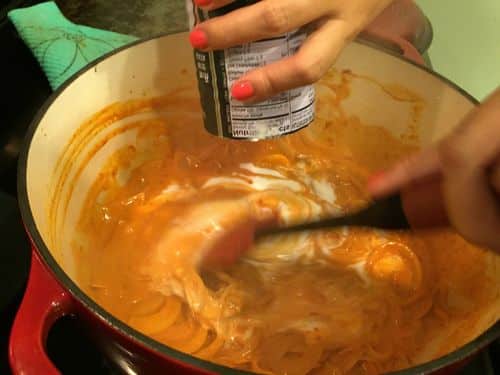 Added some fish sauce for flavor (we love Red Boat Fish sauce)
Let everything cook to absorb the flavor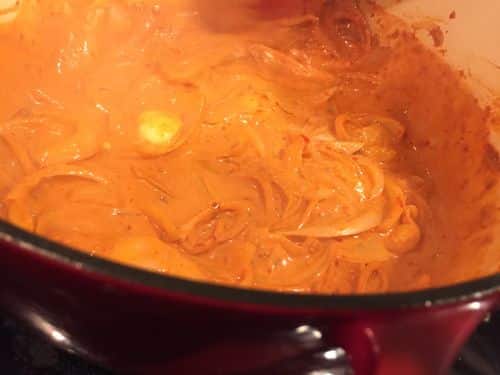 \
Next add the Kabocha Squash to give it a chance to soften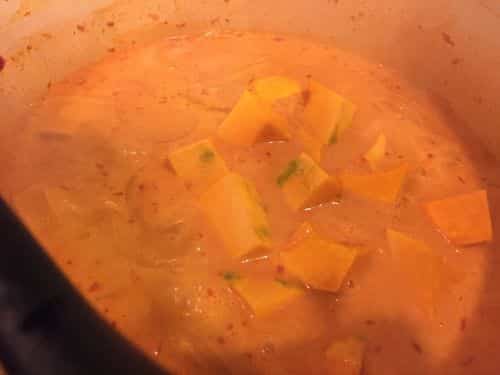 Finally, as the Kabocha is starting to soften, add Thai Basil leaves and salt to taste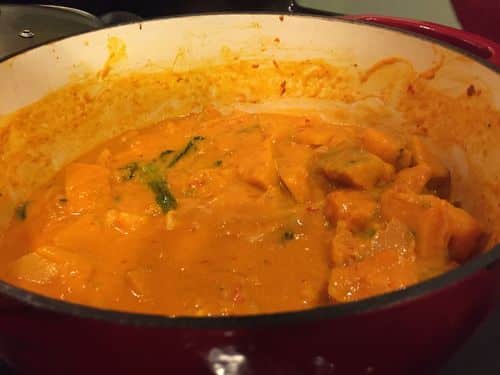 And there you have it, delicious, sweet paleo, homemade Thai coconut curry with Squash. It was delicious. We ate a lot, but this dish also freezes well so you can make a big batch and have it available anytime – great for Paleo batch cooking days.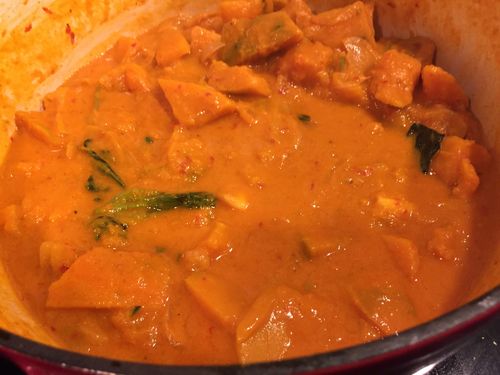 Paleo Braised Kabocha Squash with Ginger and Garlic
This is a fairly quick and delicious way to prepare squash. I believe the traditional Japanese recipe for this uses Kabocha squash as pictured, but I have made this with butternut squash and kabocha and thoroughly enjoyed both.
Other than cutting up the squash (or buying it pre-cut or frozen) the rest of the ingredients are fairly simple to prepare. Peel several cloves of garlic, add some slices of ginger and have on hand some salt, olive oil or other cooking oil, toasted sesame oil, Paleo fish sauce and either white vinegar or rice vinegar.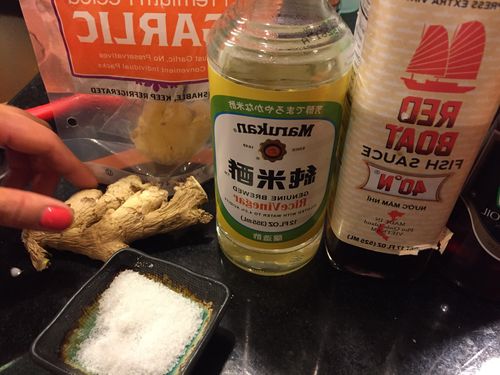 Sautee the garlic and ginger in olive oil for a minute.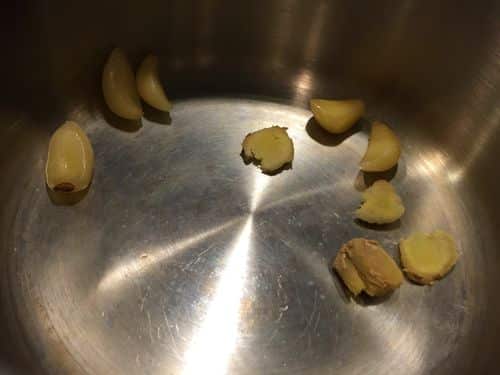 Add the kabocha squash.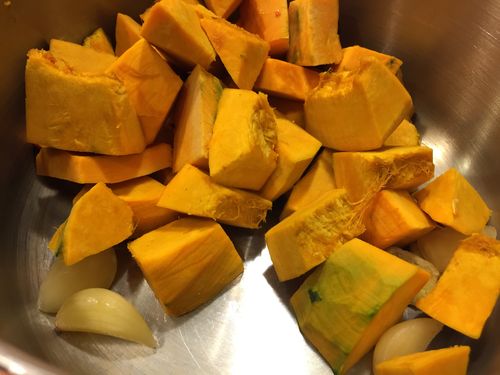 Add additional olive oil as needed. Add salt, some vinegar and fish sauce and cook, covered until the squash is soft all the way through. Add additional salt, vinegar or fish sauce as needed as it is getting close, based on your taste preferences. At the end when you are ready to start serving, add toasted sesame oil and mix so that it is evenly distributed.
Thai Paleo Vegetarian Mushroom Krapow – Vegetarian, grain, sugar and gluten free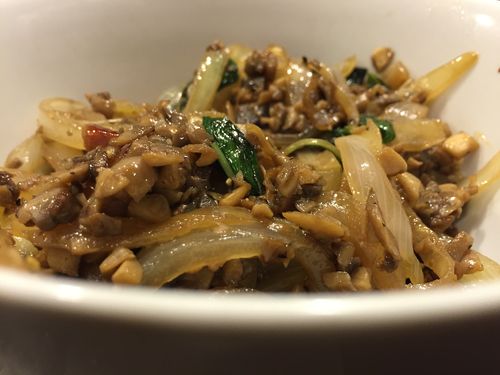 Sometimes called Pad Krapaow Tho-Hu sai Hed, although the non-paleo version contains sugar and soy sauce, where this version is sugar free, dairy free and soy free. This dish is truly delicious and a great way to use up a lot of Thai Basil that might be growing out of control in your garden.
Chop up fresh organic mushrooms into small cubes.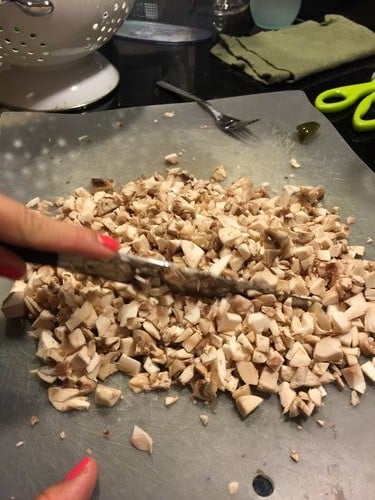 Was the Thai basil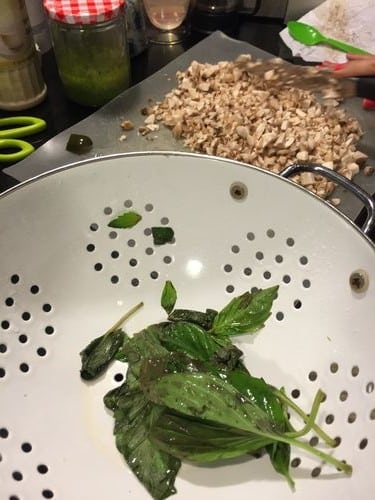 Heat olive oil in a pan – add dried Thai Peppers (look for a brand with no added preservatives, sugars or other ingredients)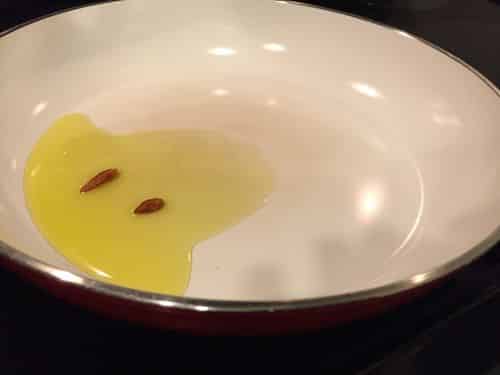 Add garlic and onions and cook until onions are soft, just starting to brown.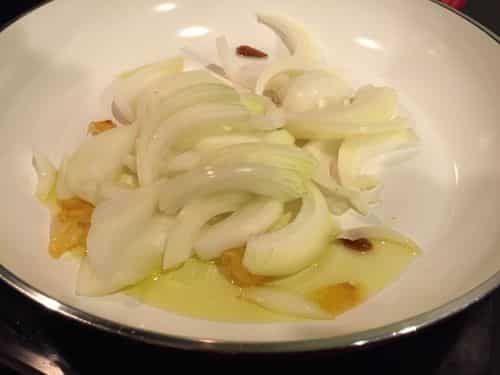 Add the chopped mushrooms, stir them and let it cook for a few more minutes.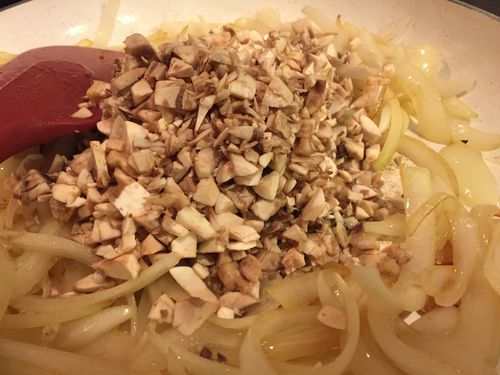 Add olive oil as needed, fish sauce. Then add a plentiful amount of thai basil leaves, as the mushrooms are starting to brown.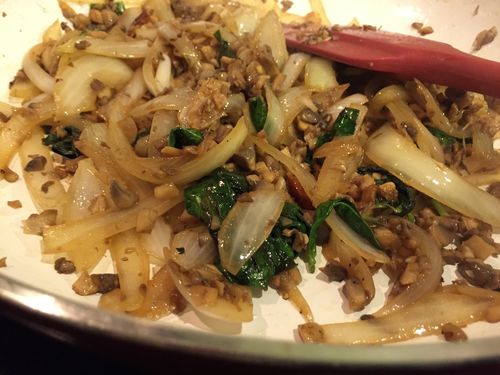 Let the dish cook until having a caramelized color (continue to add fish sauce as needed for flavor)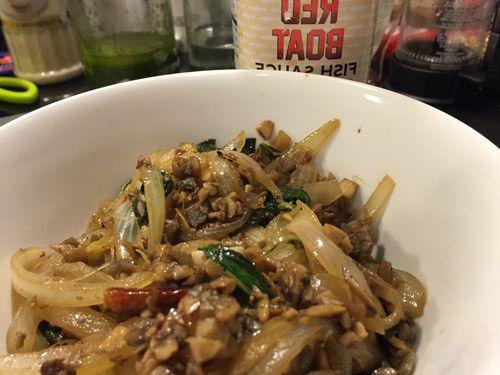 Add some black pepper and serve: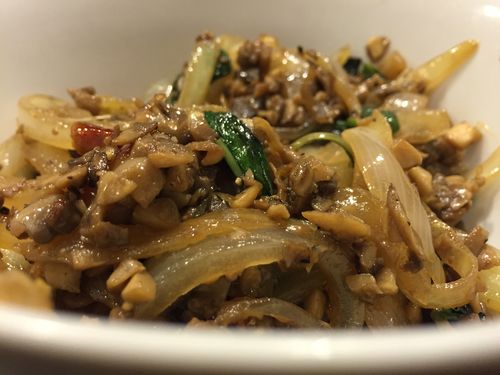 Paleo Exotic Fruit – Durian 
I like to check out some of the more unusual fruits available now that I eat fresh fruit as a desert much of the time with the paleo diet.  I won't say Durian is my favorite exotic fruit but I do like that it is filling, almost like a fruit you can eat in place of a snack or even dinner. And I like that it has a very different flavor and consistency than other fruits (in fact different sections of the same durian can have very different consistencies, from creamy sections to areas that are more like a traditional fruit). We happened to see Durian was available at a local asian marked in our area we were passing by, so we picked one up. I will say, if you are to find an asian grocery store that sells just the frozen pods, rather than the whole fruit, you will save yourself quite a bit of work (and thawing time). But it's also kind of fun to be adventurous sometimes. We used gloves to open this one to avoid getting stabbed by the spikes.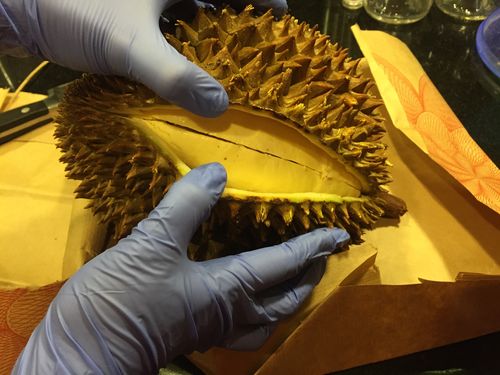 I hope this provided some inspiration on your paleo meal planning. If you have any questions, thoughts or suggestions for great quick everyday meals to share with me or others, please leave a comment below. Thank you!