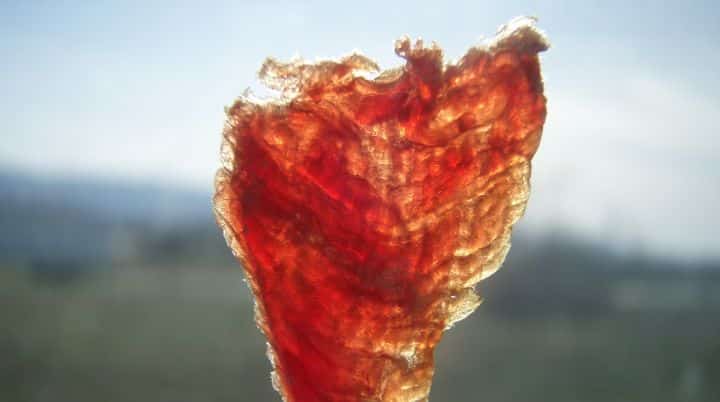 I was recently trying to figure out the best options for Paleo approved Beef Jerky products. I realize that many people recommend making your own, but I wanted to get these to help someone who was just starting out on the Paleo Diet to save them time.
In looking online, I didn't find many great resources comparing all of the Paleo brands available, so I thought I would put together a comprehensive guide myself. Here it is, I've included links to the independent reviews done on each product so that it is easier to compare which are the best options.
We cover the following....
A Wide Range of Paleo Jerky Options
Not too long ago, there were relatively few options catering specifically to the paleo diet. Luckily in the last few years a number of new products have entered into the market with more options to buy paleo food online. 
Is Beef Jerky Paleo?
Is Jerky Paleo? Absolutely, as long as all of the ingredients contained in the product are Paleo. Many of the beef jerky products available at your local gas station contain tons of additives and chemicals, so those are definitely not paleo. There are however lots of brands these days that use only paleo approved foods and grass fed beef.
In general, we have screened out those brands that blatantly include refined sugars or other non-paleo ingredients from our brand list below, even if the product name contains "primal" or "paleo" in it.
Of the brands listed below some include paleo approved sweetners such as coconut sugar or honey while many others are unsweetened. We wanted to give as much information as possible so that you can make up your mind about what ingredients you are comfortable with. Many of the brands have different flavors to choose from, different levels of spiciness and even different textures.
This post contains affiliate links. Thank you for supporting us! Click here to learn what this means.
Paleo Beef Jerky Brands:
Steve's Original
---
Company Description: We are committed to using healthy beef: free-range raised with no antibiotics or added hormones; and no nitrates, MSG, soy, gluten, or added sugar.
Flavors: Original Beef, Original Beef (Grass-Fed), Spicy Chicken Jerky
Non-Paleo Ingredients? : None, Option of grass-fed and grass-finished beef or free-range beef
For Prices See: amazon or www.stevespaleogoods.com
Reviews:
http://everydaypaleo.com/why-i-love-steves-paleo-goods/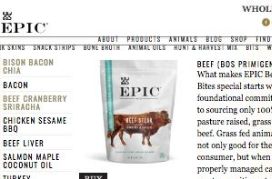 Epic Beef Bites
---
Company Description: What makes EPIC Beef Bites special starts with a foundational commitment to sourcing only 100% pasture raised, grass fed beef.
Flavors: Beef Cranberry Sriracha Epic Bites, Beef Habanero Cherry Epic Bars and Wagyu Beef Steak Strips (as well as Fish, Chicken, Turkey and other types of meats)
Non-Paleo Ingredients? : None, note: dried cranberries in ingredients list are sweetened with apple juice
For Prices See: amazon or epicbar.com
Reviews:
https://www.amazon.com/Epic-Jerky-Bites-Cranberry-Sriracha/product-reviews/B01LY8QHNS/
http://jerkyingredients.com/2015/09/09/epic-cranberry-sriracha-beef-steak/
http://dagmaramach.com/epic-bison-meat-bar-review/
The New Primal Classic Beef Jerky
---
Company Description: We take grass-fed, grass finished beef and infuse it with onion, pepper, ginger and just a touch of sweetness from hints of pineapple and honey.
Flavors: Classic Beef Jerky, Spicy Beef Jerky
Non-Paleo Ingredients? : None, sweetened with pinapple juice and honey, includes coconut aminos
For Prices See: amazon or thenewprimal.com
Reviews:
https://www.amazon.com/New-Primal-Grass-Fed-Jerky-Classic/product-reviews/B01F5HFR9G/
http://briangreen.net/2013/07/new-primal-beef-jerky-and-trail-mix.html
http://floridahikes.com/new-primal-jerky-review
https://runoregonblog.com/2016/08/04/run-oregon-test-kitchen-setton-farms-and-the-new-primal-snacks/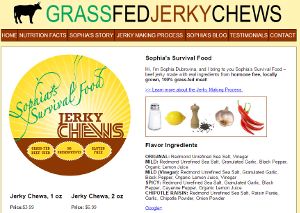 Sophia's Survival Foods Jerky Chews
---
Company Description: Sophia's Survival Food – beef jerky made with real ingredients from hormone free, locally grown, 100% grass-fed meat!
Flavors: Available in Original, Mild, Mild Vinegar, Spicy and Chipotle Raisin
Non-Paleo Ingredients? : None
For Prices See: amazon or http://grassfedjerkychews.com/
Reviews:
http://paleomagazine.com/grass-fed-jerky-chews-amazing-paleo-snack/
http://sleeploveeat.com/2011/04/05/grass-fed-jerky-chews/
http://nomnompaleo.com/post/11909221566/sophias-survival-food-spice-hound-giveaway
http://freetheanimal.com/2011/08/the-worlds-best-beef-jerky.html
http://www.amazon.com/Grass-fed-Jerky-Mild-Flavor-package/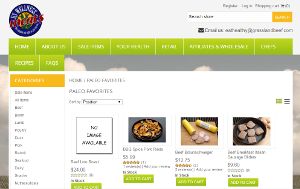 US Wellness/Grassland Beef Jerky
---
Company Description: Grass-fed Plain Beef Jerky contains no sugar or other sweeteners! The beef jerky is also free of: nitrates/nitrites, MSG, additives, preservatives, dairy and gluten!
Flavors: Grass Fed Plain Beef Jerky (salt brine), Spicy Beef Jerky, Beef Jerky Sticks, Spicy Beef Jerky Sticks, Extra Dry (shelf stable) Beef Jerky Sticks
Non-Paleo Ingredients? : None
For Prices See: http://grasslandbeef.com/paleo-favorites (grasslandbeef.com)
Reviews:
http://momstart.com/2010/01/u-s-wellness-meats-75-00-sampler-pack-review-and-giveaway/
http://www.kitchenstewardship.com/2011/07/27/too-busy-for-real-food-convenience-foods-that-arent-a-compromise/
http://thehomeschoolingdoctor.com/tag/review-of-us-wellness-meats/
http://longlivelard.blogspot.com/2013/02/review-us-wellness-meats.html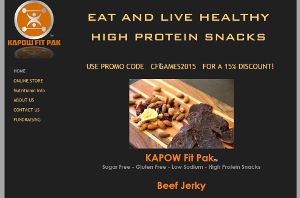 Kapow Fit Pac
---
Company Description: Our beef jerky is gluten free, sugar free and low sodium and made with taste and quality in mind.
Flavors: Original Jerky and Fit Pac (Jerky with fruit and nuts)
Non-Paleo Ingredients? : None (in Jerky) – not clear if Beef is grass fed
For Prices See: http://www.kapowfitpak.com/
Hunted and Gathered Paleo Jerky
---
Company Description: Australian Grass Fed Beef Jerky. High bio-available protein source strictly made with pasture fed beef – Handmade, Gluten free, GMO free, Nitrate free, No Preservatives, No MSG, No Soy. Contact them if ordering from outside Australia
Flavors: Original Jerky and Bush Tomato & Peri Peri Jerky
Non-Paleo Ingredients? : None, does contain organic coconut sugar as a sweetener
For Prices See: huntedandgathered.com.au
Reviews:
http://www.unfinishedman.com/paleo-beef-jerky-reviews-primal-pacs-vs-hunted-and-gathered/
http://lateraleating.com/2012/12/12/product-review-hunted-and-gathered-products/
Paleo Ranch Jerky
---
Company Description: Grass Fed Beef, No preservatives and Gluten Free, Beef raised with no preservatives and Antibiotics, 10% of profits donated to animal charities
Flavors: Original Beef Steak, Peppered Beef Steak, Garlic Jalapeno Beef Steak
Non-Paleo Ingredients? : All ingredients are technically Paleo – Jerky includes Organic Raw Coconut Nectar and Honey as sweeteners and Organic Coconut Aminos. The beef is grass fed and finished
For Prices See: paleoranch.com
Reviews:
http://community.myfitnesspal.com/en/discussion/1286346/paleo-snacks
http://www.shapefit.com/forum/viewtopic.php?f=5&t=15125
https://www.paleohacks.com/food-choices/i-recently-saw-an-advertisement-for-a-paleo-jerky-has-anybody-heard-of-paleo-ranch-do-you-know-if-its-legit-35928
Cattaneo Brothers Beef Jerky
---
Company Description: All Range beef comes exclusively from SunFed Ranch, in northern California, where they raise their cattle in the open rangeland of the Klamath Basin. In addition to it's distinct and delicious taste, our Range jerky is Nitrite Free, Sugar Free, Gluten Free, and MSG Free. We simply blend some of our favorite high quality spices and dry the jerky to perfection in our brick ovens
Non-Paleo Ingredients? : UNKNOWN, all ingredients mentioned are Paleo, although an official ingredients list is not provided for each product and the FAQ page suggests contacting them if you have any specific allergies
Flavors: Sea Salt, Black Pepper, Chile Cayenne and Chipotle
For Prices See: http://www.cattaneobros.com/category/beef-jerky/ (www.cattaneobros.com)
Reviews:
http://www.bestbeefjerky.org/2009/03/cattaneo-bros-beef-jerky-original-thick.html
http://breakingmuscle.com/food/product-review-cattaneo-brothers-beef-jerky
http://www.thebinderladies.com/2014/10/holiday-gift-guide-cattaneo-bros-beef.html#.VNIZNNLF8So
http://www.glutenfreefrenzy.com/2013/11/cattaneo-bros-jerky-feature-giveaway.html
http://www.yelp.com/biz/cattaneo-brothers-inc-jerky-makr-san-luis-obispo
Other Beef Paleo Jerky Like Products
In addition to the traditional store bought Paleo beef jerky options listed in the section above there are several other types of dried beef products that aren't exactly jerky but are still worth mentioning.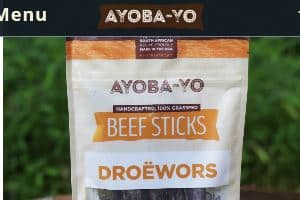 Ayoba-Yo Droewors
---
I am happy to report that there is now a local company in the DC area making Bitlong, Droewors and other South African inspired beef jerky products (local for those of you also in the DC area). How did I find out about them? I was lucky enough that they found me and sent us samples of their products to try out. The company, Ayoba-Yo, offers 3 product lines: Biltong, Boerewors, and Droewors, all traditional aged meat products from their native South Africa. They offer versions of each made with grass fed beef – however I would be negligent not to mention that only their Droëwors (Beef Sticks) appears to be 100% Paleo, of the products I've had a chance to review. Their Biltong (spicy and traditional) list Worcestershire on the ingredients list, which also confirms there is added sugar in the Worcestershire. So for those looking to stay strictly Paleo, you would want to stick to the Droewors. Technically the Bitlong is "0% Sugar" as it is such a trace amount, but I know there are many people out there who keep strict Paleo and avoid any amount of sugar. My partner tried out the grass fed Biltlong, both spicy and traditional, as she doesn't keep 100% Paleo and found them to have a deep beef flavor, reminiscent of grass fed meat. She really liked the spicy Biltong as she found it to have multi layers of flavor, although again it has some sugar. She also tried out the Paleo Droewors product and said it reminded her of grilled Kafta Kabobs, a spiced middle eastern skewer dish. She again like the deep grass fed beef flavor in the Droewors, but wasn't a big fan of the lamb casings.
Company Description: "we put our South African resourcefulness and creativity to work, dusted off the family recipe book, and got to work making our own biltong, boerewors and droëwors. What started off as a Saturday morning hobby between a father and his sons, quickly grew into something more."
Flavors: Droëwors Beef Sticks (grass fed and regular), Biltong (traditional and spicy, both grass fed or regular) and Boerewors sausages.
Non-Paleo Ingredients: Droewors (none), Biltong (Worcestershire containing sugar)
For Prices See: amazon or https://www.ayoba-yo.com
Ayoba-Yo Reviews:
http://www.bestbeefjerky.org/2016/03/ayoba-yo-droewors.html
https://www.amazon.com/Ayoba-Yo/b/ref=bl_dp_s_web_13690526011?ie=UTF8&node=13690526011&field-lbr_brands_browse-bin=Ayoba-Yo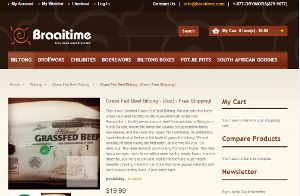 Braaitime Bitlong
---
Company Description: At Braaitime we endeavor to create the most perfectly crafted biltong ever made. We take the finest beef in the USA, gently cure it in a secret brine and spice mixture, and then hang the beef in our climate controlled drying room, set to a cool dry temperature at all times. We grind and prepare our secret recipe spices in small fresh batches from all natural whole food spices. When we say all natural we mean all natural.
Flavors: Grassfed (Original) or Original, Spicy Peri Peri, Cajun and Garlic and Parsley
Non-Paleo Ingredients? : UNKNOWN, they keep their spice mixture as proprietary information – Only the grass fed original product uses grass fed beef
For Full Pricing See: amazon or https://braaitime.com/index.php/biltong/grass-fed-beef-biltong/grass-fed-beef-biltong-1-lb-free-shipping.html (braaitime.com)
Reviews: NA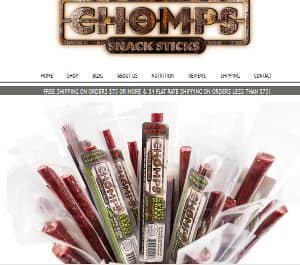 Chomps Snack Sticks

---
Company Description: Chomps is Whole30 approved, gluten free, paleo friendly, and made from 100% grass fed beef. By going back to basics, we cook up high quality jerky snacks than you can enjoy anytime, guilt-free. We start with only a few organic ingredients, such as 100% Grass-Fed Non-GMO New Zealand Beef and a handful of natural spices, then blend them together to create filling, tasty treats that feature the naturally enhanced flavor of authentic beef.Each and every one of Chomps' products are filled with 9g of protein, more than most typical jerky sticks. They're also made with no added sugars and no gluten, making them perfect paleo snacks.Our snack sticks have no MSG or nitrates, no fillers, no binders, and no added preservatives. Because we use celery juice to make our jerky stay fresh, you needn't worry about synthetic preservation ingredients that could put your health at risk. Additionally, our jerky sticks have less salt than most of those made by other commercial manufacturers.
Flavors: Original, Hoppin Jalapeno Flavor, Crankin Cran Flavor
Non-Paleo Ingredients? : None
Website: amazon or http://www.gochomps.com
Reviews:
http://breakingmuscle.com/food/chomps-snack-sticks-product-review
https://myquestforfitnessx.wordpress.com/2014/10/02/product-review-chomps-snack-sticks/
So there you have it. Eight great options of paleo snacks to buy, as well as 2 other options that are not exactly beef jerky but seemed worth including. These paleo beef jerky snacks are great to keep on hand – add one to your next paleo diet shopping list.
It's increasingly easy to find these beef jerky brands with the rise in popularity of the Paleo Diet. Even if you don't find all of these brands in your local Trader Joes or Whole Foods, we've listed Paleo beef jerky amazon links so that you can pick a number of these products up shopping online. If you are interested in some of our other guides on Paleo brands, we now have several.  
Please let me know if there are other paleo brands of beef jerky that should be included here in the comments and I will add them to the list!
If fish jerky is more your speed, check out our articles on Paleo salmon jerky and Paleo tuna jerky brands and other Paleo friendly grain and gluten free products.