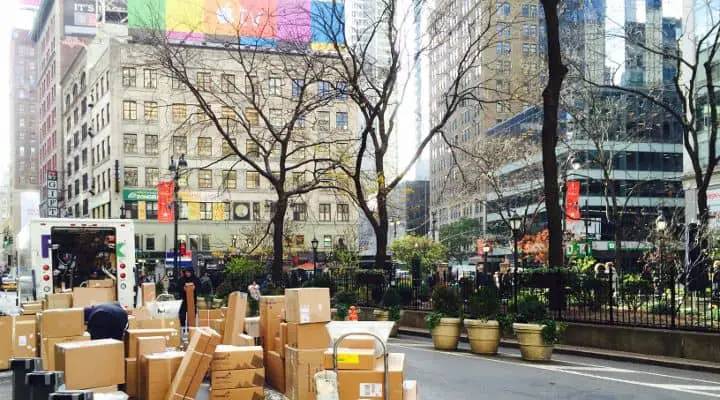 With a strong food delivery culture, in New York you can get just about anything delivered at any time of the day or night. Luckily in recent years, this is also true for people on the Paleo diet.
In this guide we go over your options for ordering paleo meal delivery in NYC. The number of companies delivering chef created paleo meals in New York City might surprise you.
With an increasing number of local companies as well as national companies serving NY, the options are getting better all the time. Whether you are ordering just a single meal or purchase a weekly or monthly paleo meal plan, there are a wide variety of paleo food delivery NYC options available.
This article is part of our Paleo NYC Series: • 15 Of the Best NYC Paleo Restaurant Options • 12 Paleo Meal Delivery Serving NYC
Summary/Overview
Given the wide range of options for Paleo delivery in New York City, below is a summary of the companies covered in this article, giving an overview of some of the attributes that make each unique:
| | | | | | |
| --- | --- | --- | --- | --- | --- |
| 100% Organic | – | – | – | – | ✓ |
| Grass Fed | ✓ | ✓ | ✓ | – | ✓ |
| Local Produce | ✓ | – | ✓ | – | ✓ |
| AIP Option | – | – | ✓ | – | ✓ |
| Vegan/Pegan | ✓ | – | – | – | – |
| No Sweeteners | – | – | ✓ | – | ✓ |
| A La Carte | – | ✓ | ✓ | – | – |
| Paleo Certifications | – | – | ✓ | – | – |
| Family Style | – | – | ✓ | – | – |
| Non-Frozen | ✓ | ✓ | – | – | ✓ |
| HQ in NYC | – | ✓ | – | – | – |
| | | | | | |
| --- | --- | --- | --- | --- | --- |
| 100% Organic | ✓ | – | – | – | ✓ |
| Grass Fed | ✓ | ✓ | – | ✓ | ✓ |
| Local Produce | ✓ | ✓ | – | ✓ | ✓ |
| AIP Option | – | – | – | – | ✓ |
| Vegan/Pegan | – | – | – | – | – |
| No Sweeteners | – | – | – | – | – |
| A La Carte | – | – | ✓ | – | – |
| Paleo Certifications | – | – | – | – | – |
| Family Style | ✓ | – | – | – | – |
| Non-Frozen | ✓ | ✓ | – | ✓ | – |
| HQ in NYC | – | ✓ | – | ✓ | – |
| | | |
| --- | --- | --- |
| 100% Organic | – | ✓ |
| Grass Fed | ✓ | ✓ |
| Local Produce | ✓ | – |
| AIP Option | – | – |
| Vegan/Pegan | – | – |
| No Sweeteners | – | – |
| A La Carte | – | ✓ |
| Paleo Certifications | – | ✓ |
| Family Style | – | – |
| Non-Frozen | – | – |
| HQ in NYC | – | – |
This post contains affiliate links. Click here to see what this means.
We cover the following....
Local Paleo NYC Meal Delivery Companies
The following are local New York City area companies that offer delivery of paleo meals to your door.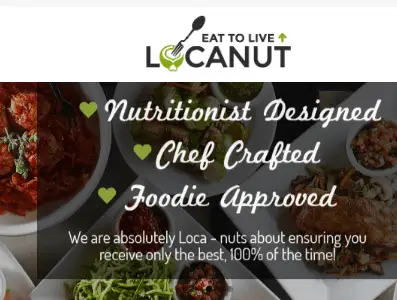 Locanut
Based out of Manhattan (Hells Kitchen), NYC
Established: 2015
Executive Chef: Franc Coe
Training: NA (James Beard nomination)
Delivery: Manhattan between Canal St and 60th Street – Mon-Fri 11:15am-2:30pm
Local Pickup/Delivery: Offering gym deliveries throughout the 5 boroughs
Ingredient Features: Paleo Compliant, Organic, Gluten-Free, Grain-Free  – only cook with Olive Oil, Coconut Oil, or Grass-fed Butter
Plan Options:  Meals are sold individually, a la carte via online takeout services ChowNow, Seamless, Grubhub, etc
Sample prices: Sample individual meal prices range from $10 for vegetable soups to $21 for a wild caught salmon entree
For full pricing see: https://www.locanut.com
Locanut Reviews:

https://www.seamless.com/menu/locanut-807-9th-ave-new-york/315217
https://www.ezcater.com/catering/locanut-new-york#caterer-detailed-reviews
https://en.yelp.my/biz/locanut-new-york?start=20
https://www.tripadvisor.com/Restaurant_Review-g60763-d13006442-Reviews-Locanut-New_York_City_New_York.html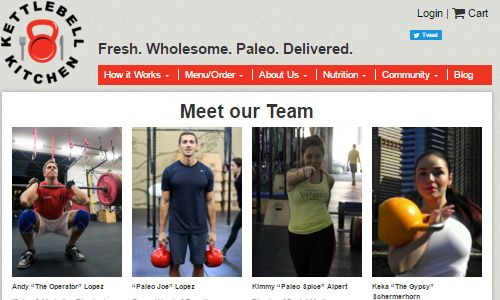 Kettlebell Kitchen
Based out of Brooklyn, New York
Established: 2013
Executive Chef: Distributed model with Greg Grossman (Culinaria Group), Jess Pamanian and Keka Schermerhorn
Training: Le Cordon Bleu Paris (Jess Pamanian)
Delivery: Pickup only from the 250+ participating Crossfit Locations, see below
Local Pickup/Delivery: Pickup from over 250 crossfit locations throughout NYC (Manhattan, Queens, Brooklyn and Staten Island), Westchester, Southern Connecticut, Western Long Island, Inland and Coastal New Jersey, Philadelphia and Wilmington DE. Food is available for pickup from commercial refrigerators at participating crossfit gyms and other retail locations on or after each scheduled delivery date.
Ingredient Features: Based on their literature, they source "100% grass-fed beef" and "also source free-range and antibiotic-free chicken, wild salmon, and the highest quality hormone free meats, poultry and eggs."
Plan Options:  All meals sold a la carte, but they do offer a recurring orders with discounts on each order over total bills of $50 (5%) or $100 (10%).
Sample prices: Individual meal prices range from $4.95 for vegetable based meals to $14.25 for large meals containing exotic meats like buffalo, plus delivery costs
For full pricing see: https://kettlebellkitchen.com/
Kettlebell Kitchen Reviews: http://www.jenniferdavenport.net/savemefromgradschool/2013/06/17/kettlebell-kitchen-reviews-day-1/ http://paleomagazine.com/paleo-food-delivery-review-of-kettlebell-kitchen http://wellandgood.com/2013/02/04/crossfit-devotees-get-paleo-meals-delivered-to-their-gyms/ http://www.dnainfo.com/new-york/20130207/new-york-city/paleo-delivery-service-offers-prehsitoric-food-crossfit-fans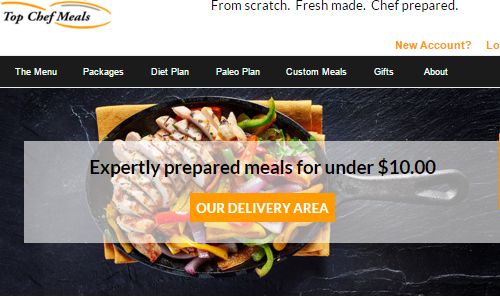 Top Chef Meals
Based out of Elmsford, NY
Established: 2010
Executive Chef:  Sean Kerins
Training: NA
Delivery: Delivery to your front door, by staff employees in Manhattan, Queens, Brooklyn, Westchester, The Bronx,  Greenwich CT and Long Island. Their employees will ring your buzzer and even bring your meals inside for you. This service expects that someone will be at home to accept the meals – they will only leave the meals on your doorstep by pre-arrangement. Fedex shipment of meals available in other areas through most of the surrounding states.
Local Pickup: NA
Ingredient Features: Their Paleo High Protein Gym plan includes over 150 grams of protein per day. All Meals are Gluten Free.
Plan Options: The Paleo High Protein Gym plan includes 14 weekly entrees and sides.
Sample prices: $119.95 for their Paleo High Protein Gym plan with 14 entrees with sides plus delivery costs
For full pricing see: http://topchefmeals.com/paleo-menu
Top Chef Meals paleo Reviews: http://weekendfarmer.com/new-york-meal-delivery-services/
http://www.prnewswire.com/news-releases/top-chef-meals-expands-service-area-throughout-the-east-coast-300171160.html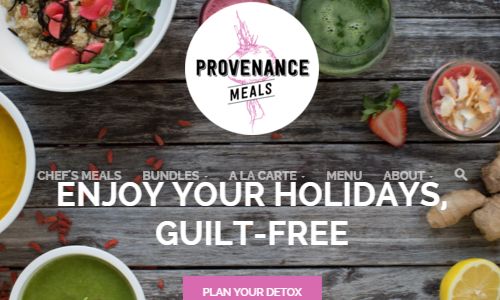 Provenance Meals
Based out of Brooklyn, NYC
Established: 2012
Executive Chef: Sung Uni Lee
Training: Institute for Integrative Nutrition
Delivery: Home or office delivery throughout Manhattan and to parts of Brooklyn and Queens and along the Hudson River in New Jersey between Hoboken and Fort Lee. Meals are delivered fresh in an insulated box or bag with cooler gel packs to ensure freshness.
Local Pickup: NA
Ingredient Features: According to their website meat and poultry come from grassfed and pasture-raised sources. They use only extra virgin olive oil, organic coconut oil and sustainable sourced palm oil for cooking. They use homemade bone broths to provide flavor and important gelatin and minerals. They use only natural sweeteners, such as organic or raw honey, molasses, coconut sugar and real maple syrup from New York state.  Designated Paleo-friendly options contain no grains, beans, legumes or dairy. They work with specific local farms and cooperatives when sourcing ingredients, such as Hudson Valley Harvest, Langcaster Farm Fresh Cooperative, Zone 7, Farmer's Web, Local Bushel and sources of sustainable seafood such as Scandia Seafood and Sea to Table. All offerings are 100% gluten-free, so Provenence Meals is definitely a great gluten free nyc resource.
Plan Options:  They offer a few bundle meal plans, such as their "Chef's Meal Box" and "3 Day Whole Foods Detox"  bundles (Note, you will need to choose menu items that are paleo – not all menu items sold by Provenance Meals are designated as paleo friendly)
Sample prices: Chef's Meal Box bundle (4 Entrees, 2 soups/salads and 1 desert) for $149 ($126.55 if ordered as recurring weekly) as well as A La Carte Menu options – averaging $28 per entree, plus delivery costs. Note: Not all menu items are 100% paleo, paleo menu items are marked with a "P" designation on the weekly menu.
For full pricing see: http://www.provenancemeals.com/
Provenance Meals Reviews: http://www.metropolitanmusings.com/2013/10/nyc-healthy-meal-delivery.html
http://letsnomnomblog.com/2015/12/10/provenance-meals-one-day-whole-food-detox/
http://weekendfarmer.com/new-york-meal-delivery-services/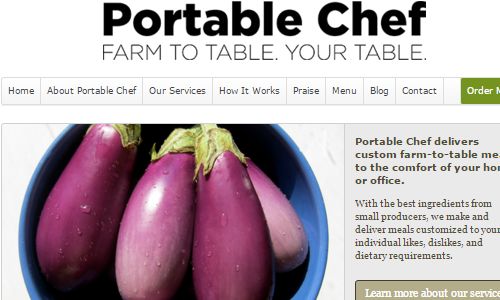 Portable Chef
Based out of NYC
Established: 2009
Executive Chef: Uri Atti
Training: Self Taught (although he does have BA in Economics from Stanford and an MBA in Finance from NYU)
Delivery: Delivered to your home or office in a 2 hour window you specify. Manhattan or to several neighborhoods in Brooklyn and Queens (Astoria, Long Island City, Greenpoint, Williamsburg, Fort Greene, DUMBO, Brooklyn Heights, Cobble Hill, Carroll Gardens, Park Slope, Windsor Terrace or Prospect Heights) as well as a larger area for higher delivery fees
Local Pickup: NA
Ingredient Features: Uses "chemical-free, farmer-sourced ingredients and humanely-raised livestock" and uses the "best ingredients available, from suppliers who provide the best-tasting product, grow their food naturally, and promote responsible stewardship of their land". Specifically, they mention they work with the following local farms, farmers coops and suppliers: Iliamna Fish Company, 8 O'Clock Ranch, Lancaster Farm Fresh Co-Op, Lucky Dog, Norwich Meadows Farm, Cascun Farm, Garden of Spices.
Plan Options: All plans are customized to your own dietary and allergy specifications. Paleo is one of the general categories on their new client contact form, but all aspects of the meal plan can be customized to fit your individual needs.
Sample prices: Sample prices are quoted as "$32 per serving for lunch or dinner", "$20 for breakfast", "$11 for a salad" and "$8 for a soup, dessert, or snack"
For full pricing see: http://www.portablechefnyc.com/
Portable Chef Reviews: http://www.onemedical.com/blog/live-well/best-nyc-healthy-food-delivery/
Paleo Food Delivery Services that Deliver to NYC
The below companies all offer paleo meal delivery to NYC. These are larger nationwide paleo delivery companies where New York City is covered within their delivery zones. In many cases food costs are lower in other areas of the US than they are in New York City, so you are benefiting from the lower prices of local farmers market produce in these areas.
In addition, the majority of the below companies source ingredients from farmer cooperatives that are in season in their local area. So your options for seasonal local produce in the winter may be a lot better in Florida or Southern California than it is in NYC. You are still getting these meals (and high-quality seasonal ingredients) days after they are harvested but by farms in the local area that the company operates.
These companies ship your meals overnight via FedEx and UPS, either in refrigerated styrofoam coolers with gel packs or in some instances frozen with dry ice. If you are for looking paleo delivery nyc options you should definitely consider the nationwide services below when making a decision.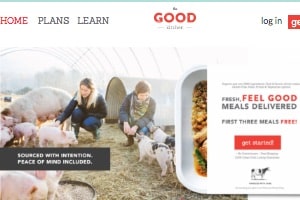 The Good Kitchen
The Good Kitchen, based on the east coast in North Carolina, delivers their Paleo compliant meals throughout the NYC area (meals are delivered refrigerated in cooler boxes). Meals are designed around in-season ingredients from organic, GAPs certified and sustainable local area farms and use 100% Grass-Fed and grass-finished beef, pasture-raised poultry, pork, eggs, lamb and turkey, and Seafood Watch compliant seafood. Formerly named modPaleo, they changed their branding but still offer primarily Paleo meals with a few additions for those eating primal – they list the full ingredients in each meal making it easy to pick out meals that will work well for your dietary preferences. Some unique meal lines to The Good Kitchen include a Paleo Vegetarian/Pegan meal line and a line of healthful snack/lunch boxes for kids. They require a minimum of 5 meals (either as a recurring or one-time order) but offer free shipping on all orders.
See thegoodkitchen.com for weekly menus and prices.
The Good Kitchen is offering a 15% discount for our readers. Use promo code "mypaleos" at checkout for 15% off your first order.
I recorded unboxing my most recent The Good Kitchen meals to give a sense of the experience:
For our longer write up on The Good Kitchen, including reviews, see this earlier write up on them.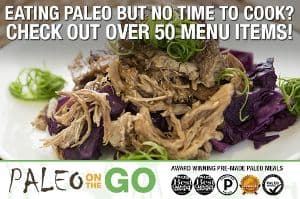 Paleo on the Go
Paleo on the Go is a popular service that will deliver anywhere in NYC. They have won a number of paleo magazine readers choice awards for the best paleo meal delivery service in the US. They offer both weekly meal plans, such as traditional Paleo or AIP meals and a la carte single meal orders. They work with local farmers in their area to source grass fed meats and wild local seafood. They focus on using organic produce for those items in the dirty dozen list. In addition, Paleo on the Go partners with some big name Paleo bloggers, such as the The Paleo Mom, in crafting their recipes for their meal plans.
See www.paleoonthego.com for menus and prices.
Note: Paleo on the Go has offered a 10% off coupon code for readers of this blog: use "MYPALEOS" at checkout for 10% off your entire order – one time use.
I also took a video of unboxing and heating meals from my most recent Paleo on the Go order:
For our longer write up on POTG, including reviews, see our earlier coverage of on them.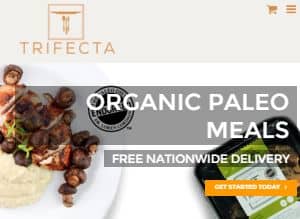 Trifecta
Trifecta Nutrition is another Paleo meal delivery service that will deliver to NYC. They are promoted by Lauren Cordain, the grandfather of the Paleo Diet and offer delivery of refrigerated (non-frozen) Paleo meals via their weekly meal plans. They focus on Paleo compliant 100% organic ingredients and grass fed meats, sourced from their operations in southern California and offer free shipping with their meal plans. Trifecta offers pre-packaged Paleo compliant meals in convenient to-go containers with an emphasis on reducing the environmental footprint of all levels of their packaging and sourcing animal products that meet a minimum rating for humane treatment of animals.
See http://trifectanutrition.com/paleo-meal-plans/ for current meal plan prices.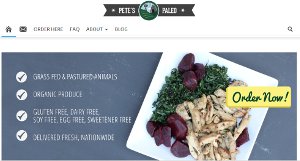 Petes Paleo
Pete's Paleo offers refrigerated (non-frozen) paleo meals delivered to all locations to NYC overnight from the west coast. Despite the express delivery from San Diego, their prices are competitive or often lower than what local food delivery companies in NYC charge for their meals. They have a strong focus on working with local farmers in their region and sourcing only grass fed, grass finished meat as well as in season regional organic vegetables and fruits. One unique feature of their meals is that they use absolutely no sweeteners, relying on only natural sweetness of the produce and chef techniques to flavor their foods. They also offer a sugar detox meal plan, as well as a Wahls Paleo approved meal plan catering specifically to the dietary needs of those following the autoimmune Paleo protocol taught by Dr. Terry Wahls.
See: https://www.petespaleo.com/ for a complete list of prices and meal plans offered through Pete's Paleo.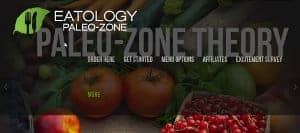 Eatology
Eatology's paleo meal plans are available for NYC residents, with meals shipped to your home or office weekly or monthly. Their meals follow the requirements of Paleo, as well as incorporate the principles of the zone protocol, which relates to balancing the proportion of carbohydrates, proteins and fats within each meal.  The goal of the zone approach is to help clients lose weight as well as improve their health and stabilize the ups and downs of blood insulin levels. As the meals are portion controlled, Eatology is also one of the least expensive nationwide paleo meal delivery services available.
See http://www.eatology.co to learn more about Eatology's Paleo-zone meal plans.
Eatology is offering a 20% off promo for our readers (works for first & all later orders), use code "ZACHPALEO" at checkout
For our detailed write up on Eatology including reviews, see our in-depth coverage on them.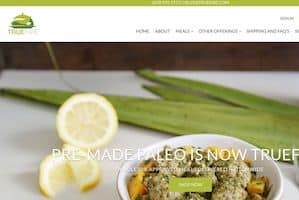 True Fare
True Fare is another option for getting paleo meals delivered to you in NYC. They offer a full line of paleo meals using organic ingredients and grass fed, grass finished meats. All True Fare meals are Whole 30 compliant as the founder of the company is the author of the Whole 30 cook book line. They offer a number of complimentary products as well, such as their own brand of paleo pork rinds and paleo cooking oils like their homemade lard and tallow. If you are looking for Paleo or nyc organic food delivery, Premade Paleo is definitely worth considering.
See premadepaleo.com for current prices and all meal plan options.
Pre-made Paleo has offered a 5% discount for our readers on all orders, enter promo code "MYPALEOS2018" at checkout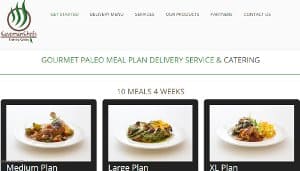 Caveman Chefs
Caveman Chefs uses in season produce and grass fed meats from their local area in Colorado to create a menu of unique paleo dishes which they offer as a food delivery service. They have roots in paleo catering and running a paleo restaurant in Denver but have transitioned to running a paleo meal delivery service. They ship paleo meals to NYC and offer a paleo friendly meal plan via their nationwide paleo food delivery program.
See cavemanchefs.com for full pricing and menus.
Caveman Chefs has extended a 10% off discount on all orders when you mention promo "#ZachmyPALeos" when calling or via the notes on your order.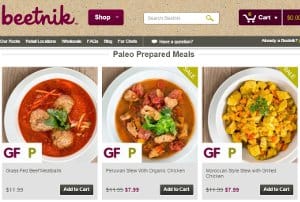 Beetnik Foods
Beetnik foods offers a a line of paleo frozen meals that are packaged and sold at select health food stores and Whole Foods locations throughout the US. They do also offer an option via their website to order their meals to be delivered to homes and office locations throughout the US including NYC. In addition, their meals are sold via some specialized online gluten free grocery services that deliver to NYC. Although not your standard meal delivery service, Beetnik gives an alternative option for those interested in frozen paleo prepared meals. If you are looking for paleo meals nyc options that you order once in a while to keep in your freezer, Beetnik foods is a good alternative to signing up for standard meal delivery companies.
For additional information on Beetnik Foods, getting paleo meals delivered in NYC and their paleo frozen meals please see the detailed write up we did on them.
Keto Meal Delivery NYC Specific Choices
For those who are looking to find meals that are both Keto and Paleo, there are a few options for New York residents as well. Several of the national companies mentioned above such as The Good Kitchen, Paleo on the Go, True Fare and Trifecta Nutrition offer dedicated Keto meal plans, in addition to also using ingredients that also qualify as Paleo such as organic local produce and grass fed and finished proteins. In addition, the below companies started locally in the New York area offer delivery of Keto meals.
Kettlebell Kitchen
Kettlebell Kitchen, covered above and based in NYC now offers a Keto meal plan in addition to their more traditional Paleo plan. Like their Paleo meal offerings, Keto meals from Kettlebell Kitchen are available for pickup from numerous gym locations throughout all the New York City boroughs.
Eat Clean Bro
Really based in NJ, but serving the tri-state area is Eat Clean Bro, a workout focused delivery service. They are one of the few local NYC area delivery companies with a dedicated Keto menu. Meals within the Keto menu are ordered a la carte for delivery throughout NYC. If you can make peace with the name, Eat Clean Bro is one keto food delivery NYC option to consider.
For the Eat Clean Bro Keto menu see: https://eatcleanbro.com/our-menu/meal-type/keto-meals 
In addition to the national companies we've already covered that offer NYC keto meal delivery like The Good Kitchen, Paleo on the Go, Trifecta Nutrition and True Fare, there are also national companies that focus solely on Keto (but not Paleo) meals, such as Ketoned Bodies and Keto Fridge, that will deliver to NYC residents. It's steadily getting easier to find keto NYC options as more and more specialty meal delivery companies are adding keto menus to their offerings.
The Paleo Meal Delivery NYC Options just Keep Getting Better
With such a vast array of choices from custom chef crafted meals to local crossfit meal delivery related services to nationwide paleo delivery companies with super high standards for their local, organic produce, grass fed and pastured meats, there are many great options out there no matter what your situation. Hopefully seeing all the Paleo food nyc services available has been exciting. I know I was very excited when I started to learn what was out there.
Your own Experiences with Paleo NYC Delivery?
Do you know of any other paleo food delivery NYC services that we should include in this article? Have any suggestions or feedback about the services listed in this article? Maybe a new paleo nyc delivery service or organic delivery nyc service just opened up that you'd like us to cover? Please leave any thoughts in the comments below. Your feedback will help everyone reading this article. Thank you in advance.
This article is part of our Paleo NYC Series: