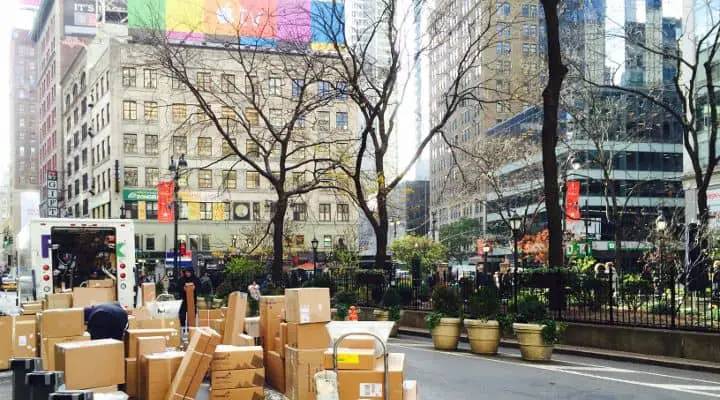 With a strong food delivery culture, in New York you can get just about anything delivered at any time of the day or night. Luckily in recent years, this is also true for people on the Paleo diet.
In this guide we go over your options for ordering paleo meal delivery in NYC. The number of companies delivering chef created paleo meals in New York City might surprise you.
With an increasing number of local companies as well as national companies serving NY, the options are getting better all the time. Whether you are ordering just a single meal or purchase a weekly or monthly paleo meal plan, there are a wide variety of paleo food delivery NYC options available.
This article is part of our Paleo NYC Series: • 15 Of the Best NYC Paleo Restaurant Options • 12 Paleo Meal Delivery Serving NYC
This post contains affiliate links. Click here to see what this means.
We cover the following....
Local Paleo NYC Meal Delivery Companies
The following are local New York City area companies that offer delivery of paleo meals to your door.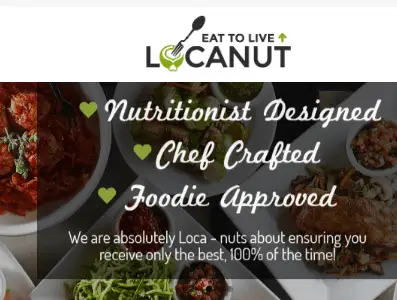 Locanut
Locanut have been operating in the city of New York since 2015, allowing customers to order pre-set menus and custom meals that are suitable for the Paleo lifestyle, as well as other diets like Whole30, vegetarian, vegan and Keto.
Locanut ensures that they only use local, organic ingredients, 100% grass-fed meat, pastured & free-range poultry, wild-caught & sustainable seafood, and unrefined, cold-pressed oils (no industrial seed oils).
The only caveat of using Locanut is that they deliver exclusively to the Midtown Manhattan area, including Hell's Kitchen and parts of Lower Manhattan. This is great news for those who work and/or live centrally, but not so great for customers who want to benefit from Locanut's offerings in more suburban and rural parts of New York.
For full pricing see: https://www.locanut.com
Locanut Reviews:
https://www.seamless.com/menu/locanut-807-9th-ave-new-york/315217
https://www.ezcater.com/catering/locanut-new-york#caterer-detailed-reviews
https://en.yelp.my/biz/locanut-new-york?start=20
https://www.tripadvisor.com/Restaurant_Review-g60763-d13006442-Reviews-Locanut-New_York_City_New_York.html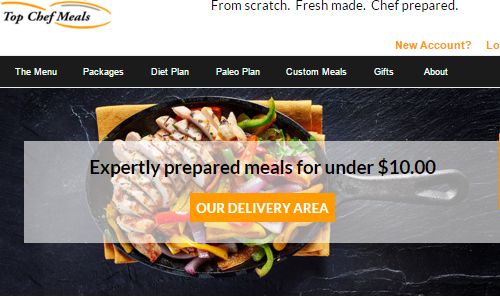 Top Chef Meals
Top Chef Meals are based in the NYC area, offering Paleo meal plans as one of their many offerings. They send out 9 meals per week if you opt for one of their packages, although you can also order meals from their 'a la carte' menu.
Top Chef also caters to similar dietary needs like gluten-free and dairy-free, as well as other specialty diets including Keto, low-carb, low-fat, low-sodium, diabetic, and renal diets.
Individual meal costs range from $8 to $15 and all dishes come with a nutritional breakdown including ingredients, total calories and macronutrient content. This is great for Paleo practitioners who prefer to know the macronutrient and energy balance of a meal in order to maintain weight, lose weight or gain muscle.
All meals are flash frozen prior to shipping in order to retain freshness and flavor through the delivery process. Because Top Chef Meals are based in NYC, you can expect your order to be delivered the following day. First time orders also ship for free, and recurring deliveries are free providing the order is $75 or over in value.
For full pricing see: http://topchefmeals.com/paleo-menu
Top Chef Meals paleo Reviews: http://weekendfarmer.com/new-york-meal-delivery-services/
http://www.prnewswire.com/news-releases/top-chef-meals-expands-service-area-throughout-the-east-coast-300171160.html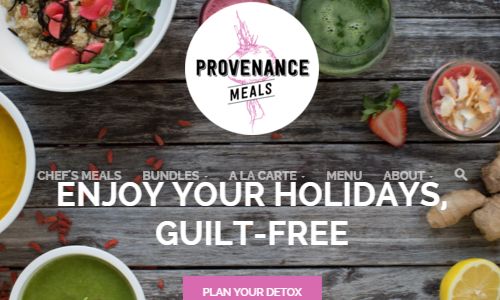 Provenance Meals
Provenance Meals are a company based in NYC that have been featured in prominent media such as The New York Times, Vogue and Goop. They offer a number of clean eating programs and detoxes as well as healthy meals that can be delivered to your home.
Provenance meals are designed by nutritionists and meet specifications that are desirable to those following a Paleo lifestyle: gluten-free, dairy-free, refined sugar-free, organic, pasture-raised meats and wild seafood. They ensure that their meals do not contain GMOs, pesticides or industrial seed oils, as well as keeping their packaging recyclable and compostable.
Their delivery areas are specifically Queens, Manhattan and Brooklyn, although they encourage you to enter your zip code to find out whether they deliver to your area.
Provenance Meals also sell probiotic supplements, collagen sticks and grass-fed bone broth as an additional line of product offerings.
For full pricing see: http://www.provenancemeals.com/
Provenance Meals Reviews: http://www.metropolitanmusings.com/2013/10/nyc-healthy-meal-delivery.html
http://letsnomnomblog.com/2015/12/10/provenance-meals-one-day-whole-food-detox/
http://weekendfarmer.com/new-york-meal-delivery-services/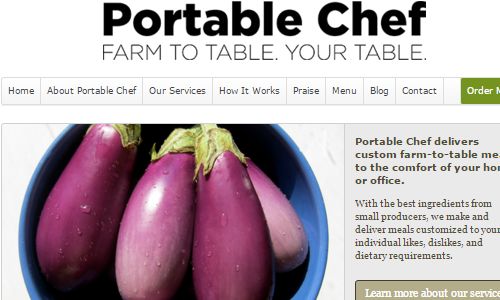 Portable Chef
Portable Chef, based in New York City, are a customizable meal preparation service delivering dishes straight to your door. They cater to any and all dietary preferences, making a Paleo diet accessible for those who are busy and don't have time to cook.
This small business strives to source only from local, small family farms. This results in pastured livestock and high-quality animal protein. Fresh produce is also completely organic, so that customers receive the best-tasting food which has been sustainably produced.
Portable Chef allows customers to either opt in for one of their popular meal packages (all food is customizable – just the number of meals changes), or to build their own plan. Building your own plan is appropriate for those who have unusual schedules and wouldn't benefit from a standard 5 day dinner package.
You can expect to pay $32 per meal, regardless of the number of days and meals you choose. Portable Chef have been featured by Vogue, CBS, and Well+Good.
For full pricing see: http://www.portablechefnyc.com/
Portable Chef Reviews: http://www.onemedical.com/blog/live-well/best-nyc-healthy-food-delivery/
5 Squares
5 Squares are a meal delivery service based in New Rochelle, NYC, founded by nutrition consultant Monica Lynn. They strive to serve the surrounding NYC area with their personalized approach to healthy eating and wellness.
They serve different dietary needs, including Paleo but also Pescatarian, gluten-free, and standard meals. You can expect dishes like filet mignon with burnt broccoli & sautéed mushrooms, turkey burgers, chicken rollatini with zucchini, asparagus & roasted pepper over arugula, and Paleo saute.
5 Squares encourage customers to eat 5 of their meals a day, as a way of increasing metabolism and therefore weight loss. Their meals are naturally low in calories because of this, and are completely 'clean', aka free from gluten, dairy and refined sugar.
Nutropia
Nutropia was founded in 2001 by gym owner and nutritionist James Rappaport and Ranee LaFratta, to serve the busy professionals of NYC without having to compromise a healthy lifestyle. Nutropia serves as both a personal chef and nutritionist, ensuring that every meal you receive has been curated to suit your needs.
As a result, Nutropia state that they are able to meet Paleo needs, as well as other dietary requirements like South Beach, Atkins and Vegetarian. They have over 100 different meals and snacks to choose from, so that you can continue to reap the benefits of a meal delivery service without getting bored.
Plans are priced at a daily rate, ranging from $18 a day for lunch and a snack, to $45 a day for 3 meals and 2 snacks over the course of 10 days ($450 total). This places Nutropia at a premium compared to other Paleo-specific meal services, but with the added benefit or personalized dishes.
Paleo Food Delivery Services that Deliver to NYC
The below companies all offer paleo meal delivery to NYC. These are larger nationwide paleo delivery companies where New York City is covered within their delivery zones. In many cases food costs are lower in other areas of the US than they are in New York City, so you are benefiting from the lower prices of local farmers market produce in these areas.
In addition, the majority of the below companies source ingredients from farmer cooperatives that are in season in their local area. So your options for seasonal local produce in the winter may be a lot better in Florida or Southern California than it is in NYC. You are still getting these meals (and high-quality seasonal ingredients) days after they are harvested but by farms in the local area that the company operates.
These companies ship your meals overnight via FedEx and UPS, either in refrigerated styrofoam coolers with gel packs or in some instances frozen with dry ice. If you are for looking paleo delivery nyc options you should definitely consider the nationwide services below when making a decision.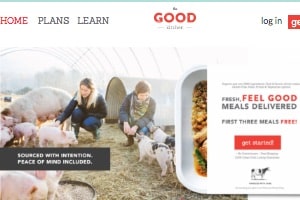 The Good Kitchen
The Good Kitchen, based on the east coast in North Carolina, delivers their Paleo-compliant meals throughout the NYC area (meals are delivered refrigerated in cooler boxes).
Meals are designed around in-season ingredients from organic, sustainable local farms and use 100% grass-fed and grass-finished beef, pasture-raised poultry, pork, eggs, lamb and turkey, and Seafood Watch-compliant seafood. Formerly named modPaleo, they changed their branding but still offer primarily Paleo meals with a few additions for those eating Primal – they list the full ingredients in each meal making it easy to pick out meals that will work well for your dietary preferences.
The Good Kitchen also have a vast range of meals specific to the Whole30 challenge, which can either be ordered online or found in participating Walmart stores (in the frozen section). They require a minimum of 10 meals (either as a recurring or one-time order) but offer free shipping on all orders. Meals cost between $11-$14 depending on the quantity of dishes bought.
See thegoodkitchen.com for weekly menus and prices.
The Good Kitchen is offering a 15% discount for our readers. Use promo code "mypaleos" at checkout for 15% off your first order.
I recorded unboxing my most recent The Good Kitchen meals to give a sense of the experience:
For our longer write up on The Good Kitchen, including reviews, see this earlier write up on them.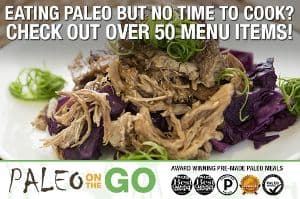 Paleo on the Go
Paleo on the Go is a popular company that will deliver anywhere in NYC. They have won a number of Paleo magazine readers choice awards for the best Paleo meal delivery service in the US.
They offer both weekly meal plans, such as traditional Paleo or AIP (autoimmune protocol) meals and 'a la carte' single meal orders. They work with local farmers in their area to source grass-fed meats and wild local seafood.
They focus on using organic produce for those items in the dirty dozen list. In addition, Paleo on the Go partners with some big name Paleo bloggers, such as Christina Curp of The Castaway Kitchen.
See www.paleoonthego.com for menus and prices.
Note: Paleo on the Go has offered a 10% off coupon code for readers of this blog: use "MYPALEOS" at checkout for 10% off your entire order – one time use.
I also took a video of unboxing and heating meals from my most recent Paleo on the Go order:
For our longer write up on POTG, including reviews, see our earlier coverage of on them.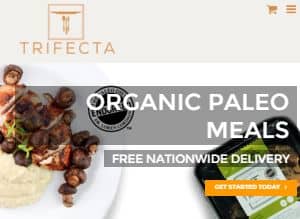 Trifecta
Trifecta Nutrition is another Paleo meal delivery service that will deliver to NYC. They are promoted by Crossfit athletes like Rich Froning and Brooke Ence, and offer delivery of refrigerated (non-frozen) Paleo meals via their weekly meal plans.
They focus on Paleo-compliant 100% organic ingredients and grass-fed meats, sourced from their operations in Southern California and offer free shipping with their meal plans. They also offer Keto, vegan, vegetarian and standard/classic meal packages to cater for other dietary requirements.
Trifecta offers pre-packaged Paleo-friendly meals in convenient to-go containers with an emphasis on reducing the environmental footprint of all levels of their packaging and sourcing animal products that meet a minimum rating for humane treatment of animals.
See http://trifectanutrition.com/paleo-meal-plans/ for current meal plan prices.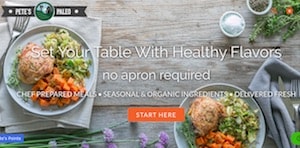 Petes Paleo
Pete's Paleo offers refrigerated (non-frozen) paleo meals delivered to all locations to NYC overnight from the west coast. Despite the express delivery from San Diego, their prices are competitive or often lower than what local food delivery companies in NYC charge for their meals. They have a strong focus on working with local farmers in their region and sourcing only grass fed, grass finished meat as well as in season regional organic vegetables and fruits. One unique feature of their meals is that they use absolutely no sweeteners, relying on only natural sweetness of the produce and chef techniques to flavor their foods. They also offer a sugar detox meal plan, as well as a Wahls Paleo approved meal plan catering specifically to the dietary needs of those following the autoimmune Paleo protocol taught by Dr. Terry Wahls.
See: https://www.petespaleo.com/ for a complete list of prices and meal plans offered through Pete's Paleo.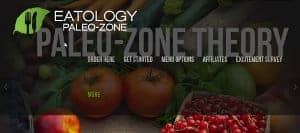 Eatology
Eatology's paleo meal plans are available for NYC residents, with meals shipped to your home or office weekly or monthly. Their meals follow the requirements of Paleo, as well as incorporate the principles of the zone protocol, which relates to balancing the proportion of carbohydrates, proteins and fats within each meal.  The goal of the zone approach is to help clients lose weight as well as improve their health and stabilize the ups and downs of blood insulin levels. As the meals are portion controlled, Eatology is also one of the least expensive nationwide paleo meal delivery services available.
See http://www.eatology.co to learn more about Eatology's Paleo-zone meal plans.
Eatology is offering a 20% off promo for our readers (works for first & all later orders), use code "ZACHPALEO" at checkout
For our detailed write up on Eatology including reviews, see our in-depth coverage on them.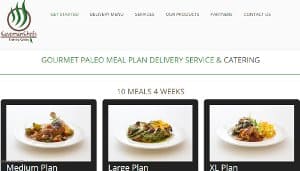 Caveman Chefs
Caveman Chefs uses in season produce and grass fed meats from their local area in Colorado to create a menu of unique paleo dishes which they offer as a food delivery service. They have roots in paleo catering and running a paleo restaurant in Denver but have transitioned to running a paleo meal delivery service. They ship paleo meals to NYC and offer a paleo friendly meal plan via their nationwide paleo food delivery program.
See cavemanchefs.com for full pricing and menus.
Caveman Chefs has extended a 10% off discount on all orders when you mention promo "#ZachmyPALeos" when calling or via the notes on your order.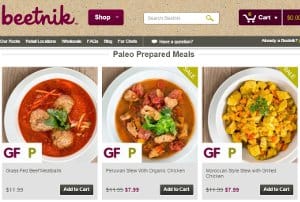 Beetnik Foods
Beetnik foods offers a a line of paleo frozen meals that are packaged and sold at select health food stores and Whole Foods locations throughout the US. They do also offer an option via their website to order their meals to be delivered to homes and office locations throughout the US including NYC. In addition, their meals are sold via some specialized online gluten free grocery services that deliver to NYC. Although not your standard meal delivery service, Beetnik gives an alternative option for those interested in frozen paleo prepared meals. If you are looking for paleo meals nyc options that you order once in a while to keep in your freezer, Beetnik foods is a good alternative to signing up for standard meal delivery companies.
For additional information on Beetnik Foods, getting paleo meals delivered in NYC and their paleo frozen meals please see the detailed write up we did on them.
Honorable Mentions – Local Quasi-Paleo Options
Epicured
Epicured are another popular healthy meal delivery service that have been featured by outlets such as Forbes magazine, The Wall Street Journal and Women's Health magazine, to name but a few.
Epicured specialize in producing gluten-free, low FODMAP and gut-friendly meals that can be delivered nationwide, although they are based centrally in NYC. Their food has been clinically recommended and approved for people who have Crohn's, Colitis, IBS, Celiac and Non-Celiac Sensitivity, which is perfect for those who use a Pale0-style diet for therapeutic reasons.
In regards to pricing, each delivery costs $10 to ship, unless you order over $100 worth of food per week, in which case your order ships free. Because each meal costs roughly $15, this works out at around 7 meals per week, or 1 meal per day.
Cook Unity
Cook Unity are a meal delivery service operating in the NYC area, delivering to the entirety of New York City, as well as locations down to Washington and up to Plattsburgh.
They create healthy meals in small batches starting at $10.99 per meal. They boast 150 meal options each week cooked by professional chefs which are then shipped out fresh (not frozen), so you can just reheat them in under 2 minutes when you need them.
Each meal states the calorie content as well as whether it is a meat, poultry, seafood, vegetarian or vegan meal, so you can know the protein content in one quick glance. Cook Unity states that meals also state allergen information such as gluten, nut and dairy, so that you can make more Paleo-appropriate choices.
When you look at the menu, there are numerous options available that suit a Paleo-type lifestyle, as stated in its description, as well as Keto and Whole30 meals. All meals that are listed as Paleo are under 600 calories, whilst Keto meals can range from 500 calories up to 1200 calories.
Keto Meal Delivery NYC Specific Choices
For those who are looking to find meals that are both Keto and Paleo, there are a few options for New York residents as well. Several of the national companies mentioned above such as The Good Kitchen, Paleo on the Go, True Fare and Trifecta Nutrition offer dedicated Keto meal plans, in addition to also using ingredients that also qualify as Paleo such as organic local produce and grass fed and finished proteins. In addition, the below companies started locally in the New York area offer delivery of Keto meals.
Eat Clean Bro
Really based in NJ, but serving the tri-state area is Eat Clean Bro, a workout focused delivery service. They are one of the few local NYC area delivery companies with a dedicated Keto menu. Meals within the Keto menu are ordered a la carte for delivery throughout NYC. If you can make peace with the name, Eat Clean Bro is one keto food delivery NYC option to consider.
For the Eat Clean Bro Keto menu see: https://eatcleanbro.com/our-menu/meal-type/keto-meals 
In addition to the national companies we've already covered that offer NYC keto meal delivery like The Good Kitchen, Paleo on the Go, Trifecta Nutrition and True Fare, there are also national companies that focus solely on Keto (but not Paleo) meals, such as Ketoned Bodies and Keto Fridge, that will deliver to NYC residents. It's steadily getting easier to find keto NYC options as more and more specialty meal delivery companies are adding keto menus to their offerings.
The Paleo Meal Delivery NYC Options just Keep Getting Better
With such a vast array of choices from custom chef crafted meals to local crossfit meal delivery related services to nationwide paleo delivery companies with super high standards for their local, organic produce, grass fed and pastured meats, there are many great options out there no matter what your situation. Hopefully seeing all the Paleo food nyc services available has been exciting. I know I was very excited when I started to learn what was out there.
Your own Experiences with Paleo NYC Delivery?
Do you know of any other paleo food delivery NYC services that we should include in this article? Have any suggestions or feedback about the services listed in this article? Maybe a new paleo nyc delivery service or organic delivery nyc service just opened up that you'd like us to cover? Please leave any thoughts in the comments below. Your feedback will help everyone reading this article. Thank you in advance.
This article is part of our Paleo NYC Series: