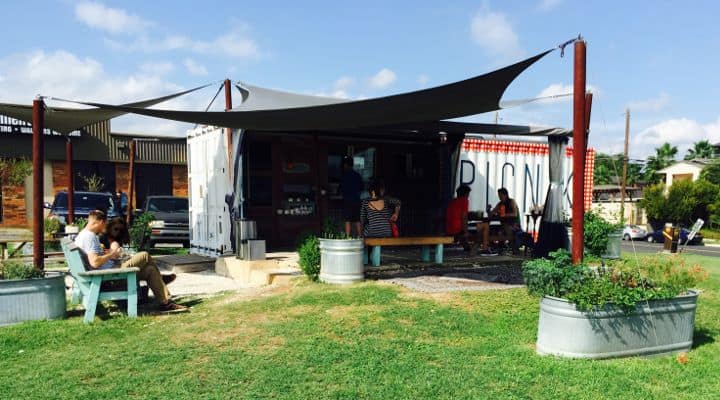 Eating out on the paleo diet can be challenging. Luckily if you are looking for paleo restaurants, Austin is a great place! They even have a coffee shop/restaurant, dedicated completely to the paleo/primal diet. If you follow the recommendations below, you won't have to miss out on the amazing Austin culinary scene. Whether you are going out for a fancy dinner, need a place with both paleo and non-paleo options or just want takeout, Austin is a great place for paleo eaters.
This article is part of our paleo food in Austin Texas Series:
• 8 Paleo Restaurants in Austin Texas, both Strict Paleo and Paleo Friendly Options
• Paleo Friendly Takeout places in Austin Texas
• 9 Paleo Food Delivery Austin Services
We cover the following....
Full Paleo Restaurants in Austin
Picnik
If you are looking for a fully paleo experience in Austin, head to Picnik. They offer grain free, sugar free baked goods, bone broth, almond flour tortilla tacos, soups, salads and a wide selection of bulletproof coffees and other teas and pressed juices. Although they label themselves as "primal and paleo-centric", the only primal but not technically paleo ingredients that I am aware of on their menu are the few drinks including Primal Fuel from Marks Daily Apple, which contains Whey. They offer Collegen Protein as an alternative dairy free protein source in these drinks. The setting is unique as well, the restaurant is built out of a retired shipping container, set on a grassy hill with an open air picnic table. 
Location: 1700 South Lamar 400-B, Austin, TX 78704
Sample Paleo Dishes: 
Grass Fed Bolognese Spaghetti Squash Lasagna with cashew cream
Seasonal Muffins made with Coconut Flour and Pasture Raised Eggs
Butter Coffee made with MCT Oil and Irish Grass Fed Butter
Website: http://picnikaustin.com/
Picnik Austin Reviews (Paleo related): 
http://paleoporn.net/picnik-austin/
http://thelazypaleo.com/2015/03/18/picnik-austins-first-paleo-cafe/
Austin Paleo Friendly Restaurants – Paleo and Non-Paleo Options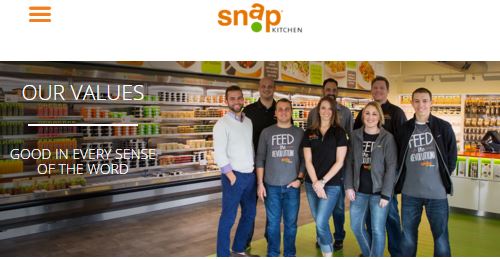 Snap Kitchen
Snap Kitchen offers the concept of healthy meals and cold pressed juices made daily and ready for pick up from their various Austin locations, packaged up in containers and ready to go. Menu items are labeled with various designations, including Paleo and "Paleo Style", as well as things like dairy free, vegetarian, gluten free or "carb conscious". They do mention a commitment to sourcing local, organic ingredients whenever possible and meals are portion controlled with a listing of the number of carbs in each meal.
Locations: Snap Kitchen has seven Austin area locations, including downtown: 1014 W 6th St, Austin, TX 78703
Sample Paleo Dishes:
Almond-crusted sliced crispy chicken with roasted carrots in kale-walnut pesto
Crispy almond crusted Scottish Salmon with roasted carrots, and zucchini
Braised Grass Fed beef meatballs with sautéed peppers and onions and spicy marinara sauce
Website: http://www.snapkitchen.com/
Snap Kitchen Austin Reviews (Paleo):
http://loubiesandlulu.com/whole30-paleo-snap-kitchen/
http://itsnothouitsme.com/2015/06/04/dieting-is-such-a-snap-with-snap-kitchen/
http://pattyanddavid.blogspot.com/2014/03/snap-kitchen-paleo-dinner.html
 
24 Diner
24 Diner is a popular Austin favorite for those in the Paleo community. The Culinary Institute of America trained chef combines the feeling of a diner with ingredients like local, farm-to-table and organic ingredients "wherever possible". They have a dedicated gluten free menu with a whole selection of salads and bunless burgers as well as stating on their menu that "24 Diner is happy to accommodate special dietary needs with menu modifications". Its a great option late at night for a paleo after hours meal as it's open 24 hours.
Location: 600 N. Lamar, Austin, TX
Sample Paleo Friendly Dishes: 
Deviled Eggs with Beeler's all-natural, never ever, nitrate-free bacon, smoked paprika and chives
Sweet Potato Hash with Roasted poblano and sausage (hold the Jack cheese)
Bunless "Backyard Burger" Local tomatoes, butter lettuce, flash-pickled carrots & cucumbers (hold the cilantro crema)
Website: http://24diner.com/
24 Diner Austin Reviews (Paleo): 
http://nomnompaleo.com/post/47093632569/deep-in-the-heart-of-texas-days-1-2
http://paleoparents.com/featured/a-fly-on-the-wall-in-the-paleo-fx-real-world-house/
http://thefunkyfork.com/palefx-2014-recap-days-1-2-eating-learning-meeting/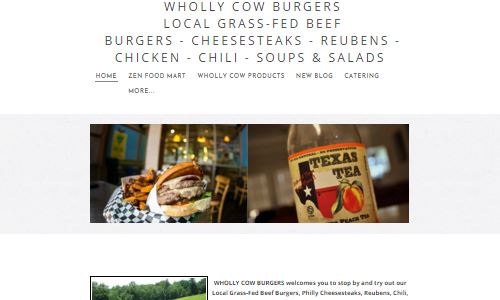 Wholly Cow Burgers
Wholly Cow Burgers is another popular place with Paleo eaters in Austin. Besides making top 10 lists for best burger in the US, they offer a grass fed burger that come with portabello mushrooms as a substitute for buns. Their menu states they offer "burgers using local, hormone-free, organically raised, grass fed and finished beef, local organic seasonal produce" and "paleo and gluten-free friendly options available". Their downtown location is in the process of relocating as of this writing, but the original south lamar location remains open.
Location: 3010 South Lamar Blvd, Austin, TX
Sample Paleo Friendly Dishes:
The Fit Cross Paleo Burger, sandwiched between portabella mushroom caps with Bacon, Grilled Onions. Lettuce, Tomato, Pickles and Mustard
Side of sweet potato fries
Website: http://www.whollycowburgers.com
Wholly Cow Burgers Austin Reviews (Paleo):
http://www.fitnessinanevolutionarydirection.com/2012/06/paleo-restaurant-project-wholly-cow-zen.html
http://sweet-paleo.com/mostly-paleo-austin-recap-part-1/
http://blog.primalpastures.com/realfood/top-8-mostly-paleo-destinations-in-atx/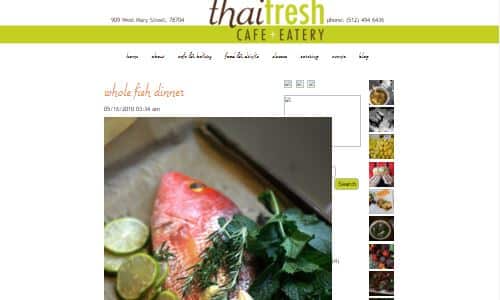 Thai Fresh
Thai Fresh offers a mostly gluten free Thai menu combined with gluten free baked goods. They state that their "meats are 100% local and free of antibiotics and hormones" and take this a step further by listing on their menu the local farm where each protein is sourced. Although many items could be made paleo, it may require talking to your server to make sure you pick a dish where no sauces are used that contain only paleo friendly ingredients. The good news is that Thai Fresh is used to accommodating diners with food restrictions, so that should be an easier conversation than normal.
Location: 909 West Mary Street, Austin TX 78704
Sample Paleo Friendly Dishes: 
Vital Farm's Organic Chicken Wings marinated with garlic, cilantro & peppercorn with no batter 
Mixed Salad with Lemon, thai Basil, Texas hydroponic lettuce, tomatoes, cucumbers and local hydroponic micro greens (ask for custom dressing to avoid non paleo ingredients)
Website: http://thai-fresh.com/
Thai Fresh Austin Reviews (Paleo): 
http://www.acleanplate.com/2014/10/01/a-paleo-guide-to-austin/
Austin Primal Living Group Recommendations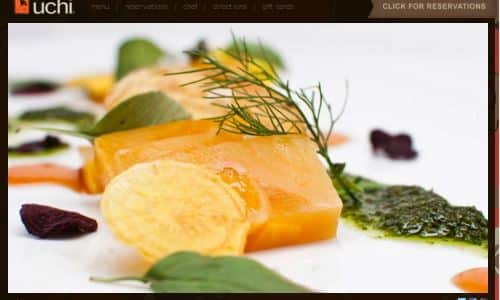 Uchi
Uchi, a higher end Japanese restaurant offers a gluten free menu and the servers are very accommodating with food restrictions. That said, as many of the items change daily, your best option may be to talk to the server about paleo friendly dishes before ordering. Given the type of cuisine, many dishes have few ingredients to highlight the flavor of the (mostly wild) fish they offer.Their website states their goal is "combining local seasonal ingredients with an infinite spectrum of seafood from around the globe". 
Location: 801 South Lamar Austin, Texas 78704
Sample Paleo Friendly Dishes:
uchiviche salmon with striped bass, tomato, bell pepper, garlic, cilantro
tako pops grilled baby octopus
sasami yaki oak-grilled chicken breast, lemon­grass, cilantro
Website: http://uchiaustin.com/
Uchi Austin Reviews (Paleo):
http://www.thepaleomom.com/2014/04/first-paleo-fx-conference-experience.html
http://www.acleanplate.com/2014/10/01/a-paleo-guide-to-austin/
http://paleoparents.com/2015/guest-post-paleo-fx-2015-a-recap/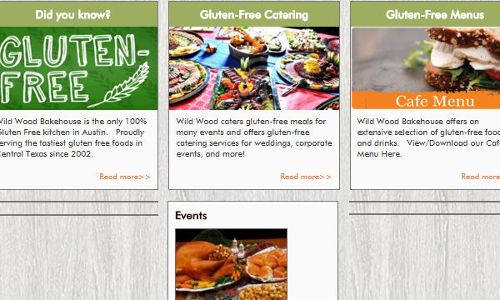 Wild Wood Bakehouse
Wild Wood Bakehouse is a completely gluten free restaurant in Austin, committing to a 100% gluten free kitchen. In addition, they mark all menu items that are dairy free as well as vegan, again, helping with the selection process. Although it still may require asking for omissions of buns or some sauces to produce a fully paleo meal option, given their commitment to helping those with food sensitivities, it is a good place to start to make these types of requests.
Location: 3016 Guadalupe St, Ste. 200, Austin, Texas 78705
Sample Paleo Friendly Dishes:
Organic Grass-fed Open-Range Bison burger, grilled to order (ask for it without the bun)
Garden salad with mixed field greens, tomatoes, cucumbers, and shredded carrots (ask for paleo friendly dressing options)
Wild Salad of mixed field greens, tomatoes, shredded carrots, cucumbers, and fresh seasonal fruit
Website: http://www.wildwoodbakehouse.com/
Wild Wood Bakehouse Austin Reviews (Paleo): 
Austin Primal Living Group Recommendations
http://www.acleanplate.com/2014/10/01/a-paleo-guide-to-austin/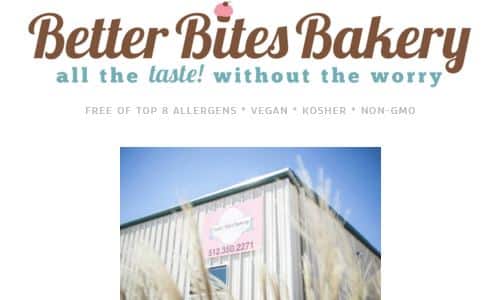 Better Bites Bakery
Better bites bakery is a gluten free bakery in Austin making deserts and cakes. They state that their mission is "to bake up tasty, delightful treats with special dietary needs and high food standards in mind". They also state that "We have successfully made several birthday cakes, cupcakes, cakeballs, and cookies for people with multiple food allergies. There has yet to be a list of allergies that has stopped us!". Although there is not a long track record of ordering paleo items from Better Bites, given their willingness to customize baked goods based on individual allergies makes them a bakery to consider if you need a Paleo friendly cake or baking order that fits your individual needs.
Location: 11190 Circle Dr Ste 350 Austin, TX 78736
Website: http://www.betterbitesbakery.com/
Better Bites Bakery Reviews (Paleo):
http://laketravislifestyle.com/better-bites-bakery-gluten-free-treats-for-everyone-to-enjoy/
As you can see, Austin is a great place for those on the Paleo diet. Although making food yourself so that you know exactly what went into it is always a safe bet, everyone can use a break. Austin has a lot of delicious, accommodating and paleo diet safe places to choose from. Paleo Austin options are around if you know where to look. 
Know of other paleo restaurants austin has to offer? Have specific restaurants that you have found great paleo options? Please let them in the comments below! We'd love to hear your finidings!
This article is part of our paleo food in Austin Texas Series:
• 8 Paleo Restaurants in Austin Texas, both Strict Paleo and Paleo Friendly Options
• Paleo Friendly Takeout places in Austin Texas
• 9 Paleo Food Delivery Austin Services