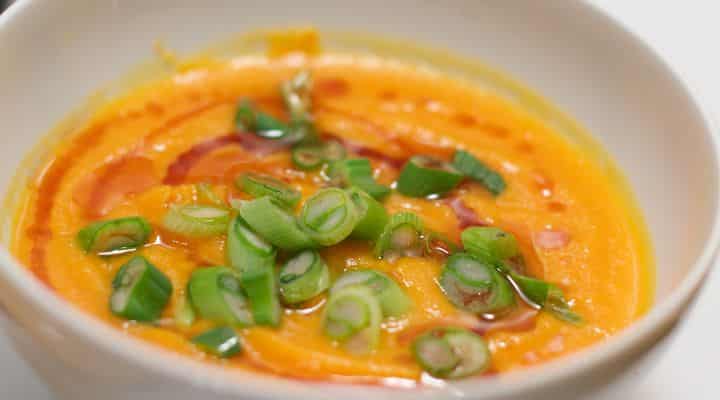 Looking for the perfect vegetable soup recipe that is paleo, grain free and gluten free? We've got you covered with this roundup of 21 amazing Paleo Vegetable Soup recipes, organized by type of recipe so that you can easily find the perfect one, whatever dietary preferences you are following.
Vegetable soup tends to be one of those "whatever is in the fridge" types of recipes, great on a cold or rainy day. These recipes can hopefully help guide you with ideas for flavors that go well together and inspiration for ingredients you would have never considered.
Whether you are trying to incorporate bone broth into your diet, have to follow a strict AIP protocol or are looking only for paleo vegan recipes, one of these delicious recipes have got you covered.
Recipe Categories
We cover the following....
Slow Cooker Paleo Vegetable Soup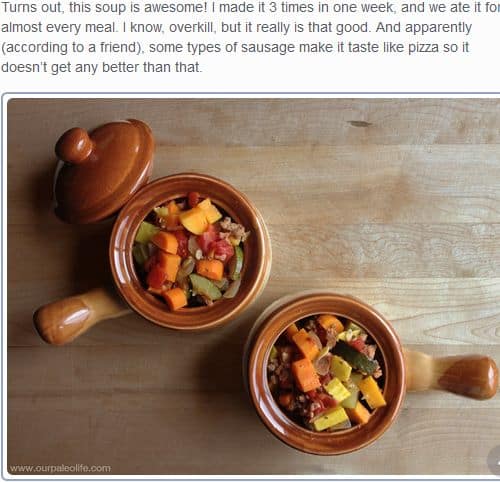 Crockpot Paleo Minestrone Soup from Our Paleo Life – Slow Cooker, Spicy, Paleo Vegan/Vegetarian Option (Use vegetable stock and omit sausage)
This "minestrone" paleo vegetable soup recipe uses no pasta, cheese or beans, but instead captures the essence of the flavor of minestrone soup with ingredients like spinach, zucchini, diced tomato in the broth and oregano, basil and parsley. All ingredients are simply added to the crock pot. The recipe recommends an optional paleo pork sausage to be added to give a smoky, pizza like flavor to the recipe.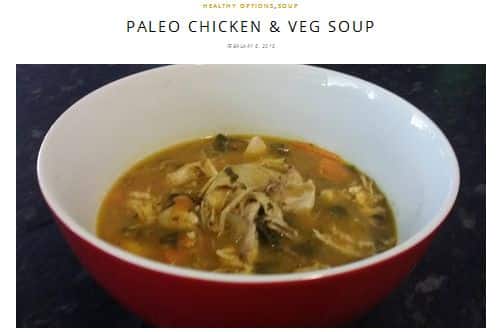 Paleo Chicken and Veg Soup from Slow Cooker Central – Slow Cooker, Chicken Broth
This crock pot version of paleo vegetable soup is based on chicken broth, with shredded chicken adding texture to the soup. Some unique ingredients such as spinach, bok choi, pumpkin, basil and lemon juice make this soup stand out from other vegetable soups.
AIP Paleo Vegetable Soup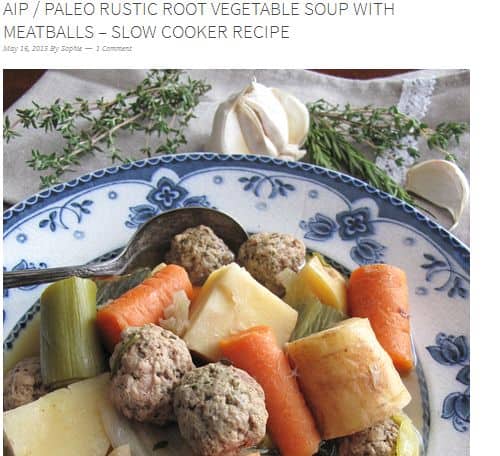 AIP Paleo Rustic Root Vegetable Soup with Meatballs from A Squirrel in the Kitchen – AIP, Slow Cooker, Paleo Vegetable Beef Soup, chicken broth
This crockpot version of vegetable paleo soup is all layered in one batch in your slow cooker, saving you time by allowing you to load all ingredients up front – even the meatballs! A unique, seemingly Belgian inspired group of root vegetables are used for the soup, such as golden beets, turnips, carrots and parsnips, along with leeks, fresh rosemary and thyme and a base of chicken broth. Beef meatballs with cilantro are added at the top of the crockpot as well, making for a very hearty, chunky take on paleo vegetable beef soup.
Paleo Vegan/Vegetarian Vegetable Soup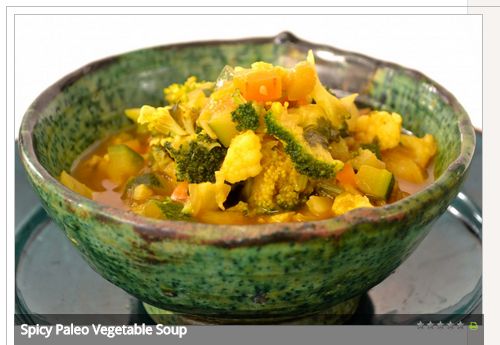 Spicy Paleo Vegetable Soup from My Dinner Project – Spicy, Indian Inspired, Paleo Vegan/Vegetarian
This soup adds the Indian inspired flavors of turmeric, ginger, cumin, paprika, garlic and fresh coriander/cilantro and lemon juice to a vegetable soup based on cabbage, zucchini, broccoli and cauliflower. This chunky, flavorful take on paleo vegetable soup uses a combination of vegetable stock and olive oil, keeping this soup totally vegan and vegetarian for those following a vegan form of the paleo diet.
Light Vegetable Soup from Paleo Plan – Paleo Vegan, Vegetarian, Simple/Quick Recipe
When you aren't in the mood for something heavy, this soup, great for spring and summer, is a medley of vegetables and vegetable broth, creating a light, chunky version of paleo vegetable soup. Even the choice of vegetables tend towards the low calorie light variety, avoiding root vegetables. The soup uses coconut oil to cook the zucchini, onions and carrots along with thyme and fresh parsley for fresh flavor.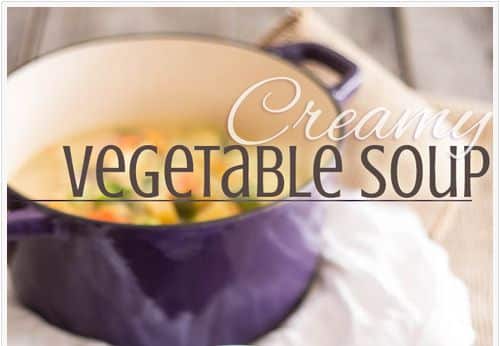 Non-Dairy Creamy Vegetable Soup from The Healthy Foodie – Vegetarian, Creamy, Paleo Vegan (Option)
This all vegetable version of Paleo Vegetable Soup includes a separate all vegetable cauliflower cream recipe which is added to the soup at the end for creaminess. The cauliflower cream includes a blended combination of cooked cauliflower and onion along with flavors such as apple cider vinegar, Dijon mustard, sage and nutmeg. The soup itself is based on hearty root vegetables such as carrots, parsnips and white sweet potatoes, complimented by butternut squash and Brussel sprouts. The soup can easily be made vegan by substituting the ghee with olive oil or coconut oil.
Paleo Vegetable Beef Soup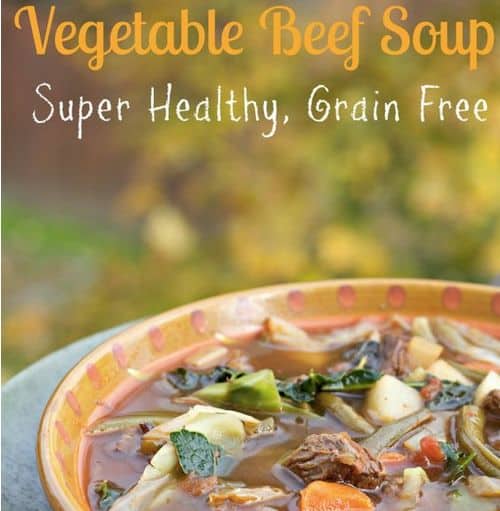 Homemade Vegetable Beef Soup from Spinach Tiger – Paleo Vegetable Beef Soup, Bone Broth, Tomato Based
This paleo vegetable beef soup combines prevalent winter vegetables such as cabbage and kale with beef stock made from beef bones. The soup also includes green beans, browned beef cubes, tomato and bay leaves and fresh thyme for flavor, rounding out this hearty, beefy version of paleo vegetable soup.
Beef Shank Vegetable Soup from The Paleo Partridge – AIP, Paleo Vegetable Beef Soup, Pressure Cooker
This AIP version of paleo vegetable soup is based on using a Instant Pot type of pressure cooker to cut down on cooking time. A process of braising and then pressure cooking the beef shank helps to make the meat tender. Root vegetables are used in the soup, such as turnip and parsnip (omit for SCD diet) along with cabbage and fresh herbs such as thyme and marjoram.
Paleo Vegetable Soup made from Bone Broth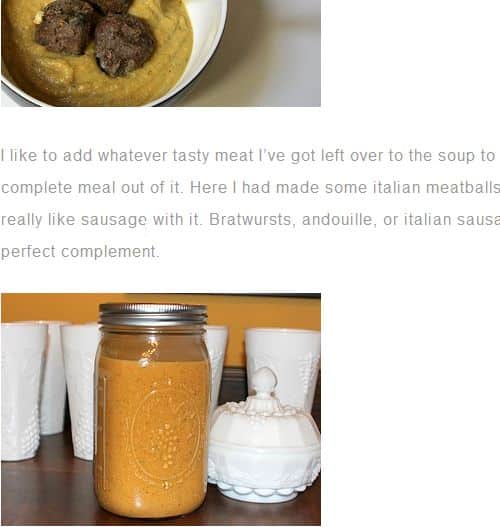 Creamy Vegetable Soup from Sisters Raising Sisters – Bacon Infused, Bone Broth, Chicken Broth
This vegetable soup uses a combination of blended vegetables such as cauliflower and broccoli and coconut milk to give a cream of vegetable soup consistency. The soup calls for a bone broth made from chicken bones and is infused with oil from bacon cooked as a first step and rosemary, basil and sage for flavor.
Roasted Chicken and Vegetable Soup from He Won't Know It's Paleo – AIP, Bone Broth, Chicken
This AIP friendly chicken vegetable paleo soup includes cabbage and zucchini as well as a base of carrots, onions and garlic cooked in avocado oil, a unique choice. Cooked shredded chicken is added to the soup at the end to give consistency, making this a relatively quick soup based on sauteed vegetables.
Spicy Paleo Vegetable Soup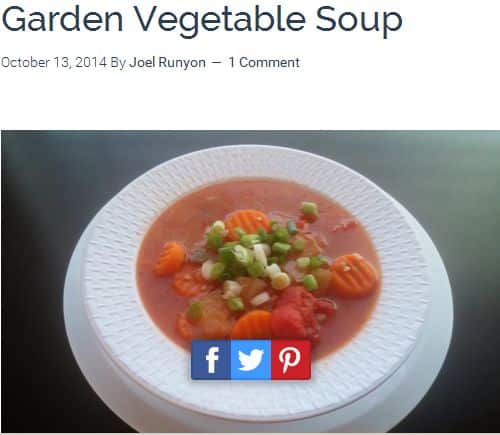 Garden Vegetable Soup from the Ultimate Paleo Guide – Spicy, Chicken Broth, Tomato based
This vegetable full soup recipe uses chicken stock as a base along with oven roasted grape tomatoes for a sweet tomato flavor, but adds unique vegetable combinations such as asparagus, leeks and fresh chives. A paleo friendly tabasco or hot sauce is recommended to add some spice to the soup.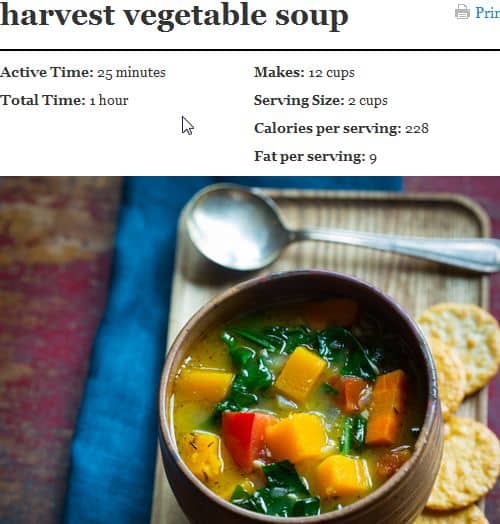 Harvest Vegetable Soup from Healthy Seasonal Recipes – Paleo Vegan Option (use vegetable broth), Spicy, Wine
This paleo vegetable soup highlights the flavors of the fall season, such as butternut squash, kale and the last of the tomatoes. White wine and paleo friendly tabasco or hot sauce along with fresh rosemary and herbs to province are suggested to give the soup base (chicken stock or a clear vegetable stock if doing a paleo vegan/vegetarian version) unique flavor.
Paleo Vegetable Soup made with Frozen Vegetables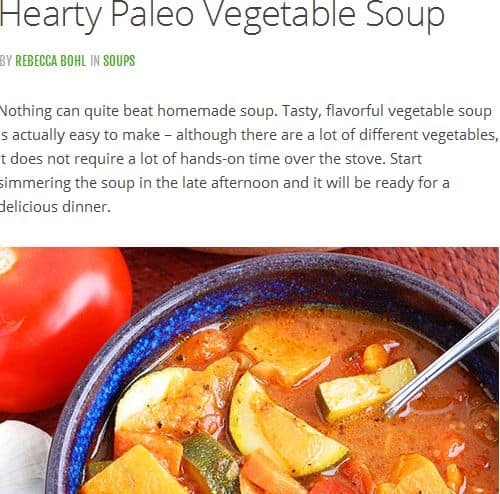 Hearty Paleo Vegetable Soup from Paleo Grubs – Paleo Vegan, Frozen Vegetables (Option), Sweet Potato, Tomato Base
This simple vegetarian and vegan paleo vegetable soup recipe uses vegetable broth as a base along with a combo of celery onions and carrots. Zucchini is added for consistency and flavor along with diced tomato to give a sweet taste to the soup base.
Paleo Vegetable Beef Soup from Bravo for Paleo – Paleo Vegetable Beef Soup, Frozen Vegetables, Slow Cooker (Option), Tomato base
This triple meat version of Paleo vegetable soup calls for a combination of chicken and beef stock as well as cubes of beef sirloin or stew cuts of meat. Several of the vegetables in the dish such as onions and green beans are suggested work with frozen vegetables to save you some time and prep. In fact all ingredients can be combined in a crock pot to make a one pot soup as an alternative – a low fuss and hearty meal.
Hearty Paleo Vegetable Soup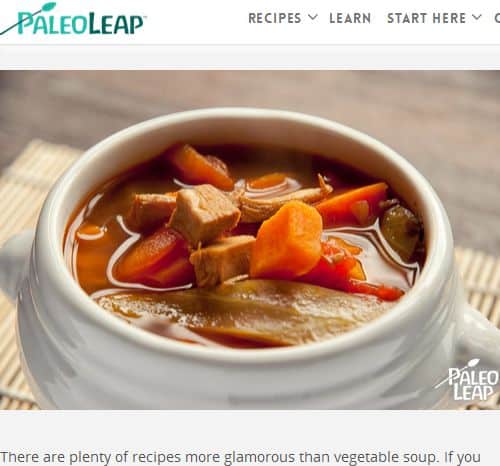 Winter Vegetable Soup from Paleo Leap – Chicken/Turkey, Hearty, Sweet Potato
This hearty and diverse vegetable soup includes filling ingredients such as sweet potato, cabbage and chicken or turkey along with a soup base of garlic, onion, carrot and celery and a broth based on vegetable or chicken stock. The soup is given flavor with sage, clarified butter and diced tomatoes.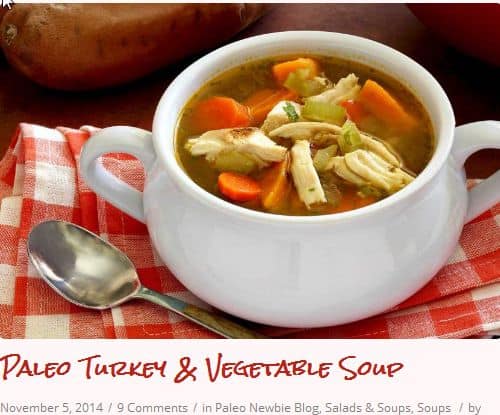 Paleo Turkey & Vegetable Soup from Paleo Newbie – Chicken/Turkey, Hearty, Sweet Potato
This turkey centric paleo vegetable soup recommends pre-cooked shredded turkey or chicken to be added to the soup for consistency. Flavor enhancements for this soup include flat leaf parsley and bay leaves, along with a traditional base of carrots, onions, garlic and celery and yam or sweet potato is suggested to add some heartiness to the soup as well.
Chicken/Chicken Broth Paleo Vegetable Soup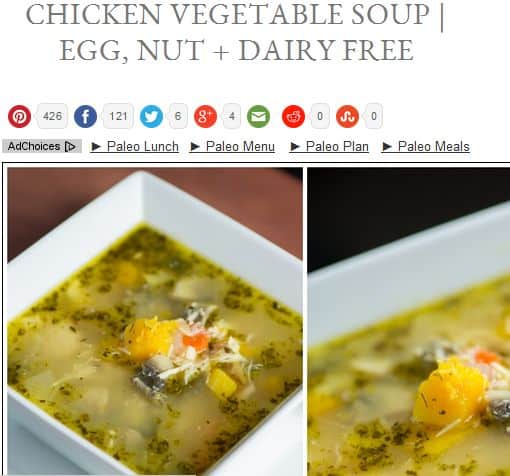 Chicken Vegetable Soup from Paleo on a Budget – Chicken Broth, Non Dairy, Egg Free, Nut Free
This flexible and versatile chicken paleo vegetable soup suggests including your own vegetables, but recommends incorporating mushrooms, as well as butternut squash, zucchini, carrots and onions. The soup is flavored with homemade chicken stock (recipe included) and shredded chicken as well as Cumin, Thyme, Rosemary and Basil, with a small bit of apple cider vinegar and even lemon added for tarteness.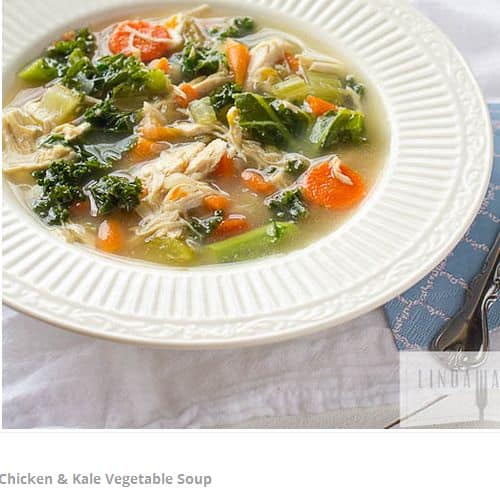 Chicken and Kale Vegetable Soup from Linda Wagner – Quick/Simple, 6 Ingredients or Less, Non Dairy
This quick recipe allows you to combine chicken, celery, onions and carrots with chicken broth and let the soup come together one its own. Kale is added at the end and the chicken shredded for a healthy, hearty paleo vegetable soup recipe.
Chicken Vegetable Soup from The Paleo Diet (Dr. Loren Cordain) – Chicken, No Broth Required
This simple vegetable soup recipe recommends using a whole diced chicken to create the broth yourself. Vegetables such as carrots, onions and zucchini are then added to create the vegetable soup. The chicken is simmered for a few hours to create the stock, but otherwise this is a no fuss, throw everything in a pot type of soup
Tomato Based Paleo Vegetable Soup
Sausage and Vegetable Soup from One Lovely Life – Tomato Based, Dairy Free
This sausage and pepper vegetable soup takes a different direction with your vegetable soup, almost like a stew but in soup form. The star ingredients are andouille or Italian sausage combined with bell peppers. Vegetable broth along with tomato are used for the soup base and kale is added for texture at the end, along with the more typical medley of base vegetables such as carrots and onions.
Have a suggestion for a paleo vegetable soup recipe that would be a great addition to this list? Please let us know in the comments below.
This post is a part of our multi part Paleo Soup Recipes article series: