Looking for a paleo french onion soup recipe that fits your tastes and preferences? We compare 27 of the best paleo french onion soup recipes to help you get inspired and pick the perfect one for your dietary restrictions and preferences.
As we covered in our post about cheap paleo ingredients, onions (especially organic onions) are a best buy in terms of the nutrition you get for your dollar, and this is particularly true in these french onion soups, a dish where onion is the star ingredient.
Although we have been recently publishing an article series on the best paleo meal delivery in specific cities like NY, DC, Boston, SF and Seattle, we like to also highlight Paleo bloggers creating inspirational Paleo recipes across the web.
Categories:
We have grouped the recipes in the following categories for your convenience:
Bone Broth Paleo French Onion Soup
The following soups utilize bone broth as a soup base, making for a healthy and hearty version of french onion soup. 
Hearty Paleo French Onion Soup from thePaleoFix
This hearty bone broth version of paleo french onion soup recommends blending two bone broths, made from chicken bones and beef bones. In addition, there are a number of creative and luxurious ingredients suggestions made, such as using a blend of red, white and green onions or including both red wine and brandy in the soup stock. This recipe has one of the longer ingredient lists of the french onion soups covered but the extra effort is likely worth it.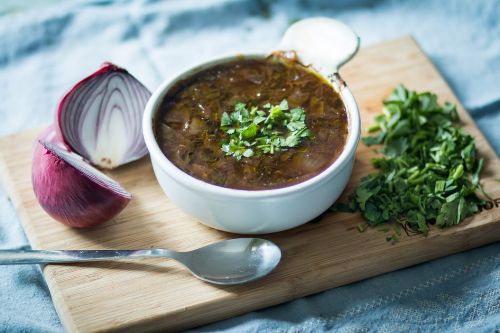 Tangy French Onion Soup from ultimatepaleoguide
The tangy in this bone broth paleo french onion soup version comes via the addition of lemon juice and tomato paste. In addition, they recommend the addition of an italian seasoning blend as the herbs, which is a bit of a break from the more standard thyme only herb selection.
Paleo French Onion Soup from syndipaleogirl
This recipe gives suggestions for a strict version of Paleo french onion soup which recommends using coconut oil. Some unique features of this soup include lemon juice as well as a technique of "deglasing" the pan with broth. The author recommends beef broth but also lists vegetable broth as an option, making the soup vegetarian. 
Paleo French Onion Soup from thepaleopact
 This simple, strict paleo french onion soup recipe is described as a "set it and forgot it" option – always appealing. Although beef stock is suggested, the recipe would become strict paleo vegan or vegetarian by replacing the beef stock with vegetable stock.
If you are looking for frozen bone broth as a starting point in the meals, you might want to check out the offerings from Paleo On the Go and True Fare in our pre made paleo meals article. 
Slow Cooker Paleo French Onion Soup
The below soups take advantage of the slow cooker (even the slow cooker setting on your Instapot) to allow set it and forget it versions of healthy french onion soup. 
Slow cooked French Onion Soup from jessyandmelissa
This slow cooker version of french onion paleo soup calls for bacon fat and rosemary as two non-typical ingredients. They recommend combining both paleo chicken broth and paleo beef broth for the base.
Slow cooker French Onion Soup from crunchymama
This slow cooker version of the classic french onion soup gives a good overview of caramelizing onions in the slow cooker for that rich sweet taste. It includes some interesting variations such as mixing chicken and beef stock and adding sherry and even cognac to the soup.
Paleo French Onion Soup from whatthefit
This crockpot version of paleo french onion soup includes additions such as shredded carrots, arrowroot starch and sage as the main ingredients, giving this recipe a unique flavor and texture profile.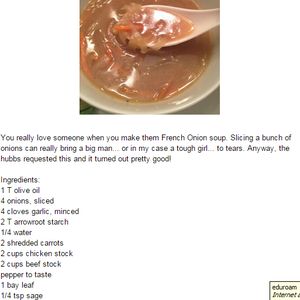 Paleo Crockpot French Onion Soup from paleogonesassy
This strict and uncomplicated paleo slow cooker french onion soup recipe recommends both chicken and beef broth as a stock as well as ghee or coconut oil and dried thyme. 
Vegan Paleo French Onion Soup
These variations on french onion soup are both Vegan and Paleo, achieving the rich flavors through caramalized and roasted vegetables. 
Roasted Cauliflower French Onion Soup from dashofsavory
This twist on the classic french onion soup uses roasted cauliflower to add creaminess and consistency, an interesting concept. They do list creme fresh as an optional ingredient, but if omitted this qualifies as a vegan paleo french onion soup.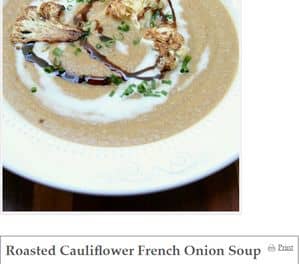 Paleo French Onion Soup from paleoeffect
There are a number of additions to this version of paleo french onion soup, which is vegan if vegetable broth is used, such as using arrowroot powder to coat the onions and adding carrots and celery to the soup. One unique pairing suggestion mentioned here is to serve the soup topped with home made paleo onion rings, to replace the crunch of the typical bread. This recipe recommends adding pork fat in combination with olive oil, beef and chicken stock and some less common ingredients such as sage and sherry wine.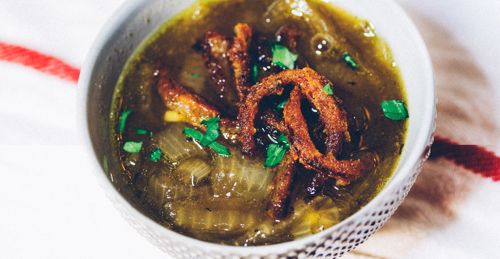 Soupe à l'Oignon from ethivegan
This vegan version of french onion soup takes one of the looser interpretations of the paleo guidelines, including potatoes as one of the ingredients (sweet potatoes could be substituted or the item skipped) and listing bread as a topping – without these two items the recipe follows the more standard approach to paleo. Some unique additions are tomatoes, parsnips and balsamic vinegar.  
AIP Paleo French Onion Soup
For those following the Autoimmune Paleo dietary guidelines, you can still enjoy french onion soup with the below AIP friendly french onion soup recipes. 
Chunky Paleo French Onion Soup from meatified
This AIP friendly version of paleo french onion soup recommends including lime juice to give some tartness to the recipe. The focus is on small, chunky pieces of caramelized onions. Omit the optional tomato paste for those following AIP.  
Primal French Onion Soup Recipes
Many of the soups here suggest cheese as a condiment, putting them into the Primal category for strict Paleo adherents.  
Paleo French Onion Soup Grantinee from chriskresser 
This is a simple and classical version of Paleo French Onion soup from Chris Kresser, with thyme and beef broth – he recommends Gruyere cheese (always a favorite) which pushes this one into the Primal category, but as a final condiment it is easy to leave it out for strict Paleo adherents.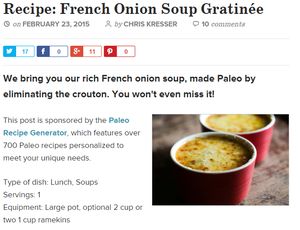 Primal French Onion Soup with Paleo Bread
This version focuses on using paleo friendly bread croutons (in this case purchased, but could use your favorite paleo bread recipe) to round out the soup. They also suggest using a Paleo friendly spice mix, lime juice and Paleo friendly ketchup as a few non typical elements for Paleo French Onion Soup.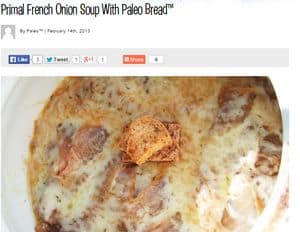 French Onion Egg Drop Soup from paleotrail
 This recipe goes in a different direction, using egg to thicken the soup (along with more traditional paleo arrowroot powder). Some other unique additions include oregano, green onion and optionally adding a parmesian rind to the stock.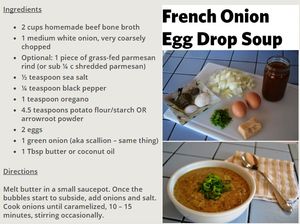 Traditional Paleo French Onion Soup
For those who like classics, the below Paleo versions of french onion soup might be exactly what you are looking for. 
Texas Sweet Onion Soup from threedietsonedinner
This recipe recommends using 1015 texas onions for their extremely sweet flavor (or using very sweet onions). A base of bacon fat is suggested, along with minced garlic and beef stock.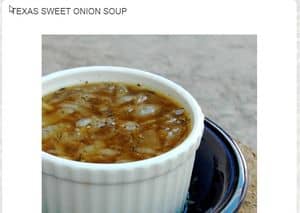 French Onion Soup from paleosonoma
It doesn't get simpler than this traditional paleo french onion soup recipe with only 4 ingredients. The recipe is pulled out of a french cookbook and tailored for Paleo. 
Partially Paleo Recipes
I decided to include a handful of recipes that are for those less strict on the diet. They might provide some inspiration for everyone and may be ideal for those going Primal but not necessarily strict paleo.
Paleo French Onion Soup from thebutchersniche
Although this recipe is only paleo-ish as described by Bix, the author (the recipe includes sugar and beer), there are some interesting variations here, such as adding almond meal for consistency and garlic cloves. 
Creamy French Onion Soup Quinoa Risotto from paleoonadime
This dish, more inspired and flavored by french onion soup that being soup itself, uses ingredients such as cashew/nutritional yeast "parmesian" for flavor and quinoa to make it into a rice like hearty dish. If you are on a less strict version of Paleo and are looking for a hearty, different dish that tastes like french onion soup, this might be worth a try.
 French Onion Soup from paleoincomparison
This soup from paleoincomparison, which recommends the addition of cabernet savingnon and arrowhead root as additions, gives instructions for those doing a 21 day sugar detox diet to make a version of Paleo French Onion Soup. 
 Paleo "French Onion" Soup from arealfoodjourney
 This traditional Paleo french onion soup gives instructions for caramelizing the onions in a slow cooker as a first step to save time. This recipe recommends chicken bone broth made spicy, but allows you to choose the broth that works for you
 Paleo French Onion Soup from integrativenutritionaltherapies
This soup contains a number of suggestions that break from norm. For onions, the author suggests using a combination of leeks, spanish, white and sweet onions, as well as a sweet pepper to round out the flavors. In addition, bacon grease, butter and a pork broth are suggested for the soup base. 
French Onion Soup from momcookingpaleogluetenfree
This version of a classic french onion soup suggests adding both dry red and dry white wine and butter and olive oil and crushed garlic as a compliment to the beef broth based soup.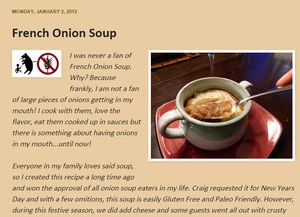 Enjoy one of these recipes? Have a Paleo Friendly French Onion Soup recipe to suggest to be added? Please leave a comment and I will get back to you!
This post is a part of our multi part Paleo Soup Recipes article series: