Searching for an amazing paleo cream of mushroom soup recipe? Below are a comparison of 22 paleo mushroom soup recipes from some of the biggest paleo bloggers, to help you pick out the perfect soup for you.
While we have been focusing our efforts most recently on Whole30 takeout and AIP diet delivery services articles and guides for specific cities like Whole30 meal delivery in Los Angeles CA, Whole30 meal delivery in Atlanta GA and Whole30 meal delivery in Seattle WA, we always love to share great Paleo recipes for inspiration for others. Whether you are sticking with AIP, are Paleo Vegan or looking for something to add some spice to your mushroom soup, take a look at the options below, categorized to save you time.
Mushrooms are a good source of vegetable based protein and contain a whole host of vitamins, minerals, and antioxidant phytonutrients, so a heaping bowl of creamy mushroom soup is not only delicious and satisfying, but great for your health as well.
Soup Categories
Paleo Cream of Mushroom Soup
The below recipes are the closest thing to a Paleo and healthy reimagining of the popular Campbell's cream of mushroom soup from (at least my) youth. Something about the combination of the deep creamy flavor, whether it be coconut or grass fed butter, combines with the umami flavors of the mushrooms to elevate mushroom soup to a whole new level of heartiness and comfort on a cold day.   
Cream of Mushroom Soup from Against All Grain – Vegetarian, SCD and Paleo Friendly, Creamy, Coconut Free
This vegetarian (vegan if oil is used instead of butter) and beautifully photographed version of creamy paleo mushroom soup also uses cashew cream to add creaminess to the recipe. Sherry and thyme round out the unique flavors in this soup.
Creamy Zucchini and Mushroom Soup from Paleo Leap – Creamy, Caramelized, AIP Friendly (omit pepper, use coconut oil), Vegan Option (Use Veggie Broth and Coconut Oil)
This simple version of paleo mushroom soup uses zucchini in the base to give the soup consistency. The soup is flavored with fresh or dried thyme and bay leaves, as well as garlic, onions and coconut milk.
Paleo and Spicy Mushroom Soup
If you love a little spice in your life and are hoping to incorporate more mushrooms in your diet the below soups are definitely worth checking out. Mushrooms pair very well with spices (absorbing some of the heat and flavor of the soup). The spices can make a light soup feel more filling and help you cool off on a hot day.  
Cream of Mushroom Soup from My Heart Beets – Spicy, Creamy, Wine, dairy free
This creamy mushroom soup which gets rave reviews creates a full flavor well rounded soup using flavors such as serrano peppers and white wine. This chicken broth based, butter and dairy free soup includes a nice helping of garlic and onions – definitely on the flavorful end of the spectrum of paleo mushroom soups.
Jalapeno and Bacon Cream of Mushroom Soup from Naked Cuisine – Spicy, Primal, Bacon, Paleo Friendly (Use Coconut Cream), Creamy
This verson of creamy mushroom soup adds a couple of slight twists from the norm – chopped Jalapeno and crispy bacon are used as topics for the soup, giving the soup both flavor and a crunch. The ingredients used in the soup broth include a pretty traditional garlic/onion/thyme/mushroom combination for paleo mushroom soups – coconut cream should be used to add cream to the soup and for those avoiding ghee, oil or other paleo friendly fats could be substituted.
Chinese and Indian Inspired Paleo Mushroom Soup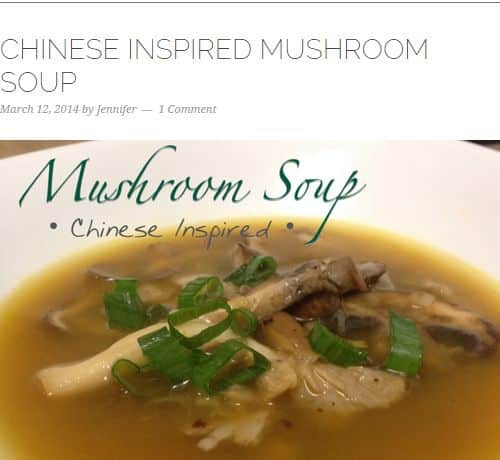 Chinese Inspired Mushroom Soup from Allergy Free Foodie – Quick and Easy, Chinese (Inspired), 5 Ingredients or Less
This quick mushroom soup recipe, which is essentially sautéed mushroom and onions simmered at the end with a vegetable or beef broth at the end, is a way to get your fix of Asian flavored soup while staying paleo. The scallions as the onions are the primary Chinese flavor in the dish. A great appetizer soup idea.
Creamy Mushroom Soup from Crushing Glass – Curry, Vegan Option, Creamy
This straight forward version of paleo mushroom soup adds yellow curry powder to give the soup something special. The recipe is designed for regular button mushrooms and address leeks for flavor as well as coconut milk and chicken or vegetable stock many items that you might have in your pantry already.
My Chinese Recipes Mushroom Soup from Shanshan Wei – Chinese Inspired, Chicken Broth, Asian Mushroooms
In addition to the above two soups, this one is a video tutorial of how to cook a Chinese mushroom soup that follows the paleo guidelines (use high quality, homemade paleo chicken broth if you are following a strict paleo diet). The soup is based on chicken broth along with Asian style mushrooms, green onion and cilantro. It is a clear chicken broth based recipe, rather than a creamy recipe utilizing a blender as many of the other featured paleo soups are, but the mushrooms are definitely the star in this paleo friendly soup.
Paleo Mushroom Soup Made with Wine
Wine has a specific effect on mushrooms and mushroom soup in general, transforming a potentially single note soup into a multi-layer group of flavors, remisicent of what you might expect to eat on a vacation to Europe. The below soups give that extra boost to the flavors by adding a unique wine/herb component. 
Paleo Cream of Mushroom Soup with Bacon and Leeks from Foraged Dish – Bone Broth, Bacon, Creamy
This beautifully photographed version of Paleo Cream of Mushroom soup uses a flavor of red wine, leeks, fresh rosemary and thyme. The soup stock is based on bone broth and is thickened with coconut milk and arrowroot powder, to give it a very thick consistency.
Paleo Mushroom Soup made with Less Common or Wild Mushrooms
Paleo Mushroom Soup using Bacon
Bacon is a popular flavor in the Paleo community, and now with Paleo friendly bacon products on the market from companies like Paleo on the Go, there is no reason not to go crazy and use it to flavor all your recipes. For those bacon lovers out there, the below mushroom soups make bacon, as well as mushrooms, the star of the show. 
Paleo Cream of Wild Mushroom Soup from Paleo Effect – Bacon Infused, Dairy Free, Nut Free
This soup based on a trio of mushrooms: oyster, shitake and button includes some unique flavors such as turkey broth (it is a thankgiving inspired soup), applewood smoked bacon, nutmeg, walnut oil and shallots. The broth is made creamy by the use of coconut milk and extra thickness is added using arrowroot powder.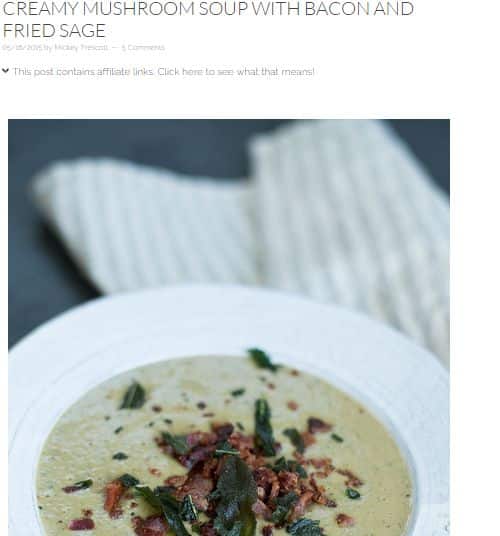 Mushroom Soup with Bacon and Fried Sage from Autoimmune Paleo – AIP, Bacon Infused, Bone Broth
This AIP version of mushroom soup uses dried porchini mushrooms and a combination of bone broth, coconut milk and lemon juice for the stock. Bacon is used both for the fat to flavor the soup and as a crispy garnish, along with a garnish of fried sage, to give the soup some texture as you serve it and to really elevate the soup.
Simple Paleo Mushroom Soup using 5 Ingredients or Less
The below soups keep things simple to make and to shop for by only using a handful of total ingredients. These are also the most likely soups to work for you if you are following a very specific diet that is a subset of Paleo in general (or SCD, AIP, etc). 
[Wild Mushroom Soup from Confessions of an Overworked Mom] (http://www.confessionsofanover-workedmom.com/2014/02/wild-mushroom-soup-recipe-paleo-gluten-free.html) – Quick and Easy, 5 Ingredients or Less, Dairy Free, Chicken Broth
This simple chicken broth based soup focuses on just a few ingredients. Key to the soups flavor are the oyster mushrooms (or elephant ear mushrooms), in this case the only mushrooms type included in the soup. The other ingredients, garlic, onions and coconut milk simply assist in bringing out the flavors of the mushrooms and result in a creamy soup.
10 Minute Creamy Dairy-Free Mushroom Soup from The Tasty Alternative – Quick/Fast Recipe, 5 Ingredients or Less, Creamy, Coconut Free, SCD and Paleo Friendly
This mushroom soup recipe made for the SCD diet but also fully Paleo and Vegan uses homemade cashew cream to add creaminess. The soup is based on readily available crimini mushrooms and homemade stock.
Chunky Paleo Mushroom Soup with Clear/Thin Broth
For those who like the traditional clear broth soup but like the texture of full pieces of mushrooms the below soups are worth checking out. 
Creamy Chicken & Mushroom Soup from Alergy Free Alaska – Chunky, Dairy Free (Use Oils Listed), Chicken Broth
This chunky mushroom soup uses shredded chicken and portabella and dried shitake mushrooms to give the soup a hearty and satisfying consistency. Chicken broth and coconut milk are used for the creamy soup base, along with carrot, onion and dried herbs, but other ingredients such as frozen peas are kept whole giving it both a creamy (although thin) soup base along with chunky vegetable and meat.
Cream of Mushroom Soup from I Love It Too – Dairy Free, Vegan Option, Chunky
This creamy mushroom soup recipe is one for coconut lovers, combining coconut flour, coconut oil and coconut milk to give it a thick, creamy consistency (arrowroot powder is also called for to further thicken the soup as needed). The recipe does not call for a blender or hand blender, instead keeping the chopped mushrooms, onions, garlic and coconut broth chunky.
Quick and Easy Paleo Mushroom Soup Requiring Minimal Prep
The below Paleo mushroom soups advertise as being able to be thrown together in a few minutes, great for a work or school night when you are busy. 
[Hearty Beef and Mushroom Soup from Meatified] (http://meatified.com/beef-and-mushroom-soup/) – Quick and Easy (Minimal Prep), Creamy, Thick, Ground Beef
This unique mushroom soup uses both beef as well as beef stock to give the hearty beef flavor advertised. More subtle is the use of pumpkin puree as a healthy way to thicken the soup. A few other less typical flavors is the use of tomato sauce (several items in the soup are suggested to use out of a can such as the tomato sauce and pumpkin puree, making this a fairly low prep recipe).
Paleo Mushroom Soup from Going Cavewoman – Vegan/Vegetarian, Quick and Easy, Dairy Free
This Vegan mushroom soup uses tapioca starch and recommends vegetarian stock cubes for the base (choose carefully if on a strict paleo diet) for a quick, easy and thick paleo mushroom soup. The soup is flavored with bay leaf, garlic and onions – any type of mushroom may be used in this recipe.
Paleo Mushroom Soup made with Bone Broth
Many in the Paleo community swear by the healing powers of bone broth. What better way to sneak some extra bone broth into your diet than make it the base of your favorite mushroom soup recipe. 
Paleo Cream of Mushroom Soup from Jane's Health Kitchen – Quick and Easy, Bone Broth, Creamy
This fast and simple paleo mushroom soup recipe just requires sautéing the ingredients for 5 minutes and blending, then bringing the soup to a quick boil. Nutritional yeast, stated as optional, is recommended for flavor, along with coconut milk and arrowroot powder to thicken the stock, based on a bone broth base.
Cream of Mushroom from Jay's Baking Me Crazy – Bone Broth, Creamy, Vegan Option
This cream of mushroom recipe with beautiful illustrations of each cooking step is another simple and straight forward paleo soup. It's flavored with just thyme the basic garlic and onions. It uses coconut cream and arrowroot powder for thickness. Bone broth is suggested but veggie broth will make this a paleo vegan/vegetarian paleo mushroom soup option.
Paleo Vegan/Paleo Vegetarian Creamy Mushroom Soup
For those on the Paleo diet that (like me) also forgoe meat products, the below soups follow the tenets of Paleo but also use only vegetable based ingredients, not such a tall order with a mushroom soup recipe (typically it's just the broth that has meat stocks). 
Creamy Mushroom Soup from Kristine Rudolph – Paleo Vegan, Creamy, Dairy Free, Nut Free
This mushroom cream soup which uses minimal ingredients and simple button mushrooms, uses a combination of sherry, thyme and nutmeg to give it a unique flavor. Coconut milk is used to add the creaminess to the soup and coconut oil is used for cooking. A simple yet different take on paleo mushroom soup.
Raw Vegan Cream of Mushroom Soup – Raw, Paleo Vegan, Cashew Cream
This RAW version of cream of mushroom soup contains only ingredients allowed on a strict paleo diet. You essentially dump a whole bunch of ingredients in a blender and let it do it's thing. Although the flavors here are pretty similar to other recipes other than the lack of cooking (mushrooms, onions, thyme), some other additions are avocado and soaked cashews to give a creamy consistency to the soup.
This post is a part of our multi part Paleo Soup Recipes article series: