Paleo Asparagus Bacon Soup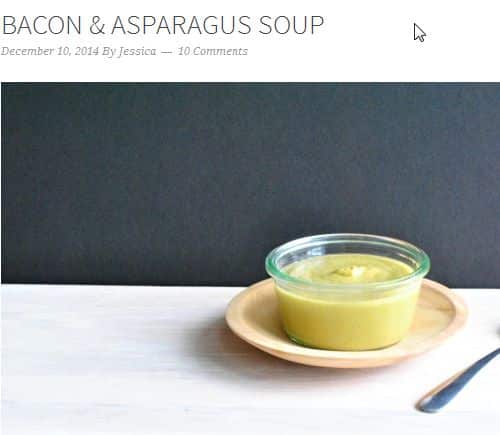 Bacon & Asparagus Soup from AIP Lifestyle – Creamy, Less than 5 Ingredients, Bacon, Bone Broth, AIP
Another simple paleo asparagus soup recipe with less than 5 ingredients, this recipe gives suggestions of how to use a pressure cooker and blender to make this soup a relatively quick paleo meal when you are pressed for time. The soup utilizes bacon for flavor, just added in raw with the asparagus and bone broth for thickness and healing qualities.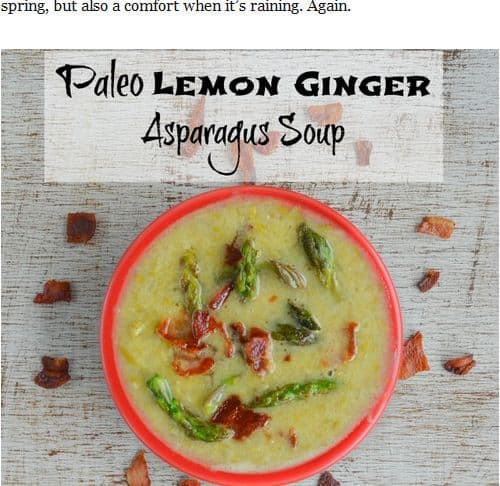 Paleo Lemon Ginger Asparagus Soup from the Artisan Life – Asian Inspired, Dairy Free, Bacon
This less typical version of asparagus soup uses a combination of ginger, garlic, coconut milk and cardamom to give the soup an asian inspired curry flare. Homemade chicken broth is recommended as a base for the soup and bacon is added along with lemon juice and white pepper to round out the flavor.
Paleo Roasted Asparagus Soup
The below recipes use a pre-roasting step to bring out the full flavor of the asparagus – a great way to make up for any less flavor due to sugar, salt or other flavor enhancers used in the non-Paleo commercial soups you might be used to.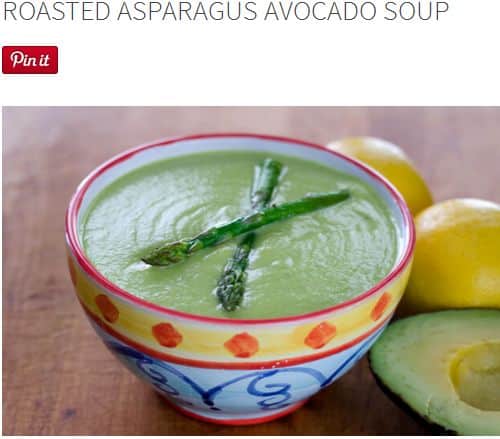 Roasted Asparagus Avocado Soup from Cook Eat Paleo – Quick, Paleo Roasted Asparagus Soup
This alternative take on roasted asparagus soup is relatively quick to make using raw avocado for the creaminess of the soup. The asparagus is roasted in the oven for 10 minutes and then all 6 ingredients are blended together to create the soup – almost entirely raw except for the roasted avocado.
Hopefully you found a paleo diet asparagus soup that fit exactly what you were looking for. If you have a suggestion of any other paleo asparagus soup you think would be good to include in this listing, please let us know in the comments below.
This post is a part of our multi part Paleo Soup Recipes article series: