Although we been recently focusing on article series covering Paleo meal delivery, Whole 30 meal delivery and Paleo bread brands, it is nice to also take the pulse of the recipes being shared across the Paleo community. 
If you are a broccoli lover looking for grain free/gluten free/Paleo soup recipes, or just have nostalgia about cheddar broccoli soup from your childhood, you are in luck. Below is a list of 24 amazing gluten free, grain free and dairy free (almost all) paleo broccoli soup recipes showcasing a large range of flavors, styles and international inspirations. From creamy to spicy, bacon infused to paleo vegan, you are sure to find a soup that matches your tastes and preferences, whether you are avoiding coconut, love curry or prefer the flavor of oven roasted vegetables.
Soup Categories:
We cover the following....
Creamy Paleo Broccoli Soup
The following recipes offer creamy grain free and gluten free broccoli soups perfect for a hearty meal.  
Curried Cream of Broccoli Soup from Nom Nom Paleo – Creamy, Curried/Spicy
 
This version of broccoli soup changes things up a bit with curry flavor Coconut milk along with apples lead to the creamy flavor. The flavor of the soup also comes from onions and shallots.
Stem O' Broccoli Soup from Pete's Paleo – Creamy, vegan option (lists vegan friendly fats/veggie broth)
This creamy broccoli soup keeps it simple with only four main ingredients. As an innovative technique, it uses the whole head of broccoli, including stem and leaves to add additional creaminess to the soup (this also means less work sorting and your broccoli goes further for your dollar). Some interesting fat suggestions mentioned are bacon or duck fat – or avocado oil and vegetable broth for a vegetarian/vegan option.
Creamy Sweet Potato and Broccoli Soup from Perchance to Cook – Creamy, Sweet Potato
If you are a fan of sweet potato soup and broccoli soup, this combines the best of both worlds. This recipe, where sweet potato is used as the base, has several unique ingredient suggestions such as coconut flour as a thickener and coconut cream instead of milk. Some other unique flavor suggestions are nutmeg, sage and paleo friendly chili powder, which rounds out this unique soup.
AIP Paleo Broccoli Soup
If you are on the Autoimmune Paleo Diet (or just looking for a very strict version of Paleo soup but without nightshades and other common allergens) the following Broccoli Soups have been crafted to be healthy and allergen free.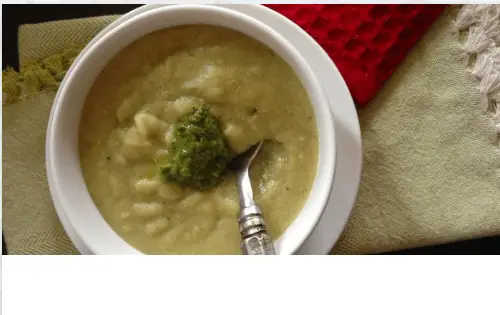 Broccoli plantain coconut soup from Paleo Kitchen Lab – AIP, Plantain
This recipe uses plantains thrown in for sweetness along with the broccoli to create a combination of flavors. The simple recipe is AIP protocol friendly. Some interesting ingredients besides the green or yellow plantain is recommending pancetta or prosciutto to flavor the soup in place of bacon in other recipes. Cilantro pesto is recommended as a garnish.
Bacon Broccoli Soup by Get Real Living – AIP, Bacon
This AIP friendly broccoli soup uses free range bacon as a base for both fat and flavor. The author mentions that the bacon helps make the soup more filling. Several vegetables make up the soup, including broccoli along with zucchini and asparagus.
Chicken, Broccoli and (not) Potato Soup by Meatified – AIP, chunky
This soup uses chunks of cooked chicken and bitesize pieces of broccoli to give it a chunky texture. Unlike many of the creamy broccoli soup recipes, this soup does not use blending, instead using a chicken broth as a clear base. Some other unique suggestions are using cubes of sweet potato, lemon juice and green onions and cilantro to give the soup flavor, although mentions it's accommodating of whatever you have available in your refrigerator at the moment. This is not your typical cream of broccoli soup.
Broccoli Leek Soup from Crave the Good – AIP Friendly, Leeks, Mushrooms
This variation on Autoimmune Paleo soup is made without rutabaga (for those that prefer a version without it) but includes leek, mushrooms and dill, an alternative flavor profile for a broccoli soup.
If you are looking for pre-made AIP friendly soups and bone broths that you can order instead of making from scratch, you might be interested in companies like Paleo on the Go covered in our article on companies offering AIP frozen meals for delivery.
Bone Broth Paleo Broccoli Soup
The below Paleo friendly soups start with homemade bone broth as a nutrition based before blending in other ingredients. 
Roasted Broccoli and Spinach Soup from Swiss Paleo – Roasted, Spinach, Bone broth
This version of the soup, utilizing roasted broccoli for an alternative flavor also incorporates spinach, a unique addition. The soup recommends using a bone broth as a base and uses coconut milk and garlic and chili flakes for flavor.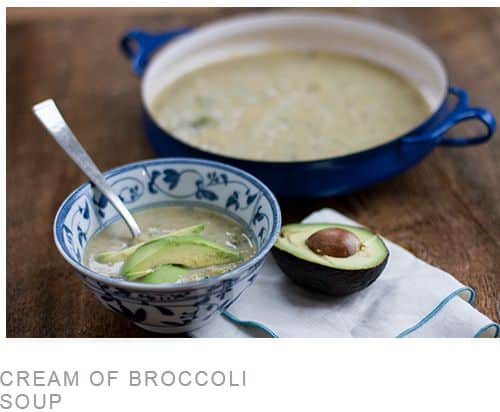 Cream of Broccoli Soup by Autoimmune Paleo – AIP, Creamy, Mushroom, Bone Broth
This version of broccoli soup following the AIP protocol uses unique ingredients such as rutabaga (adds creaminess along with the gum free coconut milk) and mushrooms as well as incorporating all parts of the broccoli (stem, leaves and florets). Another unique suggestion is using avocado as a garnish for the soup. The soup uses bone broth as a base.
Easy, Frozen Vegetable Paleo Broccoli Soup
This is my kind of category. The following Paleo vegetable broccoli soups are in some cases both Paleo and Vegetarian for a very healthy combination.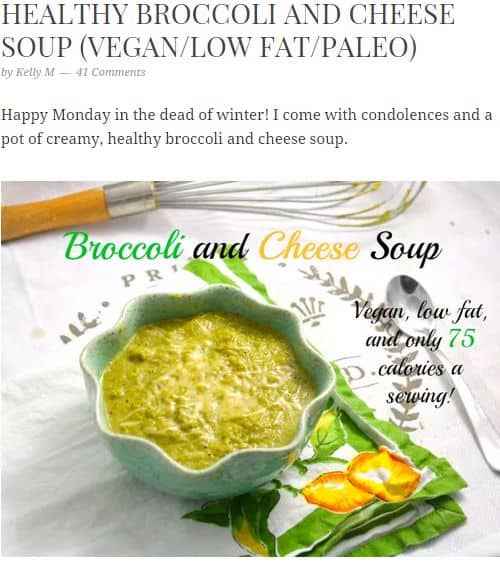 Broccoli and Cheese Soup from Foodie Fiasco – Paleo Vegan, Frozen Broccoli, Almond Milk
This vegetable only version of broccoli soup contains no cheese, but is inspired by the classic soup. The recipe for broccoli soup is designed to use frozen broccoli, saving you precious time. This soup is almond milk based, and include some unique ingredients such as pumpkin (canned to save time) and Dijon mustard, as well as garlic powder for flavor (keeping with the quick and easy theme).
Easy Paleo Broccoli Soup from Cook Eat Paleo – Quick, Frozen Broccoli, creamy
This quick and simple broccoli soup only uses only 4 main ingredients, and other than garlic the only prep is opening a bag of frozen brocolli. It doesn't get much faster or simpler than this soup recipe, which you can whip up in as little as 15 minutes!
Creamy Broccoli Spinach Soup from Goumande in the Kitchen – Primal, Vegetarian, Creamy, Broth Free, 5 minute/fast
This alternative version of broccoli soup uses a blend of steamed broccoli, spinach, flat leaf parsley and hemp seeds as a base (not your typical broccoli soup). Hot water is simply added – making this a 5 minute soup recipe. They include a serving suggestion of feta cheese sprinkled on top, making this a primal soup, but they suggest omitting the feta to make this broccoli soup vegan and strictly paleo.
Roasted Paleo Broccoli Soup
The broccoli/Paleo soups in this section give the soup an extra boost of flavor by roasting the ingredients (in the oven for example) before adding everything to the soup.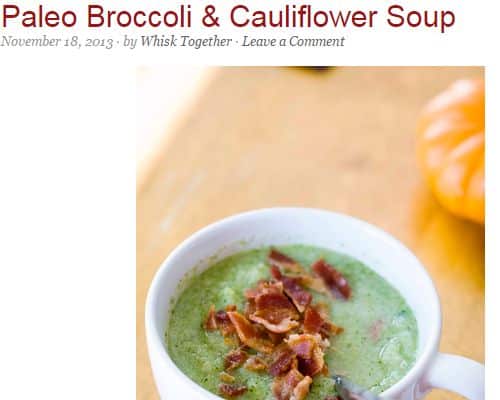 Paleo Broccoli & Cauliflower Soup by Whisk Together – Cauliflower, Microwave, Roasted Garlic
One of the unique aspects of this recipe is that you roast the garlic, giving the soup a unique flavor. This simple and fast Paleo Broccoli Soup (originally adapted from Practical Paleo) uses just steamed or microwaved broccoli and cauliflower florets and stems.
Cream of Broccoli Soup with Chicken from The Primalist – Creamy, Chicken
This alternative version of paleo broccoli soup uses roasted and shredded chicken to make the soup have a bit of chunkiness and texture. Tallow is suggested as the fat for the soup, one of the few broccoli soups suggesting that ingredient. The soup also uses chicken broth, along with celery for flavor, making this a broccoli soup for those chicken lovers out there.
Broccoli Soup, Paleo and Vegan
This section takes the vegetable Paleo broccoli soup even further – the below broccoli soup recipes qualify as both vegan and Paleo.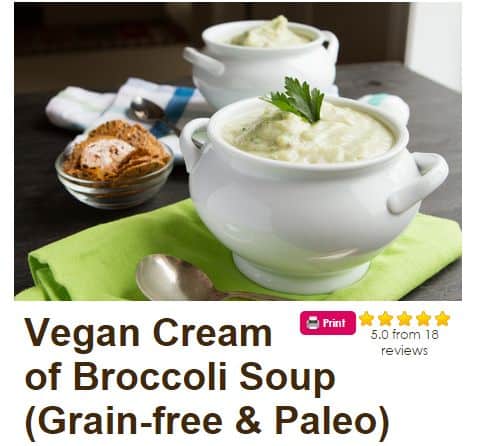 Vegan Cream of Broccoli Soup from Healthful Pursuit – Paleo Vegan, Cauliflower, Coconut Free, creamy, Almond Milk
This vegan paleo soup is a blend of both broccoli and cauliflower (for creaminess). This soup uses almond milk as a base, good for those who do not like or do not have coconut milk available. Interestingly, both onions and onion powder are suggested ingredients.
Creamy Broccoli Soup from Living Loving Paleo – Creamy, Cauliflower, vegan (omit ghee)
This version of brocolli soup uses a combination of cauliflower and coconut milk to give it a creamy, thick consistency. The author mentions that cauliflower is a great substitution for potatoes in paleo soups. Some other additions include onion and an optional garnish of bacon shown.
Creamy Broccoli Soup from Health Starts in the Kitchen – Creamy, Vegan Option
This medley of broccoli and vegetable soup stands out for it's use of a number of other vegetables in addition to broccoli, such as zucchini, carrots onions and garlic. Including broccoli flowers in the recipe is suggested (good if you have farmers market or backyard broccoli growing). If you choose the option of vegetable broth, this could be considered a paleo vegan or paleo vegetarian paleo vegetable soup (with just a heavy emphasis on broccoli).
Coconut Free Paleo Broccoli Soup
If you are looking to get more coconut into your diet for a boost of healthy fats, the below Paleo soups are a blend of broccoli and a rich coconut base for a tropical touch. 
Vegan Cream of Broccoli Soup from Hummusapien – Paleo Vegan, Cashews, Coconut Free
Raw cashews add creaminess and depth to this paleo broccoli soup, made with only vegetables and cashews – super healthy. Instead of using coconut milk or a pre-made broth for the soup, it is a combination of vegetables and the homemade cashews cream that give it the flavor. Vegetables recommended in the soup besides fresh broccoli are celery, carrots, onions and garlic, cooked in olive oil.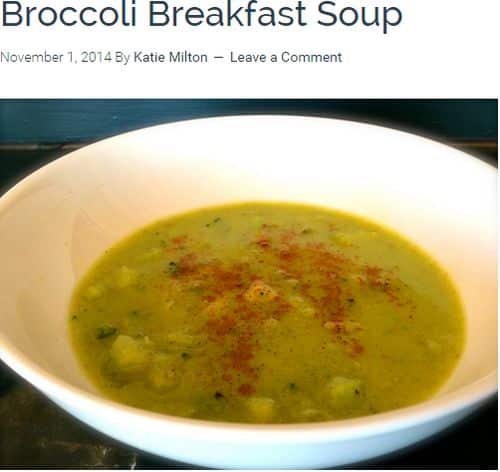 Broccoli Breakfast Soup from the Ultimate Paleo Guide – Bone Broth, frozen broccoli, coconut free
This breakfast version of broccoli soup combines a number of unique flavors, perhaps most suited for the morning. A rich and soothing base of bone broth is combined with flavors like turmeric, ginger, cayenne pepper, celery, onion and garlic. Frozen broccoli is suggested, keeping this a fairly quick soup to make. Avocado is blended to add creaminess to the soup, avoiding coconut milk in this recipe.
No Broth Required Paleo Broccoli Soup
Looking for a quick soup that doesn't require making or having any broth on hand (and allows you to skip the store bought processed soup bases)? The following Paleo broccoli soup recipes should fit the bill.
Creamy Lemon Broccoli Soup from Oatmeal with a Fork – Paleo Vegan, Nut Free, Frozen Broccoli
This tart version of paleo broccoli soup is simply vegetables. The most exotic ingredient here is coconut oil. This soup is a good option if you want to get back to healthy basics, and want it quick – frozen broccoli is even recommended. No broth to purchase or make ahead, simply onions, celery, carrots, garlic are combined together, with bay leaves and lemon providing flavor. This is truly a vegetable broccoli soup.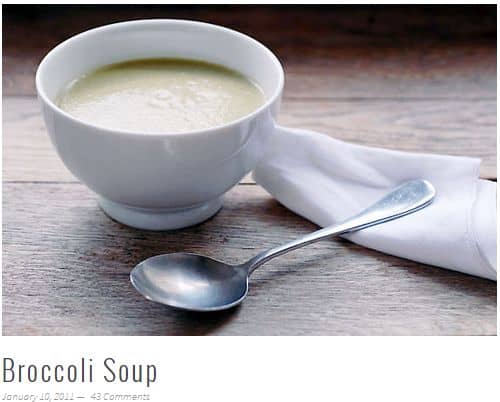 Broccoli Soup from Elana's Pantry – Paleo Vegan, Simple (few ingredients), No Broth Required
This simple vegan paleo broccoli soup from Elena's pantry uses only 2 main ingredients, broccoli and onions, 5 total if you count water, olive oil and salt used to cook the vegetables. She uses both the broccoli head and stems to add creaminess and cut down on produce costs. Definitely a simple and straight forward version.
Bacon Paleo Broccoli Soup
If you are both a broccoli soup lover and a bacon lover, the below Paleo friendly soups are for you.
Broccoli Bacon Soup from Fit Paleo Mom – Bacon Infused
This traditional paleo broccoli soup adds a twist by using bacon incorporated while the soup cooks to permeate the flavor of the soup with bacon flavor, as well as suggesting bacon as a garnish. The soup is rounded out with onions, garlic and coconut milk.
So there you have it. Hopefully you have found one of these paleo and gluten free broccoli soup recipes fit what you were looking for. I often try to mix and match some of the best ideas from a few recipes to come up with that perfect soup for me – but I feel more confident starting with ingredients that have been tested out in broccoli soup by other bloggers and have preparation suggestions. These recipes are also a great starting point for a paleo broccoli casserole or gluten free broccoli casserole dish.
Although cauliflower has definitely stolen the limelight in the Paleo community, when you think of eating healthy, a lot of people think of broccoli as synonymous with healthy greens. In most cases it's cheaper and more readily available at all seasons than many other popular vegetables. I hope the soups below help inspire you with what is possible with the paleo diet and help with ideas on how to make broccoli soup that you will love and meets all of your particular dietary requirements.
For those who are looking to purchase a Paleo friendly broccoli soup, don't forget about our guides to ordering Paleo meals and soups in various cities, such as our Paleo meal delivery Seattle, Paleo meal delivery New York and Paleo meal delivery SF guides. 
If there are other paleo broccoli soups that you feel are great and should be included in this list, please let me know in the comments below. Thank you!
This post is a part of our multi part Paleo Soup Recipes article series: