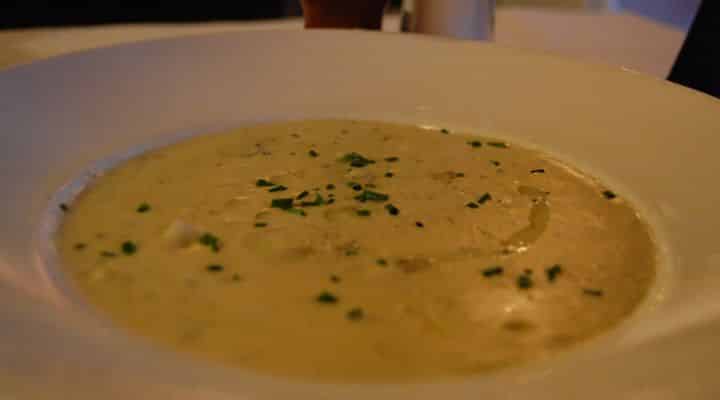 Looking for a great paleo leek soup recipe? In this roundup we highlight 12 paleo leek soups, all conforming to strict paleo, gluten free, grain free diets, to help you find an amazing option that meets all of your dietary needs.
Although we have been recently focusing on paleo delivery articles for a number of cities, such as our Paleo meal delivery in Houston TX, Paleo meal delivery in Cleveland OH, Paleo meal delivery in Chicago and Paleo meal delivery Chapel Hill guides, we love to share great Paleo recipes from the blogging community. In this article we've attempted to highlight all the great Paleo soup recepes we've found and categorize them depending on your specific needs. 
Leeks have a subtle soft flavor, delicious when combined with butter or a rich broth. Some techniques presented in the recipes below are combining leeks with sweet potato or cauliflower, broccoli or parsnips for a paleo friendly version of leek soup. Skim through the recipes below, which are grouped into paleo sub-categories, to find the perfect recipe for you.
Categories
Paleo Leeks Soup using Chicken Broth
These recipes use chicken broth to give the soups a deep rich flavor.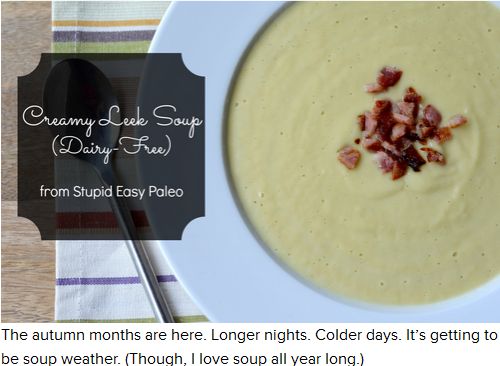 Creamy Leek Soup from Stupid Easy Paleo – Creamy, Cauliflower Base, Chicken Broth
This simple version of paleo leek soup uses only 6 ingredients to create a creamy version of the soup that contains no potatoes. Cauliflower is used to give the creaminess to the soup, along with just chicken broth, onion and optionally some ghee to give flavor. Use great ingredients, such as a homemade chicken broth to guarantee a delicious soup.
Cauliflower, Leek and Bacon Soup from the Ancestral Chef/Paleo Magazine – Creamy, Bacon, Chicken Broth
This is another simple option for paleo leek soup using cauliflower to add creaminess. Bacon is used here for flavor. This soup only contains four ingredients, so if you have leeks on hand and chicken broth, you are pretty close to having all that you need to make this soup.
Paleo Leek Soup using Bone Broth
For those looking to incorporate more bone broth into your diet for health reasons, the below soups start with bone broth as a base to create a rich leek soup.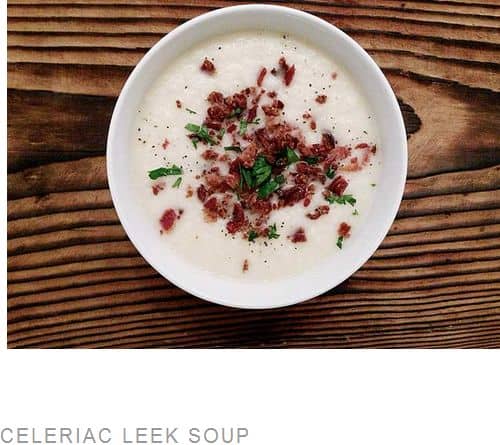 Celeriac Leek Soup from Autoimmune Paleo – AIP, Bone Broth, Bacon, Creamy
This soup uses celeriac instead of potato as a base, giving it a creamy, similar consistency. The flavor of the leeks combine with rich bone broth and bacon – as well as a garlic/ginger combination, apple cider vinegar and parsley to round out the unique flavors incorporated into this version of paleo leek soup.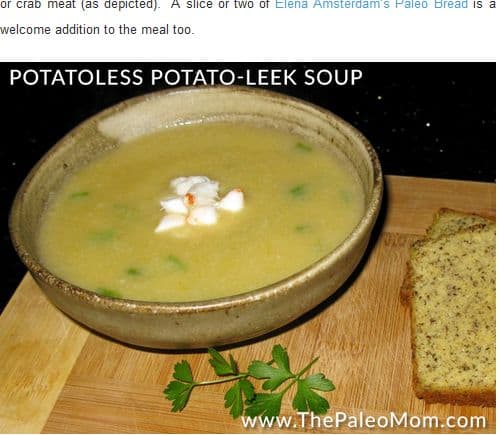 Potatoless Potato Leek Soup from the Paleo Mom – Bone Broth, Creamy
This soup uses rutabaga and cauliflower as a creamy base, along with the leeks – giving it a similar texture and flavor to traditional potato leek soup without the white potatoes. Chicken bone broth is used as the stock, giving additional healing properties to this soup, with other flavors such as celery stalks and optional garnish of crab meat rounding out the soup.
Paleo Leek and Sweet Potato Soup
If you like the idea of combining sweet potato as the thickener for your soup, the below Paleo leek soups use sweet potato as a primary ingredient.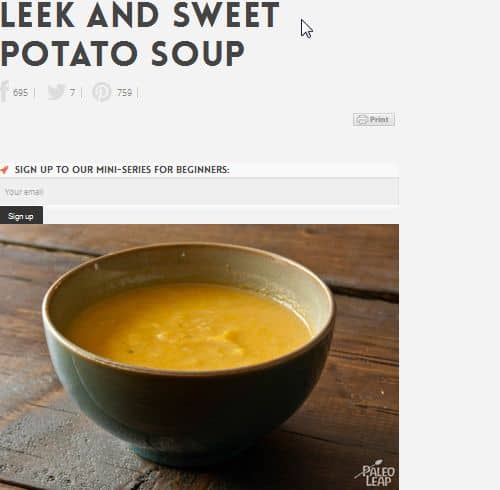 Leek and Sweet Potato Soup from PaleoLeap – Sweet Potato, Simple, Cumin
This version of paleo leek soup uses sweet potatoes as a spin on the classic potato leek soup. The soup uses cumin to give it a unique rich flavor, along with a list of simple soup ingredients such as coconut milk, garlic, onions and chicken or beef stock.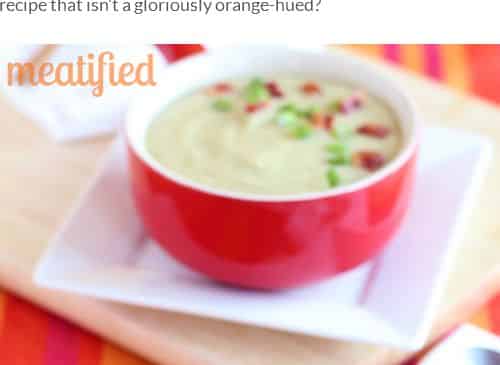 Leek and Sweet Potato Soup from Meatified – AIP, Sweet Potato, Whole 30
This soup uses white sweet potatoes to retain both the color but also the lower sweetness of traditional potato leek soup. The recipe has relatively few ingredients, using coconut oil and milk for creaminess and flavor along with thyme, and conforms to the AIP protocol.
Paleo Creamy Leek Soup
If you are looking for a more decadent version of Paleo leek soup, the below soups use ingredients like coconut oil and cauliflower to thicken and give the soup extra depth. 
Mushroom, Leek and Thyme Soup from Eat Drink Paleo – Creamy, Exotic Mushrooms
This creamy soup, which I mentioned in my post on Paleo Mushroom Soups as well, is also a leek soup after all. This paleo leek (and mushroom) soup uses a good helping of Thyme in both the soup broth and as a garnish (with coconut oil sauteed sliced mushrooms also as a garnish for the beautiful visual appearance), as well as other complex ingredients such as dried porcini, oyster or shitake mushrooms and leeks, paleo fish sauce, Dijon mustard and lemon zest/juice for flavor.
Paleo Potato and Leek Soup from The Merrymaker Sisters – Creamy, Bacon, Almond Milk, No Broth Required
This creamy version of paleo leek soup is based on cauliflower for creaminess and bacon and garlic for added flavor. One unique addition in this soup is unsweetened almond milk to add to the creaminess (ensure it is paleo), almost in place of broth as this soup does not require beginning with broth or stock on hand.
Paleo Broccoli Leek Soup
For those broccoli lovers out there who would rather their leek soup with an extra broccoli kick, the below Paleo leek soups incorporate broccoli into their range of flavors.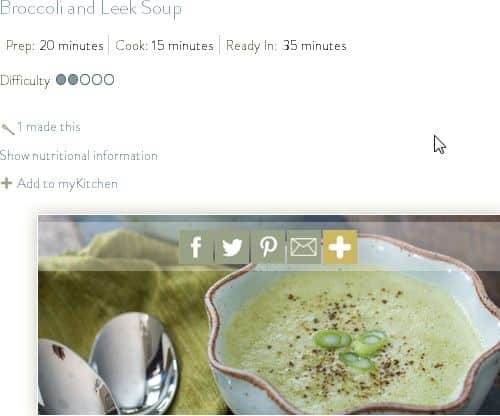 Broccoli and Leek Soup from Primal Palate – Creamy, Broccoli, Bone Broth, Chicken Broth
This poultry rich soup combines leeks with broccoli, using a base of duck fat and chicken bone broth. Garlic is included for flavor as well as green onions for the garnish.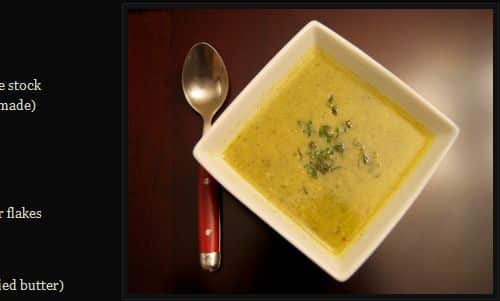 Broccoli Leek Soup from The Paleo Foodie – Broccoli, Paleo Vegan Friendly (Omit Ghee)
This vegan friendly version of paleo leek soup incorporates both broccoli and leeks into the recipe. The ingredients in this dish are simple, with fresh thyme and red pepper flakes to give the soup flavor and a bit of a kick.
Paleo Leek Soup with Bacon
A popular flavor combination with many Paleo soups, including leek soup – the below soups incorporate Paleo friendly bacon into their soup as a garnish.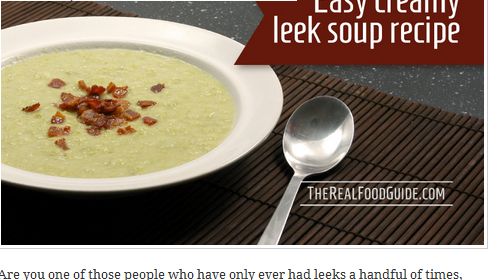 Easy Creamy Leek Soup Recipe from The Real Food Guide – Creamy, Bone Broth, Bacon, Cumin
This creamy version of Leek Soup uses paleo friendly ingredients, such as coconut milk, coconut oil and bone broth. Cumin is used to give the soup a variation on flavor, along with garlic and crispy bacon as a topping.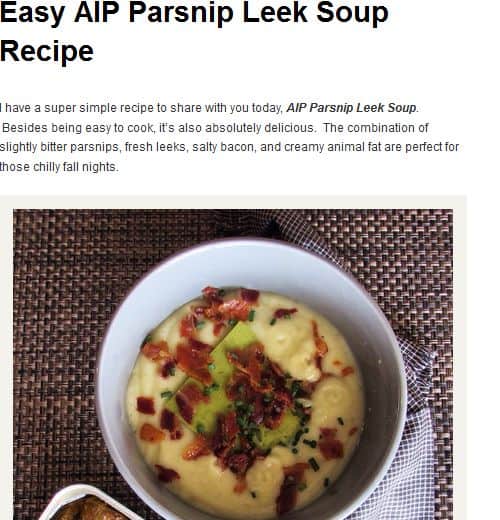 Easy AIP Parsnip Leek Soup Recipe from Paleo Cajun Lady – AIP, Parsnip, Bacon, Quick
This AIP friendly version of paleo leek soup uses parsnips as a base, a fairly unique idea. The soup is flavored by crumbled bacon and diced chives as garnishes, as well as the bacon fat and thyme and garlic as additional flavorings. A hearty version of leek soup for sure.
Hopefully one of these paleo leek soups was exactly what you were looking for. If you are looking for another type of paleo soup, this post is part of a series we have put together on Paleo soups. See the other posts in the series below.
Did you make one of these soups? Have advice for others about your favorite paleo leek soup recipe? Let everyone know in the comment section below.
This post is a part of our multi part Paleo Soup Recipes article series: