Live in or visiting Denver? Following the Paleo Diet? Lucky for you, there are a number of local businesses in the Denver and Boulder areas catering to Paleo eaters, whether you are eating out or want your food delivered. Check out the below list highlighting every paleo restaurant Denver has to offer. Denver is a great city for the Paleo Diet! As Boulder is the birthplace of the Paleo movement, there are some amazing paleo Boulder options as well.
We cover the following....
Denver Paleo Restaurant Options:
---
100 Percent Paleo Restaurants – Denver
Mmm…coffee (Paleo Restaurant Denver)
"Denvers first and only strict Paleo restaurant" (one of the first in the US). This coffee, baked goods and lunch cafe is a paleo eaters dream with lots of paleo compliant food, coffee and treat options, even for nut free eaters (seeds used as alternative).
Location:
910 Santa Fe Drive, Denver CO  80204
Sample Paleo Menu Items:
Paleo Granola, blueberry muffins, organic smoothies, salads with wild caught fish, eggs or chicken, house made soup and bulletproof coffee
Paleo Reviews for mmm…Coffee:
http://paleoporn.net/mmm-coffee/
http://diningout.com/denverboulder/9-paleo-restaurants-in-denver-and-boulder/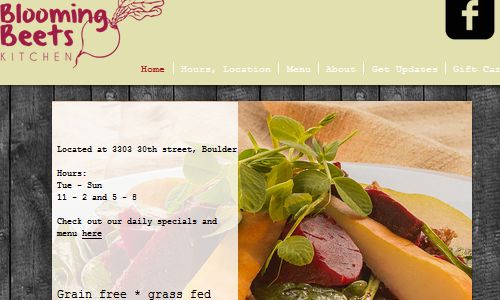 Blooming Beets (Paleo Restaurant Boulder)
Blooming Beets is a grain free restaurant in North Denver that is another great place for Paleo eaters. The owner follows a Paleo diet and used crowdfunding to raise money to open her own Paleo restaurant in Boulder. The menu states "We are 100% grain-free, gluten-free, grass-fed, wild-caught and pastured. Most of our items are dairy-free (confirm with your server), GMO-free and grown without pesticides and fertilizers".
Location:
3303 30th street, Boulder, CO
Sample Paleo Menu Items:
Pulled 100% Grassfed Brisket Served on Cauliflower Carrot Puree and Seared Greens, Pastured Bacon Wrapped, Cashew Butter Stuffed Dates or Coconut Wrapped Blooming Burrito with chorizo, sauteed onions and peppers, cauli rice and sweet potato hash
Reviews for Blooming Beets paleo Boulder:
https://paleomagonline.com/blooming-beets-wants-you-to-start-cooking-paleo-at-home/
http://www.westword.com/restaurants/paleo-friendly-blooming-beets-kitchen-blossoming-in-boulder-5755578
http://diningout.com/denverboulder/9-paleo-restaurants-in-denver-and-boulder/
Paleo Friendly Restaurants – Some Paleo Items – Denver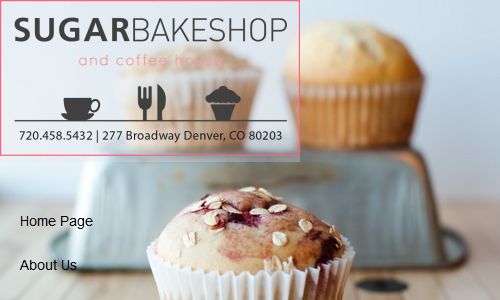 Sugar Bakeshop and Coffee House
This local bakeshop which started out at the Cherry Creek Farmers market has a portion of their menu dedicated to followers of the Paleo diet. Their motto is "Made for you, by us, from scratch, everyday."
Location:
277 Broadway, Denver, 80203
Paleo friendly Menu Options:
"Paleo Muffins" are offered (one write up mentions Carrot, walnut, raisin)
They have even offered Paleo Baking classes previously.
Some Sugar Bakeshop and Coffee House Reviews (Paleo):
https://amandakgroves.wordpress.com/2014/12/18/sugar-bakeshop-and-coffee-house/
http://paleomg.com/life-food/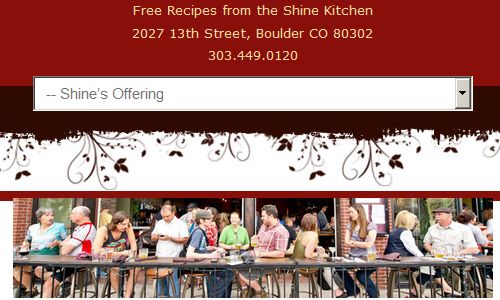 Shine
Shine's Gluten free kitchen, although not 100% percent Paleo does mark their menu items with "Paleo Friendly" designations, which includes a large portion of their foods. Their menu states their commitment to "Providing options for Paleo, Vegans, Vegetarians and everything in between".
Location:
2027 13th Street, Boulder CO 80302
Sample Paleo Friendly Menu Items:
Handcrafted Probiotic Slaw Sampler, Local Mushroom Bisque with Cashew Cream and Pan Seared Wild Salmon with Coconut Creamed Kale, Cauiliflower Rice and Scallion Ginger Tahini
Shine Reviews (paleo Boulder):
http://gracefullplate.com/shine-restaurant-and-gathering-place/
http://diningout.com/denverboulder/9-paleo-restaurants-in-denver-and-boulder/
Bubu
Bubu, a local Denver take on the fast casual restaurant really takes things up a notch with their focus on local, high qualify proteins and ingredients and offers menu options specifically for the Paleo diet, such as their "Paleo/Caveman bowl". They describe themselves as "Protein selections finished with a choice of locally sourced vegetable inspired toppings."
Locations:
1423 Larimer St, Denver CO 80202 & 7559 East Academy Blvd, Denver, CO
Bubu Paleo Reviews
http://www.yelp.com/menu/bubu-denver/item/paleo-caveman
Root Down
Their menu states "At Root Down we pride ourselves on striving to solve the 'Omnivore's Dilemma.' We have created a dining spot where all dietary needs will be accommodated, including vegetarian, vegan, raw and gluten free; also allergies or intolerances are always handled professionally by the kitchen team. Our menu has icons reflecting this philosophy, though we always request you notify your server of specific needs. We
look forward to seeing you soon!". It is mentioned that they offer special menu nights for Paleo.
Locations:
1600 W 33rd Ave, Denver, CO 80211 and DEN Denver Airport Concourse C, 8500 Peña Blvd, Denver, CO 80249
Root Down Reviews mentioning Paleo eating:
http://nomnompaleo.com/post/120195273383/podcast-episode-7-traveling-while-paleo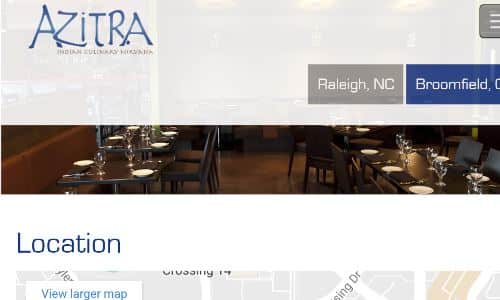 Azitra
Locations:
535 Zang St. Suite C, Broomfield, CO 80021 (with one additional location in Raleigh, NC)
Azitra was recommended by a reader after a great experience finding Paleo friendly dishes available there (thanks Adam!). Azitra may be one of the most Paleo friendly Indian restaurant I have heard of (not something that is easy to find). The majority of menu items are marked as either Gluten Free, Vegan or both. In addition, they commit to cooking with a combination of coconut oil and coconut milk in many of their dishes as requested. In talking to them, they confirmed that menu items and sauces are made from scratch, cutting down on the worry of unknown commercial ingredients. They also confirmed that they do not use refined sugars in their entrees (may want to reconfirm individually about each dish with your server just to be 100% careful). Of those vegetable dishes that contain potatoes, they confirmed they are happy to make the dishes without them. So if you are looking to eat out and craving some international options, Azitra in Broomfield is definitely an option to consider.
Azitra Paleo/GF reviews:
http://www.findmeglutenfree.com/biz/azitra-restaurant/29044996
https://sweetteawheatfree.wordpress.com/2010/02/23/azitra-taking-the-spice-route/
https://www.yelp.com/biz/azitra-broomfield?q=paleo
Denver Paleo Delivery Options:
---
Paleo Restaurants in Denver with Delivery/Takeout
Mmm…Coffee
Mmm…Coffee (full details above) offers 100% paleo take out for those on the go to pick up. In addition, you can also order their paleo baked good and treats via 2 day UPS delivery if you can't make it to the store. See their take out delivery menu here for more ordering details.
Bubu
Bubu (featured above) also offers the option to order online and pick up orders of their Paleo bowls. See the following page for locations offering online ordering for pick up.
Local Paleo Food Delivery Denver Companies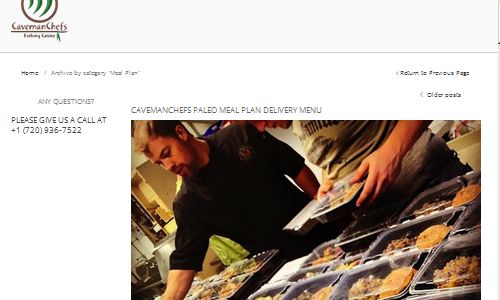 Caveman Chefs
Caveman Chefs, a local Denver Paleo meal service, offers local Paleo meal delivery to gym and crossfit locations throughout the Denver area as well as home delivery plans delivered throughout Colorado. See the list below of current crossfit locations.
Caveman Chef's Gym Pickup Locations:
Crossfit Colfax 1516 Emerson Street Denver Colorado 80218
Barclay Tower 1625 Larimer Street Denver Colorado 80202
Crossfit Broadway 227 Broadway Street Denver Colorado 80203
Blunt Force 2031 Bryant Street Denver Colorado 80211
Crossfit Jefferson Park 2441 Eliot Street Denver Colorado 80211
Gates Tennis Center 3300 East Bayaud Avenue Denver Colorado 80209
Rocky Mountain Commissary 5604 Kendall court Arvada CO 80002
Denver Vitality Center 3110 S Wadsworth Boulevard Suite 303 Lakewood Colorado
All Pro Fitness 11068 W Jewell Avenue C10 Lakewood Colorado 80232
Iron Tribe Fitness 5996 S Holly Street Greenwood Village Colorado 80111     Crossfiets Greenwood Village 8081 E Orchard Road #123 Greenwood Village Colorado     Crossfit Golden 720 Corporate Circle Golden Colorado 80401
MBS Crossfit II 6945 Indiana Court Suite #700 Arvada Colorao 80007
South Suburban Family Medicine 7720 S Broadway #480 Littleton Colorado 80122     Crossfit MODIG 7048 E County Line Road Highlands Ranch Colorado 80126
Back Country Crossfit 8990 Barrons Boulevard Highlands Ranch Colorado 80129 MBS Crossfit 10900 120th Avenue Broomfield Colorado 80021
Orange Theory Fitness 15735 E Arapahoe Road Centennial Colorado 80016
Crossfit Sanitas 2525 Arapahoe Avenue Boulder Colorado 80302
More Info:
Visit http://www.cavemanchefs.com for more information
(Note: readers of the myPaleos blog can save 10% on their first and recurring Caveman Chefs orders by mentioning the promotion code #ZachmyPALeos in the order comments or mentioned by phone)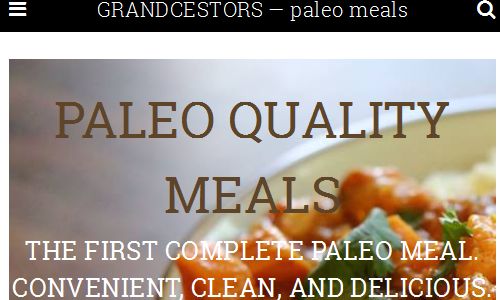 Grandcestors
Grandcestors (formerly Noble Savage), is another local Colorado company, creating paleo frozen entrees that are available in the freezer section of Whole Foods Markets in Colorado, Utah, New Mexico and Kansas. In addition, delivery is available to your home or office via Door to Door Organics or directly through the Grandcestors website.
More Info:
Visit http://grandcestors.com for more info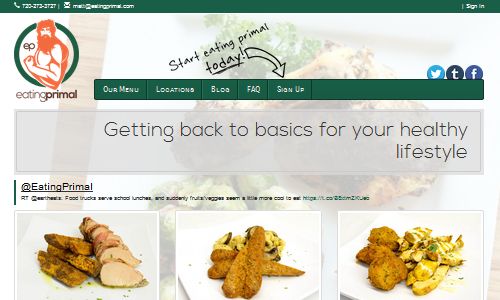 EatingPrimal
Another primal/paleo friendly local delivery service in the Denver area is EatingPrimal. Although only a portion of the menu is 100% Paleo, items are conveniently labeled either Paleo or Gluten free for easy ordering. EatingPrimal delivers via FedEx next day to addresses within Colorado, as well as offering free pickup from a good number of gym and crossfit locations.
More Info:
Visit https://eatingprimal.com for price and menu info
White Sparrow Food Company
The White Sparrow Food Company is another local Denver Metro Area personal chef meal delivery service. Although items offered are not all Paleo, conveniently the order form marks items as Paleo, as well as Gluten Free, Vegetarian, Vegan, etc. Typically several items on each weeks menu, either entrees or Soups/Broths and Deserts are Paleo.
More Info
Visit http://www.whitesparrowfoodco.com for more info
This post contains affiliate links. Click here to see what this means.
Paleo Meal Delivery Companies Serving Denver
The following Paleo food delivery services deliver to Denver. These give you additional options if you can't find what you are looking for with one of the local delivery companies or would like more extensive options, such as AIP, Whole30, Exotic Meats or other Paleo related meals or meal plans.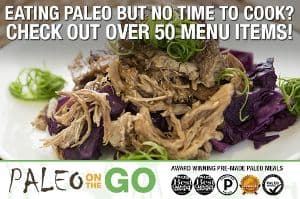 Paleo on the Go
Paleo on the Go offers delivery of paleo meal plans straight to your home or office. They will delivery to addresses in the greater Denver metropolitan area and Colorado in general as well as nationwide, Canada and PR. In addition to general Paleo meal plans, they also specialize in the delivery of AIP (autoimmune paleo) meals and meal plans, Paleo Cheese, Bone Broth, breakfasts, deserts and other homemade paleo foods.
See www.paleoonthego.com for menus and prices.
Note: Paleo on the Go is offering a 10% off discount for our readers, use cod "MYPALEOS" at checkout for 10% off your entire order – one time use.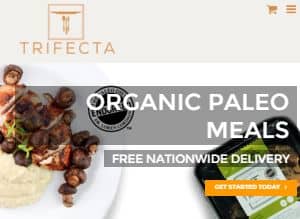 Trifecta
Trifecta is a newer paleo delivery service promoted by Loren Cordain, the local University of Boulder Professor behind the popularization of the Paleo Diet. Trifecta focuses on providing reasonable paleo meal delivery services, offering free shipping of their meal plans. Trifecta delivers to addresses in Denver, Boulder and throughout Colorado, giving another great paleo boulder and denver delivery option.
See trifectanutrition.com for current plan prices.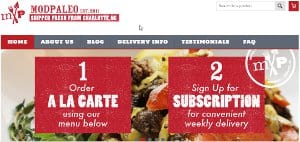 modPALEO
Note: modPALEO has more recently rebranded themselves The Good Kitchen, for our detailed write up on The Good Kitchen including reviews, see our in-depth coverage on them.
modPaleo offers Paleo food delivery services nationwide, including shipping to addresses in Denver and Colorado. In addition to weekly meal plans, they offer a la carte food meal choices as well so that you can pick out just the meals that are right for you, from paleo vegetarian/vegan meals, breakfasts and paleo snacks as well as grass fed meat based dishes.
See thegoodkitchen.com (they recently rebranded from modPALEO to The Good Kitchen) for current prices and menus.
modPALEO has also extended a 10% discount for our readers – use code "mypaleos" at checkout for 10% off your first order.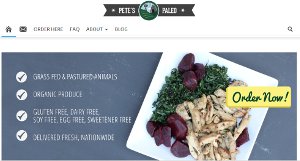 Petes Paleo
Pete's Paleo is a nationwide Paleo meal delivery service, which includes deliveries to Denver, offering weekly Paleo meal plans, Wahls Paleo and Paleo Sugar Detox meal plans.
See petespaleo.com for a complete list meal plans and prices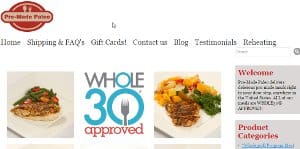 Pre-Made Paleo
Pre-Made Paleo offers a number of Paleo meal subscriptions that can be delivered to the greater Denver/Colorado area, as well as nationwide. Some unique features include Whole 30 compliant recipes, Exotic Meats and branded snacks, such as their home made Paleo pork rinds.
See premadepaleo.com for prices and all meal plan options.
Pre-made Paleo has offered a 5% discount off all orders, enter code "MYPALEOS2018" at checkout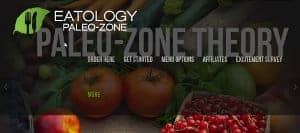 Eatology
Eatology offers nationwide delivery of Paleo-Zone meals. Much of Colorado is within their 2 day delivery window.  Eatology specializes in Paleo food delivery that follows the zone diet, a system of using only Paleo approved ingredients, but also balancing the amount of protein, fat and carbohydrates in the diet to achieve optimal performance, weight and health.
See http://www.eatology.co for Eatology's Paleo-zone meal plans and pricing.
Eatology is offering a 20% off promo for our readers (works for first & all later orders), use code "ZACHPALEO" at checkout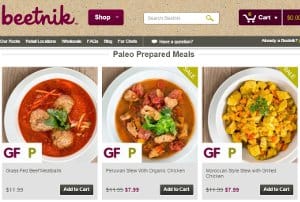 Beetnik Foods
Beetnik foods offers a line of Paleo frozen meals that are sold at select health food stores nationwide, including Whole Foods Markets, Marczyk Fine Foods, Alfalfa's Market and Lolita's Market & Deli in the Denver metro area. In addition, they offer delivery of their frozen paleo meals, specialty meat and wild fish products via FedEx to your home in the Denver area and nationwide.
For more information about Beetnik Foods, see our detailed write up.
In Conclusion – Eating out on the Paleo Diet in Denver is about as Good as it Gets
As you can see from the above extensive list, the Paleo Diet has really caught on with both residents in local business in the greater Denver and Boulder areas. Maybe it's that the concept for the diet was popularized by researchers in the Denver area. Whatever the reason, residents in the Denver area have a huge variety of options to compliment their own home cooking skills.
Found other great options for eating out on the Paleo diet or getting Paleo food delivered in the Denver area that you think others should know about? Please leave suggestions of any additional resources or paleo restaurant denver has to offer in the comments below!
If you are going to be traveling, check out our other city guides of the best Paleo restaurants in NYC and Paleo friendly restaurants in Austin TX.
Just visiting Denver? We also have guides covering Paleo delivery in other cities in the southwest such as our Paleo meal delivery in Salt Lake City UT, Paleo meal delivery in Albuquerque NM, Paleo meal delivery in Phoenix AZ and Paleo meal delivery in Las Vegas NV guides.